Telex's second transparency report
Translated by Dominic Spadacene.
To our readers,
Shortly after we launched, we decided that, from time to time, we would report on the most important facts and figures regarding our operations. As we already mentioned in our first transparency report, it's not considered common practice for a media company (or any company for that matter) to disclose in a manner more detailed than what is required by law how much money it has and how it is spent. However, since our story is by no means conventional and the fact that Telex runs on funds we've received from supporters, it seemed only obvious that we would disclose the details of our management and strategy to the public.
After all, this isn't just our story but also the story of those who support us.
Before we get into the details, allow us to share a few thoughts.
We wouldn't be here if it wasn't for the donations. So, most important of all, we would like to thank you. Apart from our supporters, we are most proud of our independence. Thanks to the nearly 50,000 individuals who support us, we don't rely on any political or economic agent whatsoever — that is, we call our own shots. We've said many times that running an editorial office, especially a substantial one, costs a pretty penny. Nevertheless, we promised that, given the chance, we would strive to become better, stronger, and more appealing with the passing of each day, and we would put the donations towards our content and continuous improvement. And this is just what happened. Now we wish to relay the details of it to you.
We're still growing: our site's traffic statistics
In the first month following the launch of Telex, we had an average of 240,000 unique visitors a day according to test measurements that had not yet been made public at the time. Over the five months since then there has been a slow but steady increase in our site's traffic. These days it's not at all uncommon for us to see more than 600,000 unique visitors in a single day. In fact, the month of May saw the shattering of all of our records up until then: on May 5th, after taking into account all platforms (mobile browser, desktop, and our application), this number broke through 823,000 — something we're extremely proud of.
Of course, true success doesn't consist of visitor statistics on record days but rather the satisfaction of our supporters and our steadfast, regular visitors.
The two graphs below display the number of visitors to Telex's website and application ("RU" stands for real user, i.e. unique visitor).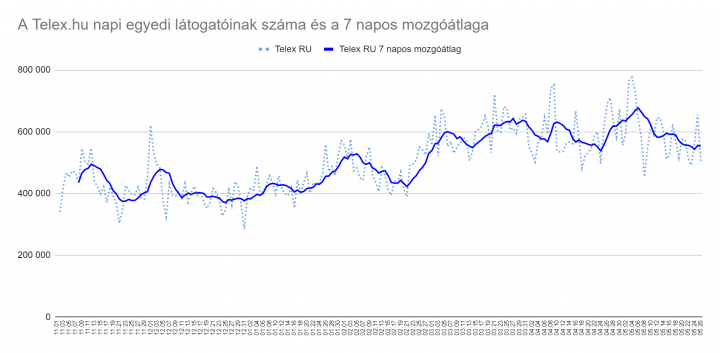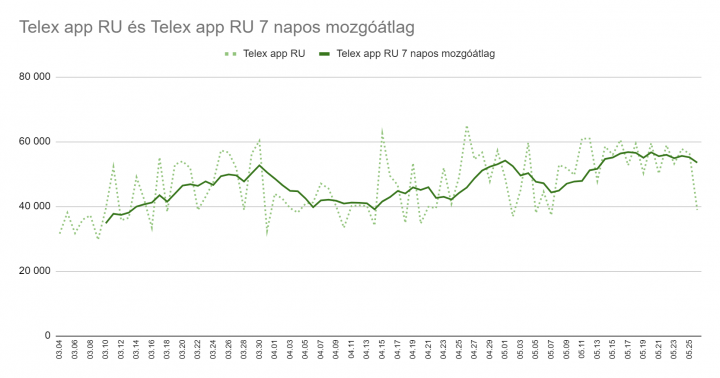 We've revealed some new, popular formats and series
Readers love our weekly series: our tabloid-style, parody clickbait video reports, spelling quizzes, weekend big-picture reports, our regularly appearing short literary pieces, Telexikon, where topics of greater complexity are broken down in animated videos, Telex Magyarázó videos [lit. "Explainer"], and also our Zacc column [lit. "Dregs"], which offers lighter, sometimes touching stories and other entertaining content. We've also recently launched the Telex Komplex column, which permits readers to find all of our featured premium articles, whose text and visual aids required a great deal of energy to prepare.
We've released more in-depth pieces on Antal Rogán, János Lázár, and even mortuary transporters
It is important to us to be as fast and up-to-date as possible around the clock. However, we take just as much pride in our articles and videos that delve into the background of events in more detail as we do in our swift news service. We've tried getting a word with the official in charge of the government's communications, Antal Rogán, who has been so conspicuously avoiding the public eye, but in the end, we only managed to get some questions answered about him by his fellow ministers and parliament members. We followed János Lázár around for a day and, in doing so, managed to get a meaningful reply as to whether he's considering the Prime Minister's Office. With regards to Gergely Karácsony's political career, we interviewed opposition politicians who were once duped by the Budapest mayor turned prime ministerial candidate. We also prepared a profile piece on a 97-year-old family doctor who was once put to work in a labor camp. In one of our more disquieting pieces, our colleagues present perhaps the most shocking side of the coronavirus pandemic: the day-to-day lives of mortuary transporters.
Oh, spelling!
We are constantly receiving letters and comments from readers calling our attention to typos and spelling mistakes in our articles. We'd like to take this opportunity to apologize once again for these errors, which crop up from time to time due to the tempo of our work. Of course, we are working continuously to eliminate and correct them. In addition to the greater attention paid by journalists and editors, thanks to donations we now have three copy editors carefully reviewing articles. And just so that everyone has an idea of what we're talking about, very often even we are left scratching our heads: on weekends we release spelling quizzes in which our copy editors pick out an assortment of spelling mistakes committed by Telex's staff. Complete with obligatory gifs, they can be tried by anyone who would like to test their knowledge.
Our work has even been recognized with prestigious awards
In October of 2020, the editorial staff at Telex received the DIG Watchdog Award from the Italian journalism association DIG.
In January of 2021, Editor-in-Chief Veronika Munk was included in Forbes' list of most influential Hungarian women.
In February, Telex received the #AllForJan Award. Based on their advocacy for the freedom of the press and their work over the previous several months, the news site's staff was recognized with the international prize, established in honor of Slovak journalist Ján Kuciak.
In March, Telex received the Hungarian Press Award, a professional award recognizing press workers and creative communities for the highest standards of journalistic performance from the National Association of Hungarian Journalists (MÚOSZ).
In April, Telex shared in the Quality Journalism Award for its video investigating the pollution of the Tisza River in Transcarpathia.
In May, we were recognized with the Press Freedom Prize from the Swedish chapter of Reporters Without Borders. The award cited Telex's "courageous and fearless actions aimed at creating a new independent and impartial news site in Hungary through community funding."
We now have regional correspondents: so far, in Győr and Szeged
Here at Telex, we consider it important to be able to provide our readers with stories from all across the country, which is why we often publish regional reports. Since our editorial staff in Budapest is unable to cover all areas of the country, we are looking to collaborate with regional journalists and gradually build up a national network of correspondents. We already have journalists in Győr and Szeged. We'd like to work with correspondents in other locations outside of Budapest as well, especially since the politically-independent, free press space in the provinces has shrunk considerably in recent years.
We're keeping our readers informed about events happening abroad
When an important event takes place somewhere in the world, we head to the scene and report on it firsthand: we were in Croatia after the earthquake, in Serbia when they were opening up after the pandemic, in Vienna for the terrorist attack, in Brussels when the József Szájer case broke out, and in Ukraine to report on the pollution of the Tisza.
Telex has briefed both the US Secretary of State and conservative British Under-Secretary of State on the media situation in Hungary
Telex's story is receiving a great deal of international attention. Countless newspapers, television and radio stations have reached out to us over the past six months to inquire about our story or even Hungary's media situation. But it's not just journalists who are paying attention to us. For example, from among all of Hungary's media sources, we were the only one granted an interview by US Secretary of State Antony Blinken. Both Wendy Morton, the British Under-Secretary of State for European Neighbourhood and the Americas, and Heidi Hautala, Vice President of the European Parliament, reached out to us regarding the state of the Hungarian press.
Telex has added János Hrutka to its roster as well
As of May, our team has gained sports analyst János Hrutka, a 3-time Hungarian football champion, Bundesliga champion, and former footballer with 24 national team appearances. János recently had to take leave from a sports channel after publicly speaking out for RB Leipzig and Hungarian national team goalkeeper Péter Gulácsi, a supporter of families with same-sex parents. With János's arrival, not only have we gained an outstanding expert and accomplished media personality but also a person with great values.
We would have a hard time listing out all the plans we have in store
We are constantly brainstorming and planning new developments in content for the near future as well as for how a news site should operate. This summer you will be sure to find coverage on Telex of the two most important public sporting events in the world, the Euro Cup and the Olympics. Then, starting in early fall, we – just like the entire country – will be turning our attention to the election campaigns, considering that the primary elections will have begun and not long after will be followed by the general elections. We would like for our readers to be able to assume that they can find all of the crucial, relevant, and interesting information through us. We'd also like to roll out some new formats, such as releasing our own podcasts. In addition to new content-related features, we also consider it vital to continue developing our organization: we hope to start an internship program as well as connect with more regional correspondents.
Some of our old colleagues have joined us – we're up to 69 in total
In December, we were joined by two of Index's most experienced editors following the expiration of their notice periods: Attila Tóth-Szenesi, who preceded Szabolcs Dull as editor-in-chief at Index, and János Haász, one of the our prior deputy editors-in-chief at Index. In January, also following the expiration of his notice period, our old colleague Dull Szabolcs joined us again as co-editor-in-chief. It was Szabolcs's dismissal at Index that led to the flood of resignations. In April, the Index's former CEO András Pusztay also jumped on board with Telex as our sales and financial director. With the addition of these four individuals, almost all of Index's former leadership has since become part of Telex. Currently we have 69 employees: 65 of which are full-time and 4 part-time. We also have service contracts with 21 others.
Striking and useful developments
We now have an application, which even has since received a major update. Our Komplex articles have a visually appealing backdrop; we now have a search tool and and RSS feed; as previously mentioned, we launched our Zacc column; we've updated our header bar and its accompanying navigation menu; our articles have been given a makeover, as well as our "column pages"; and now we even have a newsletter. A lot of other improvements have also been made that aren't so apparent to the reader but make our work much easier and more efficient. And we still have many other developments in store so that we may continue to refine our appearance and performance.
We founded a nonprofit organization: Ne Hallgassunk Nonprofit Kft.
Telex's two editors-in-chief, Veronika Munk and Szabolcs Dull, and the director of Telex's publisher, Márton Kárpáti, together established Ne Hallgassunk Nonprofit Kft. It gets its name from Szabolcs's closing words at a spontaneous staff meeting at Index following his dismissal: "We mustn't stay silent!" The organization received €200,000 from the Czech publishing company Economia. The Czech company made the pledge to Telex during its launch last year. The funds do not constitute an investment but rather a simple donation, for which the company asked for nothing in return and indeed will not receive anything. Ne Hallgassunk Kft. plans on using the donation to make Telex even better. One of the main aims of Ne Hallgassunk Kft. is to support the independence of Hungary's public sphere and help ensure the freedom of the press. The nonprofit will continue to play an important role in raising donations and applying for grants. We are also hard at work restructuring Telex's publisher, Van Másik Kft. One of the goals of this is to ensure that the employees are owners in the new company.
We're careful with our money
Telex has been operating out of an apartment office on Frankel Leó Way ever since its inception. This seemed to be the cheapest solution that was still just suitable enough for getting the job done at the time. Compared to the size of our editorial staff, the office is extremely small. It can accommodate roughly a fourth of our colleagues at once, which, due to the pandemic, was never put to the test as most of our editorial staff worked from home. However, as the situation with the pandemic is improving, we will soon have to find a new solution. Still, we plan to prioritize thrift when scoping out our next location, and we don't ever plan on having the kind of office that can house the entire staff. Our work model will remain a hybrid of in-office and remote work.
The status of donations
Telex's operations have received support from almost 50,000 individuals so far, amounting to a total of HUF 822 million (approx. EUR 2.3 million). We have more than 13,000 regular supporters. In keeping with our promise, we are putting all the donations towards content creation and ensuring any conditions needed to facilitate it.
A significant part of this sum, which amounted to HUF 318 million (approx. EUR 900,000) before we got off the ground, had been raised for Telex's launch. We have no large, regular supporters providing us with hundreds of thousands of forints. The largest donation we've received so far was from the aforementioned Czech media company, Economia.
We're planning long-term and aiming for continuous improvement
Only you will keep Telex going! The importance of your donations cannot be overemphasized. We value every penny and carefully weigh every one of our expenditures. We operate in a frugal manner, keeping in mind the future and the possibility of more difficult times. Telex employees have committed to more modest salaries and working conditions with respect to market standards until we are able to confirm that our operating conditions are ensured for the long run. For the most part, it was by means of reader donations that we managed – and continue to manage – the financing of Telex's launch, operations, and growth. It is altogether a fantastic feeling as well as a rather unconventional story. Hungary has never before seen such an example of a large and high-quality editorial staff built up from community support. Thanks to you, our earnings before taxes amounted to HUF 588 million (our taxes for the prior year amounted to HUF 41 million), which we see as a guarantee for our future. This of course sounds like a lot, but running a large editorial office and producing a quality newspaper is quite expensive as well: our monthly expenses amount to HUF 60 million, and since we'd like to grow, this will likely go up. We use these funds sparingly and are planning for the long haul. We know that things won't always be so rosy for us: we have to be prepared for more difficult times or even, God forbid, attacks that could hamper our operations. Naturally, we also would like to be constantly developing and improving, so we need as much reserves as possible for rising expenses, stable operation, and continuous improvement.
We even an auditor now
It's tremendously important to us to manage the funds entrusted to us transparently and in such a way that there should be no doubt as to the credibility of our financial statements. This is why we have an independent auditor's report prepared regarding our financial position and operation earnings by BPO-AUDIT Könyvvizsgáló Kft., a company with a long history and a great deal of experience.
Our thanks
Since Telex really couldn't exist and operate without readers and donations, we take every opportunity to express our gratitude to you for supporting our work. To be part of such a success story is a wonderful feeling, and we can't stress enough that THIS STORY IS YOURS AND OURS, TOGETHER, including the readers and supporters. Anyone who is able and hasn't done so yet can support our work here.
The translation of this article was made possible by our cooperation with the Heinrich Böll Foundation.
| | |
| --- | --- |
| 2020.07.31 – 2021.04.30 | Thousands of HUF |
| Revenue (subscription fees, advertisements) | 147756 |
| Donations | 822708 |
| Interest and foreign exchange gains | 74 |
| | |
| Expenses since the company's founding until April 30 (in thousands of HUF) | |
| Material expenses | 1810 |
| Content (external contractors, news and picture agencies) + media services | 21116 |
| Travel expenses | 506 |
| Marketing and advertising expenses (Facebook, Google) | 2994 |
| IT services | 9064 |
| Communication services (Internet, phone) | 2994 |
| Salaries, wages, and related expenses and contributions | 297498 |
| Operating expenses (rent, utilities, printing, etc.) | 14679 |
| Financial expenses (legal, accounting, payroll services, local business tax, contributions) | 6726 |
| Other expenses (insurance, bank fees, credit card processing fees) | 17180 |
| Depreciation (monthly accounting) | 7055 |
| | |
| EARNINGS (excluding year-end taxes and adjustments) | 588908 |
| | |
| Investments (CAPEX) | 21463 |