Szabolcs Dull joins Telex
January 26. 2021. – 04:37 PM
updated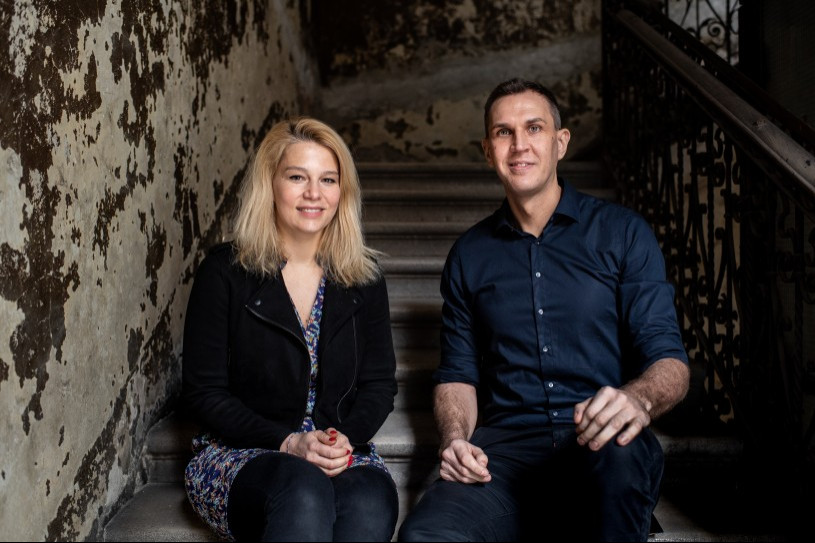 Veronika Munk and Szabolcs Dull in the staircase of the building housing Telex's offices. Photo: János Bődey / Telex
Six months ago, when we had to leave our previous workplace behind, we had no idea if we could ever work together again. If there would ever be a media outlet governed only by professional principles instead of external influence, if we can keep the team together, and publish a news site where only things that matter are newsworthiness and the interests of our readers.
Back then, 2020 seemed like a nightmare, and the future bleak. Now though, we are here at a news site made by 70 people that reaches 4-500,000 readers each day.
Veronika Munk and Szabolcs Dull to lead Telex together
Six months after being terminated as the editor-in-chief of Index, Szabolcs Dull now finally joined Telex's team. In July, the entire editorial staff had resigned from Index immediately after his sacking, a majority of whom, led by Veronika Munk, found the crowdfunded Telex that is already one of the most visited Hungarian news sites. Now, that his notice period and his non-competition agreement had expired, Szabolcs Dull will become an editor-in-chief at Telex alongside Veronika Munk, the two of them will be leading the site together. The site's staff had voted to confirm the appointment of the two editors-in-chief.
"Ever since we launched the site, I said several times that we can hardly wait for Szabolcs to join us, and we were counting on his work as soon as it became legally possible," Márton Kárpáti, the leader of Telex's publishing company, said. Szabolcs Dull's termination period and his non-competition agreement will be expiring on 22 January.
When we resigned from our beloved news site, we said goodbye to an essential part of our lives, and we knew that from that point forward, we could only count on our readers and ourselves. Our standards have not changed since, we still want a news site that:
Provides quick, accurate, and impartial information on whatever happens in Hungary or the world,
Has a broad spectrum, running stories on public affairs, the economy, culture, technology, science, featuring entertaining, exciting, impactful stories,
Keeps a check on those in power and informs Hungarian society by asking questions about issues affecting us all, but does not forget to entertain and never takes itself more seriously than it has to,
Does not represent the government or the opposition, only the values of critical, curious, and fair journalism,
Pays attention to its readers and investigates whatever abuses of power they may encounter while keeping the informants' identities confidential.
Safeguards its independence by keeping the majority of its shares in the ownership of its impartial reporters and editors,
Remains free from any external influence on the composition of the staff and the content, where editorial decisions are made solely by the editorial team, and the only factor determining what makes it onto the site is newsworthiness.
You, our readers, have shown your support for these values and for us in incredible numbers. Since our crowdfunding campaign launched in September, more than 42,000 people have supported Telex not only in words but with donations as well, with thousands sending recurring support.
We can never be grateful enough for all the support and trust we get. We promise to keep working to be worthy of that and reach fifty, sixty, or even a hundred thousand supporters who may even become subscribers in the future.
We do not plan on slowing down; we want to involve more and more supporters in growing Telex even further: We would like to start an internship program, have blogs and podcasts, hire more proofreaders and countryside correspondents. To secure our long-term operation and realise our plans, we need to expand our supporters' base with people who are willing to spend on fact-based, quality journalism regularly.
Telex is also unique because there are no oligarchs behind it, and it is not vulnerable to the volatile advertising market, as it is funded by its readers. That is why we keep our operation as transparent as it can be, providing accounts of our incomes and spending, and showing how we work in our public code of ethics.
We have reached another chapter of the Telex-story: There will be two editors-in-chief at the helm from this point forward. We are doubling our efforts to make sure that we create a news site we only used to dream about, one that makes us proud and has hundreds of thousands of satisfied readers each day.