It's the 21st century. Why is Hungary looking towards Moscow?
October 10. 2022. – 02:56 PM
updated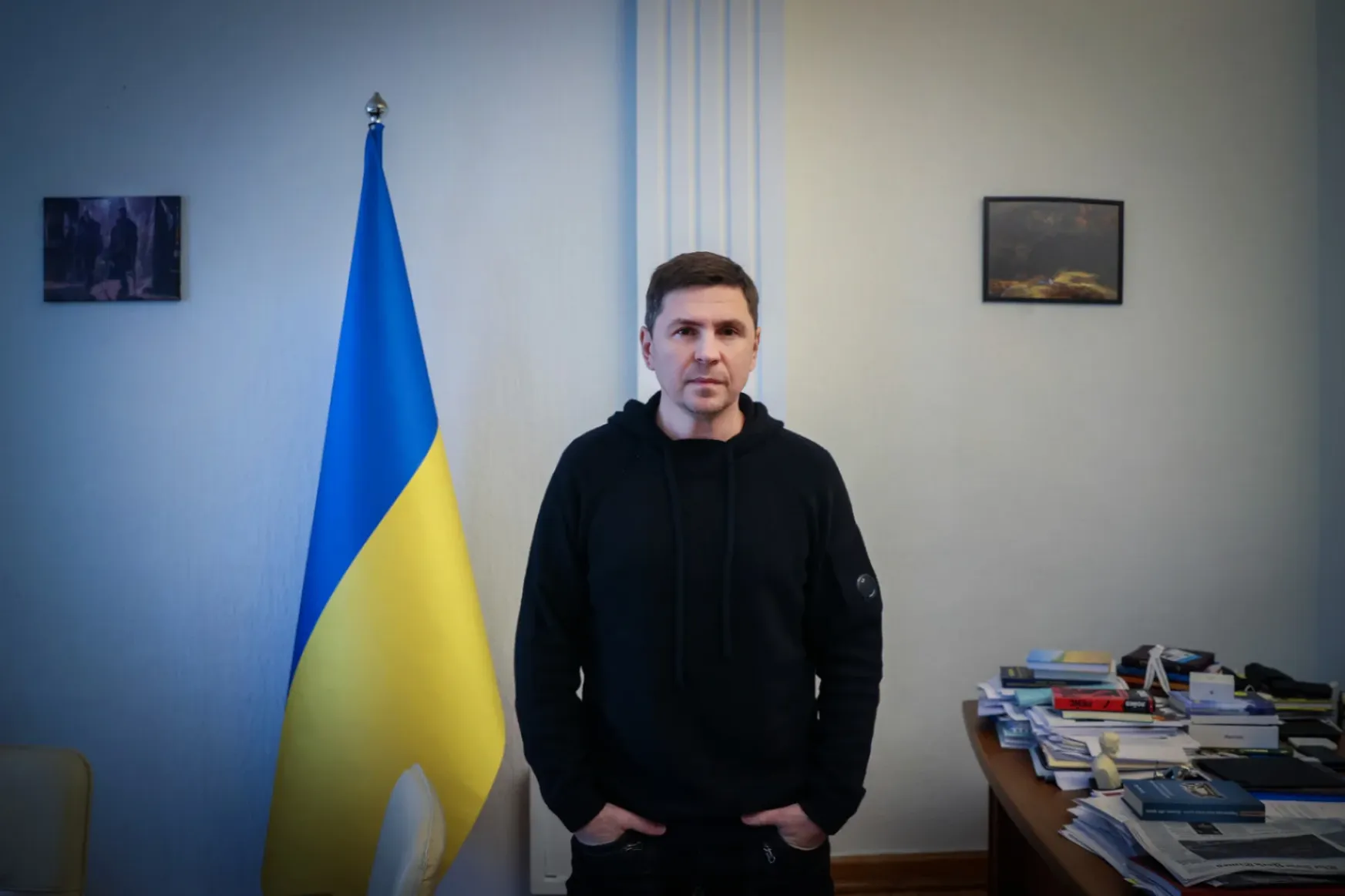 Photo: Istvan Huszti / Telex.hu
Seven months ago, Kyiv was threatened by a Russian military encirclement operation, but by now the occupiers have been pushed back far to the east. At the President's office, we still enter a room full of sandbags for a security check before we meet one of Ukraine's most influential politicians, Mykhailo Podolyak. In the office of Volodymyr Zelensky's adviser, a photo of the defenders of Azovstal hangs on the wall and a book called Journalists at War lies on the desk. He says that Russia is a colossus on feet of clay, and that after the war the Ukrainian government could quickly sit down with the Hungarian government to discuss their disputes. He adds that he doesn't think Putin would use nuclear weapons. We interviewed the Ukrainian presidential adviser in Kyiv.
Ever since it began, Telex has invested a great deal of effort to covering the war in Ukraine and informing the Hungarian public directly from the scene. Our colleagues Gergely Nyilas and István Huszti are currently there again. If you find our work important, become a regular supporter of Telex!
The conversation starts in reverse, Podolyak asks questions, and the dialogue quickly becomes as if he were me and I were Gergely Gulyás, (Hungarian PM's Chief of Staff) who is supposed to explain to journalists what kind of negotiable Russian offer the Hungarian government is thinking of when it proposes that the parties sit down at the negotiating table – while rejecting in words the sanctions that weaken Russia and the arms supplies that strengthen Ukraine while acknowledging that Russia is the aggressor attacking Ukraine.
The situation is a bit awkward, as we have no answers, but at least we quickly come to Viktor Orbán, whom Podoljak has previously called a Trojan horse sent to destroy the EU for his action against EU sanctions on Russia. This time that analogy is not being repeated.
"I'm surprised that Russia still has partners in Europe who don't understand what this war that Russia is waging is like."
- he said, referring to the Hungarian government. However, he ruled out the possibility that Orbán had been informed by Vladimir Putin – presumably during their meeting in Moscow on 1 February – about Russia preparing to attack Ukraine.
"There were rumours of this, but I doubt it because even the best-known representatives of the Putin regime were not fully aware of the plan that Vladimir Putin had long cherished. In any case, the Russian President was counting on Ukraine collapsing quickly, and then inviting his friends over to a celebratory table to announce that he was prepared to share parts of Ukraine. I think that was his plan. He wanted to surprise potential partners."
Moscow may have expected the death of Zelensky
But the Kremlin's blitzkrieg plans soon collapsed: Kyiv was not encircled. Podolyak says it is not known what would have happened to President Volodymyr Zelensky and the country if it had happened: "As far as we know Putin and Sergei Soygu (defence minister) said quite clearly that they expected a military takeover in Ukraine, by its own military leadership, even if it involved the killing of the president of a sovereign country, and then negotiations with Moscow could have begun.
The primary plan was for commandos to break into the country, into Kyiv's government district, and eliminate the members of the government there, including the president. This would obviously have caused chaos throughout the country, with more and more territory being seized." (Moscow, incidentally, denied that there was a plan to assassinate Zelensky.)
According to Podolyak, what happened in Kyiv and Kharkiv oblasts suggests that Russian forces were planning a massacre in the capital as well. "This is what happens in all occupied territories: people disappear, there are regular arrests, torture – it would have happened in Kyiv, but on a much larger scale."
KGB banned him from Belarus, he revealed Yushchenko's poisoning in Ukraine
Mykhailo Podolyak was born in 1972 in Lviv, in the western part of Ukraine, then still part of the Soviet Union. The break-up of the country came when he was in Belarus, where he graduated from Minsk Medical University. But from there he quickly turned to journalism. He was sued for an article by the head of the Belarusian KGB, and the fine imposed by the court led to the closure of the newspaper. Two years later Podolyak was banned from Belarus.
Back in Ukraine, he picked up where he left off in Belarus. In 2005, he wrote about the poisoning of Viktor Yushchenko, who came to power in the wake of the Orange Revolution, for which he was approached by the Ukrainian National Security Committee, but Podolyak refused to reveal his sources. He worked for several newspapers and then tried his hand at spin doctoring, taking on jobs as a political technology crisis manager. He was in contact with a politician who was linked to organised underworld links and incidentally, was also a member of the Party of Regions led by pro-Moscow President Viktor Yanukovych.
The head of the President's office asked him for an advisory role in 2020, and he is currently preparing Zelensky and members of the government for their meetings with the press. As a former journalist, he believes that accessibility and dialogue with the press are more useful than silence. He has been regularly quoted in Western newspapers since the outbreak of the war, and after Saturday's explosion he posted about the partial collapse of the 18km bridge linking Crimea to the rest of Russia: "Crimea, the bridge, the beginning," he wrote on Twitter. (Our interview with Podolyak was conducted the day before, on Friday.)
Budapest would never disregard international law
However, he does not think that anyone has seriously considered Putin's potential, presumably unspoken, territorial offers. Podolyak considers it a conspiracy theory that Hungary wants to change borders.
"It would be empty propaganda to talk about this demand, I don't think it has ever been raised by Hungary even on a theoretical level. The negative consequences of disregarding international law would far outweigh the benefits of acquiring territory. Hungary would not deny the international legal order in which it lives, and there is no point in wasting words on this.
The Hungarian government might play on pro-Russian sentiments, hoping to benefit from the way it communicates with the Russian authoritarian political system, which could even bring cheap energy. But all this is taking place within a framework of cunningly conducted dialogue. Hungary could be much more effective if it recognised that Russia's authoritarian system of governance is extremely ineffective from a historical perspective. Such countries end up in a tragedy in any case."
Europe also overestimated Russian power
On Thursday, former German Chancellor Angela Merkel said that sustainable peace in Europe may only be achieved if Russia is part of it". Podolyak said the statement was typical of Merkel. "She made a fundamental mistake in 2008 when she assumed that Europe could not be strong without being a close partner of Russia in the energy field. Now she is repeating almost the same thesis – and Europe is paying the price for this fundamental mistake."
"Unfortunately, Merkel has come up with a pro-Russian narrative before," Podolyak said. – "She consistently said that peace should be pursued on Russia's terms. At least that's how you can interpret what she says.
The ex-Chancellor is essentially proposing capitulation to Russia, which is waging an absolutely brutal, genocidal, misanthropic war."
By citing Merkel's statement, the presidential advisor acknowledges that Orbán was not alone in his approach that an agreement with Russia must be reached because it is unavoidable and powerful.
According to Podolyak, one of the biggest surprises has been how quickly much of Europe has overruled this conservative approach. "Europe now understands that Russia must be defeated. In the first phase, the general opinion was that Russia certainly could not lose. There was a certain fear of Russia, of its political network of European political parties and organisations.
Quite simply, the world has not recognised that Russia is a colossus on feet of clay. It can fall, and this must be achieved. Goliath, which David can defeat."
Podolyak says that this means the liberation of all the territories of Ukraine currently occupied by Russia. "The country has every right to defend its own territory with arms," Podolyak said, a day before an explosion caused extensive damage to a bridge across the Kerch Strait that Putin had inaugurated in 2018.
Hungary has not moved on from talking about the still misguided Brussels sanctions and disregard for Russia's interests, but Podolyak is more cautious than before about the government, which has been accused of wanting to break up the EU: "It is simply that Hungary is slower to reassess this."
According to Kyiv, many disputes will be resolved without Putin
However, the Hungarian government's objections to Kyiv began much earlier: with the language law and the language provisions of the education law, which, according to the Hungarian government, make Hungarian-language education in Transcarpathia impossible. At the time, the law was admittedly justified as a way of curbing the Russian state's influence through language, so it could have been interpreted as not applying to official languages in the EU – which would affect not only Hungarian but also Slovak and Romanian in Transcarpathia and Polish in western Ukraine.
"I agree, there are a number of issues between Ukraine and Hungary. But I'm also sure that after the war, when Russia loses its informal veto power to interfere in other countries' decisions, we will be able to sit down at the negotiating table very quickly and come to an agreement.
As soon as Russia loses its background influence in the European market, many disputes will be resolved," said Podolyak, who added that Orban's pragmatic approach could be a good starting point. True, Orbán has not yet held any talks with Zelensky, who was elected in 2019, and there is no sign yet of when this might happen.
In any case, Orbán's pragmatism is shown by the fact that Hungary voted in favour of the EU's eighth sanctions package.
"Yes, Hungary is also making many of the right decisions – supporting the sanctions packages. And it is also gradually moving away from the way it used to deal with Russia. Only this process is slow for the time being. Hungary is slower to see what future Russia will be like, slower to admit that Europe will certainly not be in such close contact with Russia after the war."
"We take a pragmatic approach to Hungary. But there is no doubt that we have reservations about the Hungarian government. We think the EU has spoken with considerable clarity about the reasons for the war, about where an unjust end to the war would lead to, according to Russia's demands. And we thought that Hungary would eventually take a very firm stance, if not in terms of military support, then in terms of information and material support. After all, the security of the whole of Europe is at stake here. This is also about the energy war, which also affects Hungary. Unfortunately, for the time being, we are seeing short-sighted policies that are also affecting Hungary's reputation."
In the current situation, however, it seems to matter less and less in Ukraine what Orban did not support: 'The Hungarian decision to refuse to allow NATO arms shipments may have slowed down the logistics somewhat, but Ukraine is also able to fight effectively because it has been able to adapt quickly. There are alternative routes and countries ready to take on this historic mission and help Ukraine bring the war to a just end."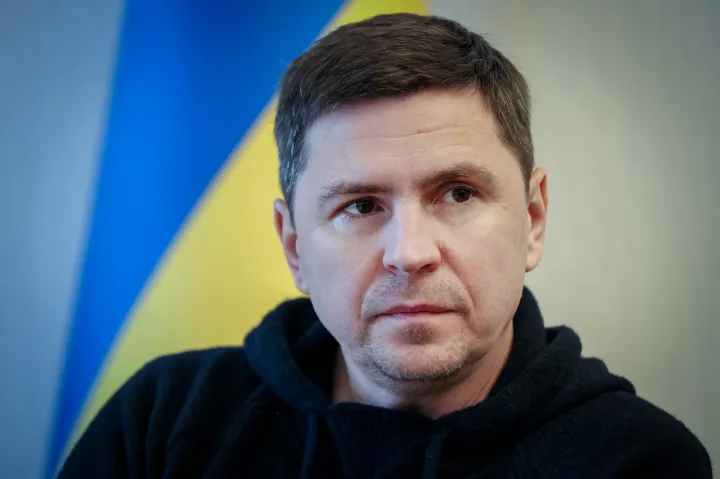 "It will be pretty cool in the history books that there is Ukraine, attacked by a state called the Russian Federation, which committed massive war crimes but was defeated. And the fact that Ukraine was helped by a number of countries played a role in that. And it will also be in the history books that there were countries which, for whatever reason took the wrong side."
"I think Hungary believes that it must always be aligned with the interests of the great empires. I don't quite understand why, if a country in the 21st century has the potential to integrate into a socially and politically perspective alliance like the European Union, it keeps looking to Russia. Ukraine is willing to pay a high price to be able to decide for itself in which direction it should develop."
Russia's weakness has also surprised Ukraine
The other surprise of the last six months, according to Podolyak, has been delivered by the Russian state:
"It is perhaps too early to say, but I was surprised by Russia's superficiality. It has proved to be a primitive state, lacking strong analytical skills, lacking a strong intellectual core, unable to assess the consequences of its actions. The inefficiency of the Russian military command and control system, the lack of modern technology in Russia, and the inability of Russian society to realise the situation it finds itself in surprised me."
"For seven months Ukraine has been fighting a country that everyone feared, on the assumption that it is a militarily effective state. It has a large army, a functioning military industry and the resources for an intensive war."
But he says the Russian invasion of Ukraine has disproved that: Ukraine has counter-attacked, reclaiming its own territory. Many people are now looking at Ukraine differently, as a country that is capable of defending its interests and against which it is dangerous to make territorial claims.
What society has achieved in other countries
In Ukraine, there is a general belief that the war cannot be explained solely by Putin, the Kremlin, exonerating Russian society. According to Podolyak, even though there is a part of Russian society that is "aware of how damaging the current system is", they make up barely 10-15 per cent. "The majority of Russian society supported it, voted for it, and gradually gave up exercising their right to vote. This monster was born by society itself. It is a monster that sends its citizens to their death and keeps the majority of people in poverty."
Despite the protests in 2010-11, or against the war in February 2022, and more recently against the mobilisation in Russia, Podolyak says that this is not enough, as it has not achieved change. "Yes, they have tried, but they have to keep trying. Today we are paying the price for the failure of Russian society to follow through on what it started."
"We are paying for the consequences of the Putin regime, Europe with money, Ukraine with blood. All because Russian society did not defend its own democracy. They resigned themselves to what their powers called 'sovereign democracy', which has in fact become a democracy without rights."
Podolyak thinks the same about the regime of Alexander Lukashenko. There was a huge wave of protests against Belarus's dictator of 28 years for months from August 2020, but the regime had previously been established and functioned unhindered. This is important because, according to Podolyak, who was banned from Belarus in 2004 for his work as a journalist, if Belarus had been a democratic state, the Russian army would not have marched on its territory and Putin would probably not have launched the invasion of Ukraine.
"But let's not forget the many European governments that have supported economic cooperation with a dictatorship-turning Russia and have given up on getting hydrocarbons from multiple sources. It was also a mistake to strengthen the global role of Russia with the G8, in which it became the 8th member." (Russia was excluded from the enlarged G7 club of seven major developed economies in 2014 over the annexation of Crimea).
"All this together has led to the situation we face today."
Ukraine wants to join NATO at all costs
Ukraine submitted its application for NATO membership in September, which Podolyak says is part of a well-thought-out strategy to win the war. In seeking NATO membership through a fast-track process, Zelensky made several important points clear:
No Russian demands can play a role in the negotiations. In other words, Ukraine decides on its NATO membership itself.
Ukraine no longer sees Putin as a negotiating partner. As long as he is in the Kremlin, Ukraine does not even negotiate.
It is a clear declaration that Ukraine will become a member of the EU and NATO, which is a final strategic goal.
Burdened with a territorial conflict, let alone a war with Russia, NATO membership is impossible, if only because of Article 5, which guarantees collective defence. But Kyiv does not worry about that.
"We are apparently receiving the weapons we need to liberate our territories, and it won't take long. And the moment Ukraine has finally ousted the Russian invaders, the process of our accession to NATO will begin and will be completed as quickly as possible," Podolyak said.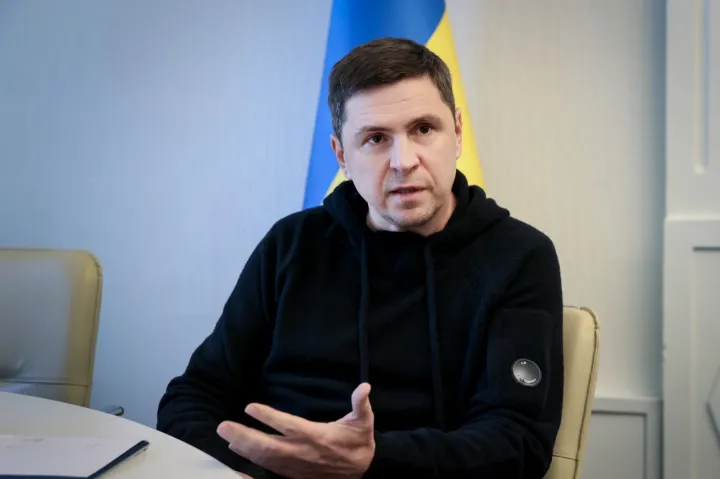 The presidential adviser has no doubt about this, saying it will make NATO much stronger: "Ukraine has experience of how to win a large-scale war with effective action. There is not a single country in NATO that has the knowledge of how to fight Russia."
However, gaining membership is a longer process – even Sweden and Finland, which can be integrated quickly, have not received the consent of all member states and with Turkey and Hungary's Fidesz majority in no hurry to vote on it in parliament, Ukraine is already considering a treaty for a transitional period, backed by security guarantees.
This could be a system of bilateral agreements "with countries that are ready to provide immediate military or material assistance in case Ukraine is attacked again by Russia".
This is more than the 1994 Budapest Memorandum, in which Russia, Britain, the US and the EU guaranteed Ukraine's territorial integrity in return for the country handing over to Moscow the nuclear arsenal left on its territory when the Soviet Union broke up. "The Budapest Memorandum was a consultative document which did not set out the obligations of the signatories. It proved to be a fictitious document. Ukraine will now only sign an agreement in which concrete guarantees are laid down."
Would Putin deploy a nuclear weapon?
To do so, the war would have to be over, and for the time being, Russia, which has written the annexation of four Ukrainian provinces into its constitution – a constitution recognised only by North Korea – is threatening to use nuclear weapons.
"We don't take this seriously for the time being. Let's just think it through: here is a nuclear power attacking a neighbour, taking over a part of it and claiming it as its own. We are defending ourselves as a non-nuclear-weapon state and we are starting to squeeze out the Russian army with conventional weapons. What does this nuclear power, which has been warning everyone that it has the strongest army, do? It announces that it will use nuclear weapons against a country that does not have nuclear weapons."
This threat is in itself a threat to the Nuclear Non-Proliferation Treaty, "since the agreement between the nuclear powers states when nuclear weapons could be used. There is no mention there of the possibility of using nuclear weapons against a non-nuclear-weapon state that a country has attacked but is threatened with defeat."
According to Podolyak, Putin was confronted with this argument at the Shanghai Cooperation Organisation summit in Uzbekistan in September, where neither the Chinese nor the Indian government took a stand for him, but rather used the language of diplomacy to call very forcefully for an end to the conflict. The Ukrainian presidential adviser believes that this could not have been otherwise:
"If Russia were to deploy a nuclear weapon, this would negate the essence of the nuclear arms limitation agreement. Countries without nuclear weapons would find that they cannot guarantee their security with conventional weapons, and a large black market in nuclear weapons would be created in no time.
From then on, tests of nuclear-capable ballistic missiles would be carried out not only by North Korea but also by a dozen other states. Do we really want to live in a world where a nuclear conflict could break out at any moment? Because that is what it would mean if Putin's threat were to be carried out."
Zelensky left without a Nobel Prize
The Ukrainian president was considered a front-runner for the Nobel Peace Prize, but it was split between Belarusian human rights advocate Ales Bialiatski, Russian human rights organisation Memorial – which was banned last year – and the Ukrainian Center for Civil Liberties in 2022.
"With the war going on at present, this is understandable. President Zelensky believes that the real reward will be victory in the war and the creation of a modern Ukraine."
Podolyak, however, said it was strange that winners of the prize came from "two countries that attacked our country. "There are no mass demonstrations for peace in these countries. Not even their representatives abroad have organised such events. But where is the quest for peace here?"
The translation of this article was made possible by our cooperation with the Heinrich Böll Foundation.