The 8 most important things you should know about the Hungarian teachers' protests
December 05. 2022. – 01:53 PM
updated
This fall in Hungary has been marked by various forms of protests demanding changes in the Hungarian education system and expressing solidarity with the teachers faithfully serving in the same. There have been protests, human chains, performances, civil disobedience, and more. Some of these events were organized and carried out by the teachers themselves, some by parents, and an increasing number of them by the students wishing to express their support for their teachers' demands.
This is our 8-point summary about the "what, why and how" questions relating to this that our foreign readers may be wondering about.
1. What do the protesters want?
a wage raise for teachers and supporting personnel (special needs educators, etc) working in schools (Find out more about how underpaid Hungarian teachers are from our previous linked article.)
a lowering of the teachers' workload (read our interview about this here)
a lowering of the students' workload
a general overhaul of the curricula, which is seen as outdated
better working conditions (many school buildings are in need of serious renovation)
autonomy for the teachers – primarily in choosing the books they teach from. The textbook market was centralized about a decade ago and the educators' choices on what to teach from are extremely limited
2. Why don't the teachers simply go on strike?
They tried to, but here's what happened:
On January 31st 2022, many Hungarian schools held a two-hour long, warning strike. After this, the teachers' unions announced that there will be an all-day, general strike on March 16th.
In response to this, the Orbán government was swift to issue a decree stating that due to the pandemic, children must be supervised at all times in the classrooms, at least half of all classes must be held, and for students preparing for their matriculation examination, all lessons in subjects they will be tested in must be held. This, of course, makes any strike by teachers completely invisible and ineffective.
The teachers' unions claim that the government has taken away their right to strike, which is why they have resorted to civil disobedience.
Note: The only reason the government was able to pass such a decree was because of the state of danger which it had declared due to the pandemic, and which gives the government enhanced powers in decision-making as long as the state of danger lasts.
3. What is civil disobedience?
Civil disobedience may be used when there is no other means of expressing dissatisfaction with an unjust and unfair regulation or practice of a public authority, which infringes on fundamental rights of citizens. In such cases people consciously break a rule – in this case, the teachers choose not to teach a few of their lessons on a selected day. Another important point is that such a protest must always be non-violent and morally motivated, and should be done in the public eye.
4. Could there be any legal repercussions against those who practice civil disobedience?
There could, and there have been. Five teachers were fired in October, and eight more from three different schools last week, with dozens also given written warnings that if they were to practice civil disobedience again, they would be fired as well.
However, the teachers' unions and advocacy groups maintain that the firing of their colleagues is illegal since their right to strike was taken away and they have no other legal means to assert their rights. The Teachers' Unions have taken their case about this to the European Court of Human Rights in Strasbourg.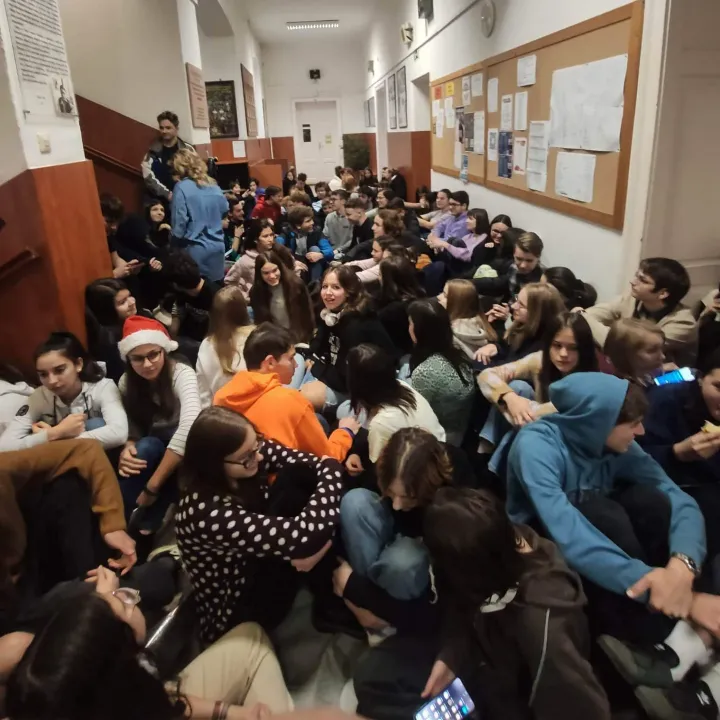 5. How has the government responded to all these protests?
The government has been generally silent about it, with very few exceptions.
Although the various forms of protests have been going on for over six months, Prime Minister Viktor Orbán only spoke about the matter on three occasions:
once, in Parliament when an opposition politician addressed a question directly to him, asking him when teachers would be getting a raise. Orbán's answer was that this will be possible if and when the EU releases the funds which have been withheld from Hungary (due to the EU's concerns about rule of law matters in Hungary)
one more time in front of Telex's cameras, when we managed to ask him and his cabinet members the same question. The answer was the same: they really want to give a raise to teachers, and agree with their demands, but the EU is making it impossible by withholding these funds.
a third time, in mid-November, when Orbán visited his former kindergarten, and published a video about this on his social media page, where he happened to say: "I would like to thank the kindergarten teachers again, and all those who care for children"
In mid-October, Gergely Gulyás, Minister at the Prime Minister's Office announced an unprecedented, gradual raise of teachers' salaries within the next 3 years: he said that if the agreement with the EU is reached (and the funds which have been withheld are made available), the government will be able to start raising teachers' salaries. This would be done in three stages: a 20.8 percent increase next year, and 25 percent in 2024, and a 30 percent increase in 2025 compared to the current base pay. He added that the goal is to get to the point where teachers' salaries are 80 percent of average graduate salaries through the increases.
The teachers' unions were not impressed at all, and commented that the government failed to include the current (20% in September) and expected inflation in the calculation. With this data added in, the promised raise actually only comes to 6%.
6. Has anyone from the government's side ever sat down with the representatives of the teachers?
More than a year after (October 2021) the Hungarian Teachers' Unions first wrote a letter to the Prime Minister, Zoltán Maruzsa, State Secretary for Education finally invited the representatives of the Teachers' Unions for a meeting in early November 2022. The meeting brought no tangible results though, and no promises were given to Hungarian educators about their demands.
7. Why have some of the protests been held in front of the Ministry of Interior? Why not in front of the Education Ministry?
The reason for this is quite simple. There hasn't been a separate ministry dedicated to matters of education in Hungary since 2010. It was then that the Orbán government assimilated the Ministry of Education into the Ministry of National Resources which later (2012) became the Ministry of Human Resources.
After the governing party's most recent election victory in April 2022, matters of education were entrusted to the Ministry of Interior, with only a State Secretary overseeing education. Many critics of the system say that even this fact perfectly reveals the government's disregard for the importance of education.
8. What's going on now?
According to the latest data, since last Thursday, of the approximately 140 thousand educators (this includes elementary, high school, and kindergarten teachers), more than nine hundred teachers in 93 schools all over Hungary have refused to take up work. According to one of the Teachers' Unions, there are some schools where up to sixty percent of the faculty is practicing civil disobedience.
In several high schools, students have organized sit-ins as a form of support for their teachers' demands.
The unions have announced a general strike for this Thursday, 8 December, and have asked parents not to send their children to school that day.
Student organizations are planning to hold a protest the day after, on 9 December in front of the main building of the public media service (which has been silent about all the protests), intending to demand airtime to talk about the problems in public education that they would like the government to address.
As always, here, at Telex English, we will be following the events closely and will inform our readers about all the events as they unfold.