Academic freedom is structurally compromised only in Hungary in the EU, according to an EP study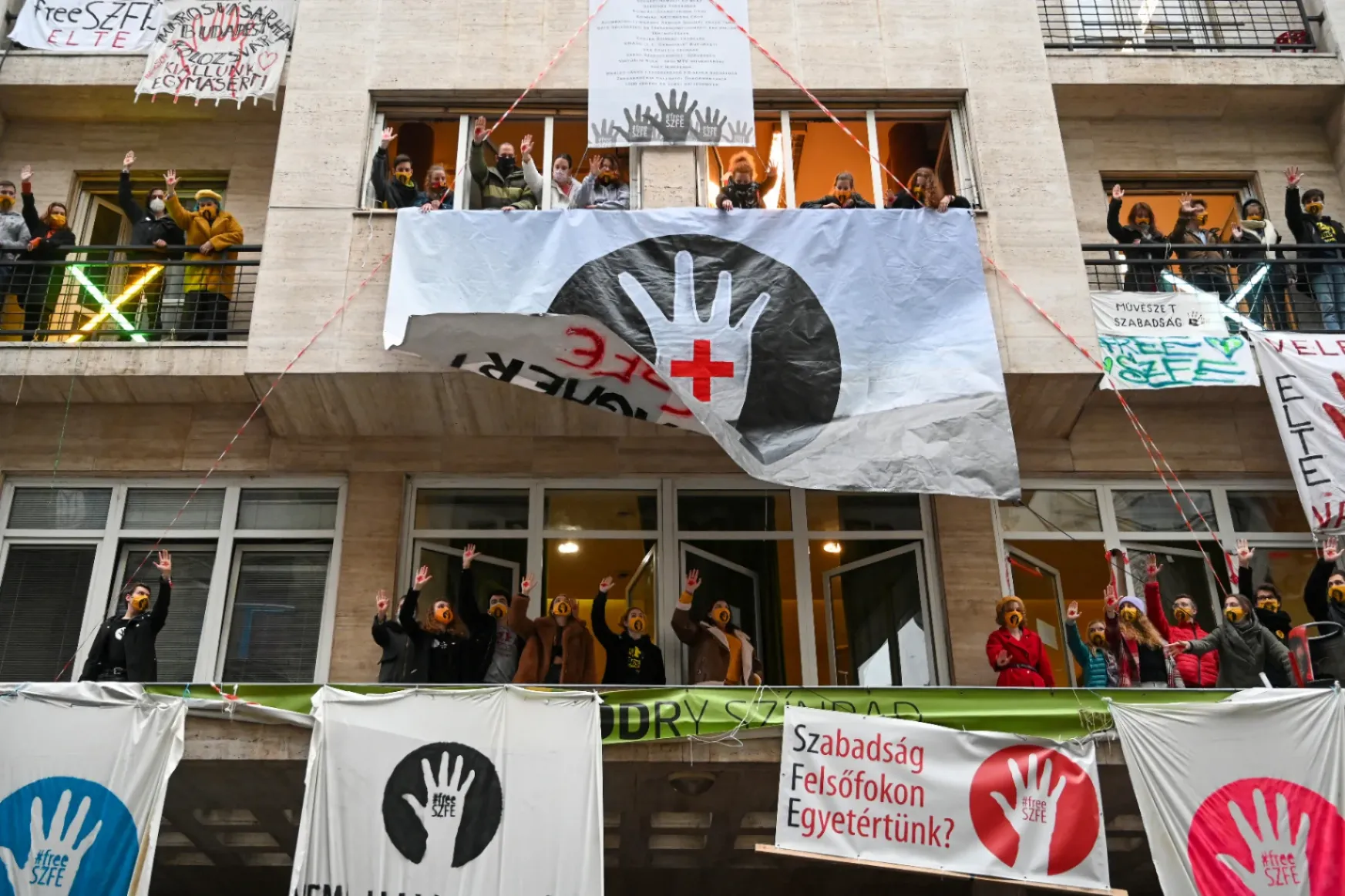 SZFE students protest in November 2020 – Photo: Attila Kisbenedek / AFP
The situation of academic freedom in Hungary is significantly worse than in other EU member states, according to a study prepared for the European Parliament and obtained by the Hungarian daily Népszava's Brussels correspondent. The document was presented on Monday to the Culture and Education Committee of the European Parliament and will cover all 27 member states. Click here to access the full document.
Since you're here, we invite you to be a part of shaping Telex English! Take a few minutes to fill out our anonymous survey, and tell us what you think about Telex English and how it could be even better!
The paper states that while there are threats to academic freedom in all EU countries, Hungary is the only one where it is structurally violated, according to researchers at the University of Oslo. According to the paper, the Norwegian researchers denounce, among other things, the forced relocation of the CEU's main section to Vienna and the privatisation of the University of Theatre and Film. They argue that the frequent and radical restructuring of higher education has undermined academic freedom, limiting, for example, institutional autonomy, self-governance and the role of the academic community in preserving academic freedom.
In Hungary, the political climate often discourages academics from researching or expressing opinions contrary to the government narrative, and self-censorship is common. Increasing dependency and vulnerability have made scientists cautious, especially as some research is accompanied by a smear campaign in the government media, an example of which was a list compiled by the pro-government paper Figyelő.
The authors are also concerned about the 'model change' in universities, which makes higher education institutions totally dependent on public trust foundations. While on paper these changes do not restrict academic freedom, they do ensure the domination of government interests at the expense of the teaching community through pro-government members of the boards of trustees.
The European Commission and the Council of the European Union also have concerns about the composition of the university trust foundations. The latter, by a vote of 25 out of 27 member states, has banned foundations and the institutions they run from making any commitments to all EU funds as of 15 December. For universities operating in this format, this is a major blow, especially for Erasmus+, which helps student and teacher exchanges, and Horizon Europe, the world's largest programme for funding joint research. For the latter, commitments for several previously submitted proposals should be signed in May, but the government expects the European Commission to assess its moves in April-May, after which the EU Council would still have to vote, so it has set aside five billion forints to provide money for 12 proposals instead of the EU.