"I don't even understand the position that we can't get weapons. That was painful to hear."
March 06. 2023. – 09:44 AM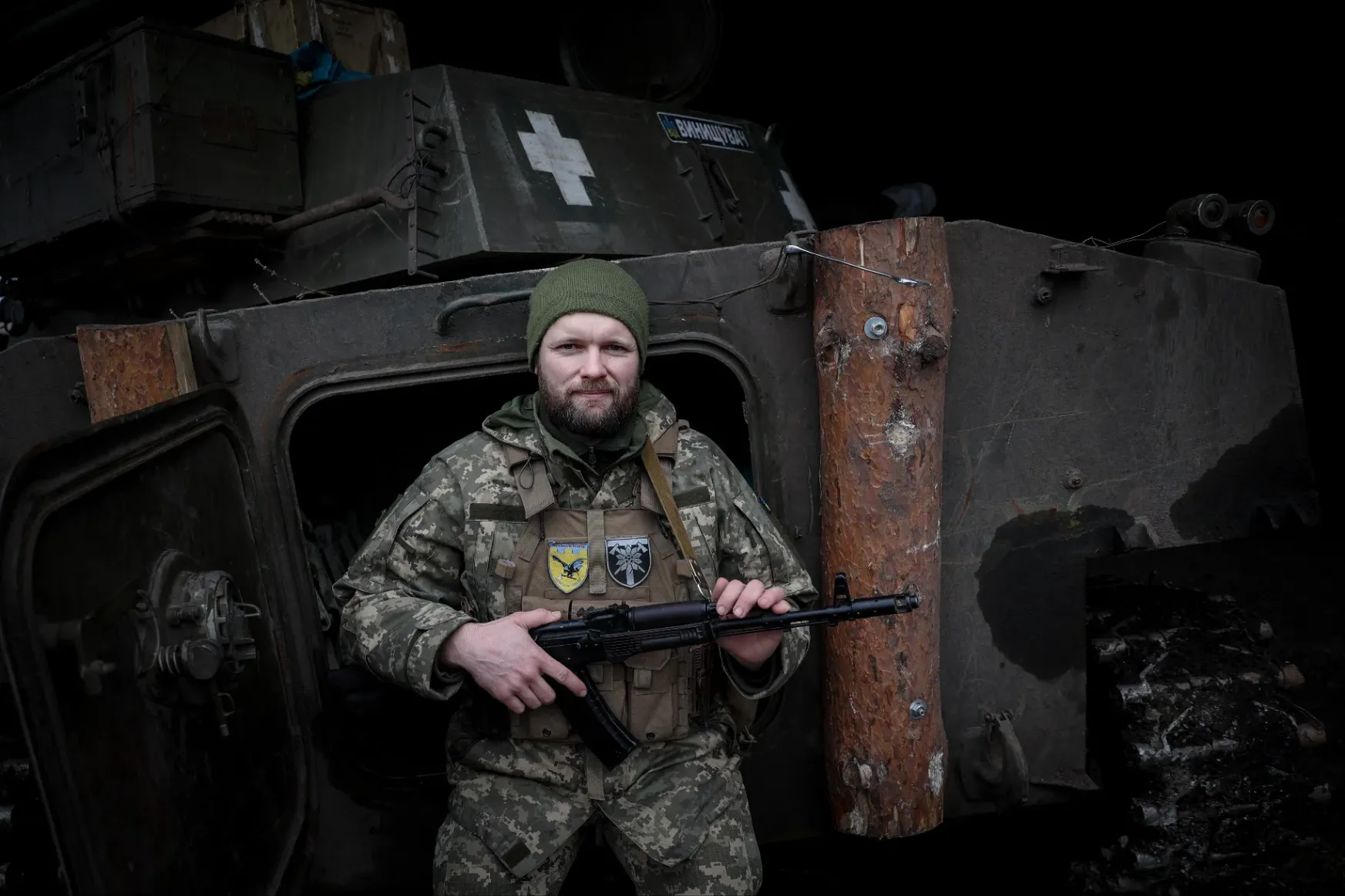 Viktor Traski after night duty, near the front – Photo: István Huszti / Telex
He volunteered in the first days of the war started by Russia, and soon afterwards he was on the front line as an artilleryman. For a year, Viktor Traski has been around rockets instead of university classrooms, because he feels that this is how he can do the most for the country he lives in. As a Hungarian from Transcarpathia, he feels hurt by Hungary's opposition to Western arms supplies. A field report from Ukraine.
"The war started on Thursday. There was an air raid, we were down in the cellar with the children. I asked my wife, how long we were going to sit there. I wanted to do something for us and for my country" – four days later, Viktor Traski, an associate professor of physics and mathematics at the Uzhhorod National University, volunteered at the city's military headquarters.
Although Viktor had no military experience, he was immediately assigned to the 128th Brigade, based in Mukachevo, and was soon sent to the front line as an artilleryman.
Nowadays, this would only be possible after a longer training period, but the situation was different then: Russia's attack on Ukraine, launched on 24 February last year, took almost everyone by surprise, and in the first days the possibility of Kyiv being surrounded was not excluded, one-fifth of the country was under Russian control, military analyses did not predict a long period of Ukrainian military resistance, so volunteers were needed immediately.
From professorship to the army
But Russia's blitzkrieg plans failed, and by last autumn it had lost half the territory it had occupied at the start of the war. Ukraine's resistance also required something Moscow had not counted on: the determination of the people of Ukraine. "I left at 8 a.m., I got home at night, there were so many of us queuing," Viktor recalled the day he volunteered to become a soldier.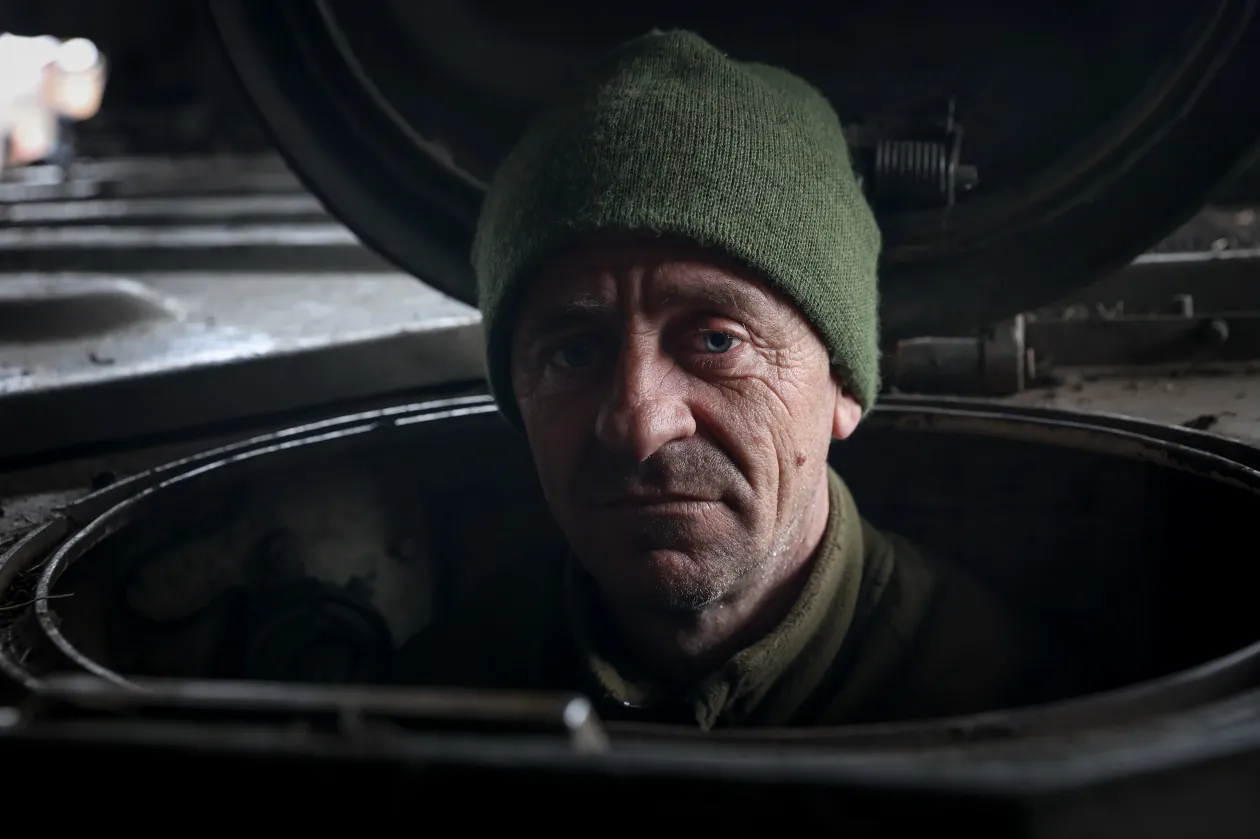 Exactly one year later, we met in a village in south-eastern Ukraine, 1300 kilometres from Uzhhorod, where we were escorted by the military. Viktor had come from night duty, from the artillery firing position closer to the front line. The previous night had been calmer than usual. These days the Russian artillery tends to be more active in the afternoon, previously they were more active at dawn. "Maybe they don't like to get up early anymore," Viktor, who has spent almost the entire last year at the front, said jokingly.
A Sub-Gaussian coincidence at the front line
He spent so much time there, that last May he thanked the Hungarian Academy of Sciences for awarding him the Arany János Prize for Young Researchers from the front line. The war prevented him from going to Budapest, so he spoke about his research topic on "quadratic φ-SubGaussian random variables and processes" over the background noise of artillery fire, checking in by phone.
Obviously, we all could have asked him a lot of questions about that, but instead, we were talking about what his family said when he told them that he would volunteer. "I can't say my wife was happy, but we talked it over, and she accepted it."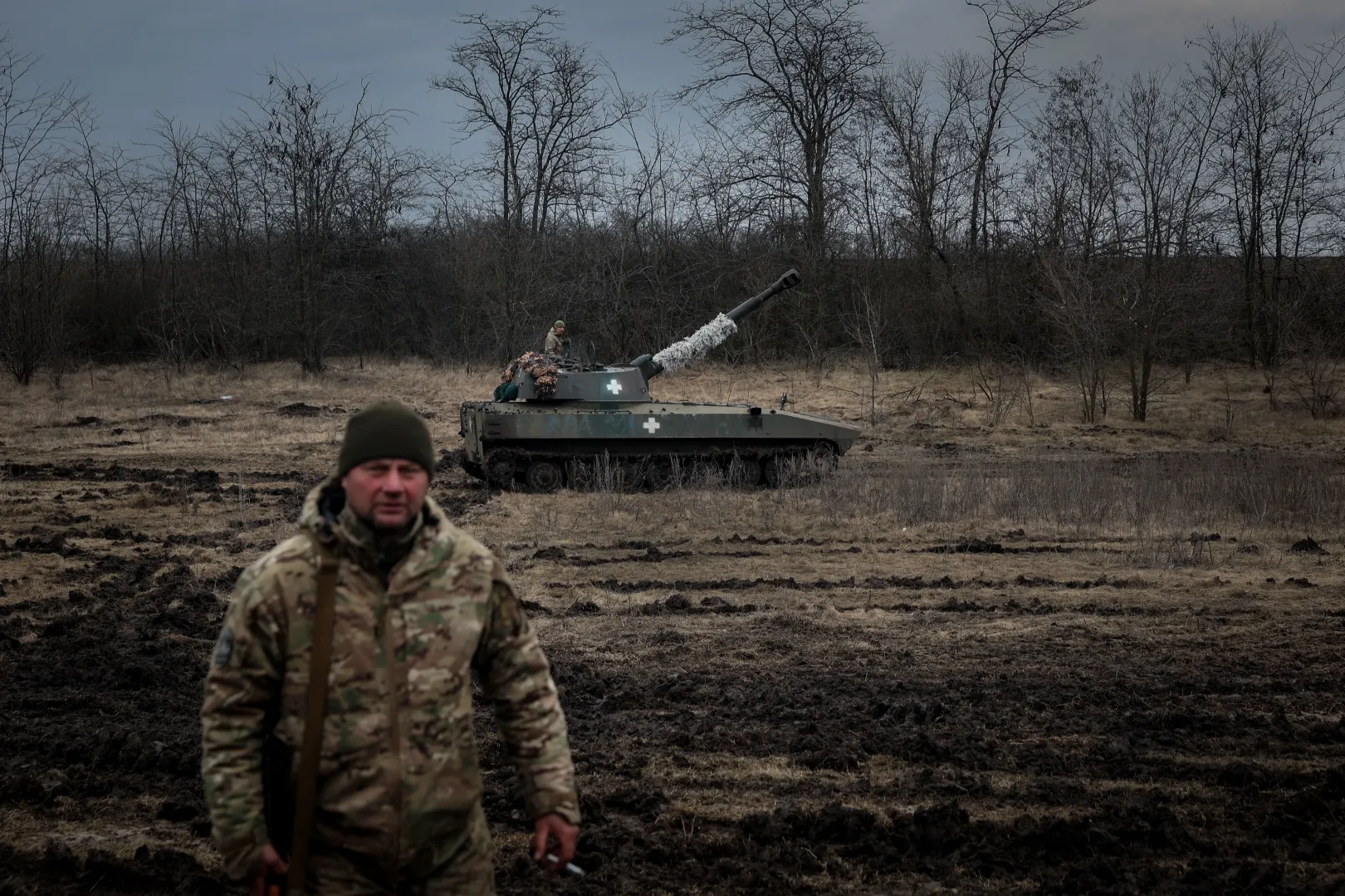 He talks to his three- and five-year-old sons on the phone regularly – he has Internet access from the front via Starlink, but the technical difficulty is that Russian missile attacks often cause power cuts at home in the hinterland. "My older son is very interested to know if I still have my sleeping bag and the plate I brought from home". I have both, by the way.
He was last home in October and may return in a few weeks, combat situation permitting. Sometimes it doesn't. He has been at his current post for two months continuously, but he had been there before. In between, he was in Bakhmut, where the most intense fighting of the war has been taking place in recent weeks.
Russian bullet trap tactics at Bakhmut
As an artilleryman, Viktor is not in the trenches of the front lines, but from where he is it is also clear what carnage Russia has created – and driven itself into – at Bakhmut, one of the hottest points on the front, near Vuhledar further south. Small Russian units keep coming, and when they die, more follow – so more ammunition has to be used up by the defending side, that is the cynical mathematics of the war.
The situation in Bakhmut continues to be serious, Russian forces have been attacking for months and have not given up their efforts to take the town even after heavy losses.
The city itself does not have as much strategic importance as the forces the Russian army is devoting to its capture, and it is now more a matter of mutually tying down as many of the opponent's forces as possible. At this point it is not impossible that the Russians will eventually take the city – or what remains of it – and the front will be moved a few kilometres further west in the region. President Volodymyr Zelensky said this week that the situation at Bakhmut was "getting more and more difficult".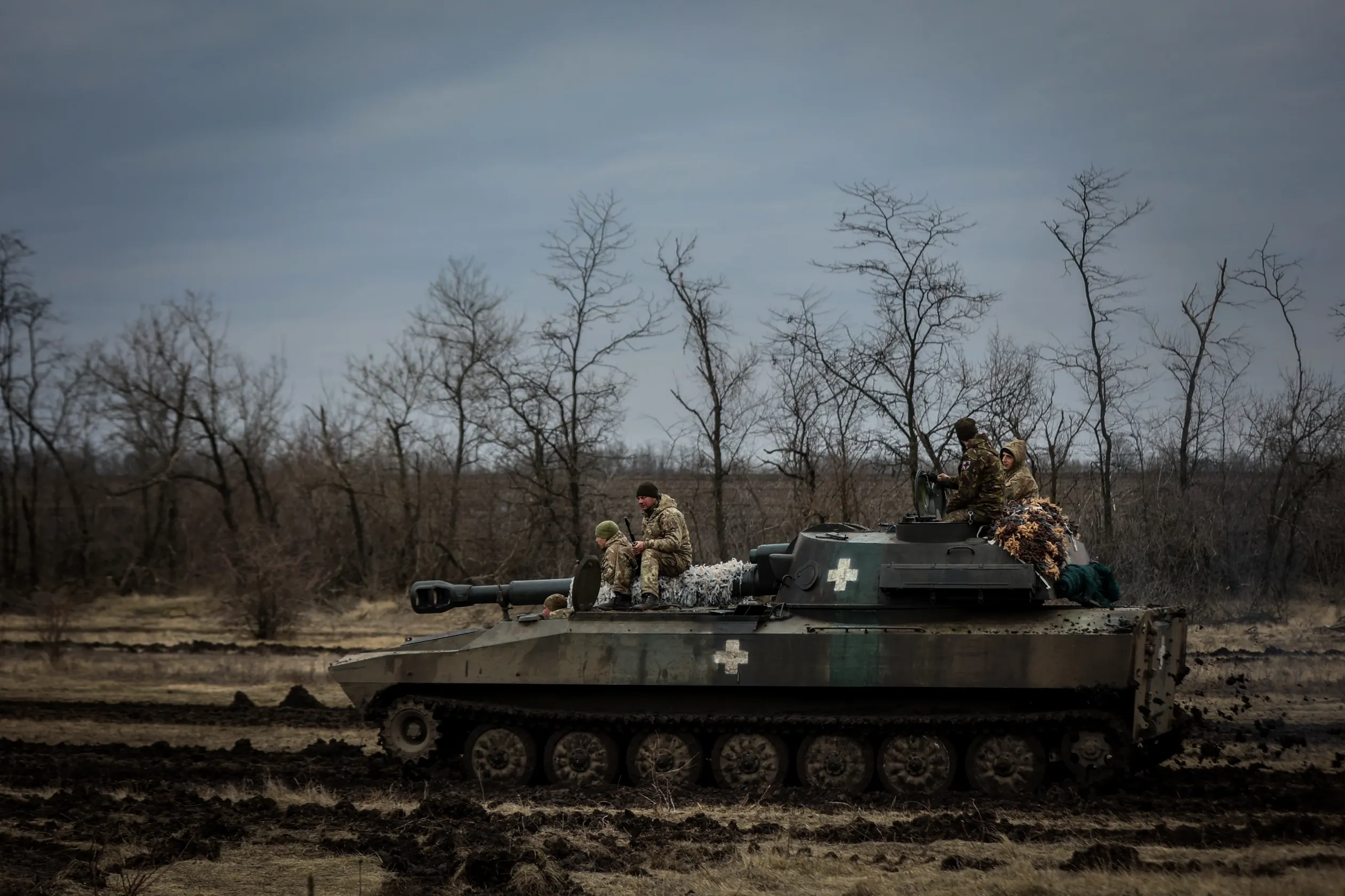 As we are talking to Viktor, a self-propelled howitzer rolls into an area that once saw mostly tractors. "How long will the war last? Well, until the last Muscovite is chased home," a middle-aged soldier tells us. Dmitry lives in the central part of the country, but he has close relatives in Russian-occupied territory, so for him, liberating the country means liberating his family – and he's not alone with that, of course. And one of his comrades, who is fighting with his son, is also at Bakhmut.
Viktor – who also appeared on Hungarian RTL Television's New Year's Eve program from the front line of the Russian-Ukrainian war – could choose to home. As a university lecturer, he would not need to be on the front line. Then he returns to what he was thinking in that cellar in Uzhhorod a year ago:
the consequences of the war are also reaching people there, the deprivation due to the Russian missiles' destruction of civilian infrastructure, everyday life is just as difficult, and without resistance, Russian forces would eventually reach Transcarpathia.
He says he can do something about it here at the front, but not at home.
The Hungarian from Uzhhorod is also defending his homeland
"We are defending our homeland, our house, our family, we have no other choice", Viktor says in response to the question asked a thousand times. There was no question for him as a Hungarian from Transcarpathia, to defend Ukraine as his homeland – because it is his homeland. Just like it's the homeland of his fellow soldiers from Volhynia, Galicia, Poltava and Zaporizhzhya.
Therefore, the statements of the Hungarian government strike him as foreign. For example, those against Western arms shipments. "Last March, the Russians fired ten times as many missiles at us as we were able to respond with. The ratio is now one to one", and that is thanks to Western help. "We are not leaving our country, why not give us the opportunity to defend ourselves? I don't even understand the position of not giving us weapons. That was painful to hear."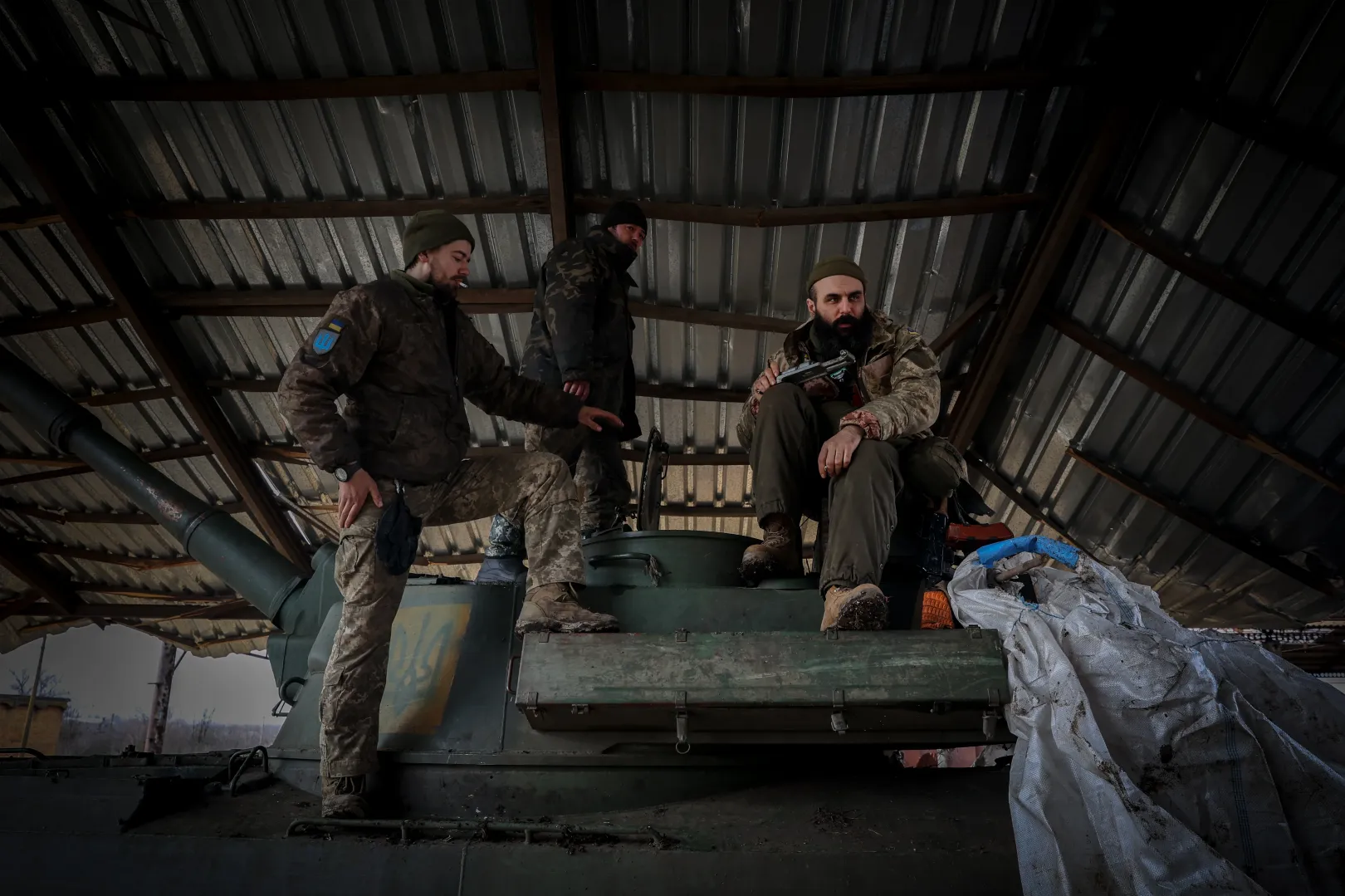 He never felt that he was mistrusted at the front as an ethnic Hungarian because of the Hungarian government's policies. "I explained my approach to the whole thing, and I do my job like everyone else." But when he was back home in October, he had the feeling that Hungarians in Transcarpathia were now "feeling more uncomfortable".
"It's not what the Hungarian government says that matters, it's what it does. If they were to say that they don't support us and yet were helping us, that would be good enough for me."
- Viktor, who also often hears about "forced conscription" in Hungarian pro-government statements, put forward this pragmatic solution. (It's another matter that because of the war there is mobilisation, not conscription, but both are forced, since the volunteer base route, which Viktor had volunteered for, is called recruitment.)
Viktor said that if there are excesses, it is unacceptable because they are all fighting for a free country, but mobilisation is essential, because soldiers are needed. "We have been here for a long time, we are getting tired, and we want to go home to our families after a while. We need a new shift to come after a while."
What is the message of a Hungarian from Transcarpathia to the Russian army?
It seems that there is no other way to bring the war to an end for the time being, so Viktor remains on the front line. Russia is now talking about peace negotiations, but it refuses to give up the territories it has occupied, while it has been unable to take more simply because it fell short militarily – partly due to Western arms supplies that the Hungarian government has opposed.
It is obvious that Moscow is only trying to buy time with its current proposal, which is uncompromising anyway. It is not clear why it would stick to any agreement when it reneged on the 1994 Budapest Memorandum guaranteeing Ukraine's territorial integrity and then supported separatists in eastern Ukraine after the annexation of Crimea in 2014.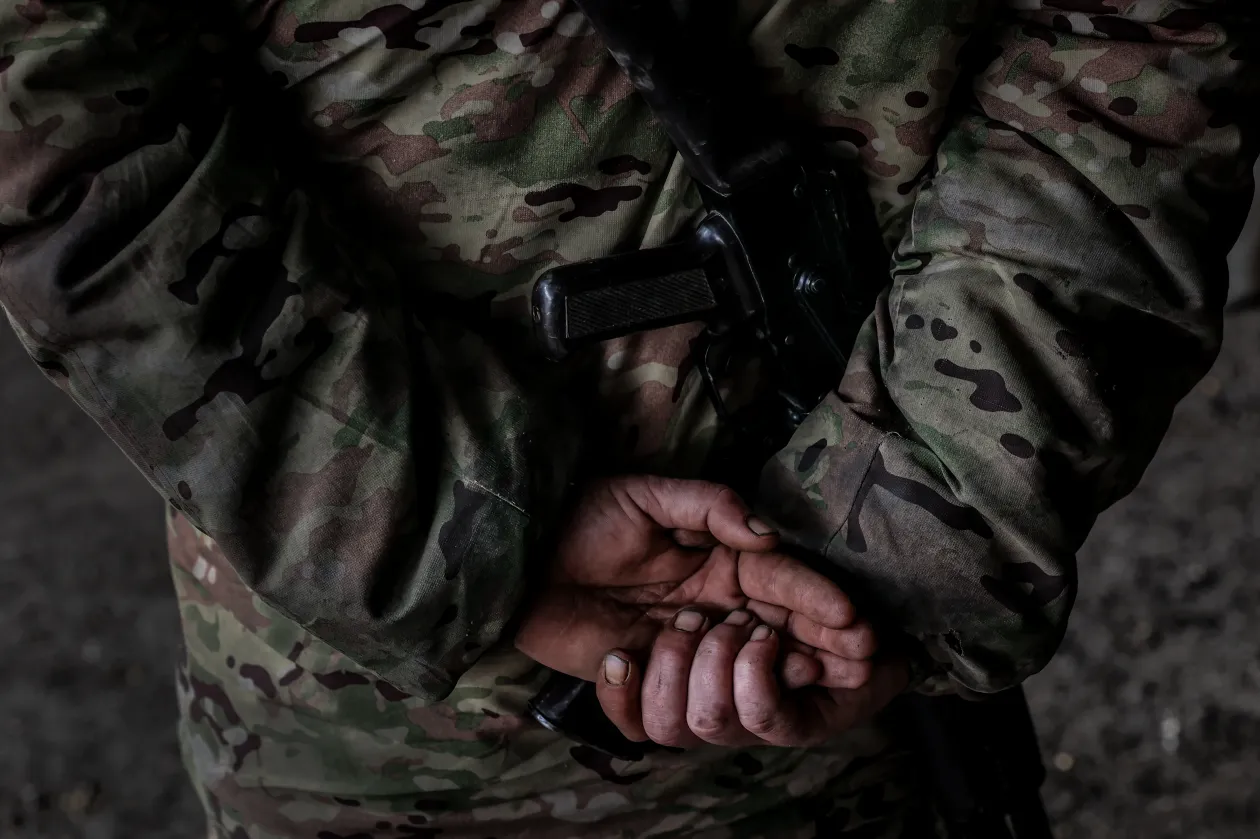 After inspecting their self-propelled howitzer so they could return to the front the next day, Viktor's fellow soldiers took a cigarette break. "Want it? We'll sign it for you!" – one of them pointed to the shell casing of the howitzer. Autographs were popped on the cylinder, on which Viktor had also written his message. "Let there be peace!" Then, to make it clear what was needed for this, he wrote over it: "Russians go home!"