A Hungarian student spoke out for a better education system – now, she's switching schools
November 17. 2022. – 08:01 AM
updated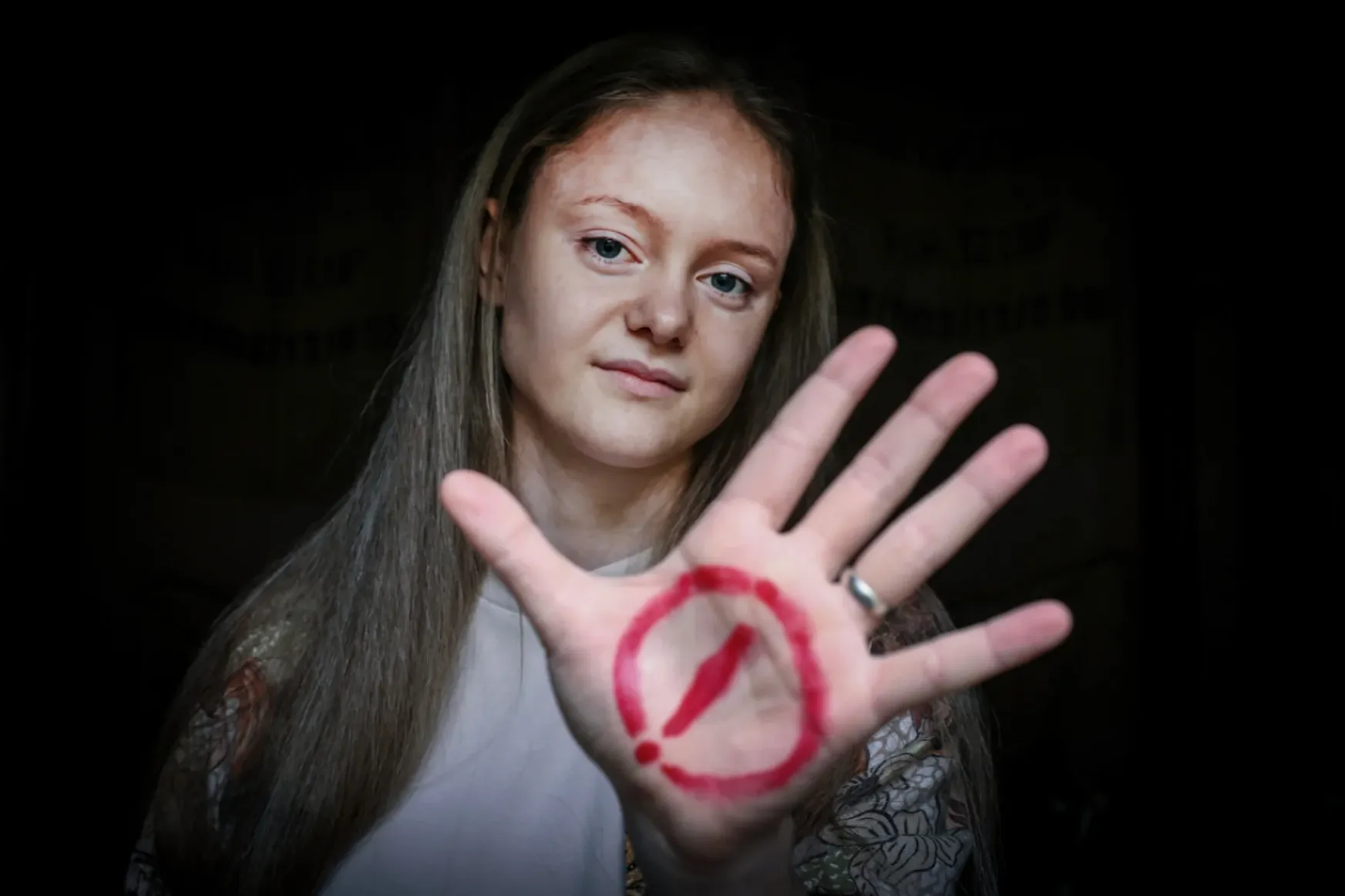 Photo: István Huszti / Telex
Lili Pankotai, 18, delivered an impassioned – and profanity-laden – slam poetry performance during a teacher demonstration on October 23 in front of tens of thousands of people. Her original piece was a call for better teacher salaries and increased education funding.
"Dear Hír TV, I will never care who sucks whose dick, but I do care about who owns their opinions," she said in her reading. "The 12 points taught me to speak up now – you won't believe I, and all of us, are the present and the f***ing future," she said.
She explained her decision to perform at the protest in the capital:
"We tried to do this nicely and quietly, but it's gotten to a point where we feel like we have no other tool than to take to the streets for attention."
"This doesn't just affect one or two people. The whole of Hungary is at stake here, the future of children being born right now – which is why it's crucial we stand up for education,"
she said. But according to her school, Ms Pankotai crossed a line.
On October 24, the principal of the Cistercian Order's Nagy Lajos High School in Pécs denounced Ms Pankotai's message as one that is incompatible with the Church's values.
While she received support from some – a Pécs crowd arranged a flash mob in her honour on October 25 – it emerged recently that Ms Pankotai has left her school, transferring to a different institution to complete her final year.
She wrote to Telex on November 14 to confirm the news but declined to share details until her place at the new school becomes official.
Telex reached out to the Cistercian school to inquire about Ms Pankotai's switch but has not received a response as of yet.
Who is Lili Pankotai?
The Cistercian Order's Nagy Lajos High School student first wrote and delivered her poem – spiced up with swear words – in March, and uploaded a video of the performance once the teacher strikes broke out. The video caught the attention of Áron Molnár, founder of the NoÁr Movement, which is an independent activist movement that has been fighting for a stronger civil society and human rights for four years now, and has been active in organising the recent demonstrations for teachers. Molnár asked Ms Pankotai to perform the piece for the mass demonstration held on October 23.
Ms Pankotai did not hesitate. Her biggest crowd before October 23 was 50-odd people at a slam poetry reading – a far cry from the tens of thousands at the demonstration. But this was a chance for her to express her beliefs and values.
"I've had enough, and I think more and more people feel the same way," she told Telex exclusively in a previous in-depth interview.
So, Lili Pankotai got on the stage and called out everything and everyone, from partisan bickering to anti-LGBTQ+ campaigns to Vladimir Putin.
The school responds
Ms Pankotai's educators were unimpressed.
Many reacted viscerally to her fiery performance – including the powers-that-be at her Cistercian school, who distanced the institution from the student.
Principal Dr Zsolt Nyisztor released an official statement on the high school's Facebook page, where he expressed his respect for free speech, but distanced the school from Ms Pankotai's comments.
"We categorically reject any content and narrative that was delivered that is incompatible with Christian values," wrote Dr Nyisztor.
Support from others
While her school pushed Ms Pankotai away, others embraced her for speaking out. A few hours after the principal posted his statement, Molnár addressed the principal in a public post saying:
"The slam proves the future generation's courage, relentlessness, and anger. Not because of the swearing – that's just a tool to highlight what we have to say," he wrote.
"Lili lived with her right to free expression. If there's retribution because of this, she can count on us. Because we won't watch in silence."
He asked: "Did you publicly distance yourself from József Szájer [former Fidesz MEP] when he had a sex scandal? Did you publicly distance yourself from Gábor Kaleta [former Hungarian ambassador to Peru] when they found 19 thousand child pornography photos in his possession? Or from Zsolt Borkai [former Fidesz mayor of Győr]when he had an orgy on a yacht?"
He continued: "They are the ones destroying Christian values…you should distance yourself from them. But to distance yourself from a graduating student who used her freedom of expression? Is that proportional?"
In Ms Pankotai's native Pécs, a crowd organised a flash-mob in solidarity with the young poet two days after the demonstration. Ms Pankotai came out to meet the people gathering in front of her high school, who handed her letters of support and admiration.
György Heidl, philosophy historian and Dean of the Faculty of Humanities at the University of Pécs, scorned the Cistercian school's excuse of 'Christian values' as "hypocritical".
Pécs sculptor István Böszörményi – known for protesting in creative ways – stuck a poster, complete with graphic language, on the school's gates.
How graphic? It had to be taken down within minutes. The poster read: "Distance yourself from your dick, not from the student who is protesting instead of you! Down with the clerical-fascist Orbán regime!"
Lili Pankotai stands firm
The extreme reactions – both the positive and negative – surprised Ms Pankotai, she said in the exclusive Telex interview on October 27. Hateful letters and articles were really hateful, and the emphatic support was really emphatic.
"I used six swear words, but the comments were a million times more vulgar," said Ms Pankotai.
Her family and friends were struggling with the vitriolic campaign, she said, but she wanted to hold her ground.
In the same interview, she said she understands the principal's decision to distance the school from her, which didn't surprise her or hurt her feelings.
"Not everyone has to agree with me, and I certainly don't want to distance myself from the school. I did it for them, and I want these teachers to have a better future, whether they agree or disagree with me," she said.
But the school environment became palpably cold and distant. There were looks; there were whispers.
"I do not regret my decision for a minute. I can't really imagine a scenario where I would regret it," insisted Ms Pankotai, who also said she was not scared of retribution.
"If they expel me, I'll switch schools. I wouldn't agree with the decision, because it's my freedom of speech – but it's their decision," she said at the time.
Now – less than a month after the interview – Ms Pankotai has left the school. The exact reasons behind the change remain to be known to the public.
How does it end?
For months now, students and teachers have been fighting for a better future in Hungary. The Hungarian government's response has generally been a non-reaction – in fact, pro-government news agencies barely covered the protests.
In an October 13 press conference, Minister of the Prime Minister's Office Gergely Gulyás announced wage increases of 20.8, 25, and 30 per cent in the next three years – but by Telex' calculations, the real wage increase would only be around six per cent with inflation.
Lili Pankotai became embroiled in this battle, which has seen her switch schools in her last year of high school.
Her story may not be over yet, but it makes for a concerning tale so far.
Ms Pankotai's performance can be watched here – warning, it contains profanity.
If the poem has too much profanity to stomach, you can read about the Hungarian education system here. Systemic underfunding and teacher intimidation is much more acceptable, it turns out.