Orbán: Hungarian society is much more pluralistic, free and peaceful than German society
October 25. 2022. – 12:50 PM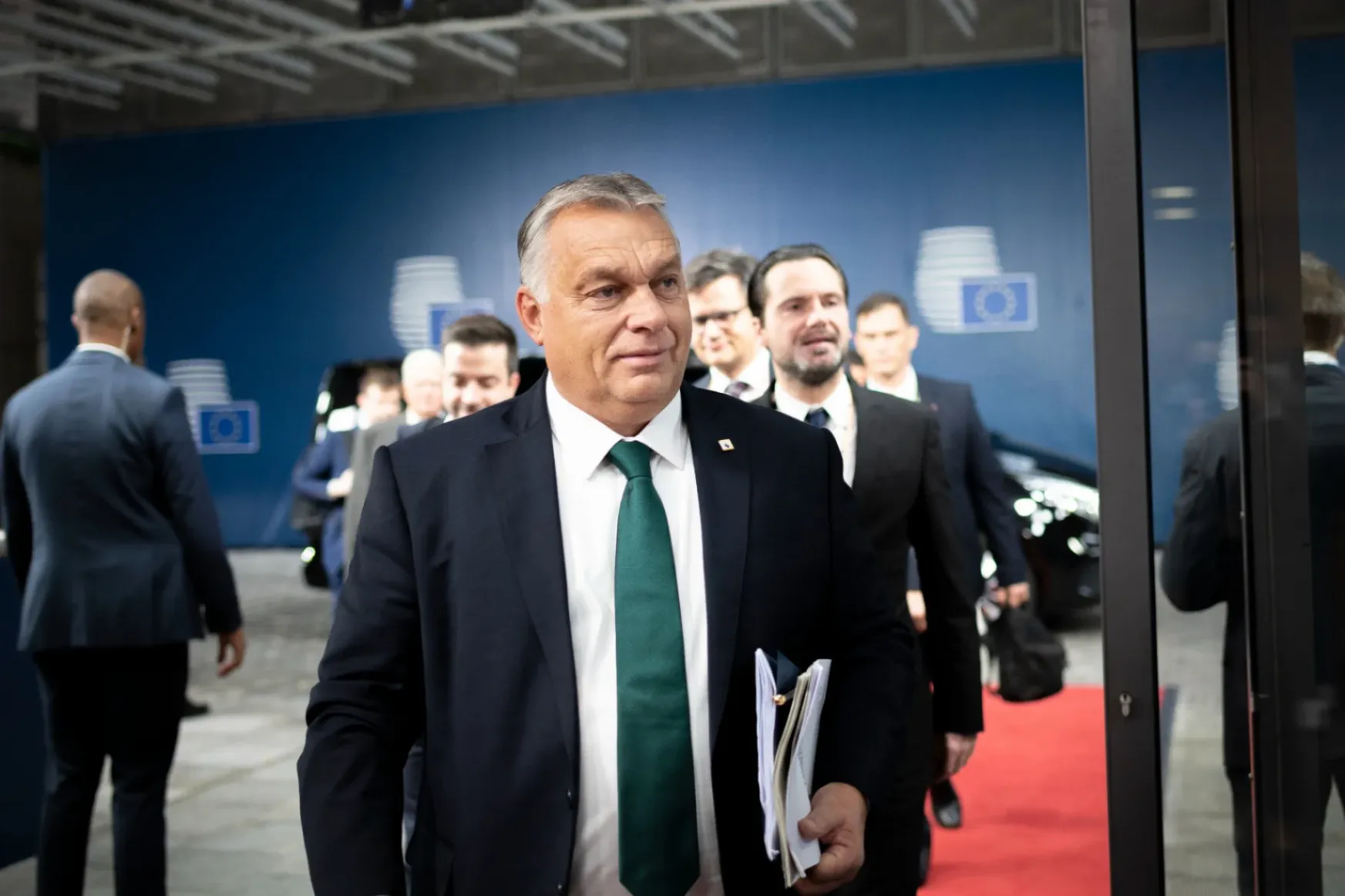 Viktor Orbán in Brussels on 21 October 2022 – Photo: Vivien Cher Benko / Prime Minister's Press Office / MTI
Viktor Orbán gave an extensive interview to the German-language Hungarian newspaper Budapester Zeitung. The reporter's leading questions would probably be envied even by the Hungarian state broadcaster. The Prime Minister spoke about his recent trip to Berlin, German-Hungarian cooperation and about coming to an agreement with the European Commission.
The Hungarian prime minister visited German Chancellor Olaf Scholz in mid-October. He said that it had become clear to him during his visit to Berlin that Germany had become a multicultural society. "This is very different from the world in which we Hungarians live and which we want to continue to live in. Serious efforts are needed to bridge the differences between the two countries which are emerging in many areas," he said.
"Political leaders have a lot to do to ensure that the traditionally good German-Hungarian cooperation continues despite all this."
Orbán said that the cooperation between the two countries is good in social and economic matters and added that "it is only in the political field that we need to put in a lot of work".
According to Orbán, German interference in Hungary's internal affairs, either directly or through the EU institutions, has now become extreme. "Today, the German left, through the European Parliament, is once again trying to tell us how to live and what to think about migration, genderism, the nation, the family, and so on. But that is none of their business. It is our business" Orbán said.
He said that he was not given a military salute during his visit to Berlin because it is not customary during a work visit. He also didn't object to the host's decision not to hold a joint press conference with the German chancellor. However, he did take part in a panel discussion and gave an interview. "I did not want to leave any doubt about Hungary being a transparent country. Although we do many things differently from Germany, we are open," Orbán said, explaining his decision.
"You can ask us questions. We are happy to answer any questions."
- the prime minister, who has not given an interview to independent media in Hungary for more than 12 years said. In recent weeks, we have again requested interviews with him several times through his press chief, but so far we have not received a response to any of our requests.
More and more Western Europeans are expected to move to Hungary in the next ten to twenty years
"Compared to Germany, Hungary is now an island of peace and freedom", the Hungarian Prime Minister said, adding that Germany is currently dominated by a hegemony of liberals. "There is only room for one narrative in the public sphere there. Anyone who deviates from it no longer exists for the public".
In Hungary, on the other hand, public discourse has a pluralist structure.
"There are liberals and conservatives. They are almost equally represented in the public discourse through the media," Orbán said.
"Hungarian society is much more pluralistic, free and peaceful than German society."
According to the reporter, more and more Germans think that their future lies in Hungary. "They are leaving their German homeland mostly because of the increasing repression of people who think differently, the deterioration of internal security, concern for their children and the increasingly unpleasant intellectual climate in general," Jan Mainka introduced the question of whether the Hungarian government plans to introduce any countermeasures, quotas or other bureaucratic obstacles to German migration.
"In the next ten to twenty years, more and more Western Europeans will move to Hungary because Hungary is a safe, Christian country, proud of its traditions. We do not see this as a bad thing, but rather as a very good thing, something to be welcomed" – the prime minister responded and announced the policy of "Western Refugees Welcome!"
"Hungary will welcome with open arms all Western Europeans who want to live freely and in an atmosphere different from the one in their home country."
"Many more people could live in Hungary than currently live here. We are happy when foreigners who like the way we think come to us" Orbán continued.
The prime minister said that in European history it had always been a great gain for the host countries when immigrants from the West arrived, but he made it clear straight away that there would be no parallel societies in Hungary. New arrivals must learn Hungarian.
The European Commission will keep coming up with more and more requests
In the interview, Orbán also spoke at length about European politics. He considers Fidesz's former EU party family, the European People's Party, to be a left-wing party family now. "The problem is that it is not only left-wing, it is also left-wing in its doctrines. It can only imagine cooperation with others if all its doors are open towards the left and closed on the right," said the prime minister, who considers this a very short-sighted policy.
"A centrist party, such as the European People's Party aspires to continue to be, must keep its doors open in both directions. But the EPP is not doing that. I fought against this and I lost this battle within the EPP," the prime minister said. He claims that he had failed to prevent the prevalence of those circles that believe the doors should only be open to the left.
He considers it a purely political question when Hungary will receive the withheld EU funds. He said that the EU's three big, closely cooperating party families, the Socialists, the People's Party and the Liberals, are being given free rein to introduce punitive measures against Hungary and Poland, which do not belong to either party family.
"When the British were there, there were no such punitive measures. There were no rule of law procedures, no conditionality mechanism, no joint loans. At that time they did not dare to do anything like that. But the British, unfortunately, left. So we were left without protection."
Orbán said the French and the Germans were using the EU institutions as a weapon against Hungary and Poland. "They are punishing us and obviously blackmailing us with EU money. But there is no legal basis for this. It is quite simply blackmail. We do not want to argue, we want to cooperate. So if the European Commission asks us to do something that is not against Hungarian interests, we will do it. That is why we have no problem with implementing the 17 points that the Commission has asked us to implement. We will certainly not be the reason if successful cooperation should fail," he said.
But he fears that this will not be enough. "I assume that there will be more and more requests after this. Look at the way they treated the Poles! They did everything that was required of them and mutually agreed upon. But then new demands were put on the table, only to continue to withhold the funds the Poles are owed." Orbán said it was clear that the goal was to force a change of government in Poland, and that this could ultimately be the case with Hungary as well.
The Hungarian prime minister expects to be able to sign the agreements with the EU by the end of the year and the funds owed to Hungary to be released soon after. "If this does not happen, it will lead to a series of unforeseeable conflicts," he said. But he could not say whether the money would actually arrive.
"Hungary, however, cannot be cornered with finances, because we are engaged in a number of negotiations in the international financial markets", Orbán continued. "Negotiations with Russia are ongoing on the issue of energy resources, and we are also negotiating with China. We may end up having to finance the EU's green programmes from Chinese sources."
Despite all the disputes, Orbán is completely positive about the EU. "I am definitely of the opinion that Europe is better off with an intelligently organized EU than without it," he said. For Hungary, only an EU that guarantees the freedom, security and prosperity of its citizens makes sense.
"Membership only makes sense for us if this goal is achieved. But if we are moving towards disintegration, it is bad for all member states. I am confident that the EU will get back on track. We are in favor of a comprehensive reform of the EU," Orbán said of the Union.