Orbán: When I visited Putin before the war, I could tell there was trouble
October 12. 2022. – 09:48 AM
updated
"I asked the Russian President what he thought of the Ukrainian army. He said that the Ukrainian army is a very strong army."
- this is how Hungarian Prime Minister Viktor Orbán began his speech on Tuesday in Berlin at an event organised by Cicero magazine and the Berliner Zeitung newspaper, in which he spoke about his visit to Putin in Moscow in February. The Berlin discussion was recorded by 444.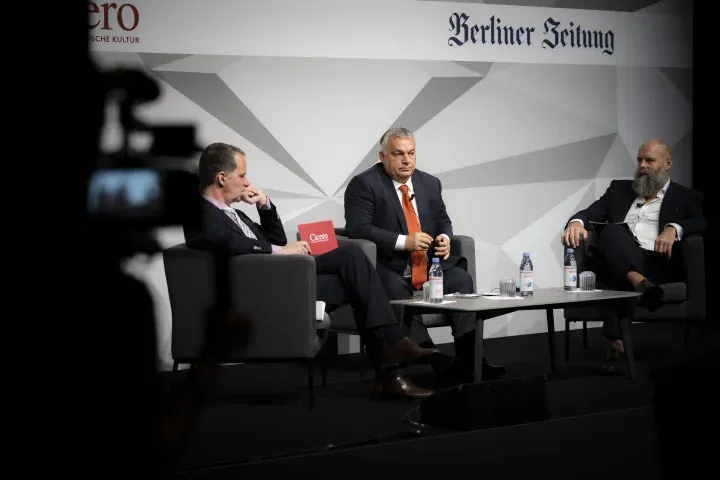 Orbán continued by saying that during their exchange, Putin had told him that the Ukrainian army was a "well-equipped army, trained by the Americans and the British". He also said that Putin had told him that "the Ukrainians are receiving information from the Americans."
Regarding Ukraine, he said:
"that is a very strong country. And he made it clear that he will do everything he can to make sure that this country never joins NATO."
The prime minister then continued:
"I could tell that he was out there. He didn't say there was going to be a war, he didn't say he was going to attack, but I saw there was trouble."
As Orbán explained, he then went to NATO, where he reported that "there was a problem. Because time is not on our side, it is on the Russians' side". Finally, about the outbreak of the Russian-Ukrainian war, he said:
"And then when it happened on the 24th, I just said that what happened is exactly what we had been expecting."
As we wrote earlier, Orbán also said that he thought the international debate was too focused on Putin, but that he was not interested in Putin at all, "I am interested in Hungary and Europe, in what the consequences of the war are for us".
Orbán also made it clear that the Hungarian government agrees with what the EU says about the war: that it is an act of aggression, because Russia has violated international law.
Among others, Orbán also said that, "Biden went too far, Trump is the hope for peace".
The translation of this article was made possible by our cooperation with the Heinrich Böll Foundation.