We need one more coat of arms for the math book, which one should we pick? The Russian one, of course!
October 11. 2022. – 11:23 AM
updated
According to its website, the UN currently has 193 member states. Including non-UN members, there may be around 200 independent countries in the world, some of which are themselves made up of states. They all have coats of arms. There are also various types of municipalities and other administrative units that also have their own coat of arms.
The Heraldry of the World database, for example, currently contains 264,620 coats of arms, including administrative, educational, military, ecclesiastical, etc. There are more than 15,000 administrative-type coats of arms in Germany or France alone.
I listed the above numbers to show that the authors of the 6th grade mathematics workbook (pdf) published by the Hungarian Office of Education had plenty to choose from when they came up with the task of mirroring coats of arms in the "figures and mirroring images" section on page 29 of their book. Why this had to be presented with coats of arms, we will never know, but there it is.
Two coats of arms were chosen for the "choose which one is the real one and which one is a mirror image" exercise. Logically, one of them was likely to be the Hungarian coat of arms, that's a given. But which should be the other? It would make sense to use the one belonging to the Hungarian capital, but let us follow the pattern of realpolitik and say that for example, the Hungarian town of Debrecen could have been chosen, or even the coat of arms belonging to a neigbouring state, like Austria would make sense – and this could even come in useful in history class later on. Also, given the large number of Hungarians living in the UK, or the country's historically close ties with Germany, any of these could have been chosen.
Oh, but we have a much more witty solution! – the professional team led by editor Dr. Gergely Wintsche must have exclaimed. After all, Putin's propaganda worked so well in geography textbooks (whether about Ukraine or the Yugoslav wars), why not cast our watchful eye on Moscow in math class as well? And there you have it, the task we are reproached for in this Facebook post (at least it hasn't become a diplomatic issue, like the geography textbook):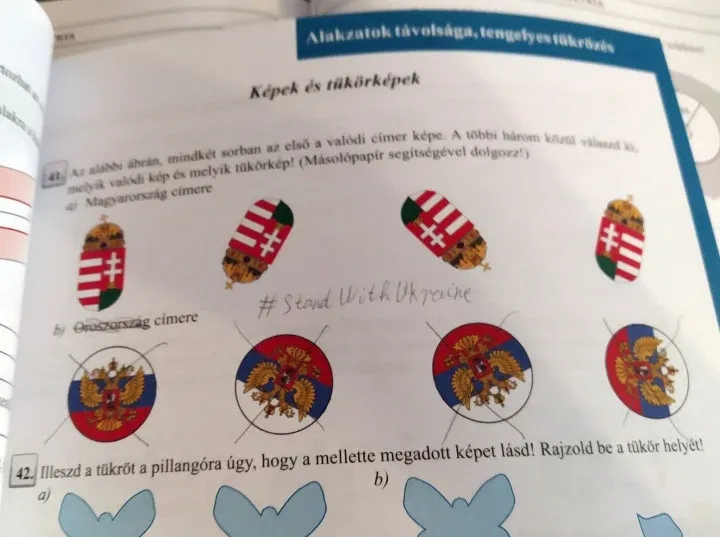 And thus, they managed to include this task in the math workbook created for Hungarian sixth-graders – which was approved for use in schools in 2021, and will therefore be used until 2026. Sixth-graders most likely do not know much about the events of world politics, or the fact that they have to work with the coat of arms of a country that is waging war against a neighbouring country partly inhabited by Hungarians, and which is killing civilians – as one of the missiles in Monday's attack hit a playground.
They probably also don't know that the coat of arms in their workbook belongs to a country which is by now only supported by states such as North Korea, Belarus and Hungary and that the Hungarian foreign minister is – as a tell-tale sign of his country's pro-Russian stance – the only EU politician preparing to attend a conference in Moscow this week where he will meet with Russian business leaders who are banned by sanctions from the rest of the normal world.
And while the Russian-Ukrainian war was not yet going on in 2021, by that point, we were past the annexation of Crimea and the phony referendums and the annexation of Eastern-Ukrainian territories. In other words: they could have chosen any of the other 264 618 less embarrassing options. But it seems the compulsion for being pro Russian remains a strong driving force for some.
The translation of this article was made possible by our cooperation with the Heinrich Böll Foundation.