For twelve years we thought that sinking deeper is not possible, but as it turns out, it is
October 05. 2022. – 01:50 PM
updated
We spoke with two of the Hungarian public teachers who were recently fired for taking part in the civil disobedience movement – for having demanded changes in the education system and a pay raise. They told us about the importance of standing up, the changes that need to be made and what's next for them. Make sure to turn on the English subtitles!
Last Friday, several teachers were fired from Kölcsey Ferenc Gimnázium in Budapest by the District Education Authority their school belongs to. This was the authorities' response to these teachers repeatedly taking part in protests demanding changes in the education system, including a pay raise.
After the government passed a law in February which made it virtually impossible and pointless for teachers to strike, educators throughout Hungary turned to the only tool left for them: civil disobedience . These mini-protests have been happening daily all across the country for weeks. This Wednesday morning, parents organized a human chain which spread across the wider downtown part of Budapest and even further.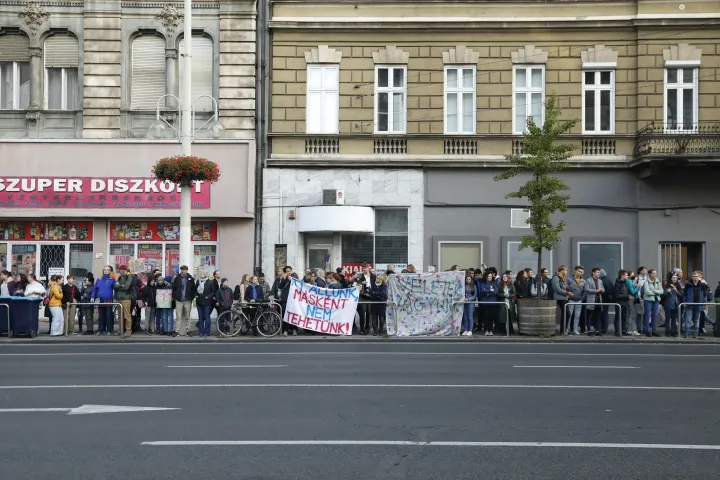 We spoke with two of the recently fired teachers, Katalin Törley and Tamás Palya. Ms Törley had literally just found out about her dismissal shortly before speaking in front of our camera. The principal of their (now) former place of work published the below comments about these two educators:
Tamás Palya, mathematics-chemistry teacher:
He taught both mathematics and chemistry, and was the head teacher of one of our graduating classes. Mr Palya was President of the Civil Service Council. He is an excellent mentor of young talents, and has in recent years prepared several finalists for the Irinyi János Chemistry Competition and the Chemistry OKTV competition. Along with his students, he set up a science-based escape room in the school after successfully winning the funds for the project at a tender. In his spare time he led a board games club and a hiking club.
Katalin Törley, teacher of French:
Katalin Törley, French teacher, herself a former student of Kölcsey High School. "In recent years, she has taught the French language to a large number of students in the preparatory classes of our bilingual programme and has prepared students for their exam in French civilisation. As there is no textbook for this subject, she put one together herself. This year, she again had groups of students taking the baccalaureate in French. In September, she and a colleague organised and carried out a project that had been neglected on the national level for the last two years: she organised a language learning abroad programme for a class (students stayed with French families and studied at a language school for a week).
What are Hungarian teachers demanding?
A pay raise:
The government has for a long time been looking to use resources from the EU recovery fund (which is dependent on the agreement with the EU) to finance a pay raise for the sector, but it is still not clear when this money will arrive. For the time being, Gergely Gulyás, the minister in charge of the Prime Minister's Office, said that from January they could guarantee teachers a 10 percent pay raise, with teachers' pay reaching 80 percent of the average graduate salary by 2027, compared to the current level of 60 percent. The unions say this is not enough and that an immediate pay raise of 35 percent is needed instead.
A reduction in their workload:
On average, teachers have 22-26 compulsory lessons a week, and teachers are calling for this to be reduced. Moreover, regardless of whether you teach 22 or 26 hours, you get paid the same.
A restoration of their right to strike:
Hungarian educators have been in a more difficult situation since the law on strikes was modified. This most recent conflict was triggered by the government's adoption of a decree on 11 February. This stipulates that even during a strike, teachers must provide sufficient services, citing the epidemiological state of danger (introduced by the government due to Covid 19). The decree was later passed into law. The problem is that according to this legislation, certain lessons must still be taught and children must be supervised at all times – thus making the strike meaningless and invisible to society.
The subtitles for the above video were created using the Alrite text recognition and transcription software.
The translation of this article was made possible by our cooperation with the Heinrich Böll Foundation.