Index.hu sold, editor-in-chief resigns
November 24. 2020. – 02:10 PM
updated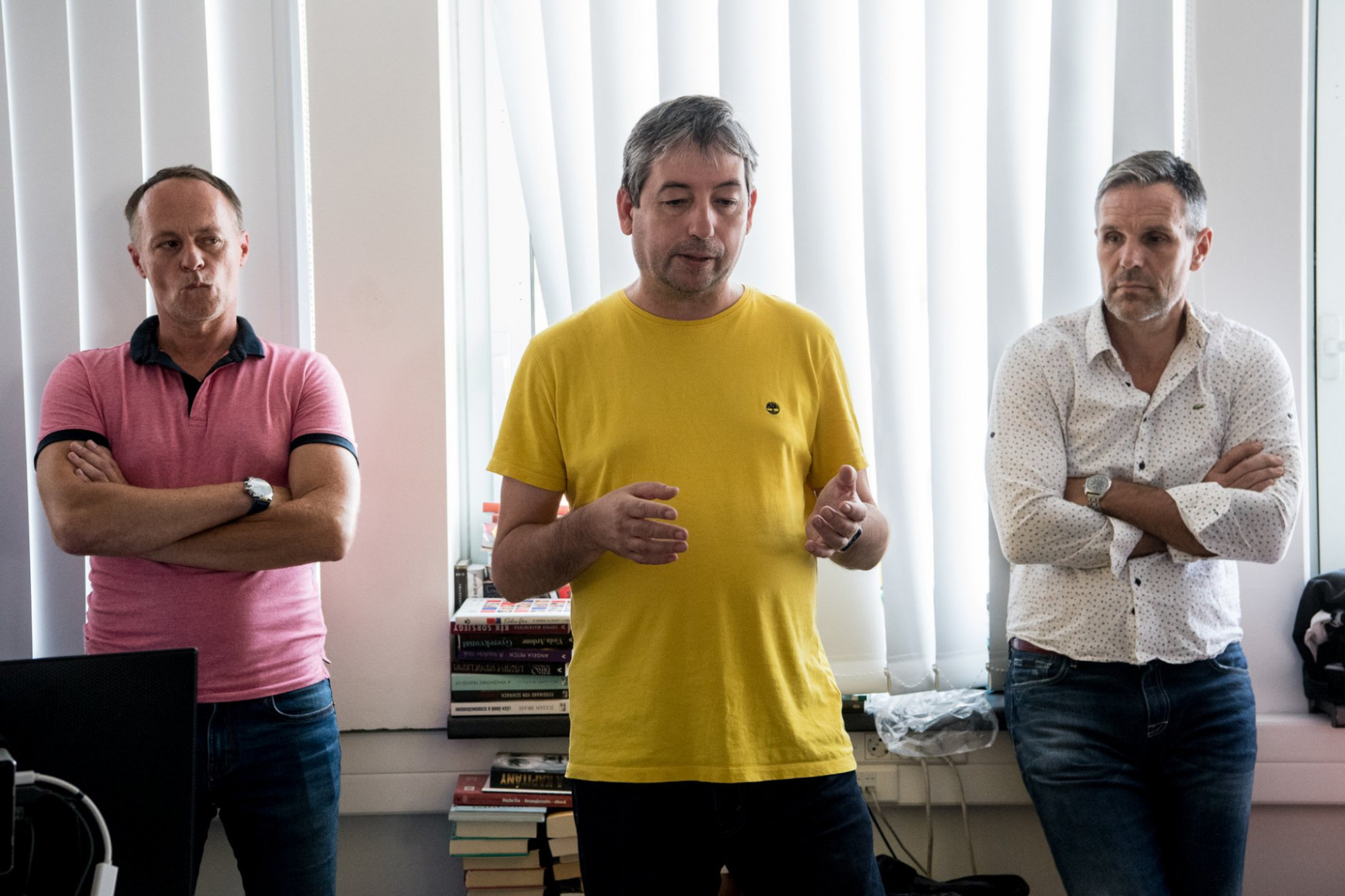 Editor-in-chief Pál Szombathy (left), President of the Board of Directors László Bodolai (center), and deputy editor-in-chief András Sztankóczy at a staff meeting in July 2020. Photo: János Bődey
Indamedia Network Zrt. is purchasing the stocks of the publishing company of Index.hu from the foundation that currently owns them and as a result, the online news site will become part of the Indamedia group, media journal Kreatív reports based on a press release issued by Indamedia.
As part of the changes,
editor-in-chief & CEO Pál Szombathy and senior editor András Sztankóczy will be leaving Index.hu as a result of a mutual agreement.
The newly appointed CEO is Ákos Starcz, the owner of Brand & Content and Dialogue Creatives, the latter has just merged into the Indamedia group a week ago, where Mr Starcz had been appointed as a member of the board of directors not long after. Szombathy's position of editor-in-chief will remain vacant, Index.hu will not have a new editor-in-chief.
According to the statement released by Indamedia, the reason for acquiring Index.hu from Magyar Fejlődésért Alapítvány (Foundation for Hungarian Progress, MFA) is that the new owner sees "the group-level integration as the sole possibility to ensure the consolidation of the current financial situation of Index.hu and the resulting uninterrupted continuation of the operation of the publication"
"During this past year, Indamedia has continuously financed the operation of Index.hu. The bigger issue is that the business plan does not show how Index.hu could be more functional. It is important to note that this move will result in a clear corporate structure, as Indamedia will be fully responsible for the operation of the subsidiary – this was less obvious in the previous form of collaboration"
- the newly appointed CEO revealed to Kreatív.
According to the press release, László Bodolai, the President of the board of trustees of the foundation that owned Index.hu until now, and also the president of Index.hu Zrt's board of directors, has refused the offer to remain member of the board of directors at the publishing company, and would assist Indamedia group as a media attourney in the future.
Just a few days ago, Telex released a video that goes through the rearrangement of the Hungarian press media market relations in 2020.
Translation contributed by Miklós Miller.
Disclaimer: Telex.hu's staff have resigned at Index.hu Zrt. in July, as they did not see proof that they could continue their work there independently. We could launch Telex.hu in October thanks to donations from our wonderful readers, which is how Telex can be independent, impartial, and fair. If you wish to support the free press in Hungary and Telex.hu, click here for the details.
The strange history of Index's ownership
This is not the first time Indamedia owned Index.hu Zrt. The large online publishing house basically grew out of the once prestigious news site, the newsroom of which had been working in the eye of a major political storm for years, relatively undisturbed – until this summer.
The interesting part of the story started in 2014, when Zoltán Spéder, the owner of Indamedia (under a different name, CEMP) at the time, struck a deal with Fidesz's financial mastermind and crucial media owner Lajos Simicska just as Spéder was losing favour with the government, and signed an agreement on an option to purchase, which stayed in Simicska's drawer for years, unbeknownst to anybody else.
In 2015, Simicska too had a widely publicised falling-out with Prime Minister Viktor Orbán, when the advertising tax seemingly designed to disadvantage Bertelsmann's RTL Klub against pro-government competitor TV2 had significantly hit the revenues of Simicska's media empire as well. Simicska called his option on Index in 2016, immediately reorganising the group, playing Index.hu Zrt over to a newly created foundation (MFA) and appointing László Bodolai, the site's long-time attourney as the president of its board of trustees, who often regarded himself as a personal guarantee for the site's independence. Indamedia held on to MFA's founder's rights, maintaining a very loose link between the group and Index, but under this structure, as long as Bodolai held up, the staff was pretty much untouchable.
In 2018, after Fidesz won their third consecutive supermajority, Simicska retired from public affairs and got rid of all his business interests. Indamedia was acquired by Gábor Ziegler, a manager working in and around Index since 2000, and József Oltyán, a relatively unknown member of governing party Fidesz's coalition partner KDNP. This was when Attila Tóth-Szenesi, the site's editor-in-chief at the time, created the so-called independence barometer, so if Index.hu came under any undue pressure, they could "notify the world as loud as we can."
That moment came in June 2020, when editor-in-chief Dull Szabolcs set the dial on amber alert – in danger – as he wrote, because Index was "under such external pressure that could spell out the end of our editorial staff as we know it." This was two months after Oltyán's 50% stake in Indamedia was purchased by Miklós Vaszily, TV2's CEO, a former leader at the Hungarian public media, and active participant of turning Index's once largest competitor, Origo, into a government mouthpiece. As 24.hu reported at the time, there were plans to dissolve the newsroom and outsource journalists into external companies, keeping Index only as a frontpage, effectively turning editorial decisions into business decisions – what content to buy and what not to buy.
A month later, editor-in-chief Dull Szabolcs was fired by László Bodolai, and two days after that, more than 90 members of Index's staff have resigned. From September, the desks left empty by journalists of Index were mostly filled up under the leadership of new editor-in-chief Pál Szombathy, who just parted ways with Index.hu Zrt. as it once again became a subsidiary of Indamedia and an indirect property of Miklós Vaszily.
The staff who left Index behind in July went on to form Telex.hu, the site you are currently reading. (ZK)
For a wider context, watch our video on Viktor Orbán's never-ending media war:
This video has English subtitles. If you can't see them, turn them on in the video settings.