'To be Hungarian is a duty, to be worthy of our kind' – Orbán
Each year, on 15 March, Hungary celebrates one of its biggest national holidays. The nation remembers the unsuccessful 1848 revolution when the Hungarian nation rallied against the Austrian empire, and demanded autonomy from the Habsburg Monarchy and an introduction of several reforms, known as "The twelve points".
An iconic figure of the defeated revolution was a young poet by the name of Sándor Petőfi. He was already a successful poet at the time, and he wrote and publicly recited a poem to those gathered in Budapest in 1848, encouraging his fellow countrymen to join the revolutionary movement.
Breaking with tradition, Orbán gave his speech in a small town
Unlike in previous years, when Orbán (as well as his predecessors) gave a speech commemorating the revolution in Budapest, this year he chose to visit the small town of Kiskőrös, where Petőfi was born and speak in front of the house where one of the nation's most celebrated poets was born 200 years ago.
Orbán said that the Hungary of the mid-19th century was waiting for a voice, a voice that would give direction to a nation awakening to self-awareness.
According to him, this was the voice that Petőfi gave the country. The word was clear, the voice was clear, the movement was captivating.
The Hungarian dialect of freedom was created by Sándor Petőfi, the Prime Minister said, and this is how we became part of the free world.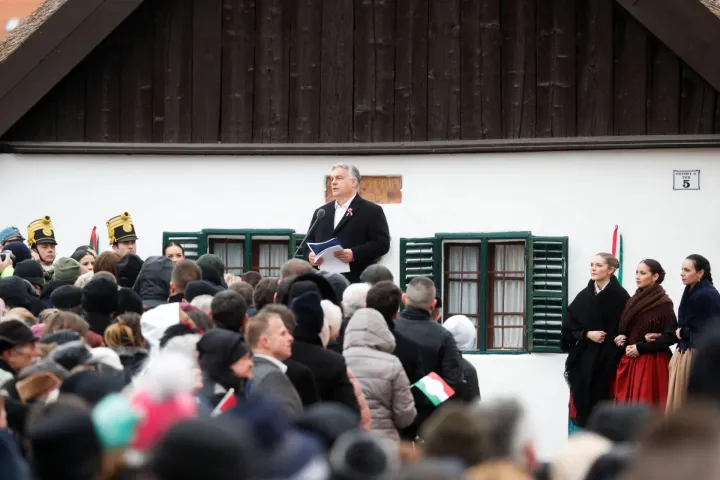 "We are amazed and filled with longing as we see that Petőfi created a world for himself that is clear and straightforward, where there is no transient gray zone between things", Orbán continued. In the Prime Minister's view there was no such thing as a life made up of a little bit of this and a little bit of that in Petőfi's world.
When we forget this, he towers over us with his poems, admonishing and reprimanding us, he added. If we are satisfied with less and worse than we could be, we become unworthy.
"To be Hungarian is a duty, to be worthy of our kind."
- Orbán said.
Petőfi – like all of us – wanted to be a happy citizen of a free country, the Prime Minister said. Petőfi could have chosen a secure, comfortable life and could have lived as a member of the middle class, but he chose otherwise. He died the way he had predicted in his writing: in a battle for Hungarian freedom.
According to Orbán, "the great march of Hungarian freedom" – although it has taken some twists and turns, and has at times ended up in dead ends in the past two hundred years – still continues today, and Petőfi is with the Hungarians in this march, even if we cannot see him.
"But sometimes, when we are in doubt, it's as if we can see him, every time we are in doubt".
We see Petőfi rising up when foreigners want to tell Hungarians how to live, and also when the powerful of the world want to merge Hungary into a European superstate. "We see him adding "let there be peace" before the twelve points", and we see him going to die instead of us for Hungarian freedom.
The previously described attempts will, however, not succeed, Orbán said, "because there's a little bit of Petőfi in every Hungarian".
No independent press allowed in
The area where the Hungarian Prime Minister gave a speech in Kiskőrös on Wednesday afternoon was cordoned off. Only invited guests were allowed in the audience.
Our photographer was not allowed to enter the area in front of the stage, even though a few days ago, Bertalan Havasi, the Prime Minister's press chief, replied to our question about registration saying:
"You are welcome at the event, no prior press registration is required".
Today, at the scene, our colleague was told that only journalists, photographers and video crews with wristbands would be allowed into the cordoned-off area. How one was supposed to acquire a wristband without registration is unclear. Thus, the independent press was left with listening to the speech from behind the cordons.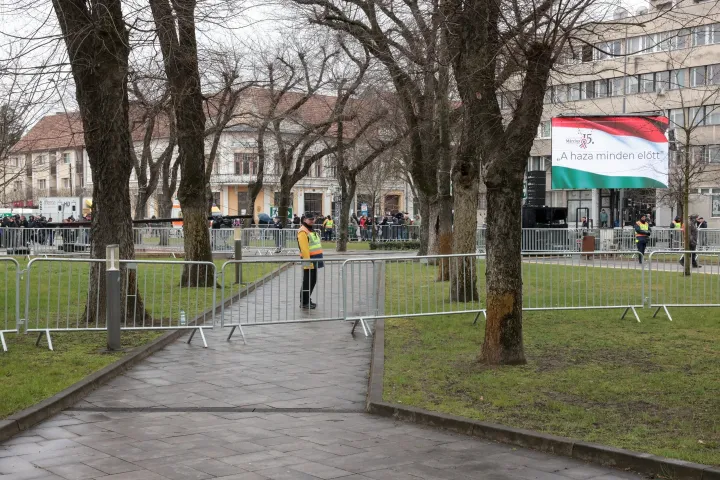 The speech at the central commemoration in the capital, where the Prime Minister traditionally gives his speech, was delivered by János Csák, Minister of Culture instead. The gathered gave the biggest applause when he pointed out that
"The importance of peace cannot be overstated today in the shadow of the war raging in our neighbourhood. If this war gets out of hand, it could destroy everything, including Europe. The courageous thing today in Europe is to say that we want peace."
The faction leader of the smaller governing party, KDNP (The Christian Democratic Party), István Simicskó's pointed out in his statement delivered via MTI:
"Let us not forget that there are foreign interests who are working with no expense or effort to control the lives of entire countries, and want to put people loyal to them in government".
"They want to tell us who we should live with. They want to force us to go to war according to their interests. But the spirit of the Ides of March (the 1848 revolution -TN) urges us to say no to all that! It is in the interest of all Hungarians that we decide our own destiny".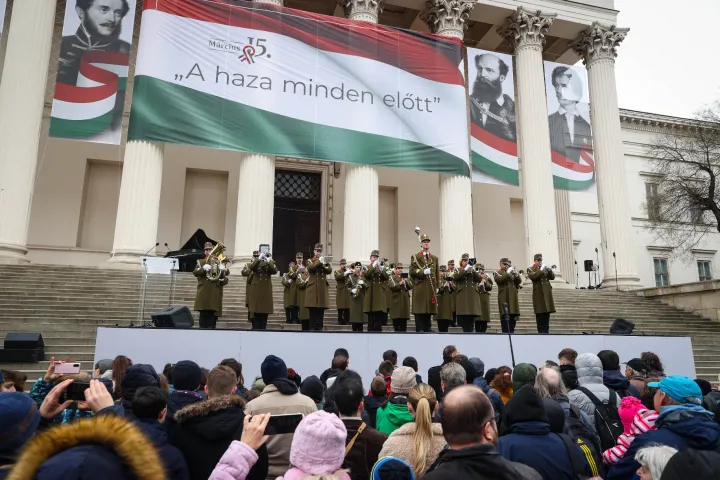 Opposition parties hold separate commemorations
The Hungarian opposition parties all held their own commemorations in different locations.
Co-chairperson of the socialist party, MSZP, Ágnes Kunhalmi said that
"15 March is a celebration of social progress, genuine national causes and European progress, while the current Orbán regime is neither progressive, nor genuinely representative of national interests, nor of progressive Europeanism.
Kunhalmi added that they believe that all corrupt and authoritarian regimes come to an end, as did the heroes of the 1848 revolution, and that is why very different political movements had worked together in those days to make their common cause a success."
Ferenc Gyurcsány, leader of DK (Democratic Coaliton) said that in his interpretation,
this holiday is "not about a speech, but a confrontation: will you do what the people you are celebrating would do in your place?".
A country in trouble is a country where anyone who wants freedom has to be heroic, but according to the DK president, that describes Hungary today.
Gyurcsány advised his listeners to dare to fight for their freedom, "otherwise you will be deprived of your rights and will become a disgrace to the nation", he said. He added that Orbán was a tyrant who must be fought, not negotiated with, and said that his message for "the lackeys and collaborators" is that those who seek favour with the tyrant will eventually end up in servitude.
Bence Tordai of Párbeszéd stated that
"everyone in Hungary today should understand that we are not pro-peace if we abandon the attacked and applaud the aggressor, but if we help the victim and create the conditions for a just peace."
He added that "Kossuth and Petőfi are spinning in their graves when the Hungarian prime minister serves the Russian autocracy that crushed the Hungarian War of Independence in 1849".
László Toroczkai, leader of the far-right Mi Hazánk spoke about NATO's enlargement at his party's commemoration. He said that NATO's enlargement to the east would be a threat to Hungary, but unlike Fidesz-KDNP, "there is no debate on this in the faction of Mi Hazánk". That is why they will vote against Finland and Sweden joining the alliance.
In his view, Hungary should leave NATO in the long term.
Toroczkai also said that the opening to the East was an idea that originally came from national radicals, but Fidesz stole it and used it to enrich its own people. Mi Hazánk wants the country to stop being a base for foreign companies, and believes that Hungarian companies should be supported instead of multinationals.
Ferenc Gelencsér, leader of Momentum said that
"Today we are once again faced with fighting for our own freedom. That is why we broke down the cordon at the former Carmelite Monastery (the PM's office -TN) yesterday, that is why we are fighting for the rights of the people of Debrecen and Eger, why we are standing up for Ukraine in a war where the Hungarian government's position has not become clear even after a year."