'We are among the victims, and Brussels should respect that' – Orbán on the war in Ukraine
February 24. 2023. – 08:43 AM
updated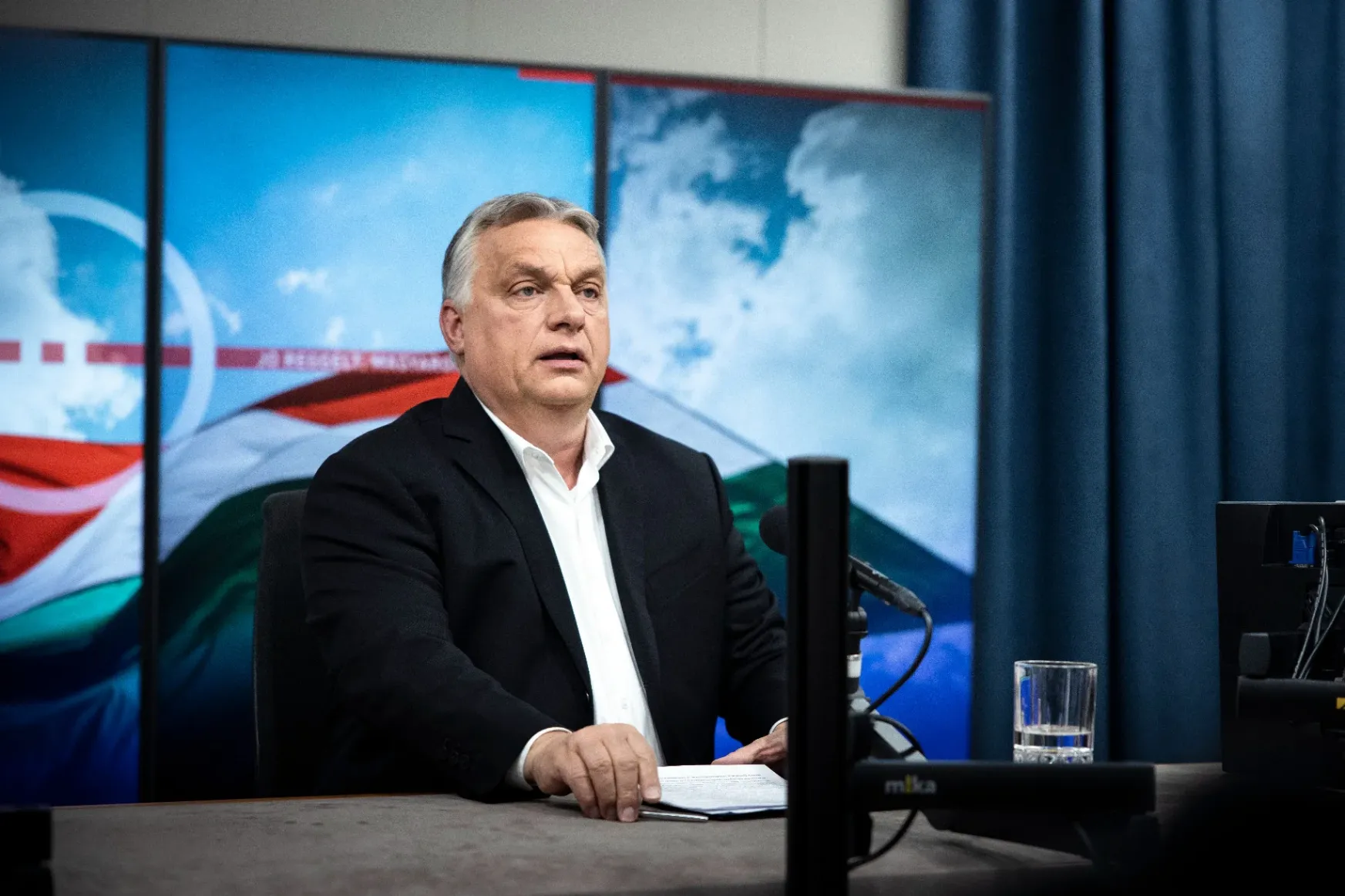 Viktor Orbán at the studio of Kossuth Rádió in 2022 – Photo: Zoltán Fisher / MTI
Most Friday mornings, Hungary's prime minister gives an interview on one of the state-owned radio stations. Since the independent media has not had a chance to interview him for several years, these weekly radio interviews are the only opportunity to find out what the leader of the country thinks about current events, how he sees his opponents and any issues at hand. This is a summary of the most important points from this week's interview.
'It is unclear what winning the war would mean"
The first topic the Hungarian prime minister reflected on today, on the first anniversary of Russia's aggression on Ukraine was precisely the war in Hungary's neighbouring country. According to him, it is not clear what the aim of the war is, as the two sides are stating different objectives at different times. For example, it is not clear whether the Ukrainians want to strike Russia or Crimea, he said.
Orbán said that
the EU had made a mistake by making the war a pan-European problem instead of localising the conflict, and by failing to indicate "how far we will go with the Ukrainians".
The prime minister said that in politics you have to understand numbers, and for him is clear that with Western help, the Ukrainians now have more weapons than the Russians. The Russians defeating NATO "has no reality today" and a country at war cannot be brought into NATO because then the other member states would be forced to help. Some kind of military alliance could be created outside of NATO, but NATO is a defence alliance, not a war alliance.
"The Hungarian position is morally and politically correct, and also reasonable: the essence of the Hungarian position is that a ceasefire should be achieved as soon as possible," Orbán said. According to the Prime Minister, "we are not alone in this respect", as most of the world thinks the same.
According to Orbán, it is natural in a conflict to lean towards one side or the other, to cheer for one or the other, but this is not a good way of looking at politics. At the same time, he said, neither side can win this war, although "it is unclear what winning the war would mean".
He regrets that it is not more present in the Hungarian public discourse that there have been some ethnic Hungarians from Transcarpathia who were conscripted, taken to the front and died there.
"We are the only country in the EU that is neither Ukrainian nor Russian, yet our people are dying in war. We are among the victims, and Brussels should respect that."
On the Swedish-Finnish accession to NATO
The prime minister also spoke about Sweden and Finland's request to join NATO. Orbán said that Hungary is also a country that had at one point requested to join the alliance and was admitted, and this gives Hungary the moral obligation that if someone wants to join NATO, we should consider admitting them.
The PM said that this is why he had asked the Fidesz faction to support the Swedish and Finnish membership of NATO, but "just between us, the MPs are not entirely enthusiastic". Some people think it's not right to ask for help while spreading blatant lies about Hungary, for example that there is no democracy here, and Brussels must respect that," he said.
But "I am one of those who's calling for calm", Orbán said, adding that while he understood the concerns of his fellow group members, "in principle we should support the two countries' accession to NATO.
A slowdown in price hikes as early as March?
Orbán said that it is difficult to answer the question as to why sanctions have been imposed, because they cause problems for Hungary. Those who have no energy and no sea can import gas and oil only through pipelines, and "it is in our vital national interest to prevent the expansion of sanctions" to these.
"These are badly planned, ill-conceived, ill-executed sanctions, and we will suffer the consequences", but then why are they doing it? – he asked. Orbán suggested that although the Hungarians are a clever people, it is possible that others also foresaw what we did – "and this is where the speculators come in. They benefited from this, they knew that there would be an increase in energy prices and they mobilised a lot of money betting on it in the first place". And who is such a profiteer? George Soros and the rest of those who 'roam' about the world, the Hungarian prime minister said.
If the bookmakers should open such an opportunity, then Orbán encourages everyone to bet that inflation in Hungary will be in the single digits by the end of the year. He thinks we may start to see a slowdown in price hikes as early as March.
Viktor Orbán avoids critical questions at home. It's been years since he gave an interview to independent media. However, for years, most Friday mornings he has been a regular guest on state-owned Kossuth Rádió, where he is interviewed by a leading editor of the public broadcasting service (operating from an annual budget of 320 millions of euros). Katalin Nagy has been almost exclusively the only person allowed to interview Orbán on the state-owned channel throughout his third and fourth term with a two-thirds majority in parliament. She has received the state decoration of the Cross of the Order of Merit of Hungary and doesn't shy away from asking questions.