Hungarian olympic champion Liu brothers to change countries
November 09. 2022. – 09:41 AM
updated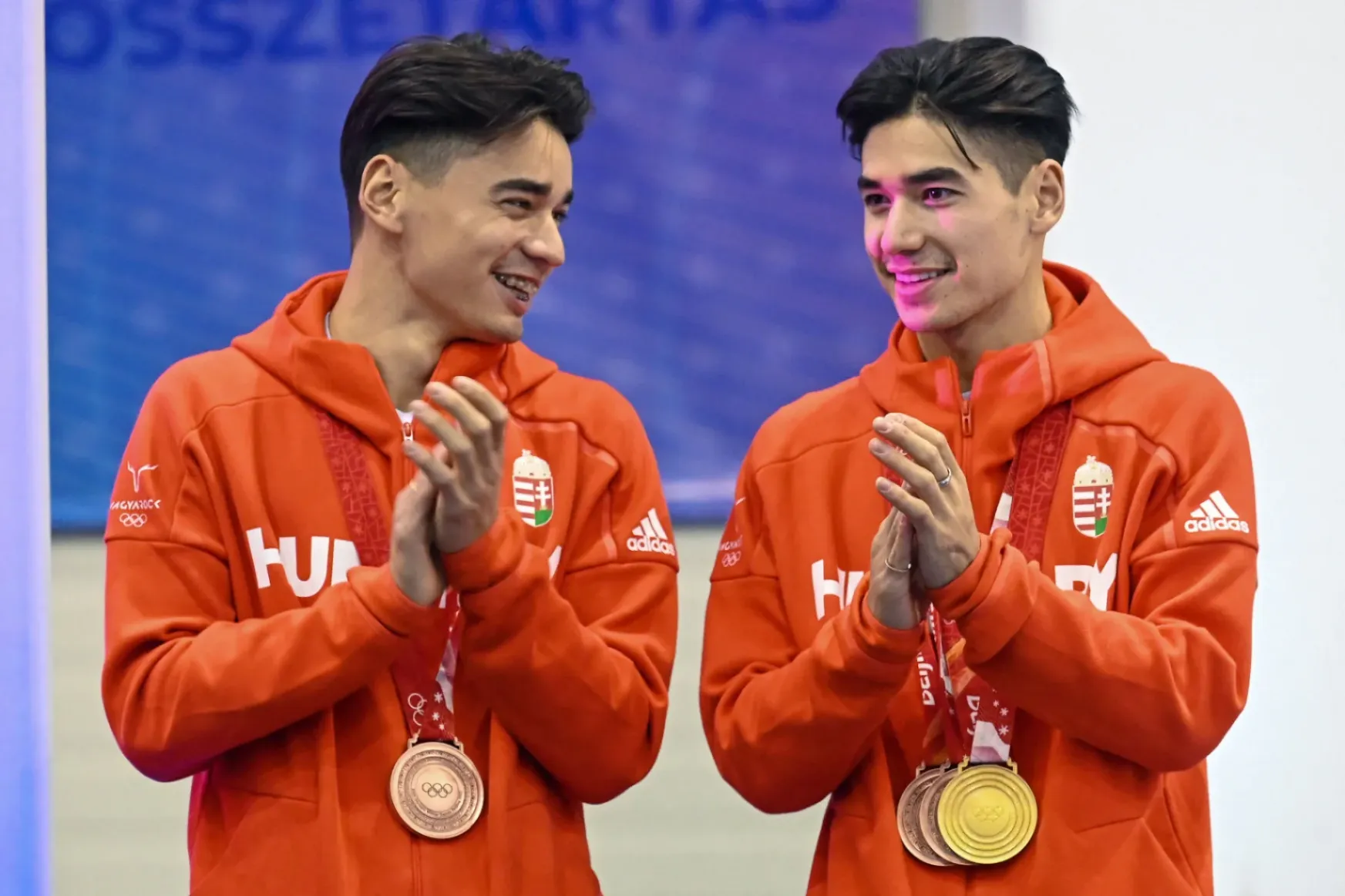 Shaolin Sándor Liu and his brother, Shaoang Liu celebrate upon returning home – Photo: Attila Kisbenedek / AFP
The Hungarian Olympic champion Liu brothers, Shaolin Sándor and Shaoang have requested the consent of the Hungarian National Skating Federation (MOKSZ) to start the process leading to their change of country.
Liu Shaoang is a two-time Olympic champion. He won the 500 meter sprint this year, he has been a member of the relay team for four years and is also a six-time world champion. Liu Shaoang's talent first shone at the 2017 World Junior Championships in Innsbruck, where he won the gold medal in the 500m, 1000m and 1500m race – a feat unrivalled in the sport.
Liu Shaolin claimed the historic 2018 Olympic gold medal – Hungary's first at the Winter Olympics – as the final member of the relay and is also a two-time world champion. He won at the 1000m final at this year's Olympics but was disqualified.
According to MOKSZ' statement on Tuesday, the two short-track speed skaters have not specified which country they wish to continue their careers in, and no national federation has formally or informally requested the athletes' eligibility for competition from MOKSZ.
The Liu brothers announced in August that they would be preparing for the next season in China, following their Chinese coach, Chiang Qing Lia, who had left her post at the Hungarian national team. They justified their decision by saying that she had taught them not only sport but life as well, which is why they wish to continue working with her. The two athletes spent part of their childhood in China, as Liu Shaoang explained in an interview with Telex.
If the Hungarian federation does not agree to a change of country, in order to compete at the 2026 Winter Olympics in Milan, they will have to miss three years of competition. Country changes are usually made during this period.
The president of the Hungarian federation, Lajos Kósa, told Mandiner in early August that the Liu brothers would continue to compete in Hungarian colours. The federation was so confident that they would represent Hungary in the future that they even financed their current training camp.
The switch is not unique in the sport. For example Viktor An went from Korean to Russian and celebrated gold medals with both nations. Although China is one of the superpowers in the sport, they have not been able to nurture athletes at this level recently.
The Hungarian state provides an annuity to Olympic medal-winning athletes if they are Hungarian citizens. This lifetime allowance is payable from the age of 35 and is adjusted to the applicable average salary. Shaolin, who will turn 27 in November, would receive around 800,000 forints (close to 2000 euros) a month for the rest of his life, while 24-year-old Shaoang would receive 1.5 million forints (about 3700 euros) a month if they were to retain their Hungarian citizenship.