Hungary does not recognise Russia's annexation of Ukrainian territories
September 29. 2022. – 03:58 PM
updated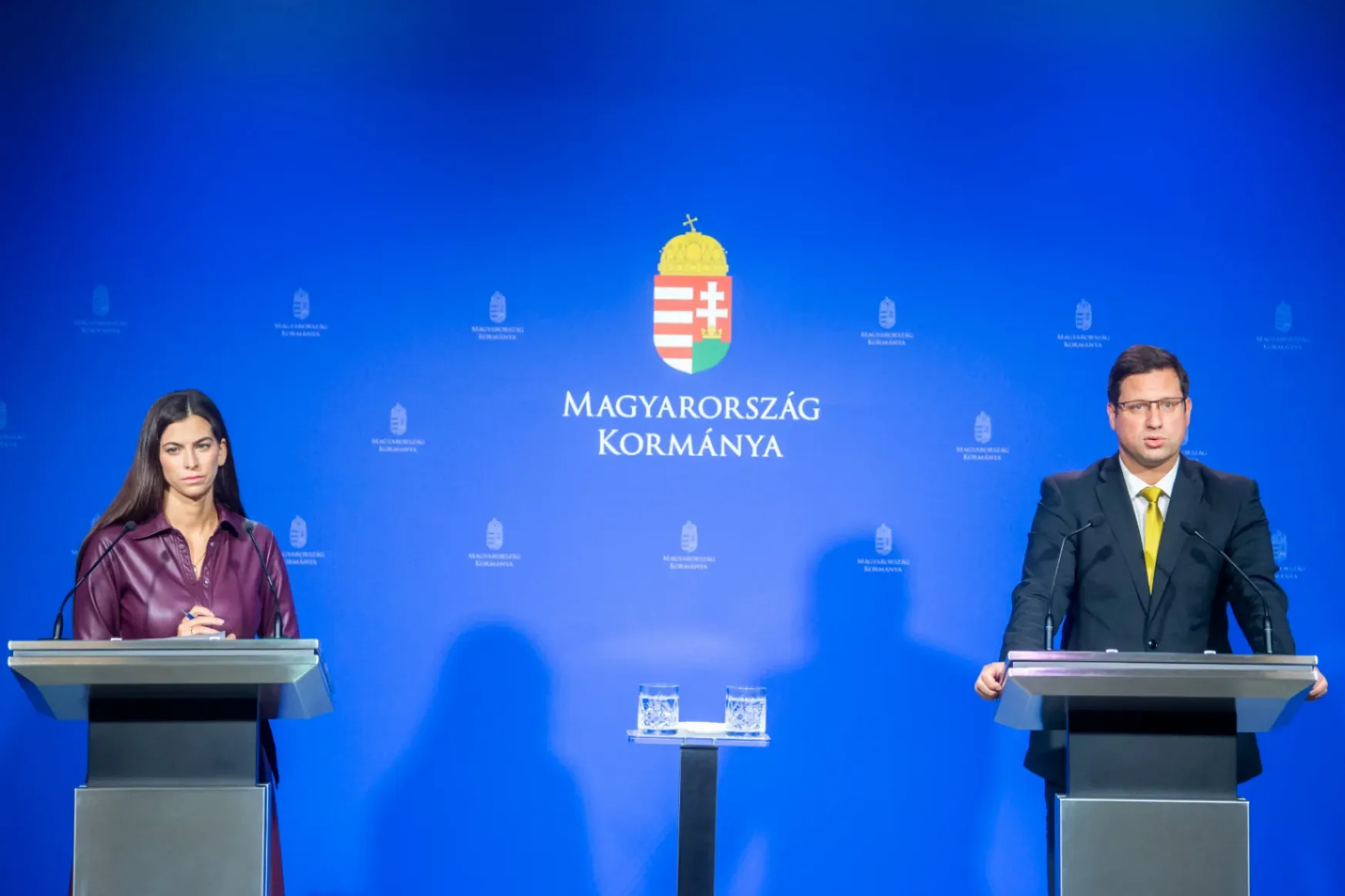 Gergely Gulyás, the PM's Chief of Staff, and Alexandra Szentkirályi, government spokesperson at the briefing on 29 September 2022 – Photo: Zoltán Balogh / MTI
The usual weekly government briefing was held today by Gergely Gulyás, the Prime Minister's Chief of Staff and government spokesperson Alexandra Szentkirályi. They provided information and answered the press' questions on several current issues. Below is a summary of the most important points relating to Hungary and the world.
On Russia's annexation of Ukrainian territories
Hungary agrees with the joint EU position and does not recognise the annexation of Ukrainian territory – Gulyás said, adding that the only solution to the situation which would be in line with international law would be for Russia to withdraw its forces from Ukraine. He said that he was not sure that this would be the quickest way.
In response to a question, Gulyás could not say what Foreign Minister Péter Szijjártó discussed with Russian Foreign Minister Sergey Lavrov at their recent meeting.
The minister said that the government believes that dialogue is the key to peace in Ukraine.
On the European Parliament
According to Gulyás, although the Hungarian government has few allies in the European Parliament,
the EP "has no weight, it is ridiculous and funny" because it does not respect the rules that apply to it.
It would be good to return to a situation where national parliaments directly delegate members to the European Parliament.
He also said that European Commission should be politically neutral, but what we see now is democratically elected governments being judged. They expect things from others that they do not consider to be valid for themselves, and "this cannot end well" – Gulyás said.
On the independence of the Hungarian judiciary
Gulyás said that the self-governance of the judicial system has been guaranteed since the Horn government (July 1994-July 1998). According to the minister, it is a blatant lie that Hungarian judges are not independent and added that there is no political pressure on them. The only reason why there is a dispute about this in Brussels is because some people have taken the internal affairs of the Hungarian courts there. Gulyás said this is something that is not even being discussed in domestic political circles.
The translation of this article was made possible by our cooperation with the Heinrich Böll Foundation.