Far right party Mi Hazánk unveils bust of controversial Miklós Horthy in Parliament Office
August 31. 2022. – 03:36 PM
updated
Mi Hazánk announced this week that they would be unveiling a bust of Hungary's autocratic governor between the two world wars, Admiral Miklós Horthy, in Parliament. Even though it soon became clear that the bust would be located in Deputy Speaker and Mi Hazánk Vice President Dóra Dúró's office, and not in one of the public areas, House Speaker László Kövér did not allow the party to hold a press conference in the blue room which is customarily used for such occasions. The Office of the National Assembly commented that the party did not coordinate with them prior to the event, which did not please the Speaker either.
When the far-right party made it into the National Assembly this April, analysts were wondering whether they would criticise Fidesz or walk their own path. What they stand for and what kind of Hungary they would like to see was not a question, as the party has admittedly committed itself to continuing Jobbik's pre-2010 radical nationalist policy.
In their statement, Mi Hazánk said that they are repaying an old debt with this gesture, but several other opposition parties have a very different opinion. DK (Democratic Coalition), for example responded to the news by saying. "Whoever pays homage to and commemorates a pro-Nazi head of state is himself a Nazi." – MTI reported.
But who was Miklós Horthy and why is he such a controversial figure in Hungary today?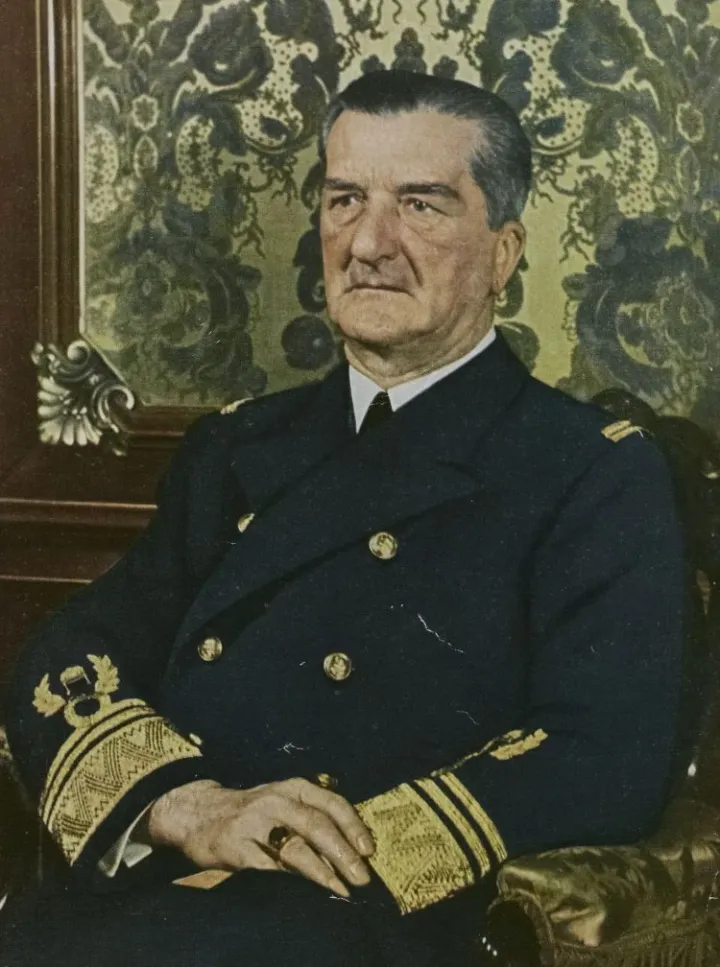 Miklós Horthy served in the Austro-Hungarian Navy between 1896 and 1918, and became admiral in 1918. He was invited by Parliament to become Regent of Hungary when the first world war ended, and after the Austro-Hungarian Monarchy disintegrated, Hungary's last king, Charles I. went into exile.
A national conservative, Miklós Horthy remains a polarising figure of Hungarian history to this day. He lead the country between March 1920 and October 1944 – a time which, in a 2017 speech Viktor Orbán described as "a grave touchstone" in the country's history, and referred to Horthy as "an exceptional statesman", even though during Horthy's time in office, electoral rights were constantly restricted and manipulated, and social discontent was regularly suppressed by the authorities.
Although there is no question that some of the policies that were introduced during his leadership were forward-pointing (for example the modernization of the education system), it was also during his time that the inreasingly severe and oppressive anti-Jewish laws were passed in Hungary, and Horthy had openly declared himself as anti-semite. When Nazi Germany eventually invaded the country in March 1944, 437 thousand Hungarian Jews were deported to Auschwitz-Birkenau, where the majority was immediately gassed. Historians agree that the speed of the deportations was made possible by the effective help of the Hungarian authorities.
At the unveiling on Tuesday, RTL Klub asked Előd Novák, Mi Hazánk's PM whether their gesture might be an insult to Hungary's Jewish population. His response was:
"A wreath of the grateful Jews can be seen at Horthy's resting place. We must also protect the memory of our last governor from those who falsify history."
András Heisler, president of MAZSIHISZ (The Federation of Hungarian Jewish Communities) reacted by saying:
"The largest Hungarian cemetery is in Auschwitz, where 430,000 Hungarian Jews died. To speak of grateful Jews is untrue, and dismal cynicism"
The translation of this article was made possible by our cooperation with the Heinrich Böll Foundation.