How a journalist who was doing her job became the victim of a smear campaign
April 25. 2022. – 04:08 PM
In the run-up to the Hungarian parliamentary elections held in early April, burnt Hungarian election mail-in ballots were found at a landfill near the Romanian town of Târgu Mureș. One of the first journalists to report on this was Boróka Parászka of transtelex.ro. Since then, maszol.ro (the Hungarian-language news site in Romania supported by the Hungarian government) has been carrying out a defamation campaign against Parászka, who has even received death threats.
As is well known, on March 31st 2022, thrown out mail-in ballots were found at an illegal landfill near Târgu Mureș. The first to report on the news was a local bilingual paper, punctul.ro/pontmaros, followed by reports from Átlátszó Erdély and Transtelex, as well as several Hungarian press outlets. As a result of this, the wider public found out, the police were informed and arrived at the scene, and in the last few days of the election campaign, the Hungarian political parties immediately published strongly worded statements about the case.
When the police started the investigation at the scene, the journalist of punctul.ro was reporting on this via a live video. It was at this time that Boróka Parászka (of Radio Târgu Mureș ) also arrived at the scene. She shared photos and contextualizing information from the scene on her professional Facebook page.
Once Árpád Antal, one of the leading politicians of RMDSZ (The Democratic Union of Hungarians in Romania) had publicly reacted to the news saying that this is clearly a provocation, and only after this statement had also been published as the official opinion of RMDSZ, Maszol finally wrote about the case. Referring to their anonymous local source, they wrote:
"According to information obtained by Maszol, at the time when the investigators began their work on Thursday morning, only a single journalist, Boróka Parászka (the well-known journalist of Radio Târgu Mureș and working Hungarian media critical of the government) was at the scene. According to our source, she happens to live nearby."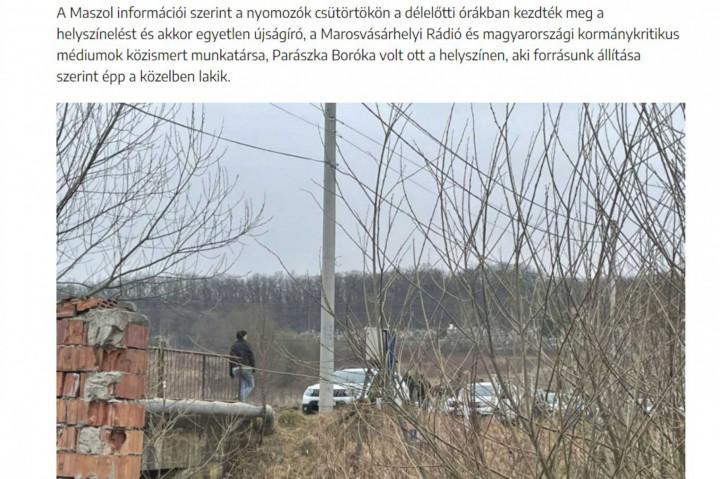 They even supported Parászka's presence at the scene with a photo that almost seems like a "papparazzi" photo, taken from further away – the source of which is also unknown, as they did not disclose it. What concerns does their article raise?
By the time Maszol wrote about the event, two journalists had already reported on it either in the press, or on social media (the journalist of Punctul.ro and Boróka Parászka), so there was no reason for them to write about their presence at the scene without naming their source – as if anybody had tried to hide that they were there – when at the time, the journalists' photos and video about their work was already publicly available.
Thus, it is also not true that when the police arrived, "there was only one journalist" at the scene (Parászka, from the local radio station and Transtelex), as it is quite clear, that the journalist from punctul.ro was there as well: it seems then that the "information" Maszol acquired was false, as even before their article was published, there was proof that this was not true.
The presence of a journalist at a potential crime scene which had been made public should not surprise anyone – what is surprising instead, is that the journalists from other local news outlets were absent. In spite of this, Maszol found it important to state that Boróka Parászka was at the scene, even adding that "she is a well-known contributor to Hungarian media critical of the government" – which is hardly relevant to reporting on the case. (Not to mention that professional journalists are critical of all authority, meaning that regardless of their political preference, they will always be critical of any government.)
When quoting their anonymous source, Maszol even published personal data mentioning that Boróka Parászka "happens to live nearby" – which also has no relevance whatsoever, given that whoever happens to report from a scene is there to do their job, regardless of where they live. On top of that, publishing such private information about anyone can only be acceptable if there is a very strong reason for doing so.
While the reporter of punctul.ro published a video about the police carrying out forensic investigation at the scene, and Parászka published photos of the burnt ballots which were collected by the investigators – and which were also picked up by several other media outlets, clearly referencing the source, what Maszol did was publish a photo of a journalist, Boróka Parászka doing her job, without naming the source.
Later that afternoon (at 17:25), Maszol published another article about the story, in which the same personal information (although somewhat re-worded) is repeated again:
"Earlier today, local sources informed Maszol that when the police arrived at the scene on Thursday morning, they only found one person there: Boróka Parászka, the well-known Transylvanian journalist who has been fiercely critical of the Hungarian government, and who happens to live near the crime scene."
But why would Maszol publish two anonymous articles referencing an "anonymous source", without providing objective reporting, but instead publishing false information (that Parászka was the only journalist there), stating the obvious (a journalist is reporting from the scene), emphasizing an aspect irrelevant to the context (critical of the government), and publishing personal information (she lives nearby)? On top of it, was done with a story that has gripped the entire Transylvanian and Hungarian public's attention.
A hint of disinformation
Another important circumstance is that while the Transylvanian and Hungarian press had been following and reporting on the events since that morning, Maszol only reported on the thrown-out ballots in the early afternoon – 15 minutes after RMDSZ's official statement called it a provocation. At this point photographic and video evidence of the ballots had been published.
"A lie and a provocation!
Some Transylvanian and Hungarian press outlets have published photos showing thrown out mail-in ballots in sacks, found near Jedd in Maros county.
RMDSZ condemns the accusations claiming this is election fraud. We also find unacceptable and unfounded the demand of the opposition parties in Hungary to annul all votes from Hungarians outside of Hungary.
The photos confirm that this is very clearly an organized act of provocation aiming to discredit the votes cast outside of Hungary.
All of us who voted by mail know that there is a declaration of identification in each closed envelope, without which the vote is not valid. This makes it quite obvious that the goal was to discredit the votes. – wrote Árpád Antal, politician of RMDSZ.
It is important to point out one more aspect about this here: neither punctul.ro, nor Átlátszó Erdély, nor Transtelex claimed that this was election fraud. Each outlet had simply reported on the fact that filled out voting ballots were found at a landfill near Târgu Mureș, with some of the votes having been cast for the opposition.
Whether the background of this fact is election fraud or provocation is a question of interpretation: but while either can be a possible interpretation, neither can be asserted as a fact until a clear and proven conclusion is reached in official proceedings.
The RMDSZ statement however, clearly took a stand even though there was no unequivocal proof for either the "obviously organized provocation" or "the intent to discredit voters from abroad" or the "obvious defamatory intent".
The official statement from RMDSZ, published just a few minutes after Antal's post matches it almost word for word, except for the closing paragraph:
"Regardless of who is behind this provocation, they are attempting to manipulate the public in the most vile way. We reject this in the strongest terms!"
If we look at this in respect to the Maszol articles, we can in fact deduct, that it is Maszol who is serving the propaganda machinery, given that the information about Boróka Parászka placed next to the stance of RMDSZ clearly suggested that the journalist had something to do with the event, or that she might herself be the one who committed the "provocation". In the media, this method is known as juxtaposition – which means that two separate pieces of information are arbitrarily put together, which the public – through stereotypes and prejudices – then perceives as related.
The propaganda machinery gets going
Not long after Maszol published the disinformation it helped create, the propaganda machinery in Hungary started spreading it around as well. Dozens of media outlets have claimed – quoting Maszol as a reliable source – that Boróka Parászka (and potentially, under journalists as well) may have had something to do with the burnt voting ballots.
The tabloid news site Bennfentes.hu wrote about the find in the early afternoon hours, and Híradó.hu (which is part of the public news service) took over their article, entitled: "The entire leftist media is spreading fake news of a ballot-burning provocation"
The message was received and forwarded – sometimes as a fact, at other times as an accusation by Pesti Srácok, Mandiner, Origo, Magyar Nemzet, 888.hu, Hírstart, Gondola – as well as smaller, local papers under the government's influence.
The common thread is that they all took over the insinuation suggested by Maszol – in fact, they did more than insinuate: they added to it, kept building on it, and added nuances. They not only stated that the journalist lived close to the crime scene, but repeatedly used adjectives such as: "an agent of Soros", "liberal leftist", "anti-Hungarian", "provocateur", "leftist activist", "a secu-agent" ("Securitate" was the secret service agency of communist Romania) in reference to Parászka – all of which can easily be used to create strong negative emotions – indignation, anger, fury and hatred towards the enemy that has thus been manufactured. By the evening, this message had made its rounds in the entire government-friendly media.
The next day – and for a few days following, in fact – several news outlets wrote about who Boróka Parászka is. Neither of the articles contained any new information, but all were perfectly capable of discrediting and dehumanizing someone, and presenting them as a dislikable person.
On top of this, a "Transylvanian investigative journalist" was interviewed by Kontra.hu, and although the interview does not contain any new information, it repeated the suggestive disinformation about Boróka Parászka.
It is especially interesting to know that this investigative journalist (László Szőke, Director of Development at Erdélyi Médiatér Egyesület (Transylvanian Media Association)) had been convicted in court just two days prior to the interview. He was convicted because last year, in a social media post on the day of Hungarian Media Freedom, he had threatened to kill Boróka Parászka.
The result of the defamation campaign: "how about hanging yourself"?
Experts say that the point of propaganda is to change people's perception, behaviour and conduct according to a clearly defined interest or goal – and this is done by the purposeful and systematic use of various manipulation techniques.
Judging by the comments under the numerous articles, the propaganda operation was successful: the fact of the burnt election ballots did not register with people. What they "saw" was that there had been a provocation, and Boróka Parászka had something to do with it. On the one hand, this way attention had been diverted from the fact that the burnt and thrown out ballots may point to potential abuse, and on the other hand, a Hungarian journalist from Romania had been made completely discredited – which she expressed her opinion about.
However, the effect of the smear campaign which was started with Maszol's assistance did not stop here: it brought a lot of fury and hatred to the surface in many people, and this started to show in their actions as well. Boróka Parászka has received countless vulgar, sexist, threatening messages – among them ones which encourage her to commit suicide and thus count as a death threat. These actions fall within the definition of a criminal offence. The journalist reported on these attacks on her social media page, having documented the "reader" comments by taking screenshots of them.
Even the Romanian journalistic community took note of the smear campaign generated by Maszol, and the investigative site "Investigatoria" published a short interview with the journalist. Two days after the ballots were discovered, Parászka announced on her social media page that she had received multiple death threats, as a result of which in the interest of her own safety, as well as that of her family, she is forced to save every single message threatening her with death and violence. She added that she had also filed an official complaint with the authorities and requested police protection.
What happened to professional supervision?
Since the smear campaign resulting in a Hungarian journalist in Transylvania being harassed and receiving death threats had been started by Maszol, we contacted Balázs Borsi, Maszol's editor-in-chief to find out who wrote the anonymous articles in question, whether anyone will take responsibility for them and why they thought publishing them this way was reasonable. We also asked if Maszol.ro was in possession of any proof that Boróka Parászka was doing anything other than her job at the scene, as well as whether they have proof that she has anything to do with the case – as some portions of their articles suggest.
We also contacted the Association of Hungarian Journalists in Romania (MÚRE – Magyar Újságírók Romániai Egyesülete), which is committed to defending the rights and dignity of journalists in Transylvania, in accordance with international conventions and Romanian law. We asked them for their professional and ethical assessment of the two anonymously published articles, and also enquired about why they haven't taken a position on the matter in recent weeks.
Until the publication of our article, we have not received and answer from either Maszol's editor-in-chief, or the leadership of MÚRE.