Márki-Zay: Ukraine is fighting our war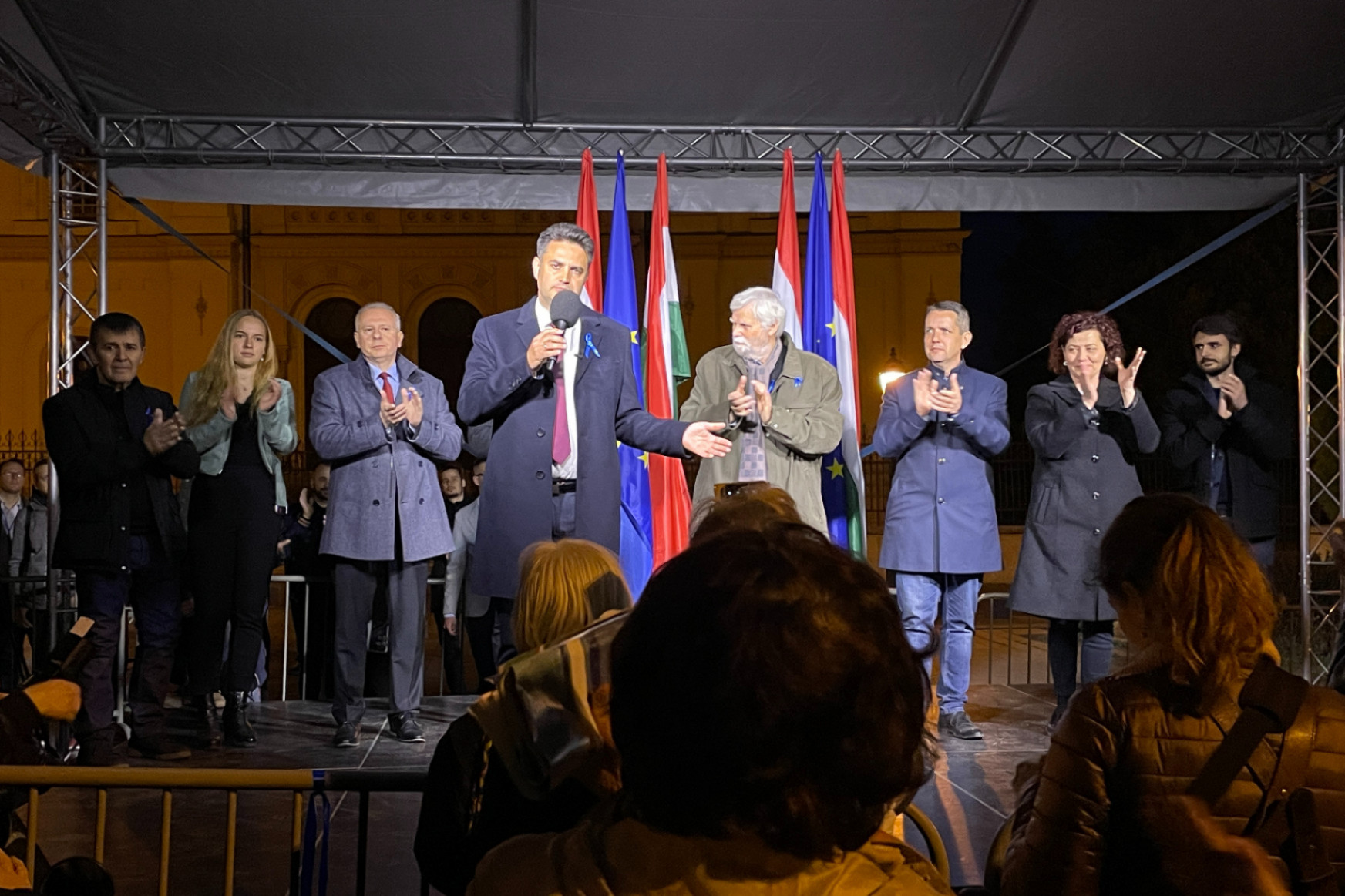 The united opposition held its local campaign closing event in Pécs on Wednesday evening. Other than the local opposition candidates, Péter Márki-Zay, as well as vice president of DK, Ágnes Vadai were present.
"Ukraine is fighting our war" – said Márki-Zay in his speech. According to him, the Hungarians expected the same thing from the West in 1956 that Ukraine is expecting now, and "to this day we remember being left to our own devices." This is why it is our moral responsibility to have compassion on them. He also said that in spite of what Péter Szijjártó claims, he has not been able to speak with Ukrainian president Volodymyr Zelensky yet: "Although I would love to speak with him and tell him that we, Hungarians are with them, we feel for them, and we share their pain when we see that they are being murdered."
According to Márki-Zay, the greatest sin is that someone is poisoning people's hearts. He said that Fidesz is encouraging animosity because they have been stealing, and are trying to avoid being held accountable. In his opinion, it is the sign of the Hungarian people's resistance to this that even after twelve years of brainwashing, half of the country wants change, and they are willing to make sacrifices for it too.
Responding to the latest opinion polls, he pointed out that he had previously predicted that shortly before the elections, there would be poll results published which would predict a Fidesz victory. But, as he had said many times before: although he has never won an opinion poll, he has never lost an election yet.
"The miracle is possible in Hungary (...) in the last few months I have seen (...) that in spite of all the hatred, all the poisonous talk, we, Hungarians have been able to come together."
Vadai said that she "longs to live in a country where instead of the government doing so, a family decides what is considered a family". In her opinion, peace is not only important for Europe, but also within Hungary, and only change can guarantee this. "On April 3rd, when we win this election, we will put an end to governing from the former Carmelite monastery (where Orbán moved his offices -ed.), and governance will be moved back to Parliament."
To receive fresh, impartial news from Hungary in your inbox, subscribe to the Telex English newsletter!