Hungarian Embassy in Kyiv: The accusations of the Ukrainian Deputy Prime Minister are unfounded and offensive
Translation by Andrea Horváth Kávai
The Hungary's embassy in Kyiv reacted to Ukrainian Deputy Prime Minister Iryna Vereshchuk's Tuesday Facebook post, in which the politician – among others – expressed her grievance over the fact that Hungary is not sending weapons to Ukraine. Vereshchuk also said that the Hungarian government's rhetoric is not far from being openly pro-Russian, and that the reason for this is most likely that Russia promised Transcarpathia to Hungary.
In their reaction, the embassy wrote that they were surprised and shocked to read Mrs Vereshchuk's words. "Like other members of the country's leadership, the Deputy Prime Minister is doing an excellent job in a tragic situation as Ukraine fighs a heroic battle against aggression. Under such circumstances, the heightened emotional mood is understandable. Even so, this must not provide a basis for unfounded accusations and baseless defamation" – states the communication from the embassy.
"The Deputy Prime Minister listed what Hungary is not doing in the present situation, and is looking for the reasons. Her conclusions are not only false and unfounded, but also downright insulting – unfortunately though, these clichés have been successfully planted in Ukrainian public opinion for a long time. Although it is not the first time this has been mentioned, it is still especially sad that these speculations include the Transcarpathian region and the Hungarians living there" – they write.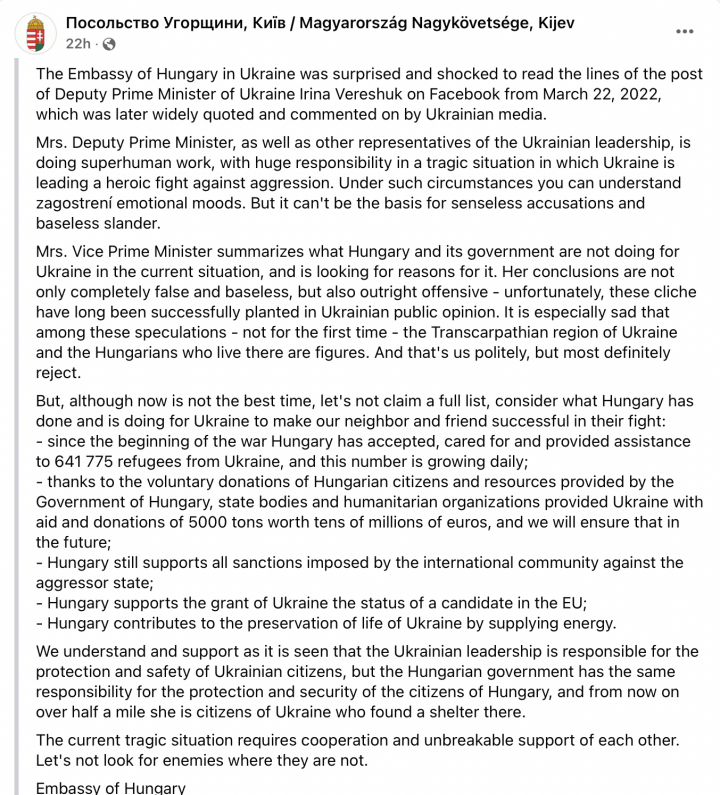 After this, the embassy turns to what Hungary and the Hungarian government have done for Ukraine and those who have fled since the outbreak of war.
Since the beginning of the war, Hungary has received 641 775 Ukrainian refugees. We have cared for them and helped them, and this number is only growing day by day.
Thanks to the voluntary donations of Hungarian citizens, and the sources secured by the Hungarian government, humanitarian organizations and government agencies have provided Ukraine with five thousand tonnes of aid and donations, worth tens of millions of euros.
Hungary continues to support any sanctions which the international community intends to impose against the aggressor state.
Hungary supports the granting of EU candidate status to Ukraine.
Hungary is also supporting Ukraine with energy supplies.
"The current tragic situation requires unity and the unwavering support of one another. Let us not look for enemies where there are none" – concludes the Hungarian Embassy in Kyiv.