Who is Hungary's elusive Minister of Propaganda?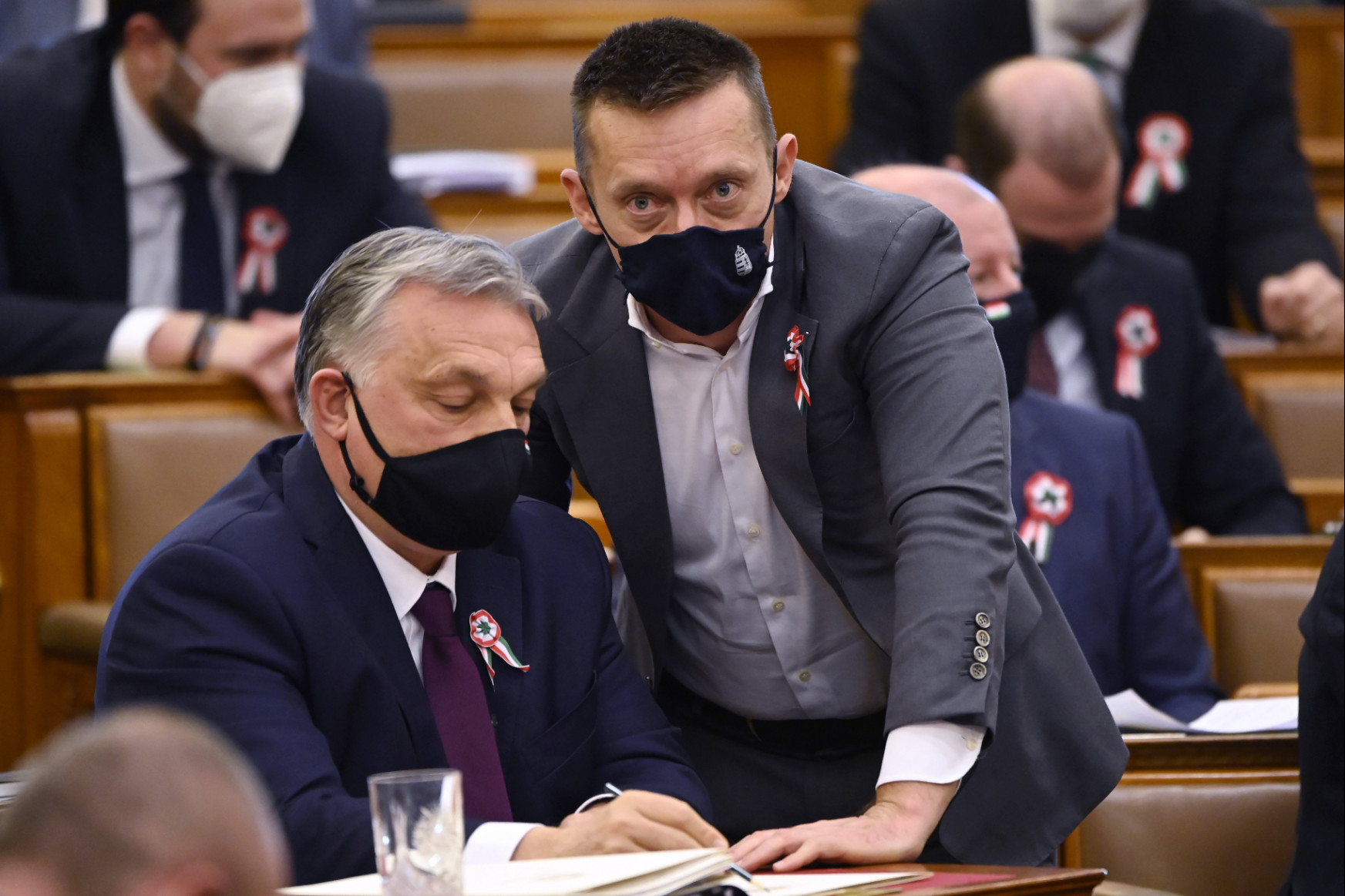 Viktor Orbán and Antal Rogán in the Hungarian Parliament on 18 March 2021 – Photo: MTI/Tamás Kovács
On 23 March, Telex has received the following letter from Hungarian Cabinet Minister Antal Rogán:
"Until you apologize to my wife's family for your blatant lies, I will not give you an interview. I will do so immediately after the apology. On the news portal Telex.hu, you wrote that my wife's family took out a loan, which is not true. These statements are lies, and I expect an apology."
We were addressed by the Minister following several of our futile attempts to contact him since February: We have sent specific questions regarding his wife's 1.5 billion Forint real estate transaction, we requested an interview, and naturally, we tried to get him to appear in our portrait video.
Besides these attempts, we tried to catch him before cabinet meetings and other appearances on multiple occasions. We even waited for him outside his rented apartment twice, hoping that our elevated level of interest might prompt him to get out of his vehicle and answer these questions, which we also emailed to him earlier:
Did you know that just a few weeks before your wedding, your wife and other prospective co-proprietors took out a 1.5 billion Forint loan from a state-controlled bank where one of your long-time confidantes and your former deputy mayor at the V. district, András Puskás, is a manager?
Can you explain how your wife and her partners applied for a loan type (agricultural land loan) that the bank in question does not publicly offer? Did you play any role in them choosing this specific bank?
Rogán never gave us any answers and was unwilling to speak to us on the whole, so he couldn't tell us why he recently started to avoid publicity either or about his formal and informal tasks as one of the Hungarian Prime Minister's most important coworkers. Luckily, other prominent members of the governing party were more open to us:
This video has English subtitles, created by Charles Hebbert. If you cannot see them, turn them on in the video settings.
On 24 March, Telex sent the following reply to the Minister:
"Two days before the publication of our first article, we reached out to you in writing, but the Prime Minister's Cabinet Office never responded to our inquiries. Had we received answers to our questions, we would have cleared up the matter in the piece you eventually found problematic.
When our first articles on the topic came out, there were no signs that the transaction was still in process. Both in the legal and the everyday sense, it is a valid statement that someone has acquired land if there is a signed purchase agreement, even if the buyer is yet to gain possession of that land. The purchase agreement had made the intentions of both the seller and the buyer clear.
In our view, we practised due diligence in the matter; we sought to act with proper care and take all available information into account. As soon as you had made statements concerning the transaction, we published them, referencing your words in all subsequent articles.
Therefore, we do not think that we should apologize; simultaneously, we maintain that it is unlucky that a minister sets conditions for an interview instead of answering our questions.
Despite all, we are still open to interviewing you. We have questions covering a plethora of topics, and we hope that we will eventually get the chance to ask you personally."
At Telex, we believe that keeping a check on those in power is one of the key roles of a free press. If you wish to see more content created in that spirit, please consider supporting our work here.