Hungary introduces stricter rules on masks and higher fines for rulebreakers
November 02. 2020. – 01:26 PM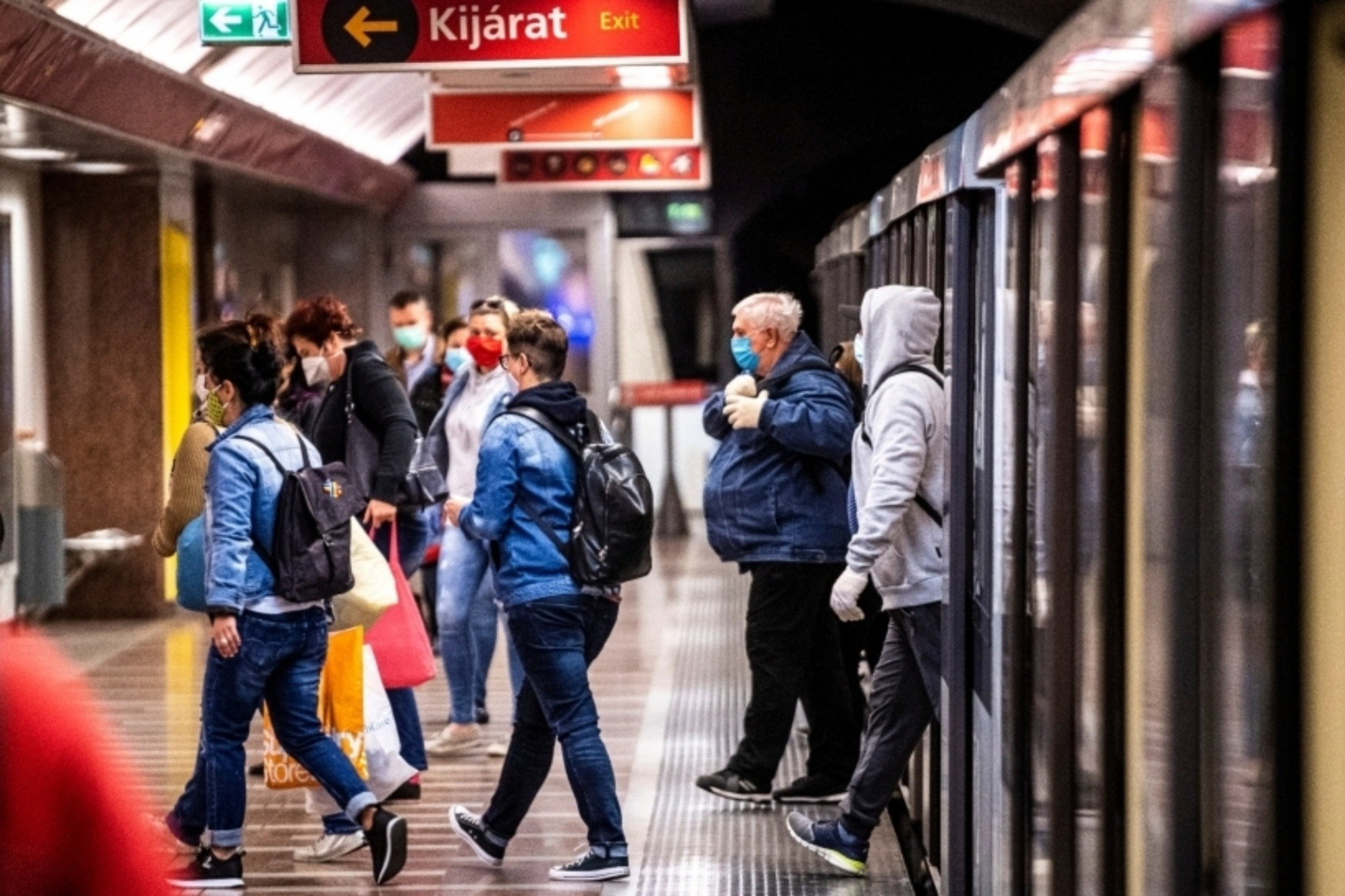 Passengers getting off the subway in Budapest. Facemasks are mandatory in the Hungarian capital for all above the age of six on public transport, in shops, and taxis since 27 April 2020. Photo: Zsolt Szigetváry / MTI
The Hungarian government has introduced new, stricter rules to combat the spread of COVID-19 as the pandemic is speeding up in the country; as of Monday, facemasks are compulsory in pretty much any public indoor area while rulebreakers can expect severe fines up to a million Forints.
In October, COVID-19 has spread faster in Hungary than ever before, and in the past couple of weeks, we have seen unprecedented numbers. Never before had so many deaths been reported as on Monday morning (70), the number of new cases set a record on Saturday (3908), and there are currently 60 415 active cases, which is nearly thirty times as much as the peak value of the first wave in May (2054). 4417 patients are currently treated in hospitals, 313 of whom are on ventilators.
Preventive measures during the second wave have been much laxer than during the first one, but from Monday, the government introduced more stringent rules to slow the spread of the virus. Besides shops and public transportation, facemasks have become compulsory in cinemas, theatres, malls, healthcare facilities, social institutions, administrative offices, outdoors events, clubs, pubs, restaurants, and catering facilities of sporting events as well.
Police will increasingly check the wearing of facemasks and monitor those in mandatory quarantine who face even larger fines if they leave their homes. In his interview on public radio Kossuth on Friday, Prime Minister Viktor Orbán said that a "new world will dawn" on Monday, authorities have been understanding for quite some time, but, as he said, the warm-up period is over; police will crack down on those who neglect these rules, "they will even have the power to order places to close, we are already at that point."
Masks mandatory in more places
The government's coronavirus task force announced stricter rules on facemasks last Thursday. Facemasks were already compulsory in shops and on public transportation, in theatres, malls, healthcare facilities, social institutions, and administrative offices, but from Monday, entertainment venues, restaurants, and catering facilities of sporting events are also on the list, where masks can only be removed while eating or drinking. According to the rules, masks must cover both the nose and the mouth.
Those who refuse to wear a mask even after being warned must be denied service and forced to leave the premises. Businesses failing to enforce mask rules are facing a fine of up to a million Forints and they can be ordered to close for at least a day, or in the worst case, even for an entire year. These sanctions can be applied simultaneously as well.
Authorities will take into account whether or not the business told the offending customer to wear a mask, leave, or if they refused service, and if they informed the police or not. If they did so, then they will not be sanctioned.
Quarantine rules also changed
Since last Wednesday, there are new rules concerning mandatory quarantine as well; those entering the country must go into a mandatory ten-day quarantine by default, there is no need for a separate quarantine order.
In practice, this means that entrants must inform the police officer performing the border check about where they wish to spend their quarantine. After entering, they must immediately go there, stopping only allowed for medical or mechanical reasons, or if they use public transportation, because of the schedule. Once they arrive, they must place the red quarantine sticker they received from the police on their doors.
If they have a compatible device, they must download the so-called quarantine software which allows police to perform random checks and track if the person in quarantine leaves the house. Through the application, police can request users to take a selfie to make sure they didn't only leave their phones behind while breaking quarantine.
If checks cannot be performed any other way, those quarantined must allow police to enter their homes.
Rulebreakers can expect fines ranging from 5000 to 150 000 Forints which they can get issued multiple times in a single day, with a daily cap of 600 000 Forints, and fines must be paid within 15 days.