U.S. Rep. Jason Crow in Budapest: I'm extremely concerned that Orbán is calling the United States an adversary
September 01. 2023. – 08:39 PM
updated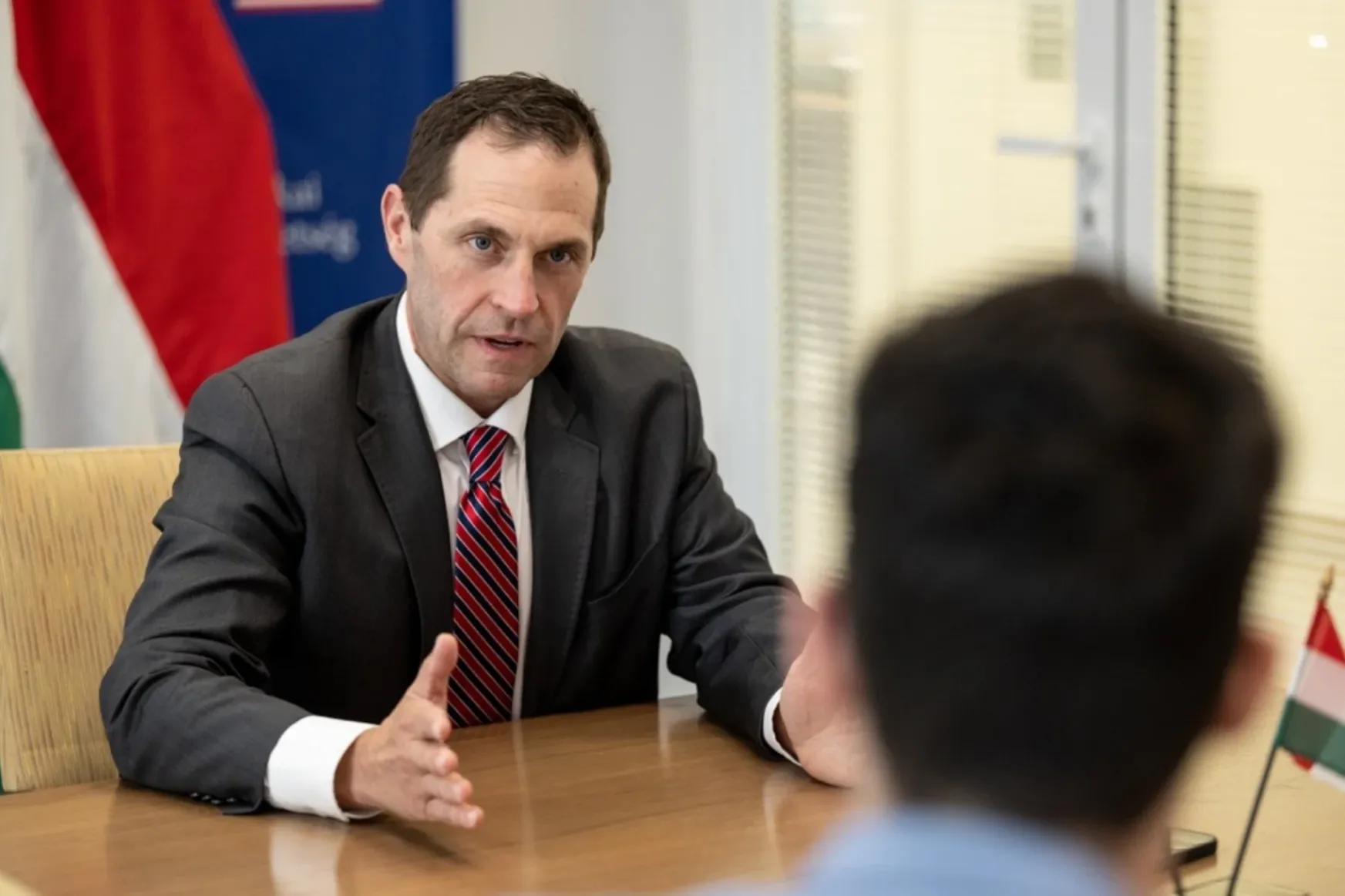 U.S. Representative Jason Crow – Photo: U.S. Embassy Budapest
"I'm extremely concerned by the rhetoric of your prime minister: calling the United States an adversary, implying or even saying directly that NATO member states are responsible in whole or in part for the conflict in Ukraine, saying that United States or NATO provoked Russia," U.S. Representative Jason Crow told Telex during his visit to Budapest to express his concerns about the rhetoric of the Hungarian government and to push for the parliamentary ratification of Sweden's accession to NATO.
"These things are just not true, not supported by the facts. The only reason this war is happening is because Vladimir Putin decided to invade Ukraine, period," Crow declared.
The politician of the Democratic Party gave an interview to independent Hungarian news sites Telex and 444 at the U.S. Embassy in Budapest.
During our conversation, he explained why he thinks Viktor Orbán is wrong in his assessment of Ukraine's chances, and how he thinks peace can be achieved in a Ukraine under Russian attack.
Crow arrived in Budapest on Wednesday and has spent the past two days in talks with government and opposition politicians, including Deputy Foreign Minister Levente Magyar and the leaders of the main opposition parties.
He also met with representatives of civil society organizations, who briefed him on the state of corruption, human rights and press freedom in Hungary.
The representative of Colorado's 6th congressional district told Telex that he came to Hungary mainly because, as a member of the Congressional Foreign Affairs and Intelligence Committees, he is deeply concerned about the direction and trajectory in which Hungary and the Hungarian government's rhetoric are heading, which he believes is inconsistent with the relationship and alliance between the two countries.
U.S. Rep. Crow, 44, fought as a paratrooper in Iraq and was awarded the Bronze Star for his service. He then served two additional tours in Afghanistan as a member of the 75th Ranger Regiment. After service, he pursued a career in law and in 2018 became the first Democratic candidate in the history of Colorado's 6th Congressional District to be elected to Congress. He was re-elected in 2020 and 2022. Currently a member of the House Foreign Affairs and Intelligence Committees, he is an important advocate for financial and military support for Ukraine in Congress. On January 6, 2021, he was one of the members of Congress trapped in the House chamber during the attack on the U.S. Capitol. He later said in an interview that the siege brought out his battlefield instincts.
The Hungarian government cannot delay the ratification of Sweden's NATO accession further
"I expressed my concerns very frankly about the rhetoric of the Hungarian government and its attitude towards the war in Ukraine," Crow said of his talks with government representatives.
Crow also had a strong opinion on the fact that Hungary and Turkey are further delaying Sweden's accession to NATO.
"I made it very clear in my meetings with the representatives of the government that the ratification of Sweden's accession needs to happen and it needs to happen now," he declared.
He said the Swedes had proven their ability to join immediately and that they will clearly add value to the alliance.
"The Hungarian government has not communicated to me any reason why the Swedish accession shouldn't happen now," Crow said.
This, he said, suggests that the Hungarian government is delaying the vote on Swedish membership only because it is trying to use the issue as leverage in EU and other disputes, unrelated to NATO.
This, he says, does not reflect well on Hungary, nor does the Hungarian government linking its diplomatic decisions to Turkey.
Telex also asked Representative Crow about the United States' recent decision to limit the visa waiver program for Hungarian passport holders.
The congressman said that the concerns of the United States are real.
"We're not intending to tell Hungary who they can and can't provide passports to. But if there is a waiver program, which is a privilege, not a right, they need to make sure that there's proper vetting, that we understand who you are providing those passports to because we obviously have national security concerns," he declared.
Only defeats on the battlefield will force Putin to sit at the negotiating table
We also talked about the war in Ukraine with Iraq and Afghanistan veteran Crow.
Viktor Orbán claimed on Tucker Carlson's show this week that Ukraine is not winning the war and they won't be able to because they have fewer soldiers than the Russians.
The congressman says, this is untrue.
According to Crow, anyone who tries to guess the outcome of a war on the basis of the size of the two armies is wrong because they do not take into account the difference the will of the soldiers to fight makes.
"What people are fighting for matters. Whether or not you're fighting for your home and your home turf all matter," the congressman said.
"Let's not forget that 18 months ago, most of the world thought they would only last three days, right? And here they are, on the offensive, free-taking territory, destroying thousands of Russian vehicles and doing measurable damage to the Russian war machine," Crow pointed out.
Talking about when and how the war could end, Crow said that Putin must be forced to the negotiating table, and that this could only be achieved on the battlefield.
In order to have a negotiated resolution to the war, Russia would have to show some indication that they're willing to come to the negotiating table, which it has not done so far, even though it had many opportunities to do so.
There's no indication at all that Vladimir Putin is willing to engage in good faith discussions, according to Crow, because the Russian president doesn't feel compelled to do so.
"This inevitably leads to the conclusion that his calculus needs to be changed. And it needs to be changed in the battlefield," the congressman said.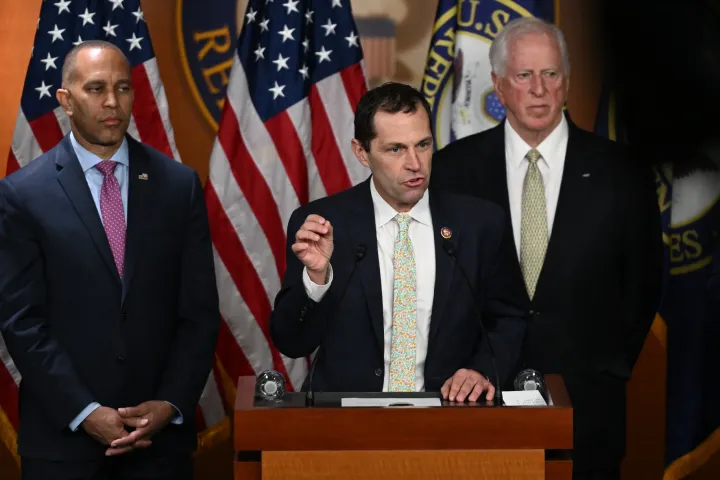 Despite several polls indicating that a majority of American voters do not support the U.S. sending more money and military equipment to Ukraine, Crow says there is significant support for the cause in America.
And it is even stronger in Congress, even on the Republican side, despite the fact that they are debating this issue in the primary campaign.
The Democratic congressman feels that it is a very important message for Hungary and Europe that the United States and the American people are firmly behind Ukraine and understand what is at stake.
"This is not just a fight for democracy, but we also have very real national security and economic interests. In a global economy, we are dependent on Europe just like Europe is dependent on us economically and you can't have a prosperous economy if you have instability and war on this continent," Crow said.
Putin will not stop voluntarily
To Orbán's suggestion that the security of the European citizens could only be guaranteed by involving the Russians in Europe's post-war security architecture, Crow's answer was a resounding "no".
According to the congressman, there is absolutely no information or historical experience that would show that this is a good idea.
"If there's anybody that has watched Vladimir Putin over the last 20 plus years, they would tell you that he can't be trusted. He respects only power and he will only stop when somebody stops him," he said.
"And that somebody right now is Ukraine. And that's why it is America's, NATO's and Hungary's vested interest to stop Putin. If we don't stop him, he will go as far as he can," Crow elaborated.
"The implication, that he should be a part of some type of post-war security arrangement, comes with it the notion that Vladimir Putin is somebody who negotiates in good faith. And there is nothing in the history of Vladimir Putin that indicates that he ever deals with things in good faith," the congressman added.
The key to peace in the region, he said, is to degrade the Russian military – which Ukraine is successfully doing – so that they cannot project combat power.
"Putin will do what he believes he has the capacity to do," he reiterated. "So the United States and Europe have to make sure that it's very clear that he cannot do this. To Ukraine or anybody else in the future."
Another key to peace, Crow says, is effective and enforced sanctions that prevent the Russian war machine from being strengthened.
Ukraine's accession to NATO and the European Union, which the congressman fully supports, could also help.
Ukraine, which has been a candidate for EU membership since last summer, can certainly not join NATO as long as they are in an armed conflict, according to the NATO charter.
But Crow says there should be a more clear road map articulated of what Ukraine needs to accomplish to achieve NATO membership.
The congressman welcomed the Ukrainian government's efforts to fight corruption and strengthen the democratic system.
According to Crow, the Ukrainians have done a remarkable job in building an infrastructure to root out corruption and ensure that foreign aid is used for its intended purpose.
"Ukraine now is a very different place than it was just 18 months ago when it had endemic corruption. That's not to say that there isn't still work to be done, because there is. But the progress has been remarkable," the congressman said.
He is also very pleased that Ukrainian President Volodymyr Zelensky recently indicated that he would like to hold free elections in the country next year, despite the war.
Information about the events on the Saudi border must be investigated
According to the New York Times, the U.S. government was aware that Saudi Arabian border guards were abusing and killing refugees at the Yemeni border – but did not disclose the information.
444 asked Crow what he thinks about the fact that while the U.S. is investigating war crimes by the Russian military, crimes committed by one of its allies are being covered up.
Crow replied that "he did not have all the information," but he had heard the reports and was concerned about them.
As a soldier, he has seen first-hand the impacts of military conflicts on civilians in Iraq and Afghanistan, and as a congressman, he now fights hard to protect the lives of civilians in war zones, he declared.
"If the U.S. government is indeed in possession of information that one of our allies has committed such abuses, we will investigate it thoroughly," Crow promised.
As an impeachment manager, Crow was also actively involved in the first impeachment trial of Donald Trump in early 2021.
In his interview with Tucker Carlson, Hungarian PM Orbán also spoke about the need to "call Trump back," presumably in reference to his hopes that the Republican politician would become president again.
Crow, when asked about this, said that he did not think it would be helpful for any head of state to make such a statement.
"I think it's counterproductive to moving the relationship of our countries forward. And I would urge the government and the Prime Minister to change his rhetoric," the politician warned at the end of the interview.
"It's not in the best interest of the Hungarian people. It hurts the economy and security of Hungary," he added.
Crow returned to the United States on Friday, but just before he left, another leading American politician, Senator Tom Cotton, arrived in Budapest.
The Republican politician will hold talks with government and opposition politicians in the coming days.