Once imitating tennis players as a child, Dóra Kiss now appears in the world's number-one horror film
November 02. 2022. – 05:02 AM
updated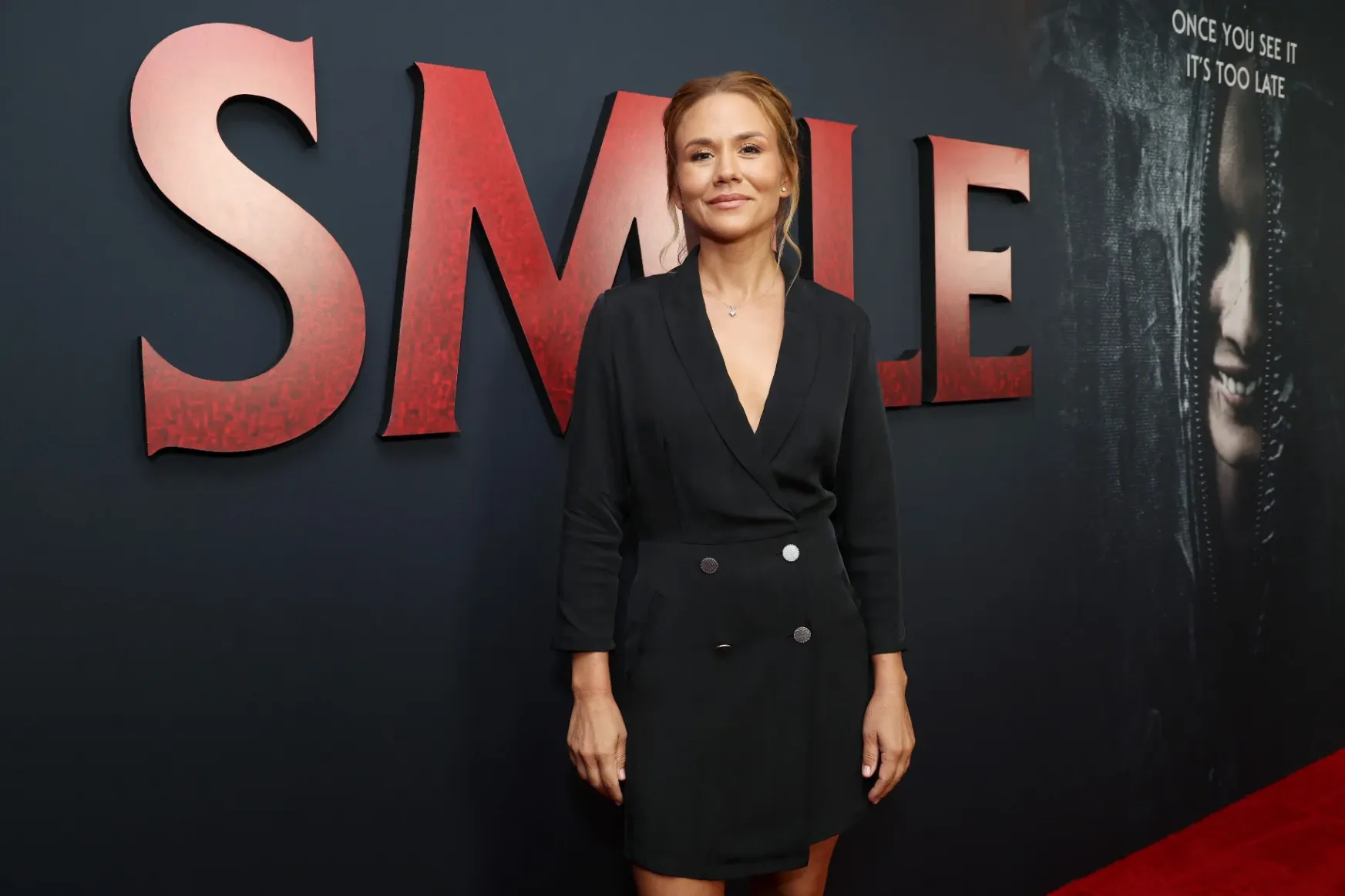 Dóra Kiss at the premiere of Smile – Photo by Phillip Faraone / Getty Images
If you saw the recent horror movie Smile, the first thing you saw on the screen was the face of Dora Kiss lying passed out on a bed. She plays a character who is very important to the plot – a character who, according to her contract, she can't even talk about even though the film has already been out for several weeks. When this article was written [Oct. 10, 2022], the movie topped the US box office and had already sold almost 85,000 tickets in Hungary.
For those who don't mind spoilers, the character listed on IMDb simply as "Mom" is in fact the protagonist's mother, the source of all the trauma, and is practically one of the main driving forces behind the film's plot. She appears mainly during flashbacks, but towards the end, she shares a scene with Sosie Bacon, who plays the lead role. The actress herself couldn't divulge much about this to Telex due to her contract, but she could talk about the ironic role she had in Pam & Tommy, how she worked on herself during Covid, and how she tried to get a role in House of the Dragon.
What do you think about the fact that Smile is now topping the charts halfway around the world?
It's hard to believe – it was originally a Paramount+ thing that was meant for streaming. Then there was a test screening in February, where it was decided that it would go to theaters instead. It never would've occurred to us that this could happen. In May, someone sent me an article from Deadline announcing that the movie was going to premiere in theaters. The original title was Something's Wrong With Rose. And the article said that Smile was getting a theatrical release. At first, I didn't understand what this film was about. Then it dawned on me that it was the same movie. The renaming was a good move, and the marketing team is doing some cool things with it. Did you see how they planted people in those stadiums? Its success came about so quickly.
How did you get involved? What was the process like?
By the end of Covid, everything had changed completely. In order to audition for any movie or TV role, you had to send in a self-tape (an audition video that the actor records themselves). A lot of people aren't fond of it, but I love it because I can prepare it in a relaxed environment. Sometimes you get 12 hours to do it, and you have to learn 8 pages of lines. However, I can memorize a text rather quickly. I also have an awesome accent coach who I'll ask to see if he's free in, say, half an hour. Sometimes we practice at ten o'clock at night, and then I'll record my tape around midnight. If the role doesn't require a specific accent, I'll do it with an American one. You really have to make the most of these recordings – at the very least, you should know the words. You have to perform at a level as if you could go on set the next morning to film it.
All that we knew about this film was that it was being made under the Paramount Players label, which is a division of Paramount Pictures. I got a callback after I had sent in my self-tape. I had to schedule a Zoom call with the director, Parker Finn, and the casting director. I had to act out one of the scenes in various ways. They were looking at how I could adapt to being given different instructions. Later, I was in acting class when I got a call from my manager saying, "Hey, you just might get this." I did and moved to New Jersey for two months. I wasn't on set every day, but unfortunately, I can't share much about it!
But the film is already out. It's already been in theaters for a week.
True, but Paramount specified to me in advance what I can and cannot talk about. And I still have to stick to their conditions.
You're in the first scene of the film, lying passed out on a bed. How long did you have to lie there?
Quite a while! It was tough to shoot. I wasn't supposed to move the entire time. I used to play tennis professionally and my hip still bothers me. That day, I told myself, "Oh god, hang in there, and you can get yourself a pizza afterward!" It's a really dark film, but they brought together a great team for it. Parker Finn is a really talented director – he's very supportive of the actors, and it was really nice working with him. He's attentive to everything. He and I discussed who my character was, and what he was looking for. Then I developed it from there. I love it when I uncover the role for myself, which by the way, changed a bit after the audition and ended up becoming an even bigger role. I prepared a lot for it. There's a scene in which I wanted to deliver my full potential, and since I had never been through anything like what my character had, it was important for me to be well-informed. I watched documentaries and read books. I did my research.
How did you get into acting?
I had always wanted to act. When I was younger, I played tennis competitively and made it to Hungary's Tens Championships, which always brought together the top young tennis players in Hungary. In the evenings I would imitate foreign tennis players and put on a little show. Then, I got an opportunity to come to the US on a scholarship. I arrived in Los Angeles and started studying acting. It wasn't easy since I didn't speak English all that well. One of the teachers was a director in the Actors' Gang, a theater company founded by Tim Robbins. I went to see the play Our Town and thought to myself, "This is fantastic! I want to come here!" So when I graduated from university, I applied there. There were three rounds of cuts, eight weeks apart. Every eighth week, they kicked out a bunch of people and we kept going. Our group started with thirty people, and in the end, four of us made it into in the troupe. The university was great, but this was like being thrown in the deep end. That's how it all started ten years ago.
And what has happened in those ten years?
I acquired a decent command of English and fashioned a life for myself here. I would work a ton, playing smaller roles in plays. I'd rehearse 40 hours a week and then work 50 hours, so I was pulling 90-100 hours a week.
What did you do for work?
I worked mornings in a restaurant 6-7 days a week and rehearsed in the evenings. I can't complain – I am very lucky to have been given an opportunity in life to be here and do this. But it's not for everyone. However, having played professional tennis, I knew that I could really push myself.
Have you quit playing tennis?
When I was shooting Smile, I knew that I would only see the paycheck after the movie came out. But there were still bills to pay in Los Angeles in the meantime. I found a tennis club in Brooklyn and told them which days I was on set and which days I could teach tennis. So while I was shooting, I was working as a tennis instructor.
And how did you weather the pandemic?
In fact, that's when my life took a turn. I had always wanted to act in films, and I always went to auditions, but theater can really suck you in. We started touring in 2020 with New Colossus, which was written and directed by Tim Robbins. The basis for the story was drawn from the members of the troupe. It was about refugees from different periods in world history. We managed to tour for three months, then the pandemic broke out. I was out of work, including the waitress job since the restaurant I was working at shut down. It was then that I decided to invest all the money I had saved in film acting classes, workshops, and American accent training twice a week. And thanks to that, better auditions started coming in.
Then the investment finally paid off.
Yeah, and it occurred to me at that time that when it comes to those whose parents aren't producers or who aren't sitting on three million dollars, not many get the opportunity in life to live as an actor in Los Angeles and not have to do other things.
Is there a demand for actresses from Central and Eastern Europe? Or are they just looking for cliché roles?
Of course there were such roles, but that was precisely my goal during Covid: to open the door to opportunities beyond that. In Smile, I speak with an American accent. I had to get to the point on set where I wasn't thinking, "Oh boy, here comes a 'th' sound."
Is it true that you're going to have a role in the series The Idol?
I can't comment on that. All I can say is that sometimes unfortunate things happen in this city, and you have to set yourself a time limit on how long you're going to grieve over it. Then you just have to move on and let it be because if you don't, it might drive you crazy. I felt a bit sorry for myself until the afternoon, but then I turned to the next thing on my agenda.
On the other hand, Pam & Tommy is out, and you appear in the eighth episode.
Yea, I play a mother in an elevator scene. Pam and Tommy get in the elevator with us – a perfect American family. The message here is that Pam is looking at us, seeing how lovely we are, and she realizes that she'll never have something like that.
What are you working on now?
The Actors' Gang had its 40th anniversary, and to mark the occasion Tim Robbins is directing Ubu the King, in which I'm playing Ubu's mother. It was the first play ever produced in this theater.
Do you ever make it back to Hungary?
I try to. The work here can really get to me. Sometimes they tell me that it's about time I make visit back home. I'm planning to go there during Christmas.
What is it like being in Los Angeles and seeing just how many series and films are being made in Budapest?
There are some cool projects being made! However, if you look closer, you see that the American series being filmed there always fill the one or two-day roles with local talent, while the bigger roles are still being casted in the US. This is regardless of where the projects are being filmed. I once had a shot at a role in a series set in Budapest, and I really had my fingers crossed. That's my dream: to land a good role from here, as an American, but film it in Budapest. It would be awesome – I'd get a free plane ticket out of it!
Is there a role that you would especially like to play – one that you would really like to snatch up?
I'm a big fan of The Handmaid's Tale, which is coming out with another season. House of the Dragon is another one. I'm not even sure if I should say this – the story is kind of borderline crazy. Anyway, when I found out that the House of the Dragon was being made, which is based on the book Fire and Blood, I read its seven hundred pages and picked out the dialogues. I wrote them out, bought costumes, and we shot different scenes from it. We didn't even know who was going to cast it, but I began sending it to every casting director in London who you could imagine might be working on the series. They haven't arrested me for it yet.