Old-fashioned government media is being gobbled up by Facebook propaganda
August 15. 2022. – 09:34 AM
updated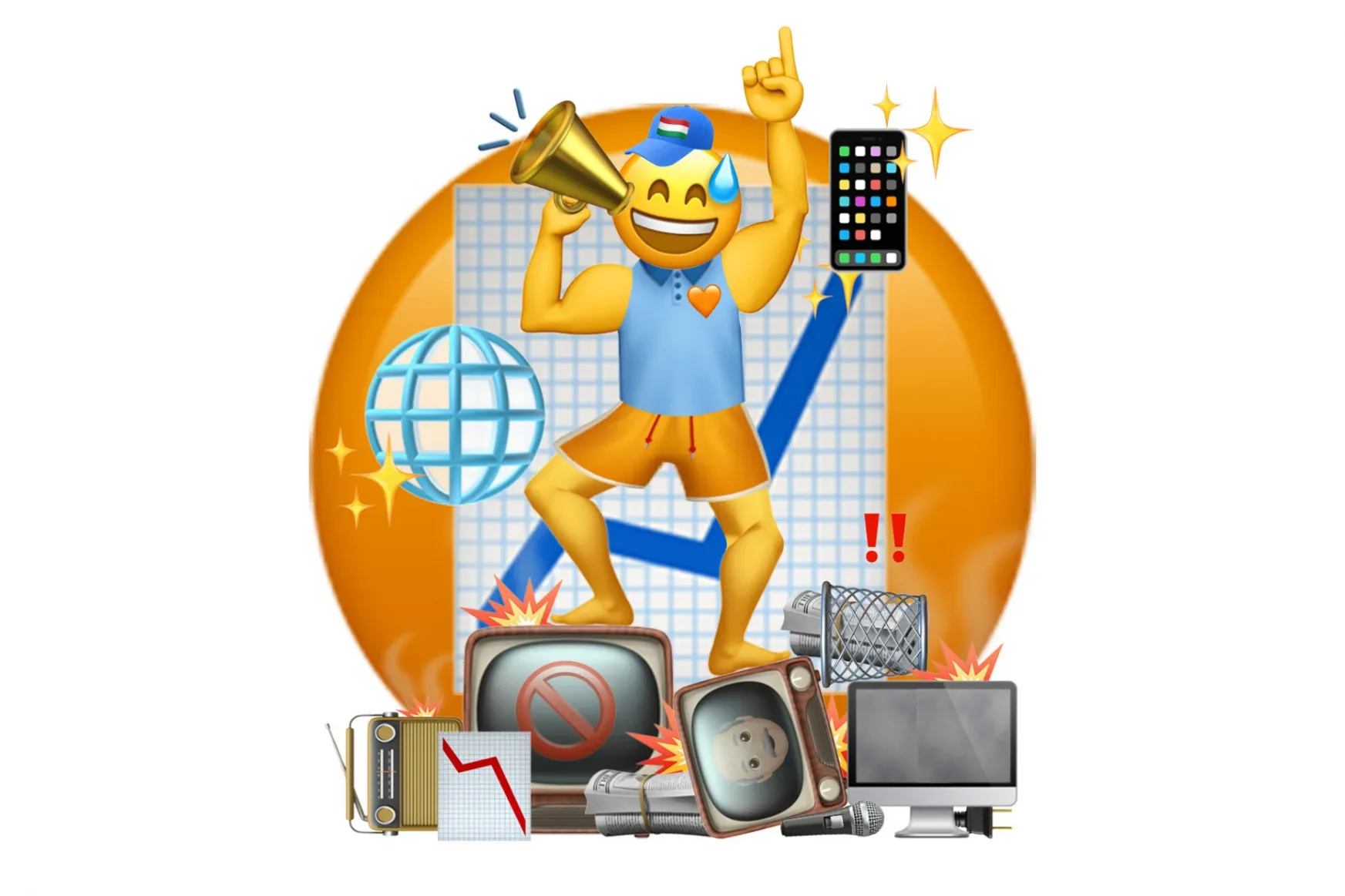 Illustration by Péter Somogyi (szarvas) / Telex
Ever since the party's founding, Fidesz has paid special attention to the media, and after a few election defeats, this emphasis has become even more pronounced. Orbán's party has practically become fixated on the idea that the unfriendliness of the press caused the failures.
Over the years, the party has tried a number of strategies to create and strengthen its media landscape: establishing, seizing, closing, and reorganizing. The focus of each term was in a different direction, but in the end, they managed to control a significant part of the traditional media.
But now that they've reached their goal, the world has changed. The giant portfolio that they assembled is rapidly losing its relevance while also being terribly expensive to maintain.
The recent news of the slimming down of government media signals the dawn of a new era – one in which "there's no need for money pits" and resource allocation must be done more efficiently. As a result, we might witness further consolidation.
But social media, much condemned for its "liberal bias", paradoxically presents a great platform for buying broad exposure at relatively low cost – and it could be the dominant direction in the future.
A number of newspapers are no longer offering printed editions, reports of downsizing and reorganization are circulating in the news, and Pesti TV has now gone online. In the past few weeks, there has been a succession of major developments regarding consolidation in the pro-government media. It doesn't seem to be a coincidence: according to the office of Antal Rogán, head of Fidesz's communications, the recent trend of maximizing the impact of social media has worked, and it is a more effective way of spreading messages than traditional media.
While newspapers and TV remain the cornerstones of communication, there's plenty of room for streamlining them: a large part of the government's portfolio is hardly viable on a market basis, and yet it makes sense to spend public funds where they can provide the widest possible reach. And today, that's more likely to be Facebook than experimental money-pits or old organizations with obsolete structures. Fidesz's media strategy has come a long way by the time it found itself in the curious position where the very thing that has been accused of liberal bias time and time again – social media – has become the most powerful weapon in the party's propaganda arsenal.
Friendly press as a prerequisite for a strong political party
The relationship between Fidesz and the press was already fraught with conflict in the early 1990s. The way Fidesz sees it, initially they were doing relatively well in the media, but at some point the journalists turned on them. The breaking point was the party's dip in popularity prior to the 1994 parliamentary elections – for which the party's leadership largely blamed the press. Of course, there were very specific reasons for Fidesz's decline, but the party elite argued that these issues would not have caused so much damage if the journalists from the 'liberal-left intellectual elite' had not made such a big fuss about supposed or actual slip-ups and scandals. Viktor Orbán believed that the public press was overstepping its powers – and his party suspected that the underlying reason was that while their political opponents had a significant media landscape, Fidesz had only managed to bring one advertising company (Mahir) into its sphere of interest.
The conclusion was that in order to stay in the spotlight, in addition to a strong financial foundation, they also needed to be able to create a narrative, which is unthinkable without friendly relations with the press. In the spring of '94, as a first foray in this direction, Fidesz's Mahir leased the publishing rights to three newspapers (Magyar Nemzet, Esti Hírlap, Express) from the state-run publishing house between the two rounds of elections. This apparent ambition caught the eye of MSZP, which was in power at the time, and the Horn cabinet soon struck down the deal. As a result, Fidesz was left without any significant media of its own for that term, and its only achievement was the launch of the newspaper Napi Magyarország from the remnants of Új Magyarország, a paper affiliated with MDF [the Hungarian Democratic Forum Party]. The newspaper managed to stay afloat for three years on its own.
Finally in power between 1998 and 2002, Fidesz became much more active in molding the press. During his first term as prime minister, Viktor Orbán announced the creation of a politically balanced media landscape. In this spirit, a number of editors in the public media who were considered left-leaning were replaced, and following the nationalization of Postabank, the government also took over its substantial media portfolio. Fidesz's first newspaper seizure and shutdown can be linked to this period: following their takeover of Kurír, a publication that had been reporting on unpleasant matters related to the party, the paper was discontinued. Napi Magyarország was later merged with Magyar Nemet, thus creating a daily paper with a readership of 60,000-70,000 within the party's sphere of influence.
Even back then, the action sparked some public outcry (Ferenc Mádl, later President of Hungary, and Péter Boross, former Prime Minister and member of MDF, spoke out against it), but Fidesz justified the move with an argument that has since been repeated ad nauseam: the left-wing, liberal dominance of the media needs to be offset by strengthening the right-wing press. This initiative also saw the creation of the weekly Heti Válasz, which brought over the more moderate conservative writers who had been fired or resigned from Magyar Nemzet. A total of 1.5 billion forints were allocated to the publication's operation from the 2000 budget.
However, these efforts did not save Fidesz in the following election: in 2002 they were defeated by the MSZP-SZDSZ coalition, and party leadership again cited left-wing media dominance as one of the main reasons for their defeat. At the time, Viktor Orbán said that they were headed in the right direction but they should've created more publications: they needed to open up "new channels for the Hungarian public" in order to get their message across.
Fidesz then faced eight rough years, but even in the role of opposition, Orbán's party continued its concerted media-building efforts. In 2002, Orbán declared that the media law did not ensure the impartiality of public media and that the solution would be to pass a new regulation that would divide public media channels between the two political camps. Of course, nothing came of it, but the party was still able to start building its television media portfolio little by little.
In 2002, HírTV was established under the leadership of former government spokesperson Gábor Borókai, and a year and a half later it was taken over by Lajos Simicska. The channel went on to play a prominent role in the coverage of the 2006 protests, among other events. The protest's coverage in particular established the channel as a mainstay in the Fidesz portfolio. As an oppositional party, Orbán's Fidesz also managed to get ORTT [the National Radio and Television Board] to effectively split the two major national commercial radio frequencies between the right and the left (granted, it was already certain that his party would form the next government).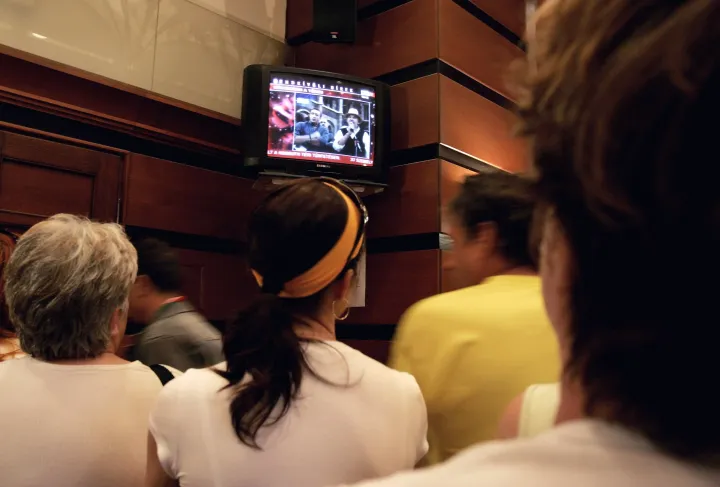 By 2010, Fidesz had managed to put together a relatively extensive media portfolio that presented the party narrative, despite the fact that the party had only been in power for four of the previous twenty years. They kicked off the NER era [System of National Cooperation] when there was already a national daily newspaper (Magyar Nemzet), a political weekly publication (Heti Válasz), a free weekly publication (Helyi Téma), a TV channel (HírTV) and a radio station (Class FM) – all of which drew their audience towards the party. But their major operation was still yet to come.
There have been a number of analyses about how Fidesz has managed to gain control over an increasing share of the media space over the past 12 years (we recommend this one, for example). As such, we will leave aside the order of events. Rather, we will focus on the strategic approaches that the party and the government have tried since 2010, referring to concrete examples.
Over the past few cycles, it has become clear that Fidesz is able to flexibly vary its methods of establishing and running friendly media outlets, and there are two main reasons for this. On the one hand, one of the party's core principles is that success in politics is inconceivable without the ability to construct narratives. That is why, regardless of the circumstances, particular emphasis is always placed on adapting the media arsenal to communication needs. From this point of view, the press is nothing more than a means for conveying party and government messages, which must always remain responsive to the prevailing political demands.
On the other hand, as we have seen earlier, the press has no intrinsic value for Orbán's party, and they have consistently maintained that there is no such thing as a free and independent press – rather, media companies serve the interests of either one side or the other (and not only at the ideological level but also at a more concrete political one). They see themselves as constantly having to compete in this domain from an inferior position against a left-liberal dominance. From this point of view, it is perfectly understandable that the media market is not to be taken lightly: if the desired structure does not come about on its own (i.e. via the market), they are not picky about how to get it done themselves. If this requires crossing certain boundaries that are generally respected in a liberal democracy, then so be it.
Success and failure: the seizure of public media and the succession of brand flops
Since 2010 the Hungarian public media has drifted far from the vision expressed earlier by Viktor Orbán – i.e. that there should be a level playing field here between the political camps. A cornerstone of Fidesz's media strategy is the total domination of the public media and the ability to mobilize it to support the government's agenda. Of course, the public media's gravitation towards the current governing side was evident even before NER, but never before had it reached the level that has since become the norm. Meanwhile, the cost of sustaining it also rose sharply: as of late, the state media has been running on between 100-130 billion forints a year.
Even at the most basic level, the institution is failing to respect its guarantee of non-partisan operation. The President of the National Media and Infocommunications Authority is the employer of the CEO of MTVA, a media holding company comprising public television, public radio and MTI [Hungarian Telegraphic Office]. This office, however, is nominated by the Prime Minister and appointed by the President of the Republic for a term of nine years. This is reflected in the way it operates, and a list of its abuses would appear to be endless. The head of MTVA is Daniel "news forger" Papp. Half of the public service coverage and news programs is devoted to reports on government victories, while the other half is devoted to discrediting Fidesz's current enemies (migrants, the homeless, LGBTQ activists, Brussels, the opposition, journalists, etc.). At the same time, MTI suppresses news, rarely invites leaders of the opposition to make a statement, and when it does, there's not much to be gained by accepting the invitation. The recently resigned editor-in-chief has openly told staff that "at this institution, we don't support the opposition's coalition," and since war broke out at one of Hungary's neighbors, state channels have not shied away from broadcasting Russian propaganda.
Use of the public media as a political weapon has been going on throughout the last three Fidesz-KDNP cycles, and there is no sign of consolidation at this point. This is also reflected in the perception of state media. A recent survey found that within the EU, the Hungarian public media is considered to be the least credible by the general public, and the European Broadcasting Union noted that there has been a significant decline in the public service function of public media. Whereas in a corporate group operating under the traditional definition of the press, such feedback would surely lead to serious introspection on the part of management, this is not the case in public media: the channels are very good at fulfilling their main function in the system – hammering home the government's message – at least, among the elderly, government supporters, and the less educated (i.e. those who make up the bulk of the audience).
There have been several attempts by pro-government actors over the past decade to create and scale up new media platforms. And Orbán specifically urged them to do so after his conflict with media tycoon Lajos Simicska in 2015 shook up Fidesz's stance in the press. And yet, apart from a few exceptions, these projects have not been successful, and the newly created brands failed to take root in the public consciousness. Let's take a look back at some of the more interesting Fidesz-backed experiments launched since 2010 and see where they are now:
Faktor.hu: This site was intended to be similar to Origo in form but with a Fidesz bias. Over time, this site managed to rival the most widely read news portals in terms of traffic. But during the few years of its operation, it did not even come close to achieving this goal (although this was no longer necessary after the takeover of Origo). Now, the domain faktor.hu has not been used for years.
VS.hu: VS, founded in 2013, is the odd one out in the field of pro-Fidesz media because during the few years of its existence its content never made it blatantly obvious that the outlet was in the ruling party's hands. The site, which was owned by the Szemerey family (who are related to György Matolcsy, Governor of the Hungarian National Bank) and provided public affairs coverage and high-quality magazine content, met its downfall when it was revealed in 2016 that its publisher had received hundreds of millions of forints for its operations from one of the Hungarian National Bank's foundations. The site's journalists subsequently resigned, and although for years the domain was linked to what looked like a news portal, it had been in fact only updated with news from MTI. It later shut down.
888.hu: The youthful, hard-hitting site of Árpád Habony's media machine was launched with great enthusiasm in 2015 by Modern Media Group Zrt. The publication, edited by Gábor G. Fodor, has managed to call attention to itself with a few scandalous articles (or articles with such an intention), but the momentum faded after a few years. Today, a look at the site, which has since been absorbed into KESMA [Central European Press and Media Foundation], reveals little original content and a few opinion pieces – rather it shows mostly the state news agency's views. Its daily visitor traffic in May for the most part ranged between 10-20 thousand.
Lokál and the new Metropol: Another big launch for the Modern Media Group was Lokál, a publication distributed free of charge at public transport hubs in Budapest. As a daily newspaper, it had a significant presence in the capital, and it played a major role in Fidesz's campaign for the 2019 local elections with its bashing of opposition candidate Gergely Karácsony. When Karácsony nevertheless won the race for Mayor of Budapest, BKK [Budapest Transportation Center] banned the publication from its distribution points. But after a four-year hiatus, Mediaworks resurrected Metropol, which has been performing exactly the same function ever since. No data is available on its popularity and political impact, but by thrusting political propaganda (diluted with a great deal of tabloid articles) straight into the hands of the people, the paper is certainly among the more successful media projects of Fidesz. For one thing, they were the ones who made a big splash in all the government media last summer with their "filthy, homeless-ridden capital" storyline.
Ripost: The best illustration of how much more successful a media product designed to convey primarily political messages can be when mixed with tabloid media is Ripost. The print version of what used to be a daily newspaper is now only published on a weekly basis, and it is rumored that it will soon be merged with the Bors. Nevertheless, Ripost.hu is constantly among the ten most read Hungarian online portals. With these numbers, this Mediaworks site could certainly operate on a commercial basis from market advertising revenues, and government propaganda would not have to be relegated to the background on the page.
Pesti TV: When Miklós Vaszily launched Pesti TV two years ago with funding from Lőrinc Mészáros, it was not clear what the idea behind the project was. Why would it make sense to produce a TV channel with essentially youth-oriented content, when fewer and fewer people of this age group actually watch television? The doubts were confirmed. Pesti TV was the only new channel to receive national coverage and over-the-air broadcasting since the 1990s. In other words, in addition to M1, Duna, TV2 and RTL Klub, it was also available in any household with a television. Despite this, the station's ratings were far below expectations, its operation was marred by scandals and it was expensive to maintain, so it is no wonder that it was shut down this past summer (some of its programs will continue on HírTV, while the rest of Pesti TV will move online).
Last but not least, the runners-up. Sometimes, the pro-government media can come up with some rather bizarre concoctions: these include sham investigative fact-finding sites such as Bennfentes.net [lit. "insider.net"] or, a few years ago, the Tűzfalcsoport blog [lit. "Firewall Group"]. The former played a role in uncovering the so-called City Hall affair, but lately it has only been reporting on border-jumping migrants. Another is Kontra.hu, the hard-to-define site of Fidesz spin doctor Gábor Megadja, with headlines such as "Evil, ugly left-wing women shouldn't make decisions about children's lives". Or there are the regional-level "counter-newspapers" that were launched by Fidesz in the cities and districts where the opposition won the mayoral race in 2019. Their function is almost exclusively the dissemination of the most shameless party propaganda.
So it cannot be said that there have not been serious attempts to launch new brands in the traditional media space – but most of the projects have been failures or at best partial successes. The disappointing results were certainly not due to a lack of resources: both the government and large public companies advertised generously on platforms whose readership did not provide a commercial reason to do so. It's not hard to find a lesson to be learned here: if it is painfully obvious that there is no public demand for a particular thing, even all the money in the world won't be able to generate it. Today, they are now aware of this with Rogán's work, which is why it has become a much more important media strategy to take over existing media platforms that are prominent in their respective segments.
Media that was Fidesz-ized, conspicuously and otherwise
The number of press outlets that had been set up by others and then played into Fidesz territory through devious maneuvers over the decade that NER has been around is so great that listing them would be difficult. An early example of the acquisition and political transformation of existing media apart from the Magyar Nemzet was the purchase of the Magyar Hírlap in 2005 by Fidesz sympathizer Gábor Széles. However, the strategy only became fully formed and operational after 2010, with the opportunities presented by having a two-thirds majority.
After a few years of groundwork, the trend peaked between 2014 and 2018. An important part of the context was the Orbán-Simicska conflict in 2015 (resulting in the sudden de-Fidesz-ification of HírTV and Magyar Nemzet), which made party leadership realize that they needed to diversify when it came to media and outreach. The first publicly conducted, high-profile takeover of a publication was that of Origo in the summer of 2014, but in the background, preparations were already being made for the acquisition of Index: the then pro-Fidesz Lajos Simicska signed an option contract with the owner Zoltán Spéder to buy the portal. It was during this period that Mediaworks was merged into the government-loyal press empire: the owner Heinrich Pecina, who is considered to be but a figurehead, first closed down Népszabadság and bought Pannon Lapok Társaság, which publishes several county newspapers, and then passed the company on to Lőrinc Mészáros. At that point Viktor Orbán's childhood friend had nearly two hundred publications under his belt, all of which, along with many others, ended up in the KESMA empire.
The acquisition of the daily newspaper Napi Gazdaság (by the pro-government Századvég Foundation) was scheduled for 2013, but the changeover only took place in 2015, after Fidesz lost Magyar Nemzet and needed a similar newspaper. At that time, the financial newspaper was sold to Gábor Liszkay – one of the most important people in Fidesz media – renamed Magyar Idők, operated until Magyar Nemzet was recovered, and then simply thrown away. 2015 also saw the acquisition and transformation of the prestigious weekly business publication Figyelő into a government-friendly newspaper (executed by Mária Schmidt) and the merger of TV2 into NER. Simicska Lajos had also tried to acquire an option on the latter, but after a lengthy legal dispute the channel ended up with Andy Vajna, whose public affairs programs were quickly reoriented in a direction that was agreeable to the government. Vajna also bought Lapcom in 2017, which owns Bors and a few county papers. The tabloid quickly found its niche in the arsenal: before the 2018 elections it blasted stories like the "woman-beating Péter Juhász" case and the bizarre turbo-spun defamatory articles about then Jobbik leader Gábor Vona. All of these articles later underwent waves of corrections. Of course, by then there was no real stake in their verdicts.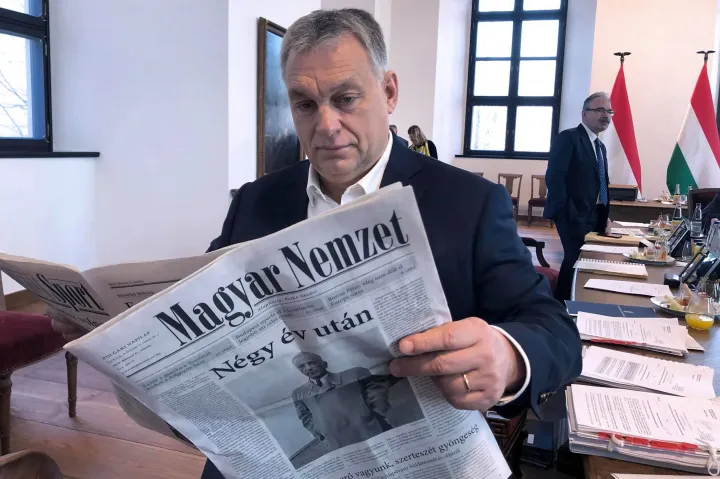 For the 2018-22 cycle, the only thing left to do was essentially just fine-tuning. It was then that pro-Fidesz circles managed to conclude the long-awaited takeover of Index, and Shabtai Michaeli, a man associated with Rogán and Habony, bought into the publishing house of 168 Óra and Pesti Hírlap. Fidesz's intellectual and economic associates even had a taste for surprising niche markets: for example, the pro-government political scientist Levente Boros Bánk, director of the Médianéző Központ ["Media Watch Center"], bought the trade magazine Médiapiac in 2020.
The track record of Fidesz-izing formerly independent press products is much more favorable than the creation of new brands. One of the peculiarities of the media market is that if people become attached to a platform for many years and become familiar with the brand, it is hard for them to break up with it. This is true even if upon closer inspection it is obvious that the content has become more or less politically driven. Almost all of the media outlets that have undergone transformation experienced a relative decline temporarily, and some of them even lost their significance over the course of a couple of years. Nevertheless, those that target larger audiences and which have been remolded to be Fidesz-friendly – or, at least, less Fidesz-critical (e.g. Origo, TV2, Index) – have been able to maintain their reach and constitute an important element of the propaganda heavy artillery. Admittedly, their audiences are also being transformed in the process, at least as indicated by the complete tabloidization of their most popular content. At Origo, for example, the section that enjoys the highest daily readership is the TV column, which almost exclusively shows sexy photos of celebrities. And the new direction of 168 Óra is typified by the fact that it devoted 37 (!) articles in a single day to the news of Krisztián Berki's death.
During the earlier part of Fidesz's media acquisition phase, it was typical that the platforms were completely reconfigured – sometimes after a short transitional stage – to transmit the central messages. The best-known example of this strategy is the reorientation of Origo, a news portal once known for its moderate tone and pursuit of objectivity, which was transformed into a party mouthpiece two years after its acquisition. This status has remained consistent ever since, and most of the platforms that have been seized operate in a similar manner. Content that is even remotely unpleasant for Fidesz appears in these publications only in a filtered and sporadic manner. The government narrative is reflected in essentially all public affairs material and in the smothering of certain issues.
The benefit of such a media empire is that it can be very effective in drumming important matters into the minds of its audience. The drawback is that it cannot reach people outside of certain circles. For those who are apolitical or sometimes distrustful or critical of the government, the utterly partisan narrative of Origo or Magyar Nemzet can easily seem over the top. They won't put their trust in hard-line Fidesz news sources. This problem is the reason for the new strategic direction in Rogán's work, according to which the platforms that have fallen under their sphere of influence are not assimilated into the monophonic chorus, but are granted a degree of autonomy and distance from the central messages. This results in a pseudo-independent but nevertheless controlled portfolio of "opposition" media, which can reach a section of the population that are not staunch Fidesz supporters.
The phenomenon has been observed in several newspapers over the past few years, but the most remarkable one is clearly that of Index. Today, the portal is predominantly news, tabloid and magazine-focused, and a cursory browse of its content does not reveal any signs of arm-twisting in its editing. However, when it comes to a few authors, articles and topics, it is difficult to think of it as anything other than a platform for political influence. Examples include the City Hall affair, the pseudonymous article published during the land scandal of Antal Rogán's wife, the interview with Lőrinc Mészáros that avoided certain topics, or the interview with then prime ministerial candidate Péter Márki-Zay that was blocked from publication before the elections on questionable grounds. After resigning from Index, a political columnist complained about increasing pressure coming from the governing party and wrote that during the City Hall case the paper was used as a platform for political attack. The latest development at Index also fits well into the logic of a controlled oppositional portfolio: ATV became the portal's media partner, and its majority owner is Faith Church's pastoral leader Sándor Németh. In recent years, Németh's worldview has crept ever closer to that of Fidesz, all the while the expansion of his family's holdings have also received favor from authorities. There is also some movement of personnel between the two companies, which is somewhat reminiscent of when the more moderate conservative authors were brought into Heti Válasz during the Fidesz-led takeover of Magyar Nemzet.
A similar category applies to the press of Michaeli, Schwartz & Brit Media Zrt., which Shabtai Michaeli bought into a few years ago alongside Pál Milkovics. At the time of the arrival of the Georgian-Israeli businessman, who is associated with Árpád Habony, the owners swore that there was no political angle to the deal, but then there were more and more indications that such was not exactly the case. During the opposition's primaries, the company's free print newspaper openly campaigned for Klára Dobrev, who was considered by Fidesz to be a more convenient opponent for Orbán, and our analysis of its advertising showed that it did so with all the advertising revenue it was receiving from the state. The company's other well-known publication, 168 Óra, remained critical on the surface, but it was already clear under Milkovics that something was out of place, as the former editor-in-chief had to leave because of an archive picture of the Orban family. This kind of news and content changes did not go down well with the readership. In one year, the paper's circulation fell by 40 percent, and recently the entire staff was fired and the editor-in-chief left with them because he disagreed with the planned content change. This means that they will now contract external authors to write for them. So they do not have a fixed in-house editorial staff. (The end game of the Index takeover was similar: attempts to force the management into a structure that would make independent editorial work impossible resulted in mass resignations and the creation of Telex.)
The emergence of controlled-oppositional and independent-looking media during the 2020s is the finishing touch to Rogán's media edifice in the traditional press. With these outlets in place, apart from a few hundred thousand very conscious media consumers, there is not a single viewer or reader left in the country who could not be targeted by a particular issue if necessary. And this could even be via a channel that cannot be clearly identified as broadcasting exclusively Fidesz propaganda.
The future belongs to social media
And this brings us to the present, where there seems to be some sort of disturbance in the force: the pro-government media is buzzing with reports that major consolidation and restructuring is underway. It was recently decided that KESMA will cease publication of the print versions of Figyelő and Világgazdaság. Gábor Széles will do the same with Magyar Hírlap. Finally, Pesti Hírlap, which had to undergo a diet from state advertising revenue after the elections wrapped up, will also no longer be published. There were layoffs at Bors and Metropol, and the same was expected within the provincial newspaper network even though they underwent a similar downsizing last year. Ripost may be folded into Bors, and the last issue of György Szöllősi's FourFourTwo sports magazine was published this past May. The free weekly newspaper City7, distributed in opposition-led cities and districts, was discontinued all over Hungary with the exception of one district in Budapest. At the same time, Mediaworks closed two of its provincial printing presses. In July, Pesti TV ceased broadcasting and moved its few remaining programs online. Gergely Huth told Telex that the continued existence of Pesti Srácok was also in question.
There are plenty of economic and political reasons behind the consolidation of the pro-government media empire. The decline in print circulation is by no means a new development, but for newspapers that have become government mouthpieces it may be even more dramatic. Délmagyarország, for example, lost nearly half of its readership in five years. From 35,000 copies sold in 2016, the first quarter of 2021 saw only 19,000, and other county newspapers are not much better off. Another good example is the case of Pesti TV, which had significantly lower ratings than expected and generated a loss of 500 million forints in 2020. But there is plenty to cut back on: in addition to classic advertising, this is evident from the fact that, according to our post-election summary, county newspapers spent 172 million forints on Facebook advertising during the campaign.
Mediaworks, Fidesz's flagship in the traditional media, looks like an expanding and profitable company when looking at the numbers alone (In 2021, it generated a pre-tax profit of 2.1 billion forints on revenues of 47.8 billion forints). However, this would not be possible without the massive pump of state advertising. Government and state advertising spending has reached unprecedented levels in the last years of the Orbán administration, and it is also concentrated in the pro-Fidesz media empire to an extent never before seen. We are talking about tens of billions of forints a year, which cannot be considered negligible in the current economic climate. It was time to explore whether the government's messages could be disseminated more cost-effectively.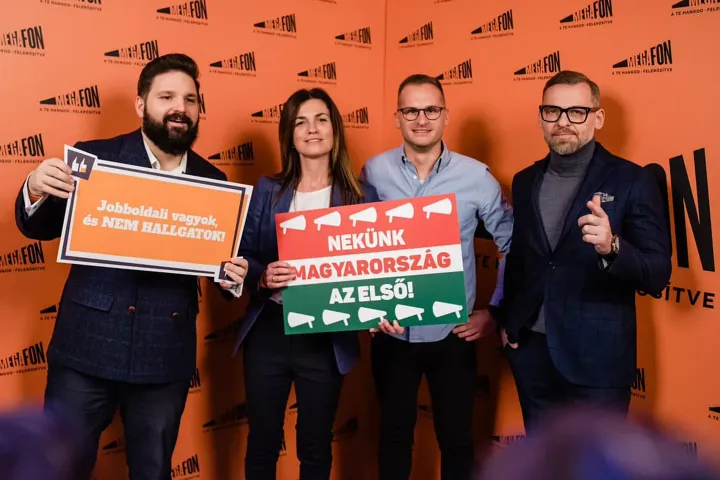 This is how we can see the communication direction that the propaganda factory started to develop in 2020 following the municipal elections, which could be seen as a minor slap in the face for Fidesz. In the wake of the election debacle, the ruling party is said to have been surprised by the opposition's clever use of social media in the campaign and noted their own relative weakness in this area. In response to this, Fidesz content began to mushroom, first on Facebook, then on Instagram and more recently on TikTok, which is being heavily funded to gain more exposure. The best-known brand of the project is the Megafon Center, founded by István Kovács and supposedly run by donations. In 2021, 557 million forints went through the Megafon Center on paper, although Facebook's ad tracker says it spent one billion on advertising by the spring. Megafon produces and hypes Fidesz social media influencers, and the crew includes such names as Dániel Deák, the Kopasz Oszt, Philip Rákay, and more recently, even Szilveszter Szarvas, the former best-known face of the Pesti Srácok, has joined the team. This is an excellent illustration of the transition that links the slimming down of the older organizations with intensification of efforts on social media.
According to a source with insight into Fidesz campaign methods and propaganda direction, during the election period Fidesz's campaign team found that social media, including Facebook, became the primary source of information among voters. Simultaneously, other traditional media (TV, radio, print and online newspapers) were on the decline. Average content consumption consists of more or less the following: people find out about some news in their Facebook feed in the morning, and may catch a report on it in the evening news broadcast. So although TV has not become irrelevant, dominating Facebook is now the top priority.
During the election, Fidesz campaign organizers saw that a social media campaign could achieve the same results in a week as a traditional campaign could in a month. As an example of this, our source said that the "Gyurcsány-show" segment had caught on so quickly that a week or two after its release, Péter Márki-Zay was already complaining that people were calling him Mini Feri on the street. The campaign staff, monitoring the effectiveness of the ads, concluded that this was not primarily due to the posters and billboards but to the ads running on Facebook and YouTube.
Both Fidesz's communication and the Fidesz-affiliated press will be transformed accordingly in the future, said a source with insight into the campaign team's operations. The source went on to say that further cuts are still to come because, as he said about the closure of Figyelő and Világgazdaság, "there's no need for money pits." The thesis statement underlying the reorganizations goes something like this:
"You can reach a lot more people online for a lot less money than with traditional media for a lot more money."
They also said that there are nevertheless certain strongholds that are not under threat. For example, Magyar Nemzet, Mandiner and TV2 will definitely be kept around.
But going forward, Megafon will have a prominent role to play. It is in the process of expanding, not downsizing. In a recent interview with Origo, István Kovács said, "Now we're really getting into the swing of things. We're preparing for big things, and I can promise you that we're going to have a much stronger, more prominent presence." He said that leftists can now feel that "the sacred cow they have monopolized is not only theirs now – the people on the right are also free to speak their minds."
Megafon's content is currently less visible because it is not advertised, but it is constantly being produced for followers. "It's the off-season: Fidesz is at 60 percent, there's no political activity now and no point in advertising. Things will kick off in September," said our interviewee regarding Megafon. (This was before the cuts in the utility cost caps and the squeeze on small businesses and the self-employed. It is quite possible that if the party sees a drop in popularity as a result, social media propaganda will jump into high gear.) There are also smaller, but also quite effective-looking weapons in the Facebook arsenal, such as the constituency smear pages that were launched specifically for the campaign period – a phenomenon that we discussed at length in an earlier article.
It can't be said that this kind of outreach is free. After all, even on social media platforms, it's possible to spend a few billion forints in a few months during a more intensive period – and that's just for advertising, not content production. But what is certain is that, in terms of money invested and people reached, the new direction is leaps and bounds more effective than what Fidesz is doing with traditional media. In addition, it does not have the same problems inherent in TV and newspapers. For example, there is no need to bother with corrections, which are a common fixture of the pro-government press.
The curious thing is that leading government and Fidesz politicians regularly make a point of highlighting how biased towards liberalism Facebook is. For example, Justice Minister Judit Varga once posted about how the platform has limited access to her posts, and also about how Christian, conservative, and right-wing opinions in general are restricted on social media. (None of which is in fact supported by independent research.) Megafon's influencers also regularly complain about Facebook's lawnmower-like moderation practices (which do indeed apply disproportionate punishment for questionable things relatively often.) Meanwhile, paradoxically, it is precisely this platform – one much criticized by the right-wing yet run by Silicon Valley liberals – that has become the most effective tool of government propaganda in Hungary. It is also one upon which the communications think-tank was able to draw up a complete strategy for 2022.
The translation of this article was made possible by our cooperation with the Heinrich Böll Foundation.