I left the last two apartments in tears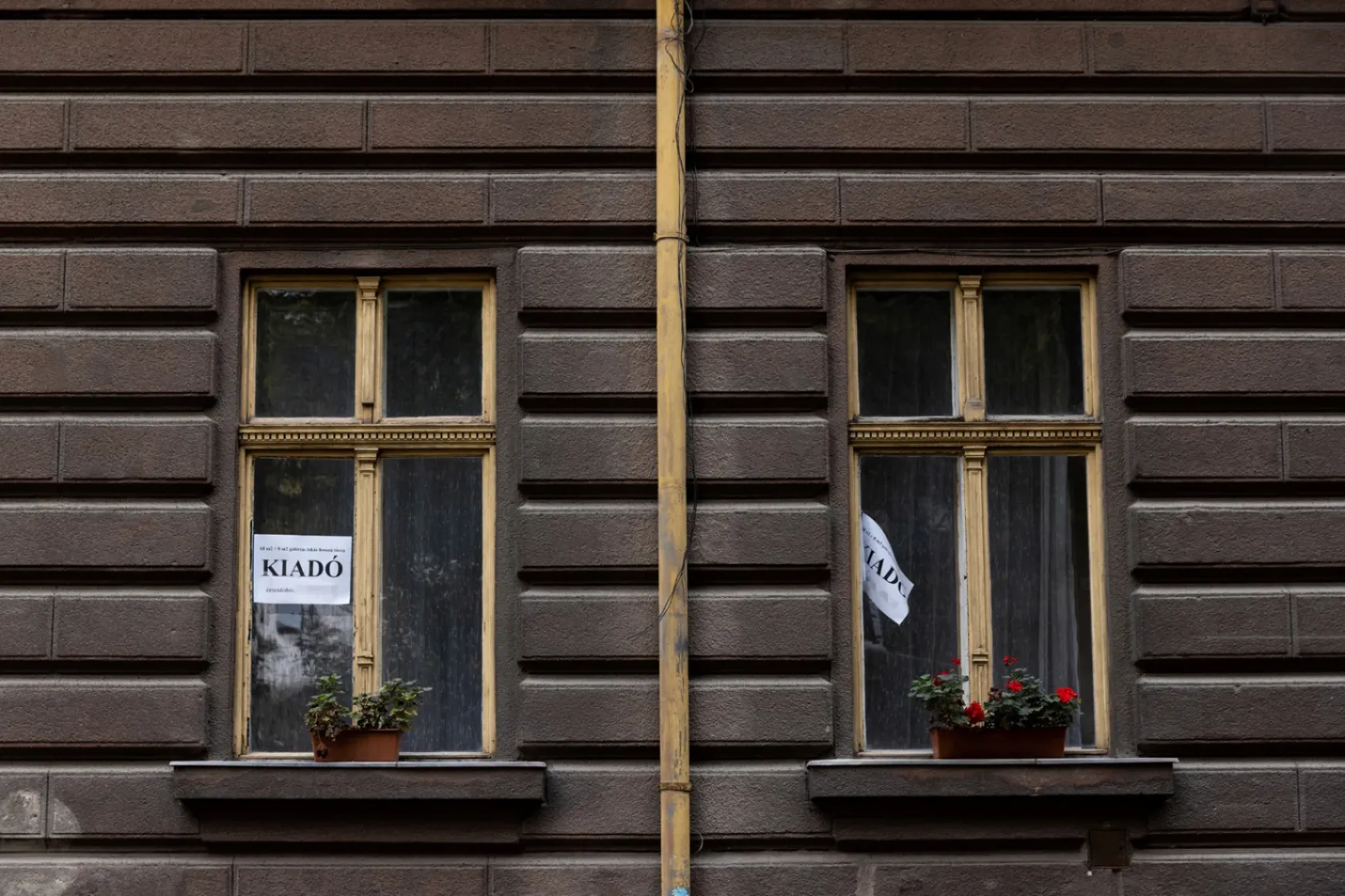 Apartment for rent in downtown Budapest – Photo by Orsi Ajpek / Telex
Even having a steady job and savings are irrelevant for someone if they are gypsy: when it comes to looking for a place to rent, they have such a disadvantage from the outset that they need much more perseverance and resilience than average in order to succeed. It is against the law to exclude someone from the pool of potential tenants solely on the basis of the color of their skin, but these are not situations where the law is easily enforced. The Equal Treatment Authority has been shut down, and the ombudsman receives one or two complaints a year.
Here's the setup taken from a sublet-seeking classified ad posted in early December 2021: a young family of three: parents 28 and 26 years old with a 2-year-old boy; father has two jobs, both of which are registered, and the mother plans to sign the child up for daycare starting the following month so that she can start working again as well. "We're feeling desperate because out of 50 apartments, 25 are already out of the question because of our child, another x-many turned us away because of our ethnicity, and the rest don't even respond with a simple 'sorry, it is no longer available.' (...)"
Honestly, we'd be happy to consider anything. We just ask that someone accept these two drawbacks, which we can't do anything about – nor would we even want to!"
– the mother wrote in the ad, which was accompanied by a Christmas photo of the three of them. The flat-seeking post of the Roma family was subsequently shared by many on social media, and they have finally managed to find a place to move into.
"I don't accept applications from Romas"
Their tactic is not entirely unique: in order to spare themselves the unnecessary trips and unpleasant experiences, some housing seekers who post on advertising pages and groups have elected to clarify in their post that they are Roma. The word appears less often so explicitly from the other side. Nevertheless, it is still possible to come across a rental offer like the one for a 1.5 bedroom apartment in Dunaújváros, in which the advertiser bluntly wrote, "I don't accept applications from Romas."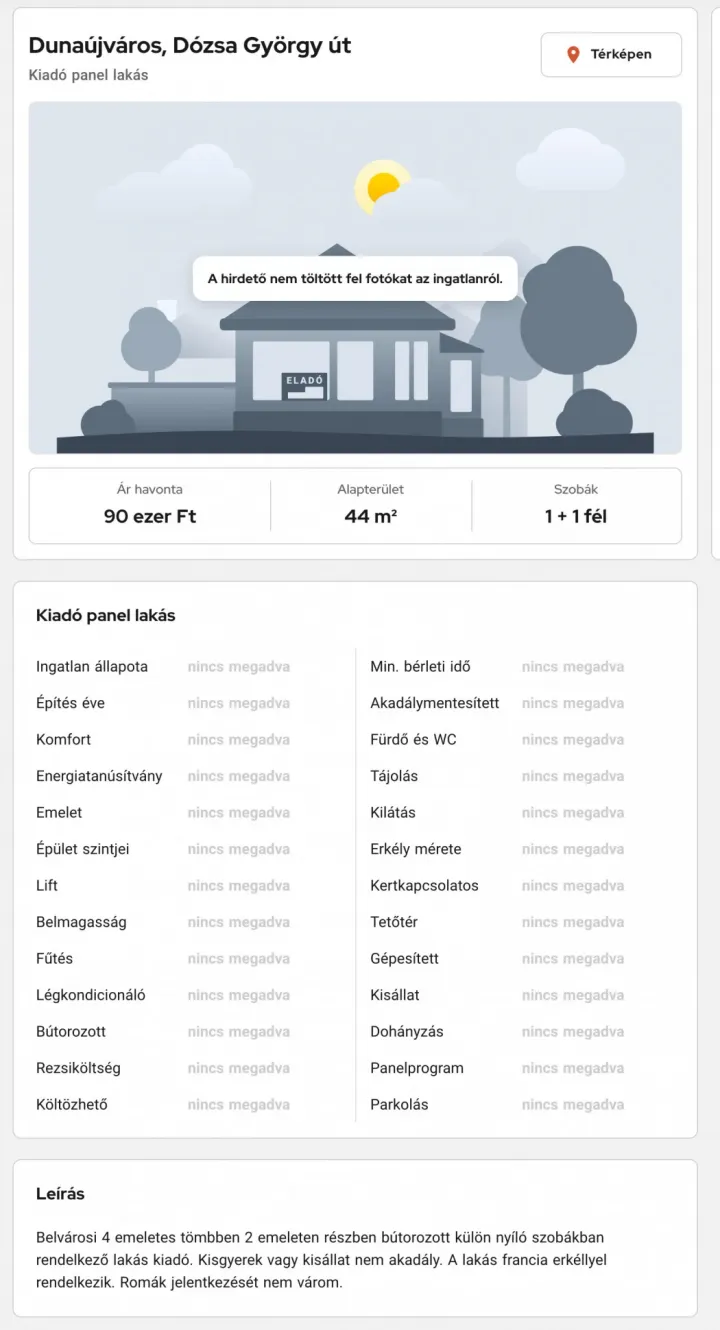 As many people know, private individuals cannot be held accountable by law for complying with the requirement of equal treatment. And this is indeed generally the case, but sublet advertising happens to be an exception. As the ombudsman's website and the website of the Hungarian Civil Liberties Union [TASZ] state, if someone advertises their property for rent in public and engages in discrimination, they can be prosecuted.
Discrimination is not overt in most cases, but it is not that difficult to discover. A recent background study by Anna Balogi and Street to Home! Association's (ULE) Dóra Papadopulosz used two methods to investigate discrimination against Roma tenants in big cities. One was the so-called "mystery call" method. They called the owners of apartments for rent in Budapest and real estate agents and said that they were looking for sublets for their clients. They described their clients as a young, non-smoking Roma couple without children or pets, who have registered jobs, a stable income, and the ability to pay the deposit immediately, including the first month's rent.
Deflecting, excuses, and vanishing
They talked with a total of ten owners and ten real estate agents. Only a third of those called offered an appointment to view the property. When someone turned them away but not directly on account of them being gypsies, they later called that person back on behalf of another applicant to check whether the same explanation would be given. In some instances, the test yielded telling results. For example, upon hearing about the Roma couple, one real estate agent said that they had already signed with someone else. But this wasn't brought up during the second, follow-up call.
The mystery calls also revealed one landlord who made it clear that they wouldn't rent out the flat to Romas or migrants even if they had enough money. As for real estate agents, some of them stressed that it wasn't up to them – the owners had the final say. There were also those who expressed sympathy and offered to help find an apartment similar to the one in question, but in the end, they didn't call back.
A video produced as a joint project between the Department of Social Psychology at ELTE PPK and the Central European University shows similar scenes. In the video, young Romas make phone calls regarding advertised rentals, and then they look back on the footage together and discuss what happened.
In addition to the mystery call test, the study also involved interviews with Roma people who had experience in looking for a sublet in Budapest. The topic also came up during a ULE project in which the experiences of people living in institutional housing were surveyed in focus groups in the summer of 2021. Out of the five Roma people interviewed, only one was lucky enough to find a sublet in Budapest without any difficulty – successfully moving into the very first apartment they looked at. However, the others' experiences attest to the fact that Roma people looking for a sublet are often met with the response that the flat they have looked at has already been rented out to someone else. They might be promised a phone call, but that promise goes unfulfilled.
During the interviews, several of them spoke about the same thing that was brought up in the young family's classified ad quoted at the beginning of the article: the task of finding a sublet is also made more challenging if there are children in the picture. Firstly, landlords are afraid that children will do damage to their flats. Secondly, they are afraid that if they ever wanted to get rid of the tenants, it would be harder to go through with it knowing that it could end up putting a child on the street. Balogi's team noted in their study that these two points can become blurred in the case of Romas because, among the stereotypes about gypsies, there is the image of a family with many children.
There is relatively recent data showing the magnitude of the problem from research published by the European Union Agency for Fundamental Rights in 2016 on the discrimination that the Roma face. The study included a total of 1171 households and 4941 people from Hungary.
32% of Roma respondents from Hungary had experienced housing discrimination in the last five years.
"They won't take your money"
"I left the last two apartments in tears," said a 21-year-old Roma university student, who asked to remain anonymous, when telling Telex about her first experience searching for a sublet. Like many other young couples, she and her boyfriend began looking for an apartment after deciding to start a life together in a private home. They embarked on their search in September and gave up after a week or two after observing that "it was the same story with every place", "people were making excuses". According to the young woman, they were told on the phone that if both parties felt good about the arrangement, they could put down the deposit right then and there. However, when they arrived at the apartment, that's when the equivocation started: either the apartment had already been rented out or another applicant was still expected.
Towards the end, there was an apartment that they waited an hour for after being told that it would be shown to yet another applicant. They received a call an hour later with the message the apartment was going to be rented out to this individual. However, a week later they noticed that the apartment was still being advertised. During another instance, the voice at the other end of the phone line made it clear from the start: the apartment in question would not be rented to gypsies. The couple mainly focused their search within the 7th district, and they were insulted when they were approached once with an offer for an extremely expensive flat in the 8th district [a district known for its high concentration of Roma residents]. They felt as if they were being backed into this district – as if this was their only option as gypsies.
The couple once met a landlord who started telling them that a gay person had come by to see the flat, but they certainly didn't want to rent the flat out to a gay person. A Turkish person also looked at the flat, but the landlord wasn't inclined to rent out to such a person either. "It was awful to listen to. The landlord called us back the next day, but we had already agreed by then that we didn't want to rent a place under such circumstances. After all, how could you move there as a Roma? What if it dawns on the landlord one day – would he get nasty with us?" said the student. In the end, she had had so many bad experiences that she decided not to waste her energy for the time being, as she needed it for her studies. Thus concluded her first-ever apartment hunt, which, she noted, should have been a positive experience, but instead ended up being a huge disappointment.
"There you are, a 21-year-old college student, and what you take away is that you're not good enough to pay someone else to live in their apartment. They won't take your money," she said.
When everything changes in 10 minutes
Márió Kiss is a law student close to graduating; he is Roma. At the end of 2019, he moved to Budapest, stayed at a friend's place for two months, and then started looking for a sublet. He had a well-paid, steady job, was capable of paying 130,000 forints [~330 euros] for rent plus utilities, and would have had no problem paying two months' deposit either. "They couldn't tell over the phone that I was a gypsy. But when they saw me, they were like, 'Ooh, we've already found someone' or 'the person that we're signing with just left.' But I had called them ten minutes prior, and I still had the green light," he said. His worst experience was with an elderly woman who was offering an expensive mini apartment in the 6th district. Upon meeting, she said that she wouldn't rent the flat to him because she was afraid: he's young, he's a gypsy, he'd probably party a lot, and the "black gypsies" would come and trash her apartment.
After looking at about ten apartments, Kiss gave up. Besides, hotels were renting out apartments as Covid had just hit. He ended up living in one of these apartments for a year, which turned out to be even cheaper than renting would have been. He has since moved to Nyíregyháza, where he lives with his parents in a detached house.
In this respect, there does not seem to be much difference between Budapest and the large provincial cities. According to Kiss, many of his friends have been looking for a flat in Nyíregyháza, and they tell him that not many people rent to Roma there either, "especially not to people with children."
Stomach knots before apartment viewings
Anita Fúrós is 35 years old and has lived in Pécs for as long as she can remember. She works with children in one of Pécs' segregated neighborhoods as well as at the Power of Humanity Foundation. She has been living in various sublets for the past ten years, during which she moved several times due a change of circumstances, for example because the owner sold the flat or the lessee wanted to move back in. Her last sublet search took place two years ago. She and her Roma flatmate undertook the task together. The search was just as frustrating as it had been many years earlier, when she and her mother were looking for a place to live while she was still in high school.
No landlord or estate agent told her to her face that a gypsy could not get the flat. She too is familiar with the sophisticated manner of brushing someone off and excuse-making. However, she says that the situation has gotten much worse in recent years: some landlords tell real estate agents in advance who they do not want in their home. A real estate agent that she knows told her beforehand that landlords are generally reluctant to rent a flat to gypsies, and it would be all the more so for her since she and her flatmate were looking for one together.
"Whenever I went to an appointment, I had a knot in my stomach, thinking to myself, 'Okay, now I have to be on my best behavior because who knows what they're going to say,'" said Fúrós. To some extent, she understands people's fears. She says that you can hear a lot of bad things, but "those things are human-related, not gypsy-related."
While they were looking, she felt an urge to hunch up, as if to say, "I'm not here to hurt anyone or trash the place", and it was frustrating. "Why should I have to prove myself more or feel inferior just because I want to rent an apartment that's being advertised anyway?" she asked.
Eventually, she managed to rent a co-worker's apartment. She didn't have to prove anything either, as they already knew each other.
Is it more decent if they at least say it upfront?
Despite having come from a different background, Amália had a similar experience to the others when she was looking for a sublet years earlier. She currently lives in social housing managed by the municipality of Kőbánya with her two adult sons. They became tenants seven years ago through the LÉLEK program [an acronym meaning "soul" that stands for "housing, lifestyle, psychological help, livelihood provision, and community"], which offers a path to overcome homelessness. They now pay around 24,000 forints [~60 euros] a month for the flat. They were admitted into the program with the help of members of the organization The City is For All. "If we hadn't gotten this help, I don't think we would have been able to do it on our own," Amália told Telex.
Before that, their home was a shack in the Terebes woods [a small wooded area inside of Budapest]. When the unauthorized demolitions of the shacks began, NGOs started to fight for the municipality to take responsibility and not take people out of their homes and leave them with nowhere to go. Amália's family was eventually accepted into the LÉLEK program as district residents without a permanent address. In the program, those who respect the tenant policy, comply with the rules, and meet the savings requirement become eligible for social housing after one and a half to two years.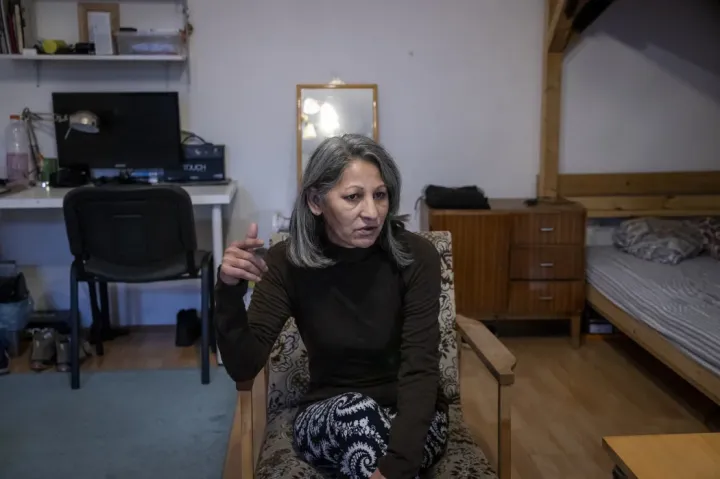 With regards to subletting, she believes that it is more decent when someone openly declares that they will not rent their flat to gypsies. "I found a sublet here in the 10th district. I went there, and we talked. The woman was really nice. We agreed that everything was in order and that I could sublet the place. She would give me a call. And she never did," she recalled in one of her past experiences. She has also faced a lot of discrimination when looking for a job. As a result, she started to do what some people resort to when looking for a sublet: she just indicated in advance that she was Roma.
She also gave up sublet hunting at that time. As she puts it, she realized that it wasn't going to work for a number of reasons, one of which being her ethnicity. For a good part of her adult life, she lived as a tenant by courtesy, being taken in by relatives and acquaintances. She had mixed experiences with this: with some people this arrangement worked for many years without any problems, but with others, she felt helpless, subject to the other person's present mood as well as their long-term plans. However, the lack of work opportunities in her home village meant that the idea of going back was never an option even when she had nowhere to live.
Around the turn of the millennium, Amália once tried to ask the Roma Minority Self-Government for help with housing, but they couldn't even really give her any advice. This made her lose confidence in Roma organizations. She thinks that there's a need for more NGOs that know how to take decisive and purposeful action and know the rights. "When The City is For All told me about the opportunities we had, I said, 'Good Lord.'
If only I knew, I would have moved sooner and not stayed there waiting in the middle of nowhere for all those years – years that have passed me and my children by. I would've made a move sooner. But I didn't know about these opportunities," she said.
Reduced capacities
But getting outside help with housing or discrimination is not easy. In May of 2021, Minority Rights Group Europe published its report Roma in Hungary: The Challenges of Discrimination. The publication warned that the situation appeared to have further deteriorated in the wake of the coronavirus pandemic, with a decline in the capacities of human rights advocacy and the virtual disappearance of public-interest lawsuits.
The Equal Treatment Authority (EBH) ceased to exist in January of 2021. At the time, the EBH had a lawsuit involving a Roma person's search for a sublet. In this case, however, it was not an individual who was found guilty, but a company. When a Roma client signed a sublet mediation agreement with them, they provided lists of available sublets in which some of the listings included the phrase "no Roma". According to a 2018 brief published on jogászvilág.hu, the EBH's efforts in contacting the accused company were for naught: the company didn't reply and didn't participate in the proceedings. The suit resulted in a fine.
Since the closure of the EBH, its functions have been transferred to the ombudsman. The kinds of cases that used to be referred to the EBH can now be submitted to the Commissioner for Fundamental Rights in order to initiate a so-called "administrative dispute resolution procedure". We contacted the ombudsman's office to ask about this.
The Office of the Commissioner for Fundamental Rights does not record specific data on discrimination against ethnic Roma when looking for a sublet. The Office's press officer was able to inform in general that,
"the average number of such complaints is 1-2 per year. These cases therefore do not constitute a substantial set in terms of the Authority's activity."
And what usually happens with such complaints? With respect to the assessment of these cases, the press officer said that in general, the authority examines whether the Roma complainant had suffered a disadvantage as compared to other applicants on the part of the advertiser or landlord of the rental property and, if so, whether the disadvantage is causally linked to their Roma background. If the parties do not reach an agreement during the proceedings, the authority will issue a decision. If it can be established that the complainant has suffered a disadvantage as compared to other applicants because of their Roma background, the authority will impose sanctions. If it is established that the complainant was not disadvantaged because of their Roma background, the authority will reject the application.
"The best way to combat housing discrimination against Roma is through social sensitization," writes the Street to Home! Association (ULE) in a background study by Anna Balogi. This is why they started an awareness-raising campaign entitled The key issue is not just a money issue. In the shorter term, a housing agency – either municipal or such as Housing Now! Social Housing Agency run by the ULE – can be a solution to these situations. As Dóra Papadopulosz, a representative of the association, explained in response to a question from Telex:
"This way, we take the responsibility for ensuring that the rent arrives each month so the landlord doesn't have to worry, and we are committed to non-discrimination."
The translation of this article was made possible by our cooperation with the Heinrich Böll Foundation.