Orbán: "The proposed sanctions against Russian oil are tantamount to a nuclear bomb thrown on the Hungarian economy"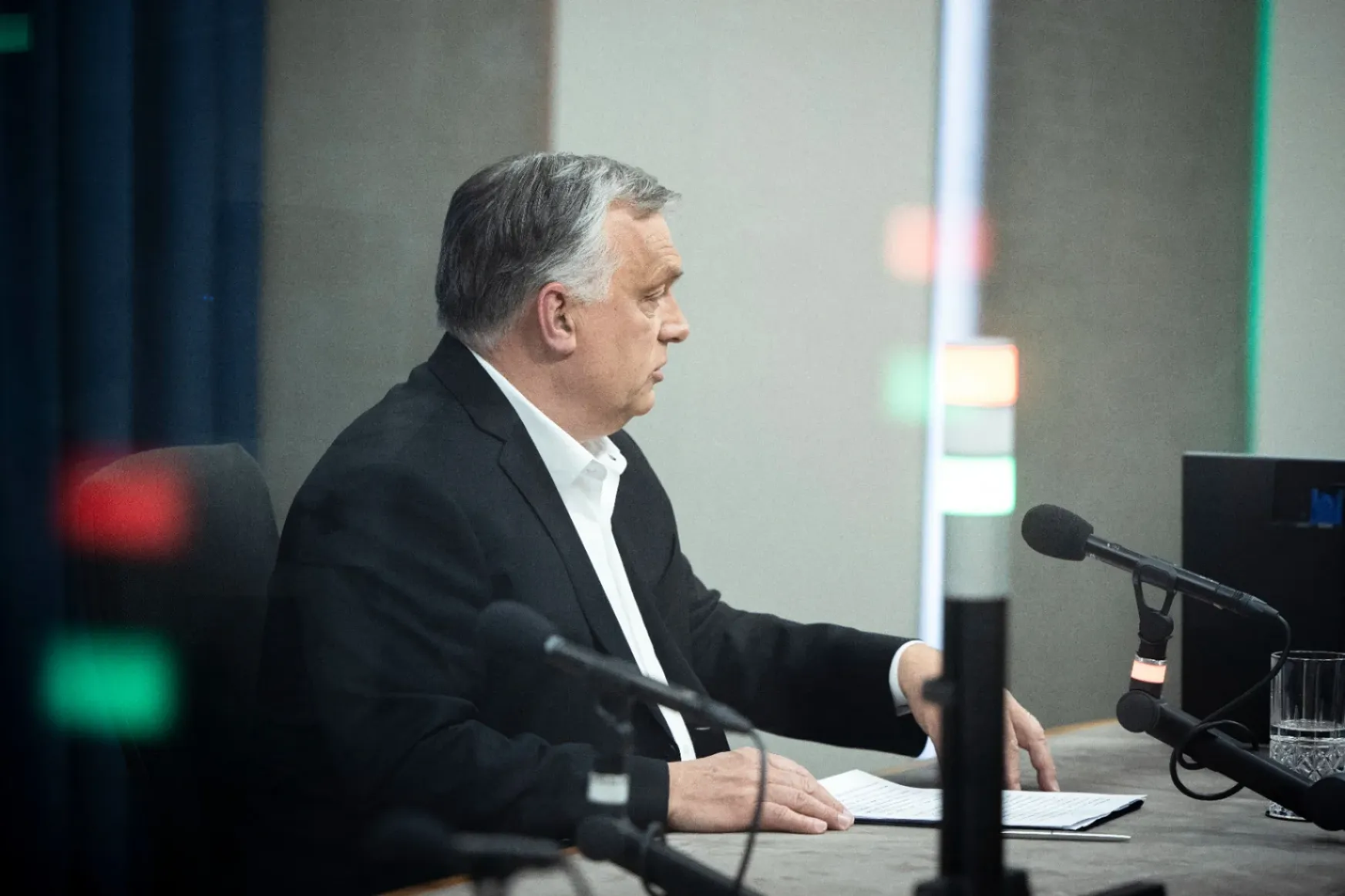 Viktor Orbán in the studio of Kossuth Radio during the programme "Good morning, Hungary!" on 6 May, 2022 – Photo: Zoltán Fischer / PM's press office / MTI
Every Friday, Hungary's prime minister gives an interview on one of the state-owned radio stations. Since the independent media has not had a chance to interview him for many years, these weekly radio interviews are the only opportunity to find out what the leader of the country thinks about current events, how he sees his opponents and any issues at hand. Here's a brief summary of the most important points he touched on this morning.
When will the new government be formed?
Orbán will be sworn in as PM on 16 May in Parliament, and he said that after that he would need 7-8 more days until he is able to introduce the members of the new government at the next meeting. Although he did not mention names, he did say that the government structure will be significantly transformed, and that he "would like to bring in lots of new people". When commenting about the negotiations on forming the government, the PM said: "Right now I am standing in the middle of the forest, I can't see anything that's behind me or in front of me". He added that he has been able to reach an agreement with some, but not yet with others. He also said that he thanked those leaving for their past work, adding that only the best are ever offered such positions. "We are an extremely talent-rich country. If it were needed, we could form two or three governments out of the intellectual make-up of the Hungarian right." – he said.
According to Telex's information, under the current plans, the new government will have a strong central, prime ministerial think-tank, while industry and innovation will be under separate ministries and the areas of finance and economic development will also be separated.
Why is the EU's sixth sanctions package against Russia not acceptable for the Hungarian government?
Because it's tantamount to dropping a nuclear bomb on the Hungarian economy – said the Prime Minister, adding that the EU had decided on a consensus in Versailles, and the President of the EC had now overturned that. The agreement was that each Member State had the sovereign right to set its own energy policy, but now they want to impose the same rule on everyone.
"Those who have a sea and ports are able to bring oil on tankers. If they hadn't taken it away from us, we would also have a port"
- Orbán added and continued by saying that "the proposal from Brussels disregards the fact that we can only get oil via the pipeline coming from Russia. The other option is to get it from the South, but for this to happen, Croatia would have to increase its capacity. So as far as Hungary is concerned, this package is going back to the sender" – he concluded.
Would this endanger the cuts on overhead costs?
Absolutely. According to the Prime Minister, "the cuts would be over "if not on Monday, then by the end of the year at the latest" because there are serious financial calculations behind them, and these would be overturned.
Does Hungary have plans for modernizing its energy supply system?
Orbán said that the entire Hungarian energy supply system needs to be modernised. This includes the expansion of the Paks nuclear plant, the use of solar energy, and oil supply. This has a very serious cost: several thousands of billions of forints (between 10-15 billion Euros). He added that on paper, the money for this would come from the EU, but "the whole process of modernizing would take at least 5 years, and one-one and a half years won't do much for us". According to Orbán, whether or not we would even jump into this should be given serious consideration since "there won't be a "yes" until Hungary's issue is solved". The PM explained that his goal is not to be confrontational with the EU, but Hungary's interests should also be considered.
According to Telex's information, the government has been secretly looking at ways to decrease the country's dependence on Russian gas. Our sources say that the materials examined included options such as reaching LNG (liqueified natural gas) terminals in Northern Italy, Poland and Lithuania, as well as ways of extending the life of several power plants.
Don't Hungarians feel sorry for Ukrainians?
"This is a war between Russia and Ukraine, which started when the Russians attacked Ukraine. This is not our war. The way I see it, it is not about choosing sides but viewpoints" – explained Orbán, who once again, referred to his visit to Moscow in early February as a "peace mission". The fact that neither the German chancellor nor the French president could talk Putin out of the war is a different subject – he said.
However, "we do have a heart, and we are putting in brackets the way the Ukrainians have treated the Hungarians in Transcarpathia. We will talk about that later" – he added, saying that "Hungary is currently providing the biggest humanitarian response of its history: we have offered 37 million Euros to the Ukrainian refugees, and we are building schools in Ukraine. We are for peace, and we are helping." – the Prime Minister said.
Will Hungary send weapons to Ukraine?
No. According to Orbán anyone who is sending weapons is bringing trouble upon themselves. Transcarpathia is now within shooting range, a railway junction was targeted this week. This will likely continue, and the people living there have become targets. "It is important for us that Transcarpathia not be demolished, to avoid civilian victims." – he added.
Viktor Orbán avoids critical questions at home. It's been years since he gave an interview to independent media. However, for years, every Friday morning he has been a regular guest on state-owned Kossuth Rádió, where he is interviewed by a leading editor of the public broadcasting service (operating from an annual budget of 320 millions of euros). Katalin Nagy has been almost exclusively the only person to be allowed to interview Orbán on the state-owned channel throughout his third term with a two-thirds majority in parliament. She has received the state decoration of the Cross of the Order of Merit of Hungary and doesn't shy away from asking questions.