How Hungarian psychologists are providing help for Ukrainian refugees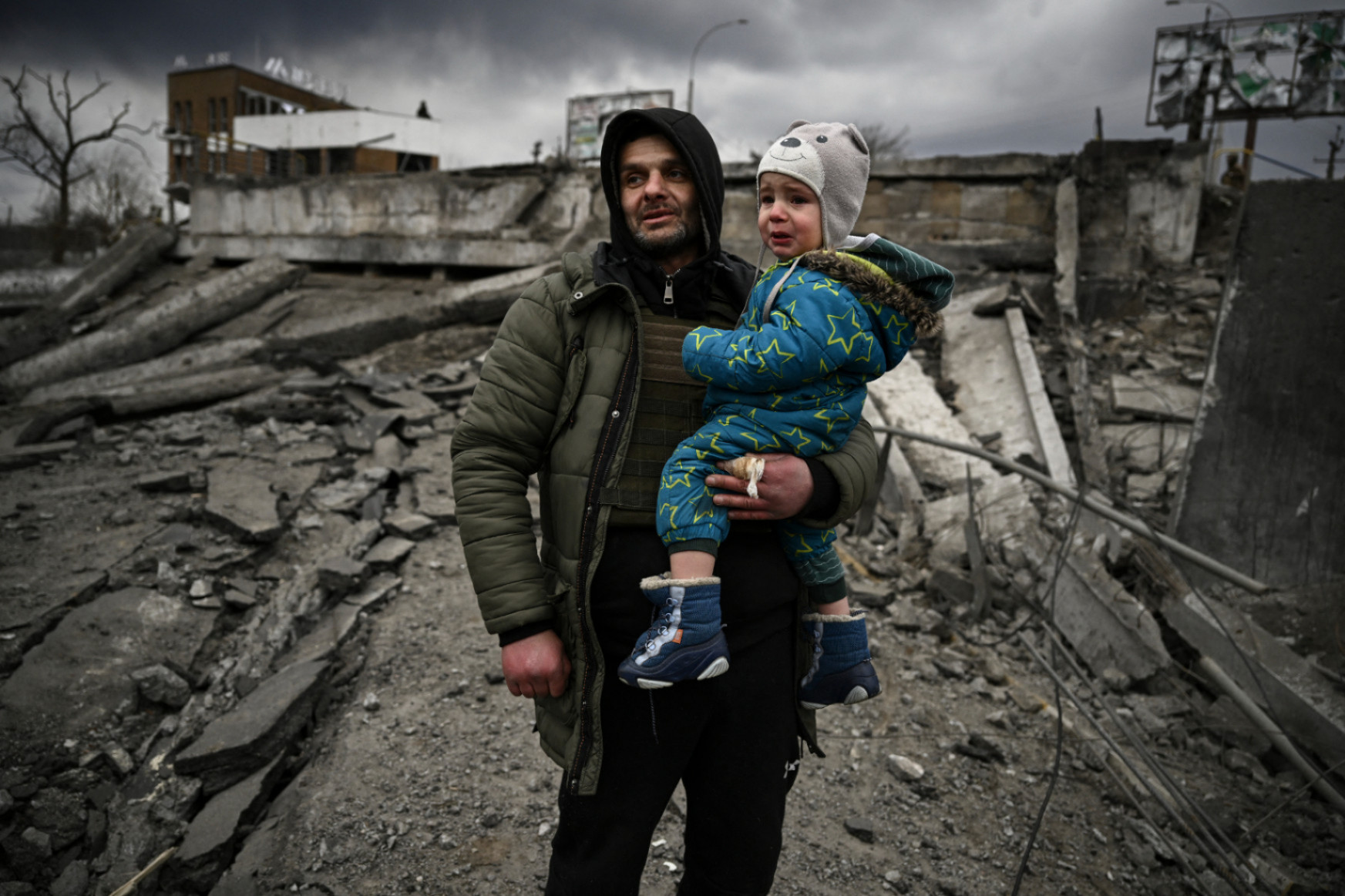 A man and his child fleeing the Ukrainian town of Irpiny on 7 March 2022. This is the town where two days prior, locals were shot at while trying to evacuate. Photo: Aris Messinis / AFP
A group of Hungarian psychologists have begun helping adults and children on-line, on the phone and in person as well. Many Ukrainians arriving in Hungary – including children – are living under constant stress and are arriving with fresh traumas. Another thing they have in common is that they are all very worried about their loved ones who stayed at home. The parents can't afford to fall apart, as they are the last bastion of security for their children, so it's no wonder they are thankful if they can take a short break while someone else plays with their children. A playgroup has been started for this purpose – for now, only twice a week, but this is subject to change.Translation by Andrea Horváth Kávai
THE UNHCR estimates that approximately 250 thousand Ukrainian refugees would arrive in Hungary by the middle of summer – and since men are not allowed to leave the country, it will be mostly women, children and old people. Significant numbers of those fleeing are in need of psychological help, as they have been under constant stress since the outbreak of the war.
Not so long ago, they were living completely normal lives, and then without any transition they found themselves in the middle of war and were forced to flee.
"This often causes severe trauma, even shock" – says psychologist Krisztián Füredi.
A multi-lingual page to help Ukrainian refugees
According to the expert, people in this kind of situation are in a constricted mental state both in terms of emotions and thoughts, and are filled with much anxiety and fear. They often do not see any future for themselves. In such situations any psychological help, empathy, somebody willing to listen, and psychological crisis intervention assistance can all be life saving.
This is why Füredi is running the website pszi.hu with the help of about 200 volunteering psychologists, psychiatrists and mental hygiene specialists. Up until now the website offered free help to those affected by Covid. The expert is now recruiting helpers again, and is offering free help online, by phone or in person, available in multiple languages for those fleeing the war in Ukraine.
The team already includes those specializing in disaster-, crisis-, trauma- and grief counseling. The help can be in the form of a one-time meeting, but it is also possible to request long-term help of a specialist. They are currently working to make sure that news about them reach those in need.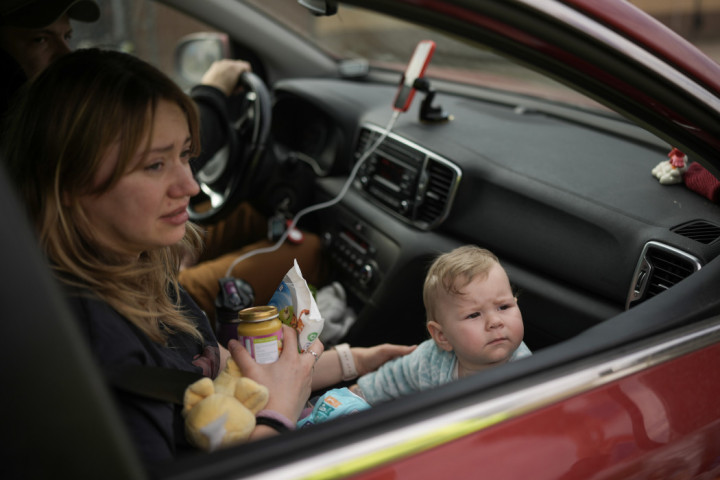 A playgroup for children and parents coming from Ukraine
Judit Balázs, a psychiatrist working with children, youth and adults and her colleagues acted fast. Like many others, the professor and department head at ELTE started as a volunteer at the train stations, making sure that the basic needs of those arriving are solved, and then she switched to helping with logistics. "I saw that many of the children arriving were exhausted and desperate. Most of them are coming with their mother and grandparents, so I began thinking about what it is we can do to help within our competence." – says the expert who leads ELTE's task force for mental disorders in children.
"I wrote to our task force group and said: here are all these children, let's help them!"
– and they all responded immediately. Even former students of ours – who now work in the field – immediately joined with constructive ideas. She added that sometimes you just need a simple call to action, and good ideas will come flooding in. They have a number of plans they are working on, and some have already been started. They involved their current students as well, who agreed that this would be their fieldwork practice which was originally planned for the summer.
Their first playgroup meeting was held this past Tuesday at ELTE's Institute of Psychology. For now they plan to have these meetings twice a week for Ukrainian parents and their children who were forced to flee from the war. Those interested in signing up for the Thursday meetings can do so here. There are no limitations of any sort (language or age), as most mothers came on their own, often with multiple children.
"Our groups are very mixed in every way. We are trying to provide various opportunities for all age groups: we offer non-verbal activities like shadow puppets, face painting, making dream catchers, playing football. We had small speakers, so the older kids could play their favourite music through their phones. A Ukrainian doctoral student of psychology who lives here and a Ukrainian English teacher (who is a refugee herself) have also joined us, and they are translating. At our first meeting we also had a music therapist who brought his guitar." – she says.
Balázs and her team help distract the children from distressing thoughts by keeping them busy, and are available to them as professionals as well – without forcing anything.
"We simply provide an opportunity for them to open up. We do not initiate deep, soul-searching conversations. Instead, we are with them, we pay attention to them, and listen when they want to share. This is also very helpful to the parents, as for a brief time they do not have to be the ones playing with the kids, they can take a break for a bit" – she adds. This might as well be a description of an average playgroup – in peaceful times. But Judit Balázs' experience shows her without doubt that those arriving are carrying heavy burdens:
"Many parents and grandparents were fighting back tears when they came on Tuesday. In the beginning they just sat there quietly. We offered them tea and cookies. By the end of our time with them, they were singing Beatles songs along with their children. It was very touching."
They are traumatized
These experts are also visiting reception centers. Last weekend a group of psychologists and psychiatrists visited a reception centre in the hills of Pilis where about 70 families have been put up, along with about 50 children of various ages. They took a lot of toys, sports equipment and various other tools to use during the playgroup. What they noticed immediately was that the parents were exhausted.
"Some parents left as soon as we arrived so they could finally rest a bit. Others stayed. Someone I sat down with started talking immediately. She told me that she had to leave her home behind, and she couldn't bring her old parents. They wanted to stay there and guard the house. Many have left their husbands behind and are very worried about them."
People who have had to flee for their lives are thankful to have a roof over their head, but "they are traumatized, as they had to leave amidst danger and their lives were turned upside down. There is nothing but insecurity around them" – explains Judit Balázs.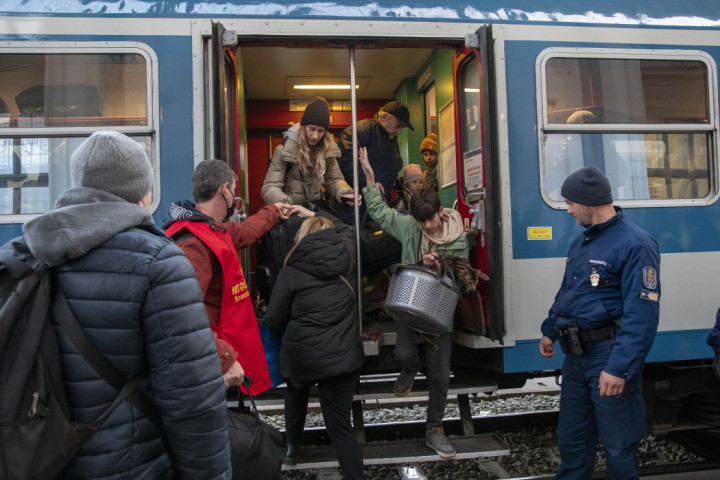 "I spoke with some teenagers while we were making crafts – they told me how scary everything was. One of them remarked how happy he was that he had now slept two nights without hearing the sound of air-raid sirens.
The kids told us that it was really hard that leading up to the war, every day their teachers told them at school that they weren't sure they would all be meeting there the next day" – described the psychiatrist.
The teacher of one of the kids has been calling up each of her students one by one every day since the schools closed to see how everyone is. "We met a young child who saw their home collapse, so once in Hungary, he was afraid to set foot in a house."
The parents mostly try to calm the children by telling them that although right now things are very hard, there are many people working on making them better.
Providing psychological help to refugees has started, but this is still the very beginning. Since it's only been less than two weeks, the specialists are far from having extensive experience. Judit Balázs and her team are currently working out the details of how they can help most effectively. Among others, they are building a team of helpers from experts, their students, and volunteers, and are putting together the right training for each group so everyone in need can receive professional help, as
"this is a very tough "field work" exercise – not only for our students, but for all of us."