Szijjártó: The Turkic States would award the Nobel Peace Prize to Turkish President Erdoğan
January 31. 2023. – 12:21 PM
The Council of Wise Men of the Organisation of Turkic States would award the Nobel Peace Prize to Turkish President Recep Tayyip Erdoğan for his successful mediation role in the Russia-Ukraine war, Minister of Foreign Affairs and Trade Péter Szijjártó announced.
Speaking at a joint press conference with Turkish Foreign Minister Mevlüt Cavusoglu on Tuesday, Szijjártó said that recent global and European events have significantly enhanced Turkey's role. Szijjártó underlined that Erdoğan was the only leader who had been able to mediate between Russia and Ukraine with some success.
"Anyone who talks about peace is immediately presented as an ally of Putin, they are immediately portrayed as a friend of the Russians, a propagandist of the Kremlin. But the only way to end the war is through negotiations. Turkey's successful attempts at mediation have proven this.
In fact, to date, the only successful mediation attempt that has given any hope of peace is that of Turkey, President Erdoğan and Minister Cavusoglu personally, which led to the Black Sea Grain Initiative. We are urging Turkey to continue its mediation efforts, because thanks to Turkey's efforts we can move closer to the hope of peace", Szijjártó said.
Hungarian Prime Minister Viktor Orbán also received Turkish Foreign Minister Mevlüt Cavusoglu on Tuesday, Bertalan Havasi, the Prime Minister's press chief told the state news agency, MTI. The Turkish politician is visiting Budapest at the invitation of Hungarian Foreign Minister Péter Szijjártó.
According to the report, the parties agreed on the further strengthening of bilateral relations between Hungary and Turkey. Orbán said that Hungary was committed to developing economic relations and would do its utmost to achieve a six-billion-dollar turnover in Hungarian-Turkish trade.
The Prime Minister added that Europe cannot be stable and secure without a stable and secure Turkey. This is why the European Union must support Turkey in addressing the challenges of migration, according to Orbán. The Hungarian prime minister and Cavusoglu agreed that the international community should make efforts to bring the Russia-Ukraine war to a peaceful end as soon as possible.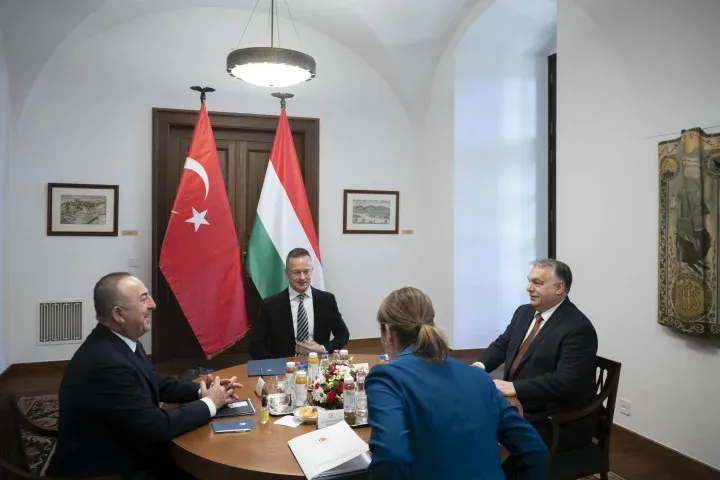 One day prior to the Turkish diplomat's visit, Orbán welcomed Azerbaijan's president Ilham Aliyev at his office.
They agreed to take the cooperation between the two countries one step further, to the level of a key strategic partnership. When Foreign Minister Péter Szijjártó met with Azerbaijan's Minister of Economy last week, he said that Azerbaijani natural gas could play an important role in Hungary's energy security.
(In the first version of our article, we wrote that Hungary would give the Nobel Peace Prize to the Turkish president, but this is an initiative of the Organization of Turkic States, of which Hungary is a member. The title of the article has been changed accordingly.)