Accommodating Ukrainian refugees is as much work as running an Airbnb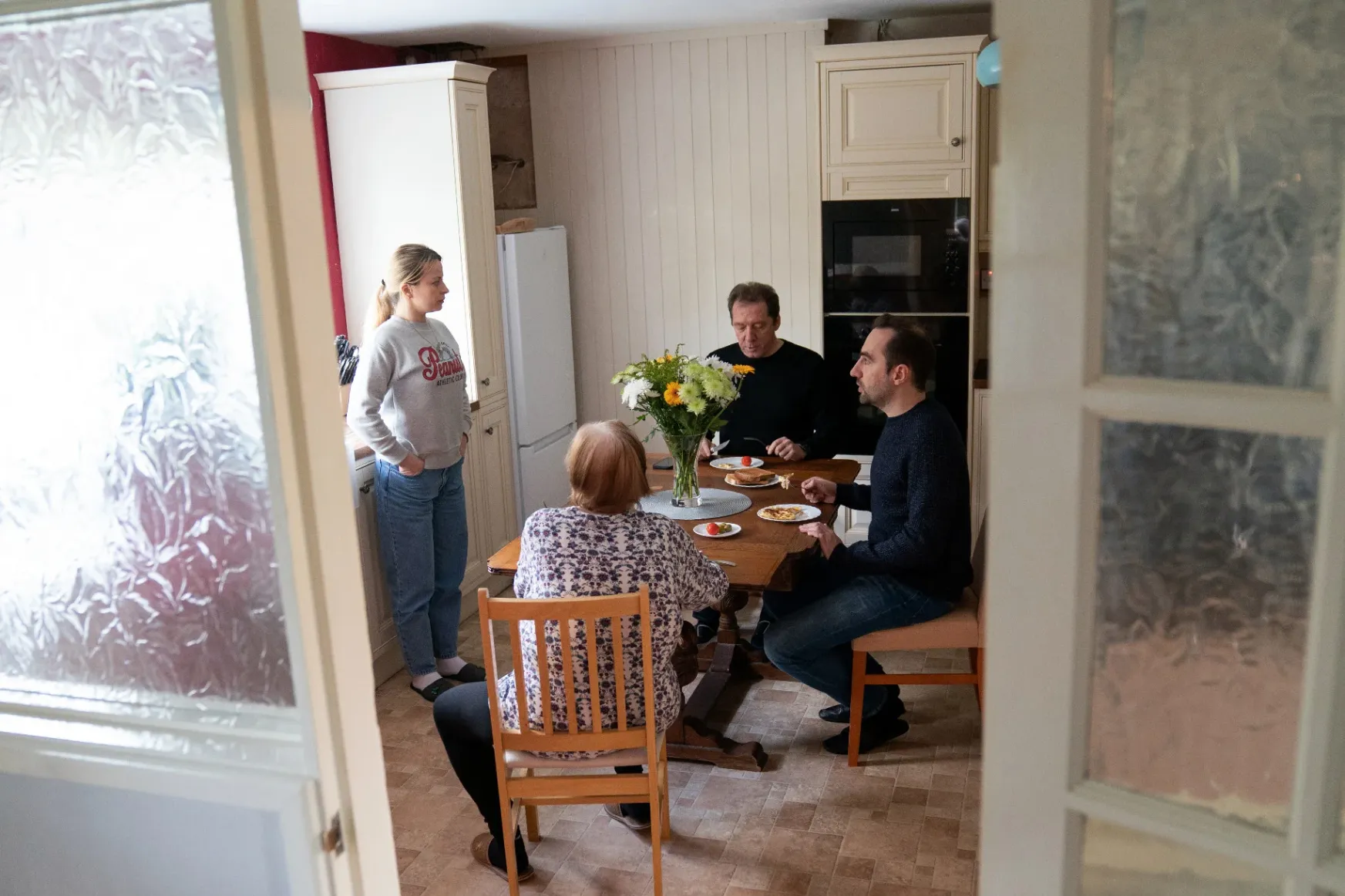 Kharkiv refugee Roman Starkov has breakfast with his family at his new home in Caldecote, near Cambridge. The family, consisting of ten people spread out over four generations, moved here in March 2022 to escape the Russian war – Photo by Joe Giddens / PA Images / Getty Images
Taking refugees into one's home is indeed a noble act, but there's still rent to pay, laundry to wash, shopping to do, and cleaning to keep up with. Some individuals have started fundraising campaigns to finance the long-term housing of refugees because their expenses have skyrocketed. Meanwhile, in the UK, Poland, and Slovakia, state aid is available for those who are taking in Ukrainian refugees.
Since the beginning of March, Vera has been hosting Ukrainian refugees in her downtown Budapest apartment. So far she has taken in over thirty families, mostly young women with children for brief stays. People have been showing up at her door at a constant rate as some occasionally go back to Ukraine to visit relatives who have stayed behind. Vera has gotten to the point where she can no longer afford the utilities and other costs associated with hosting refugees out of her own pocket.
Many refugees arriving from Ukraine have found shelter in Hungary thanks to the offerings of civilians. Many have welcomed entire families into their homes for varying lengths of time. There are no precise statistics on how many people have been taken in by private individuals since the outbreak of the war, but it is probably in the thousands. (You can read more about the civilians who have taken in refugees in another one of our articles.)
Migration Aid alone has provided accommodation to 20,000 refugees and more than 6,600 families.
But housing refugees is becoming an increasingly heavier financial burden for civilians, as the war has been going on for more than two months and there is still no end in sight.
There's more to it than merely handing over the keys to an apartment
And the demand has yet to subside. Quite the opposite in fact: while early on, the majority of refugees would stay in Hungary and Budapest for 1-2 days, more and more are now looking for long-term accommodation. There are still hundreds of people on the waiting list, said Viktória Horváth, spokesperson for Migration Aid. Many want to stay and work in Hungary, and many are also waiting for their asylum applications to go through.
Recall Vera, the host mentioned at the beginning of the article. She used to rent out her apartment. In other words, not only are the expenses causing her problems but also the loss of income.
She has been losing about 100,000 forints (~260 euros) a month, and on top of that are the 30,000-35,000 forints (~80-90 euros) in utility bills.
Vera herself lives in a sublet, which is another reason why it's not a trivial matter to her whether or not she got the 100,000 forints. There were times when she had so little money that her mother paid the common charges for the apartment.
In addition to the costs, there is a lot of work involved in housing refugees – it's not enough to just put them up in an apartment: you have to do laundry, go shopping, and clean up after they leave. It's practically like running an Airbnb, but without the revenue, Vera explained.
Baby food, tea, coffee, instant soup, dog and cat food, bread, bed linens, and towels – these are just a few of the items that need to be constantly replenished in the home. Vera posted on Facebook that she needed money so she could continue to take in refugees. In the end, she received so many donations that she had enough money for several months. She was even able to buy an electric water boiler and a toaster with the funds.
Helping those who help
Some countries, on the other hand, provide financial support to those who take in Ukrainian refugees. Since mid-March, Britain has been paying 350 pounds (around 150,000 forints) a month to those who host Ukrainian refugees for a minimum of six months. Even companies and aid organizations can apply for financial support, not just individuals.
Individuals and organizations helping refugees in Poland can also count on state support. In mid-March, the country adopted an ambitious legislative package, which, among other things, made it easier for Ukrainian refugees to work in Poland and have access to education and healthcare. This included a proposal to give accommodation providers 40 złotys per day, roughly 3,000 forints, which is even being offered retroactively.
The Slovak government also decided on a similar measure towards the end of March. The state subsidizes the accommodation of refugees at a rate of 7 euros (2500 forints) per night, which can amount to 500-1250 euros per month depending on the number of rooms. (The amount is 3.50 euros for children under the age of 15.) Individuals, hotels, and guesthouses can also apply for the grant, even retroactively. "We're helping those who help," said Finance Minister Igor Matovič of the measure. To prevent fraud, the money is only offered for the accommodation of refugees who have been granted temporary asylum. There is also a limit on how many people can be accommodated in a single apartment. According to the finance minister, by the latter half of March, around 2,000 aid applications had already been approved.
The translation of this article was made possible by our cooperation with the Heinrich Böll Foundation.