I am fleeing Ukraine and heading to Hungary. What do I need to know?
February 26. 2022. – 09:23 AM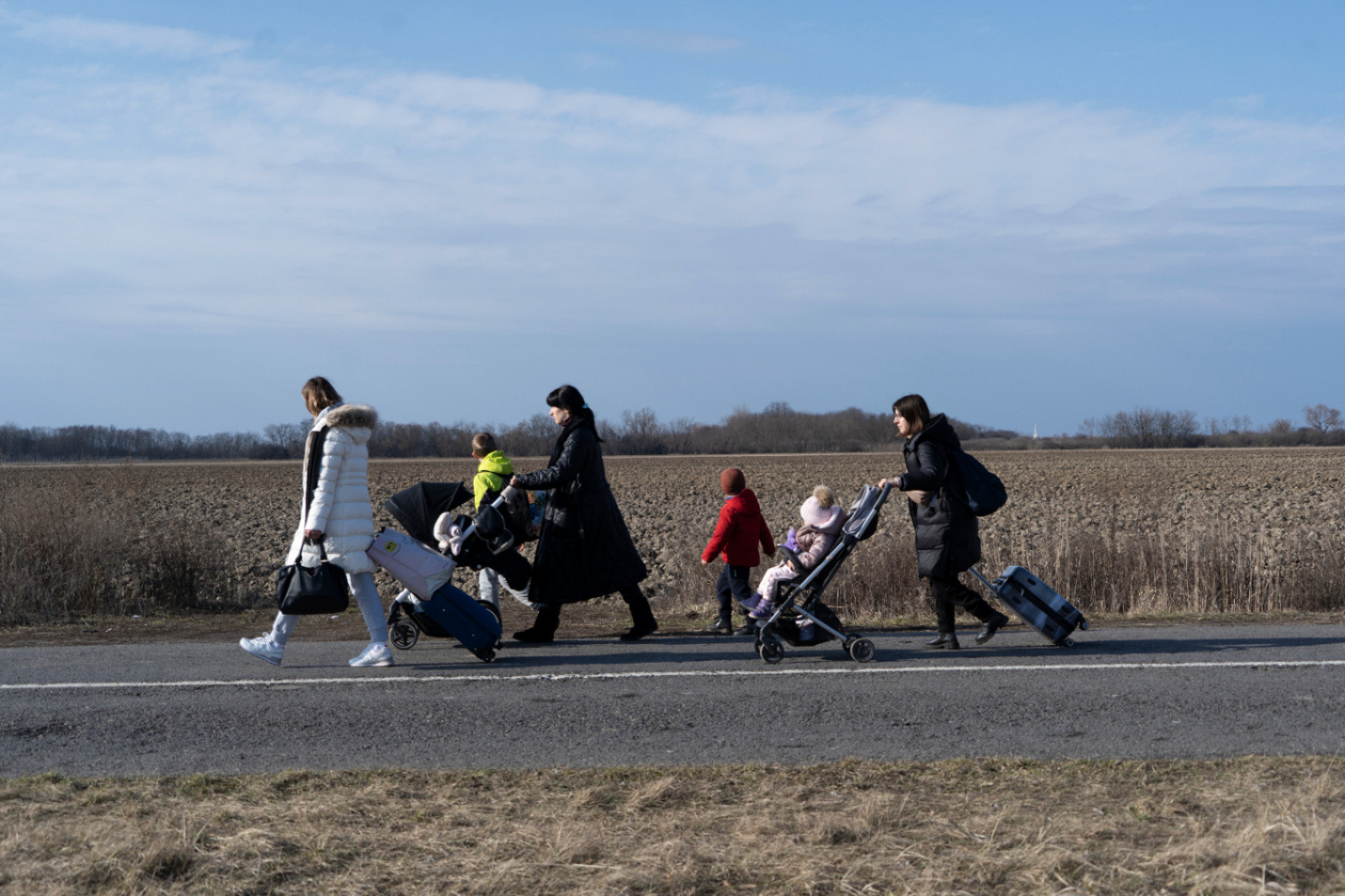 Ukrainians fleeing the Russian invasion at the Barabás border crossing on February 25, 2022. Photo: Szilli Tomás / Telex
Since Russia attacked Ukraine on Thursday morning, Ukrainian citizens have been fleeing in masses – among others – towards Hungary. Mostly Hungarians living in the Transcarpathian region are expected to arrive in the country, but it is likely that many Ukrainian refugees will also be crossing the border here. In this article, we gathered the most useful information for those looking for refuge in Hungary. Translation by Andrea Horváth Kávai
Everyone coming from Ukraine may enter
For those with double citizenship (this is approximately 100 000 people), coming to Hungary and spending time here has not been a challenge before either. In this situation, however, most of those fleeing are not Hungarians.
According to the currently valid legislation, they would have been in trouble, as since May 2020, it is not possible to apply for asylum either at the border or within Hungary. (Under the temporary, statutory rules of the asylum procedure, asylum applications could only be submitted at the Hungarian Embassy in Kiev.) Ukrainian citizens not arriving as refugees, without a visa are only allowed to spend 90 days in the Schengen-zone.
A modification of the law would have been necessary for the benefit of the large numbers of Ukrainian refugees arriving. The government solved the problem on Thursday by using its emergency powers (which are in effect due to the pandemic) to override the law with a lower level piece of legislation, and issued a government decree.
The decree, which went into effect immediately, refers to the points of the law on asylum which stipulates that "those who have fled their homes due to armed conflict, civil war or ethnic clashes (...)" are entitled to temporary protection.
This is valid for all Ukrainian citizens arriving from Ukraine, as well as citizens of third countries who have been living in Ukraine legally. The temporary protection (also referred to as "sheltered status") is not the same as refugee status. The biggest difference is in the length of its validity: according to the decree, the sheltered status is currently valid until June 1st, but this may be subject to change in the upcoming season and is expected to be extended.
The substantive difference compared to the refugee status is that the holder of the sheltered status is not allowed to work, while the refugee status makes this possible – given that the latter provides practically the same rights as those of Hungarian citizens. Further information about this subject may be found on the website of the Hungarian Helsinki Committee.
Pets may also be brought in easily
When one is forced to leave their home alongside their entire family, it is natural that they would like to bring their pets as well. There is now a solution for this as well:
The Hungarian veterinary authority has prepared for the arrival of household pets which do not fulfil the currently valid regulations (previously mandatory microchip marking, proof of vaccination, and blood test). NÉBIH (National Foodchain Safety Office), has stated that in the interest of faster entry into the country, pet owners only have to fill out a simplified registration form, which can be downloaded here. This document will make the tracking of the animals and later follow-up possible.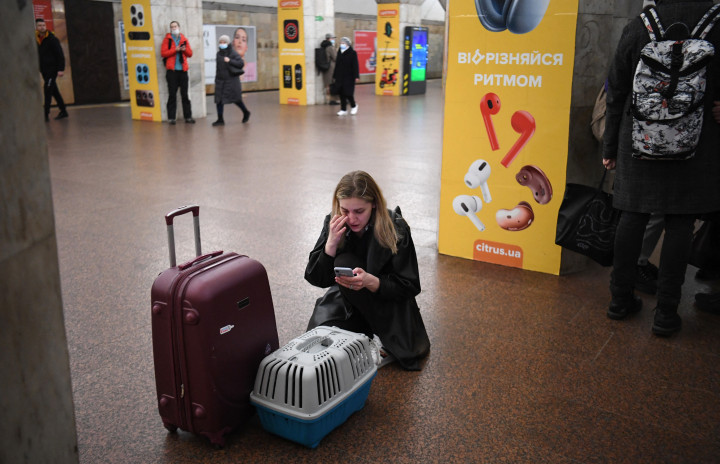 A Military Administrative Centre has been established in Transcarpathia
During the course of the last few days, the president of Ukraine ordered the setting up of military administrative centres in each county and as a result of this, one was also set up in Transcarpathia. The county administration is being lead by Viktor Mikita. Similar administrative centres have also been established in each district, and Vitalij Matyij is in charge of the Berehove one.
The military administrative centres are working with the local municipality leadership to ensure uninterrupted water and electricity supplies to vital institutions, the potential accommodation of evacuees, and to keep track of strategic supplies of basic food items. Zoltán Babják, the mayor of Berehove also stated the mayor's office is open to the citizens non-stop.
In case of danger, the Berehove basement shelters to go to are at Linner street 2. (the hospital) and Mukhachevo street 6. (the building of the State Administration's Berehove District offices).
The city has also put together a database of available free accommodation. Anyone able to provide temporary accommodation for those in need may leave their contact information in a comment under Zoltán Babják's call for help here.
Where can those coming to Hungary turn for help?
Over the course of the last few days, many official and unofficial, grassroots organizations have indicated that they are ready to help those fleeing Ukraine.
Magyar Máltai Szeretetszolgálat (Maltese Cross) has indicated that although some of the institutions in Berehove have been closed since the war started, their office continues to function. The workers and volunteers of the charity organization are organizing help for those in need.
For the time being, they are not overly busy, as according to their information the families in the region have enough supplies for a week or two. On Friday they received and provided accommodation for the first group asking for help because of the crisis in Ukraine, and one family was able to rest in their centre at Batthány tér in Budapest.
The Hungarian Reformed Church Aid has already sent a shipment with 800 kilograms of food items on Thursday, and is constantly receiving donations. They were also asking for volunteers, but this was put on hold on Friday, as there were too many applicants.
Zsófia Lucski, the Organization's employee told us that her colleagues have been receiving arrivals at Nyugati Train Station in Budapest since Thursday, and that they are able to provide accommodation for at least 70 people at their Budapest office, but their volunteers can put up a total of more than 1000 people. During the last few days, many have registered with them for just this purpose.
Their churches in Hungary's Szabolcs-Szatmár-Bereg county and Hajdú-Bihar county (both bordering Ukraine) have been organizing and from now on, they are also able to provide lodging for refugees from Ukraine. Up to date information may be received from their volunteers at the border crossings at Záhony and Beregsurány. They are also putting together publications and informational booklets which contain the most necessary information.
Catholic Caritas has been preparing its logistics center and volunteers in Eastern Hungary for providing for the needs of refugees.
Caritas Ukraine is also ready to receive refugees in multiple locations within Ukraine: in Dnipro, Poltava, Zaporozhia, as well as in their locations in Western Ukraine: Hmelnickij, Ivano-Frankivski, Ternopil and Lviv. The Caritas office of Mukachevo county is also receiving internal refugees.
The Age of Hope Foundation and Budapest Bike Maffia have also started a joint project in which they are cooperating with the municipal offices of the Hungarian settlements near the border with Ukraine. They are working to provide food and useful items, as well as accomodation for those arriving from across the border.
Ákos Tóth, the technical director of the Age of Hope told Telex that in cooperation with the mayoral offices in the region they are establishing rest stops where people can get warm, and receive sandwiches. These locations will also be where the donations already coming in will be distributed.
For now, they were able to set up such centres in Záhony, Barabás and Lónya's community centres. In the first two they already have beds set up as well. Tóth and his group have also recommended that the municipal offices set up special rooms for mothers with babies, as it is expected that in the coming days large numbers of women will be arriving alone with their children (Ukrainian men between the ages of 18 and 60 are no longer allowed to cross the border).
The first emergency collection will be today (Saturday) in Budapest between 10 am and 2 pm. The two organizations are primarily asking for donations of the following items: prepared, packed sandwisches, canned full meals, camping beds, juices, insulation foil, blankets, sleeping bags, thermal bottles, babycare items and toiletries – this means that within the next days, all these items will be available at the help centres set up in the above mentioned locations.
The two foundations are setting up their centre for this project in Záhony. All other villages, towns from the area that would like to join the project may contact them for care packages.
Migration Aid has announced that to prevent being caught by surprise by the expected wave of refugees beginning to arrive within the next few days, they have been rebuilding their organizational structure which enabled them to provide effective help in the refugee crisis of 2015-2016. They are looking for volunteers for various tasks, and are also receiving offers for providing accomodation.
Their volunteers will be handing out water, food and clothing to those in need. However, they will only start collecting these types of donations early next week so that in the meantime their colleagues at the border can establish the exact needs.
Menedék Association has gathered all the important regulations here in Hungarian, English and Ukrainian.
Currently, the biggest grassroots group on Facebook is Segítségnyújtás (Ukrajna). It was started by civilians and by Friday afternoon had tens of thousands of members. They are gathering information by counties and towns about the available donations and are setting up collection points.
The donations were coming in in such large quantities that for a while, the group's administrators had turn off posting for outsiders. At the time of the writing of this article, this organizing was still ongoing. We tried to contact the group's founders to find out how they intend to get the donations to those in need. As soon as we receive this information, we will refresh the article.