Hungary's first memorial woodland — will Budapest have one soon?
The first — and for the moment, only — memorial woodland in Hungary is in Agostyán, about 30 miles northwest of Budapest. Here, the ashes of the deceased can be buried in biodegradable urns among the roots of the trees — you can choose a tree that fits the life or character of the deceased. This is not the place for kitsch burial accoutrements: here it is all about keeping close to nature. A similar memorial woodland is planned in Budapest, but that may take a while. Translated by Charles Hebbert
"Everyone comes here with some sort of notion: they have a strong attachment to nature and woods, and either they have a favourite kind of tree — which is less common — or they choose the tree that appeals to their spirit," said Attila Czumpf, the manager of the Agostyán Memorial Woodlands, as we walked down the beaten track between the trees.
This is the only Hungarian memorial woodland: you go through the town of Tata, on through Agostyán and come to the edge of the Gerecse Nature Reserve. If you have never been here before you marvel at the avenue of trees that frames the road. On the April day when we visited, in the space of a couple of hours we experienced the weather of three different seasons. First there was hail — just to make certain, three bursts of it — followed by increasingly heavy snowfall that was replaced by a cold wind. The sequence ended with beautiful spring sunshine.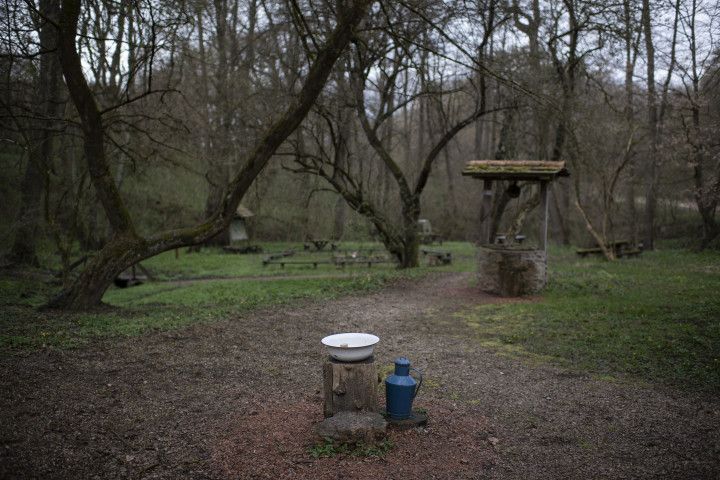 The whole time, I was thinking what a strange idea it is to walk in a memorial woodland. It's not a typical cemetery atmosphere: there are no mounds of earth, stone tombs or wooden crosses, no burning candles or statues of winged angels, not even a praying Jesus in sight or cemetery kitsch. Yet I still had the inexplicable tingling feeling that comes over you when you walk in places where they bury people. Which is exactly what they do here. The ashes are buried down in the tree roots in environmentally friendly biodegradable urns, and the names of the deceased are written on little plaques on the tree trunks. The guiding idea is that the tree roots draw their nutrients from the biodegradable urns and the ashes, metaphorically maintaining the cycle of eternal life.
Blessed by priests
The woodland is part of a larger 50-acre site run by the Natural Lifestyle Foundation. There's an eco village and an authentic medieval inn; for 19 years they have been reconstructing the Romanesque stone chapel that stood here in the 12th century. People who had a connection with the village were buried around the chapel, as testified by the wooden gravemarkers. Then one of the characters in the popular radio series The Szabó Family was symbolically buried here — the idea of one of the writers of the series, Péter Bakonyi, who was a friend of Czumpf, though "at that time there was no talk of it being a memorial woodland," Czumpf said.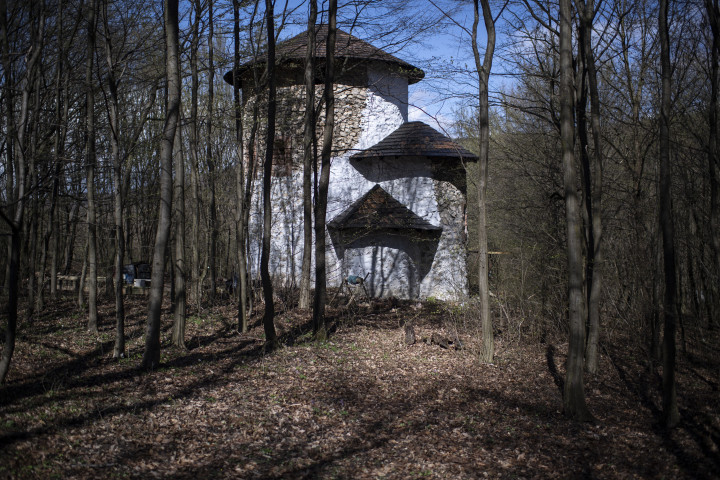 In 2012, the entrepreneur Imre Bihari came on the scene. He had been studying foreign memorial woodlands and knew Baron Maximilian Mayr Melnhof, who ran several such woods in Austria. Together they established the memorial woodland in Agostyán and Bihari became the managing director of the company that ran it, Paxnatura. He described the start as "a terribly difficult period" since the idea was a new one in Hungary, there wasn't the legal framework, and "officials were supportive in theory, but not in practice." Although in the first few years, relatives placed ashes here under the regulations governing burials, in the end, it was the Tata local authority that designated it a burial site and protected the woodland's status as well. The aim here is "afforestation," i.e., there is no timber extraction. In 2015, the area was even blessed by a priest. The memorial woodland covers more than 6 acres, and it can be expanded in the future.
Rest in peace in nature
"Let's head into the wood," Czumpf said, and in we went. We walked up one of the smaller mounds and found ourselves in front of a 300-year-old giant of a tree, at the foot of which is a small bench that matched its surroundings. "The forest colossus," the woodland chief said. They have a wide range of trees here, from one to 300 years old, beech, oak, maple, hornbeam, linden, and ash, as well as wild fruit trees.
About two hundred people have been buried here so far, and everyone has chosen the tree where they want to be buried.
"We are not a commercial forest; this is a spontaneous wood with trees in many different configurations. Standing in front of a tree opens up people's imagination when choosing a tree as a memorial for their loved one. So it might be a tree's features or history that appeals, for example if it has two trunks, is scarred, or is somehow linked to another tree. A couple might come and choose a pair of trees standing next to each other, whose foliages will later caress each other," Czumpf said.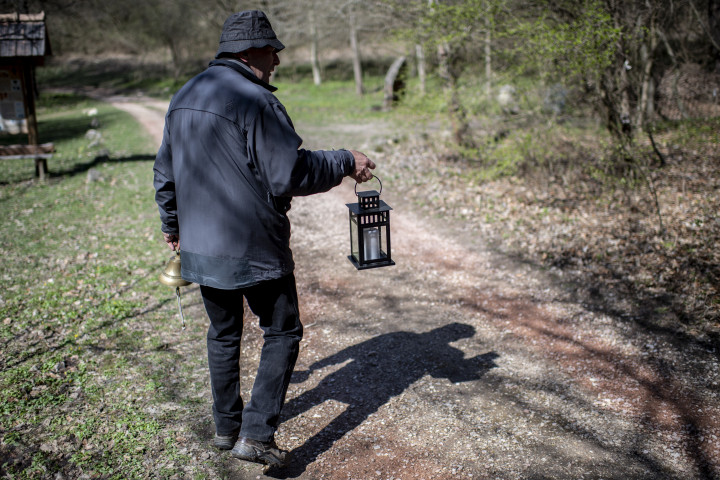 Funerals here run the same course as elsewhere. Usually family members decide where and how their loved ones will be buried, though some people choose the wood themselves, planning ahead for their own burial.
The ashes are buried in biodegradable urns among the tree roots. Czump explained that "this must be done in a way that doesn't harm the tree." They use a probe to find where they can dig down 60 centimetres without hitting any obstacles, so that "the urn can be placed there in peace and nature." On the memorial woodland's website you can choose between different kinds of urns. Bihari added that this is "a definitive solution," since the person goes back to nature and cannot be exhumed."
No cemetery kitsch
"The prices here are considerably lower than in a conventional cemetery," Czump said. The cost of a plot is between 20,000 and 200,000 forints (€56-€560), depending on which option you choose.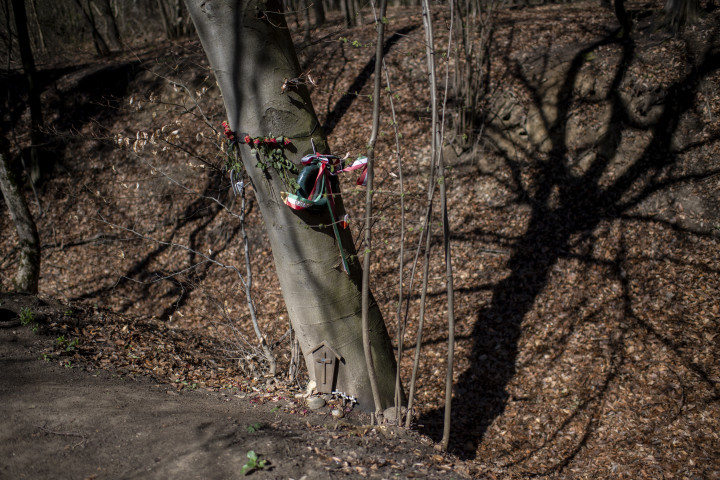 Burial by a community tree, for example, is similar to a columbarium, where strangers are placed next to each other. This is a cheaper option. You can choose one particular tree for a person's ashes, or you could have all the members of a family buried round a tree, rather like a family vault. Alternatively, there is the coupled tree mentioned above.
Another factor in the price is for how long you "take" your tree for — that can be from 10 to 99 years. That is how long your plaque will be on the tree, loosely tied on in a manner that allows for the tree's growth — "even the plaques must not be allowed to bother the trees," Czump said.
Plastic flowers, wire wreaths or such ornaments that often feature on conventional graves are not welcome in the memorial garden, and the burning of candles is strictly forbidden. Single flowers or petals are permitted. All mourners are told this, but we saw that not everyone keeps to these rules. Some trees have photos of the deceased and elsewhere there are some plastic wreaths — there was even a burnt out candle. Such decorations are collected up and returned to the family since "the purpose of the wood cannot be changed in any way, and everything must be left in its natural state.
Nature presents itself best without cemetery frills," Czumpf said.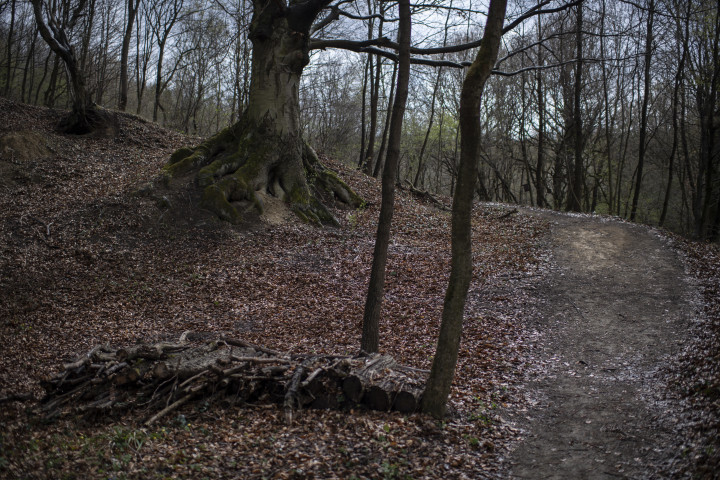 An alternative, not competition
I was interested in the tree where they buried the first ashes, so we strolled across a clearing past a wooden construction that serves as the funeral chapel. They belonged to a man in the diplomatic service whose wife did not want to bury him abroad. She kept his ashes safe for years until the first memorial woodland opened in Hungary.
Just as at a traditional funeral, there is first a service in the chapel where funeral addresses can be made. Candles are permitted here, and a bell is rung. The funeral bell is from the steamer on Lake Balaton. Czumpf rang the bell for us — a quite eerie sound here in the middle of the wood.
Bihari and Czumpf said they see themselves not as competing with traditional cemeteries but as offering an alternative. They reckon the younger generation doesn't go to cemeteries; they don't want to have to renew their grave permit every couple of years. This offers an "opportunity" to place ashes back in nature, where "the memory of the deceased doesn't disappear, but is preserved on plaques."
They do not advertise except on their own website, but in the past three to four years, demand has really picked up. People hear about them by word of mouth and undertakers recommend them to relatives. Czumpf added that their website is enough for them: "this is not our main source of income, it's more of a cultural mission that has grown on us."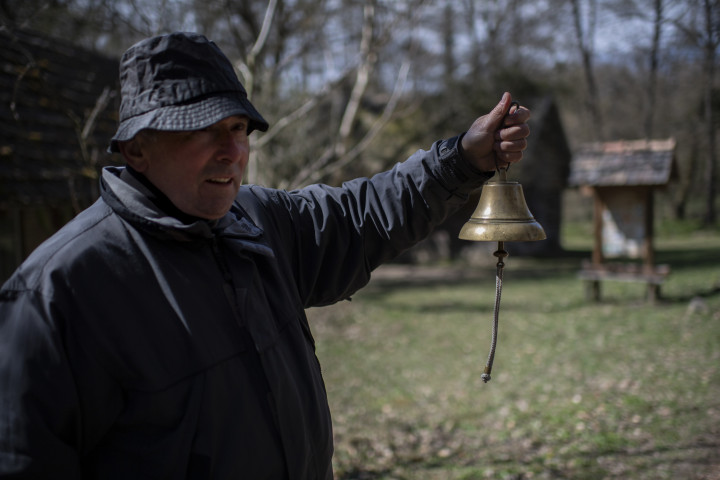 Plans for Budapest
In the climate strategy and green development plan approved by the Budapest city authorities, the creation of a memorial woodland as an alternative cemetery is a key project. A budget of 300 million forints has been set aside with a target completion date of 2027. The project specifications say "the memorial woodland ensures a place for alternative (ecological) methods of burial, while allowing forms of recreation that respect the dignity of the place (quiet leisure activities, exercise, concerts, etc.)"
Bihari hopes that the capital will get its own memorial wood, though there are few suitable sites. The Agostyán wood "has been the model, and the basic idea is that we create a funerary memorial woodland in Budapest or the metropolitan area."
He said that it is not easy to set up such a memorial woodland. The City Assembly has to give its approval, city plans have to be altered, permits sought, public consultations carried out, forestry experts involved: "It is a whole bureaucratic labyrinth, but the past few years have been about beating out a path. This is pioneering work in Hungary, and from now on it should be easier."
The translation was produced in cooperation with the Heinrich Böll Foundation.