Hungary tightens COVID-19 restrictions with last-minute emergency decree, here are the details
November 11. 2020. – 03:51 PM
updated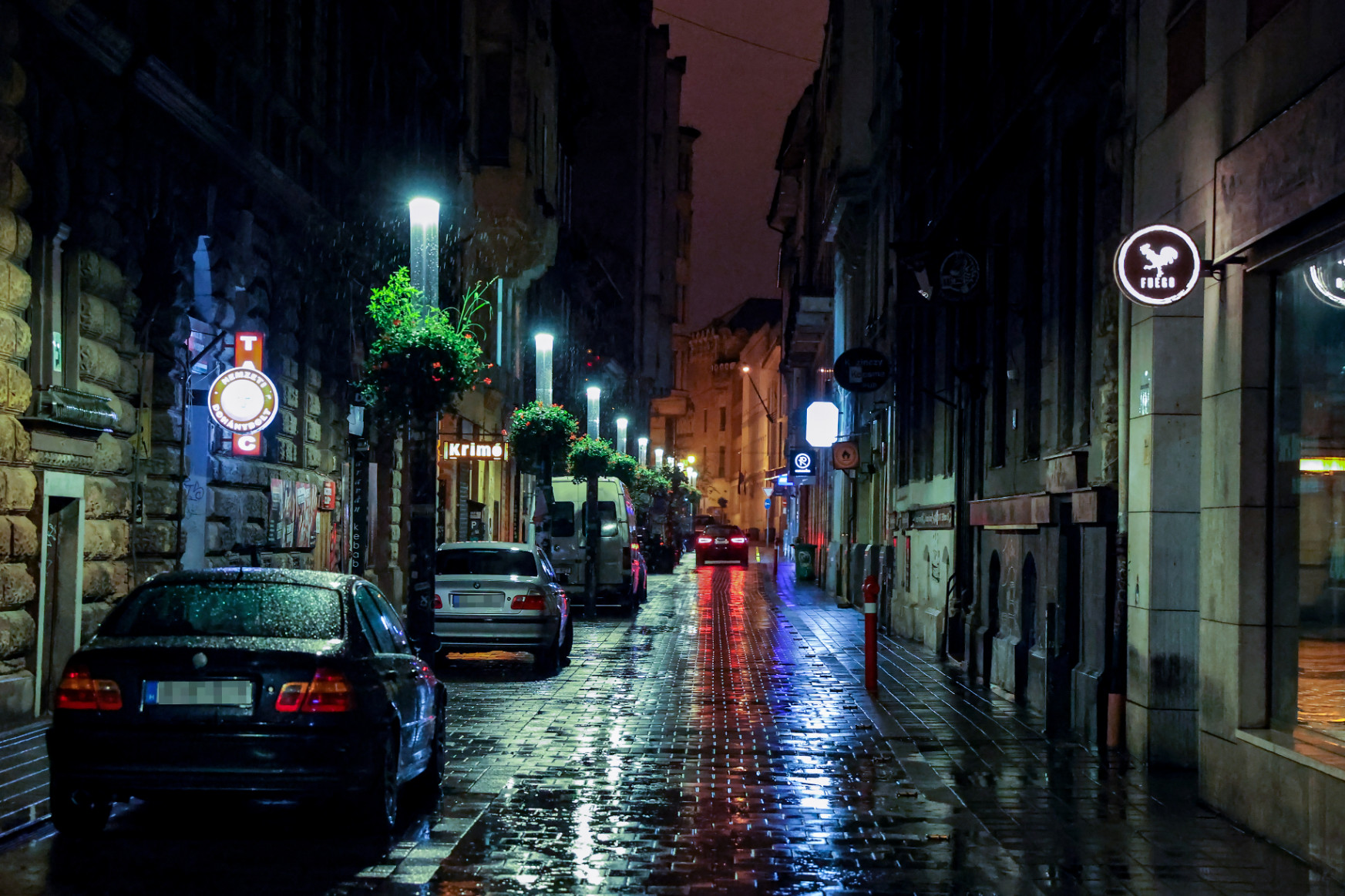 The deserted Kazinczy street in Budapest's otherwise busy party district on the first night of the curfew on 4 October, 2020. Photo: István Huszti / Telex
Late on Tuesday night, the Hungarian Gazette finally published the decree on the new restrictions against COVID-19 that Prime Minister Viktor Orbán announced on Monday, and what were shaping up to be the toughest measures against the pandemic Hungary has seen so far.
However, many measures differed from what the PM talked about a day before, for instance:
Dormitories can remain open (it's up to the rectors) while students in several dorms were already being moved out, and protesting students and professors at the University of Theater and Cinematic Arts have also suspended their blockade over the announcement,
In the end, universities can get exempted from switching to online education,
Masks are afterall not mandatory in all public spaces contrary to what Orbán said hours before the decree was published, and mayors now have to scramble to introduce rules on masks in their municipalities,
Restaurants do not have to close as they are allowed to offer take-out,
The Hungarian Football Association has called off several lower league championships only to relaunch them once they have seen the actual regulations.
On Monday, Orbán said that the tighter measures would enter into effect on Wednesday at 0:00 AM if Parliament approved extending the effect of the government's emergency decrees to 90 days, and Parliament, with considerable support from the opposition, did so on Tuesday afternoon, yet, the exact regulations were not published until late in the evening.
While the decree was still nowhere to be found, the Hungarian government kept busy, submitting a number of new legislative proposals to the National Assembly, for example:
Still, at 10:30 PM, approximately 90 minutes before it was supposed to enter into effect, the decree was finally published on the website of the Hungarian Gazette (pdf here). According to current plans, these restrictions will be in effect for 30 days starting from Wednesday.
Here are the details:
Curfew
Ever since last Tuesday, a curfew had already been in effect, but it will now start earlier: Between 8:00 PM and 5:00 AM, everybody must stay in their homes or at their accommodation, although there are a few exceptions:
Emergencies
Working, or commuting to and from work (including professional sportspeople)
Dog walking is also allowed within 500 metres from home.
If you break the curfew for work-related reasons, you will need a signed verification document from your employer. The sample document is available for download here or here.
Mask rules tightened
The decree specifies the new masking rules as well and makes masks mandatory for everyone above the age of six
on public transport and waiting rooms,
in restaurants and other catering facilities,
in shops,
in malls (except for offices, sports facilities, and maintenance areas),
in public archives,
in post offices,
in areas of administrative offices that are open to clients,
in any other area where clients are served and where there are regularly more than 5 people at the same time (including the staff),
in healthcare institutions (except for patients under hospital care),
in social institutions, such as retirement homes, masks are mandatory for employees spending extended time periods in close proximity to the inhabitants, and for inhabitants at social gatherings and in recreational areas.
Public transport companies will be responsible for enforce mask rules on their vehicles. Drivers (or other employees) must exclude any violators from using the service and inform the police who will subsequently issue a fine for the infraction (see below).
Though speaking to state news channel M1 last night, Viktor Orbán announced that masks will be mandatory in all public spaces, that is not entirely true afterall: Masks will also be mandatory in certain public areas of towns with a population above 10 000, designating these areas is up to mayors.
As municipalities also received the decree at the same time as it was made available to the general public, approximately 90 minutes before it entered into effect, detailed local rules for wearing masks in public spaces are just being drafted today. At the time of writing this article, Szeged and Esztergom have ordered masks to be worn in all streets and squares.
As for Budapest, Mayor Gergely Karácsony cannot set general rules for the entire city, a situation which he described as absurd, but district mayors can still issue regulations for their municipalities: So far, masks have become mandatory in all public spaces of Újbuda (District XI.), Pestszentlőrinc-Pestszentimre (District XVIII.), Kispest (District XIX.), Csepel (District XXI.), and Soroksár (District XXIII.).
As these new rules are expected to be coming out all through the day, we advise getting up-to-date information from the website of your local municipality before heading out.
There are also general exceptions: Masks are not mandatory in parks and while doing sports.
Gyms and sports facilities closed for the public
The decree states that while individual sports are permitted in public spaces, parks, and private and public sports fields, recreational teamsports are not allowed. Professional sportspeople, however, are allowed to take part in practices and sports events, so professional championships can resume, but only behind closed doors.
Sports facilities such as gyms and swimming pools are also closed to the general public, however, professional sportspeople are allowed to use them.
General event ban with a few exceptions
There is also a general ban on public events and gatherings, so for instance, protests are disallowed.
Family or private gatherings of at most ten people are permitted, but there are separate rules for weddings and funerals. At weddings, only the ceremony leader and the registrar, the witnesses, the bride and the groom, their parents, grandparents, siblings, and children may be present. The number of people at a funeral may not exceed fifty.
Restaurants: Take-out and delivery only
Only employees may be in places which the decree calls "catering establishments." Guests may only enter for placing an picking up their take-out orders, otherwise, only deliveries are allowed. Of course, there are a number of exceptions here as well:
Workplace and school cafeterias (but they may only serve employees or students),
Cafeterias of healthcare institutions,
Hotel bars and restaurants (but only for guests).
No tourists in hotels
With regards to hotels, the decree does not offer much that Orbán already did not mention in his announcement. Places of accomodation – hotels, motels, campings – can only host guests who arrive for business, economic, or academic purposes, besides them, only deployed medical professionals, members of the police force or the armed forces can stay there for service-related reasons.
So tourists are not allowed.
Registered places of accomodation will be reimbursed by the state for 80% of their net revenue from prior bookings between 11 November and 11 December that they lose due to these restrictions, provided that they pay their employees and there are no lay-offs following 8 November.
Shops close at seven
Most shops, including grocery stores, tobacco stores must be closed between 7:00 PM and 5:00 PM, except for gas stations and pharmacies.
High schools and universities switch to remote learning
Higher education must switch to "digital education" as the decree puts it, however, upon the rector's request, the Minister of Innovation and Technology can grant exceptions to individual institutions.
As opposed to Orbán's announcement, university dormitories must not close – it is up to the rectors to decide whether or not students have to move out. The same goes for high school dorms – the principals are to decide if they remain open.
Secondary schools and adult primary schools are also switching to remote education.
For 6- and 8-year high schools, remote education will only be mandatory for grades 9 and up, including language prep years in schools where they have them. Temperature checks will remain mandatory for students and teachers alike upon entrance to primary schools. If their temperature is above the value set forth by the Chief Medical Officer (currently: 37.8 °C), adults will not be allowed to enter and children will be isolated until their parents pick them up. Parents are allowed to accompany children up to the temperature checkpoint, but they must wear a mask.
A separate decree will be published about the promised testing of teachers and other school employees.
Tax reliefs, wage support
As the restrictions negatively affect a number of businesses, the government will introduce tax reliefs in certain sectors.
No social contribution taxes, educational contributions, and rehabilitational contributions are to be paid after employees in the 30-day period after 11 November for the following types of businesses:
Restaurants
Pubs
Cinemas
Performing artists,
Museums,
Zoos,
Sports clubs,
Public baths.
This only applies to businesses whose "main activities" are listed above, meaning that at least 30% of their revenues in the past six months resulted from these activities, and only if they are paying their employees and there are no layoffs.
These tax reliefs are not automatic, businesses must apply for them at the National Tax and Customs Bureau (NAV). These tax reliefs may be combined with other forms of state support up to the point where their cumulative value exceeds 100% of all wage costs to be paid by that business.
These businesses are also entitled to wage support for November – employers may recieve financial support of up to 50% of the gross wages of their employees, if these employees are properly paid and they are not terminated until the final day of the period affected by the decree.
Businesses may file for wage support at their local government offices and will get a response within eight working days. This support also may be combined with other forms of state support up to the point where their cumulative value exceeds 100% of all wage costs to be paid by that business.
Sanctions of up to a million Forints
Starting from last Wednesday, the Hungarian government had introduced a state of emergency, or technically, a so-called "state of danger." Subsequently they submitted a bill to Parliament extending the effect of emergency decrees (15 days by default) to a 90-day period, and issued the restrictions as part of an emergency decree.
Police and the military will work together to enforce these rules, violations by private individuals may incur a fine between 5 000 and 500 000 Forints, or at most 150 000 if paid on the spot, 200 000 on repeated offense.
As for businesses and institutions,
failing to enforce mask rules,
disrespecting the rules on events,
violating the opening hour limitations,
not closing 'recreational spaces' (such as gyms),
failing to perform mandatory temperature checks in schools
may incur fines of a hundred thousand to a million forints and closure for at least a day but a year at most (except for schools and other educational institutions). A single business may be issued multiple fines in a day. Businesses may not be fined if they inform the police about violations after having done everything within their power to enforce the rules. Fines must be paid within 15 days and may not be appealed.