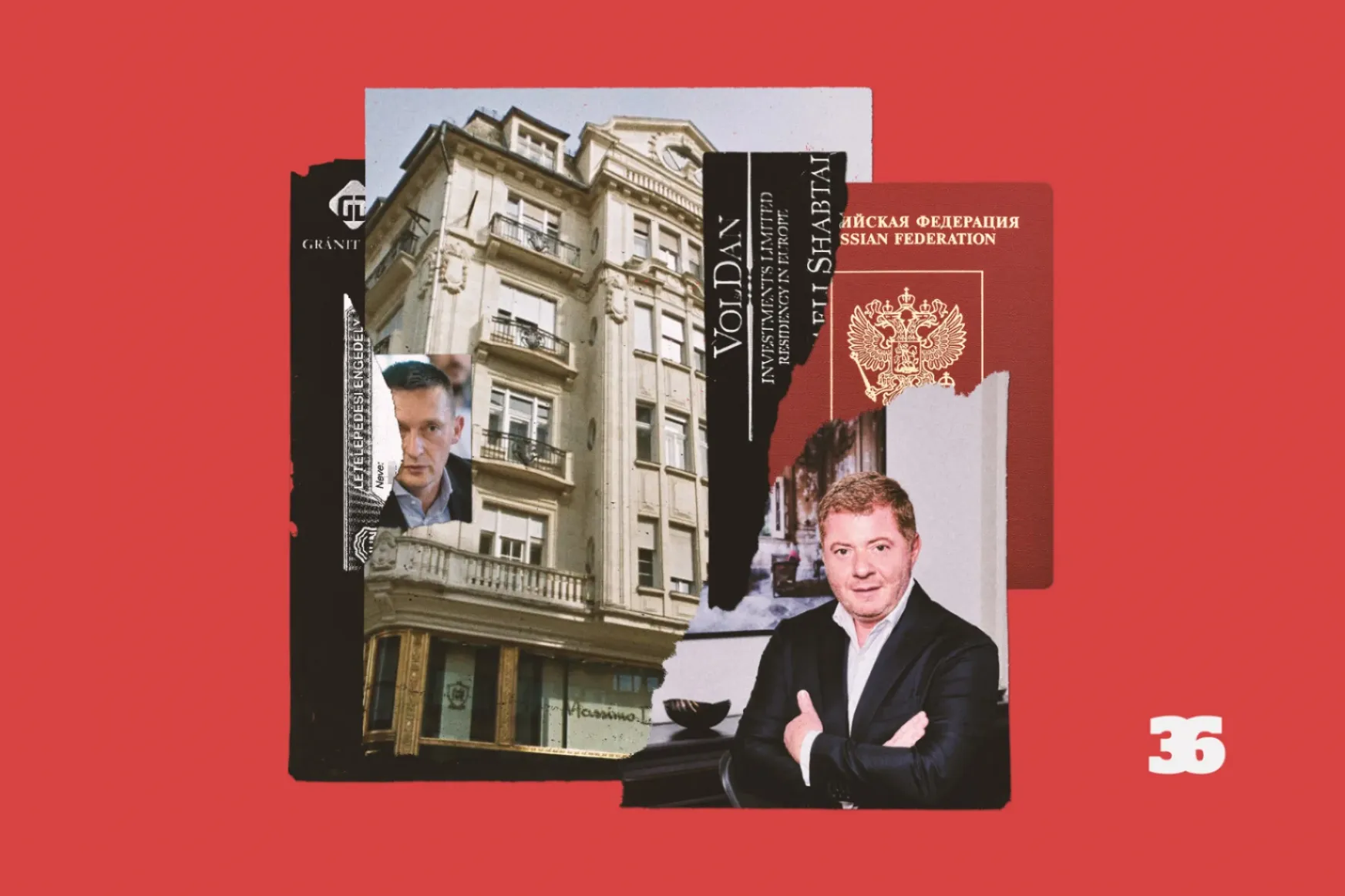 Illustration: Péter Somogyi (szarvas) / Telex
Several Russian citizens who bought Hungarian residency bonds and visas allowing them free travel in the European Union through the intermediary company VolDan Investments Limited, did not get their money back once their bonds had expired. Now they are planning to file criminal charges and feel aggrieved, Direkt36 has learned from the Hungarian lawyers of those concerned.
According to one of the lawyers, Róbert Fridman, VolDan's parent company in Liechtenstein stopped communicating with clients in the autumn of 2022, and, according to company registry documents, VolDan's Hungarian branch came under a compulsory strike off procedure on November 9, 2022, and was also banned from further operation (meaning that the company is on the way to being dissolved for non-compliance with various laws). VolDan's unavailability was also reported by another Budapest-based lawyer, who requested anonymity. This lawyer had also unsuccessfully tried to recover money for his Russian residency bondholder client from the company.
The Liechtenstein-based company and its Hungarian offshoot are linked in several ways to Georgian-Israeli businessman Shabtai Michaeli, who by his own admission is an old friend of current Head of the Prime Minister's Cabinet Antal Rogán, who had set up the whole golden visa scheme.
It was already known that in addition to the €300,000 that the bonds were worth, VoldDan charged bond buyers a non-refundable administration fee of €60,000 each, which generated more than €17.5 million (HUF 7 billion) in revenue for the company. Now, however, lawyers for the Russian clients claim that in some cases the company is not even refunding the value of the bonds.
"Since the money had to be paid into a Hungarian bank account and the place of the crime, in our view, is Hungary, we are turning to the Hungarian authorities in the first instance," lawyer Róbert Fridman told Direkt36, who added that VolDan's failure to repay clients' money raised suspicions of embezzlement. The Budapest-based lawyer, who asked to remain anonymous, is also considering civil and criminal action.
"If it can be proven that the whole thing was planned in advance so that they would not have to pay back the money in the end, this is a criminal case. Embezzlement and fraud could also be involved,"
the lawyer explained. However, as the clients all contracted with VolDan Investments Limited, a company registered in Liechtenstein, there is a good chance that rather than tracing the money through the Hungarian judicial system and authorities, they will have to do so through the Liechtenstein judicial system and authorities.
One of the features of the Hungarian residency bond program, initiated by Rogán in 2013 and suspended in 2017, is that, unlike similar schemes in other countries, the government bonds granting resettlement permits and Schengen visas are not held by the bond applicant but by the foreign intermediary company. What the bondholders receive from the intermediary company is merely a bill of exchange.
The Hungarian government is continuously paying out the five-year Eurobonds after maturity, for example, it has repaid approx. €300 million (HUF 121 billion) at the end of 2020 and €200 million (HUF 80 billion) at the end of 2021. This money is returned to intermediary companies such as VolDan – but it is up to the companies to decide when and how it will be returned to the foreigners participating in the residency bond scheme.
Fridman represented nine Russian citizens who had been granted a residency bond, four of whom have not received their money back, totalling €1.2 million. Some of them were due to receive their money in June 2022, but others have been overdue for almost a year as VolDan was supposed to return their money in March 2022. According to the lawyer, the clients had hoped for a long time that they would be paid, even if late, and this is why they had not turned to the authorities or the public.
The other lawyer represents a client who has received only half of the money. His client was due to be paid in full by VolDan by the end of June 2022, but even after a delay of several months, only €150,000 of the money has arrived.
Fridman says that besides his own clients, others have also been affected, and that there may be many more involved. Several of his colleagues have previously asked for help in internal lawyers' forums because VolDan has not returned the money to their clients either. However, it is not possible to estimate the exact number of the aggrieved and the total amount of money left with VolDan.
The Hungarian residency bond program was set up in such a way that the intermediary companies participating in the scheme won the right to sell the bonds for a larger country and region. VolDan was the company that was given exclusivity for Russia and the post-Soviet region (the parliamentary committee decision on this is signed by Antal Rogán himself). Apart from VolDan, Fridman has not heard of any problems with bondholders not being paid by other intermediaries selling residency bonds (like, for example, by companies that sold bonds in China or the Middle East).
VolDan's Liechtenstein and Hungarian subsidiaries and the Government Debt Management Agency (ÁKK), which sells the bonds on behalf of the state, did not respond to Direkt36's media request. The Cabinet Office of the Prime Minister, headed by Rogán, only replied to our detailed questions by saying: "we would like to point out that the residency bond program was closed six years ago".
The golden visa business has raised serious questions in recent years, not only for political and economic reasons, but also due to its national security implications.
Direkt36 previously uncovered, together with 444.hu and Novaya Gazeta, that among others, VolDan had arranged residency bonds for important figures in Russian President Vladimir Putin's inner circle. Among them were Russian foreign intelligence service (SVR) chief Sergey Naryshkin's son, Andrey Naryshkin, and his family. Later, we reported that leaked documents suggested that Shabtai Michaeli may have been directly involved in the golden visa scheme – and most recently that Andrey Naryshkin had registered his official address at one of Michaeli's properties on Bécsi Street in downtown Budapest.
Feel free to sue the company!
In the spring of 2022, the office of VolDan Hungary Financial Services Ltd. was still operating in the same building on Bécsi Street where the Russian spy chief's son had registered as his address. By that time, Róbert Fridman had knocked on VolDan's door several times to find out why his clients were not getting their €300,000s back. Although the Russian bondholders had officially contracted with VolDan Investments Limited of Liechtenstein, they had to manage all customer issues related to the golden visa business at the chic downtown office of the Hungarian company. Fridman claims that VolDan's staff initially reassured him that, although the payment deadlines had passed, everything was in order. They asked him to just wait a little longer.
However, still nothing happened, and official letters sent by the lawyer to VolDan Hungary started coming back undelivered. Therefore, in the summer of 2022, Fridman went to Bécsi Street again, to ask what they needed to do to get their customers their money. He was advised to try writing a letter to VolDan in Liechtenstein.
Fridman insisted on speaking to the CEO of VolDan Hungary in person, and waited for him in the street. When the Hungarian CEO, who holds positions in several of Shabtai Michael's interests, finally arrived, Fridman approached him to ask for an explanation.
"He was friendly, but he also just told me to wait,"
Fridman recalled of the conversation.
The other lawyer, who asked to remain anonymous, did the same. He first contacted the Government DebtManagement Agency on May 11, 2022 about the repayment due a few weeks later, but the agency replied two weeks later that they could not provide any information because VolDan Investments Limited was the competent party. The lawyer contacted the same VolDan administrator who had helped manage the bond purchase five years earlier. The VolDan representative also made repeated promises to repay the money, but the payment did not arrive. In the end, months after the original deadline, only half of the €300,000 appeared in the Russian client's account.
At this time, the lawyer noticed several other strange things. VolDan's former public contact information had disappeared from the Internet, the name VolDan had disappeared from the doorbell of the building on Bécsi Street, and the VolDan sign previously displayed at the entrance had been taken down.
"I had the feeling that everything was done to make them inaccessible in the future,"
the lawyer said.
Róbert Fridman, meanwhile, had given up trying to get answers from the Bécsi Street customer service office and instead started writing letters to VolDan Investments in Liechtenstein. The letters sent by registered post were received there, but no substantive reply was received from them either. So in the autumn of 2022, Fridman went back to the Bécsi Street office, where, to his surprise, no one was working. When the lawyer tried to question a member of staff from one of the several Michaeli-linked offices in the building, the employee tried to get rid of the lawyer by telling him to feel free to sue VolDan Investments in Liechtenstein if there was something he didn't like.
The employee also told the lawyer that VolDan Hungary had ceased to exist and that the company no longer had any staff to speak to (in fact, the company's dissolution is not officially final to date.)
According to publicly available company records, VolDan Hungary Financial Services Ltd, which had been operating as a client center for Russian residency bondholders, had been experiencing problems for years, well before the Russian invasion of Ukraine.
Hungary's tax authority first launched an enforcement procedure against the company in January 2020, followed by a tax number cancellation in the summer of 2021 and then by another enforcement. Documents seen by Direkt36 in the company court revealed that the tax authority's problem may have been that VolDan Hungary had not complied with the Accounting Act and had not filed its official company reports since at least 2020.
After the company failed to solve the deficiency despite repeated requests to do so, the cancellation of the tax number came into force in June 2022, and on 9 November 2022, VolDan Hungary came under a compulsory strike off procedure, it was banned from further operation and ordered to pay a fine of €250 (HUF 100,000). Further details of the compulsory dissolution procedure were not available to us, as the employee of the company registry said that we would need permission for access from the company's directors.
The official contact details for VolDan Hungary in the company registry are listed as the email address of lawyer Béla Schönek, who had also represented VolDan Investments Limited at the Hungarian Parliament's Economic Affairs Committee. Schönek did not respond to our request for comment. We sent questions to several email addresses of VolDan Investments Limited too, but the emails bounced back saying that the addresses at voldangroup.com no longer exist.
Account blocked by the bank
Last December, the Budapest-based lawyer whose client only received half of the amount he was owed finally received a new explanation from VolDan. "They blamed Gránit Bank for blocking their account, saying that they are the ones who won't allow the payment," the lawyer recalled. VolDan further claimed that no payment had been made since October 2022 because of this, and that the lawyer's half-paid client was the last to whom money transfer was allowed by Gránit Bank – even if just half of it.
Then, in January and February of 2023, the lawyer spoke to a Gránit Bank representative on several occasions, who claimed that there were certain clients who had entered into some sort of tripartite contract – client, VolDan, Gránit Bank – and that they had priority for payments. The lawyer's client, who was only half paid, would be able to get the rest of the money "if the conditions were met" on VolDan's side. The bank did not say clearly why the account was blocked or what conditions were involved. And the lawyer had never heard the tripartite contracts mentioned before. (Gránit Bank did not respond to Direkt36's request for comment.)
"My client has eight children, the money is needed there. In addition, they wanted to buy a property in the European Union, for which they had put down a deposit. They planned to pay the purchase price from the remittance of the resettlement bond. In December, we also indicated that if the client did not get his money, he would lose the deposit and would suffer further damage," the lawyer recalled. Despite this plea, they still did not receive their money from VolDan.
Róbert Fridman's clients had nothing to do with Gránit Bank, moreover, VolDan had previously raised a completely different objection.
"They were suggesting that since they had to transfer money to Russian citizens, it was not easy in the post-war situation. But nothing specific was indicated,"
Fridman said. The lawyer also did not understand the reference to Russian citizenship because five of his nine clients who were paid properly were also Russian, just like the four who were not paid back.
He added that those who had not been paid back were neither under EU or other sanctions nor posed a national security risk. Fridman could not reveal any specifics due to attorney-client privilege, but said that his clients were wealthy, affluent businessmen, such as Russian citizens working in the financial sector, and their family members. Some of them are regular residents and rent property in Hungary. He also has a client who is a retired businessman who has only occasionally travelled to Budapest for a spa holiday or to Hévíz, which is a popular bath resort for Russian tourists.
They all went through national security screening by the Constitution Protection Office for the second time in recent years when they renewed their residency permits bought with the bonds, and they were not found to pose any national security risk, Fridman claims. Their residence permits are therefore valid for many years to come. According to the lawyer, the affected clients have no objections to the work of the Hungarian authorities, the immigration and other agencies, and only have problems with VolDan. The aggrieved client of the other lawyer also had no problems with the Hungarian authorities.
In addition to clients of Fridman and the other lawyer who asked to remain anonymous, there were some other aggrieved Russian bondholders who tried to get information and ask for help at the Hungarian Embassy in Moscow. According to a source connected with these aggrieved Russian bondholders, the Hungarian Embassy recommended a specific lawyer to several of them. At the Embassy, it was suggested that if they hired this lawyer, they would help them get their money back. In the end, however, this particular lawyer could not help either, the source added.
According to previously published official figures, 384 Russian bond buyers and their family members, a total of 1,265 Russian citizens participated in the residency bond program. In exchange for €300,000, a bond buyer could obtain Hungarian papers for themselves and their immediate family members – wife, husband, minors. "If you use the tactic of forgetting to pay back, say, only one or two out of ten clients, and multiply that by the total number of Russian bond buyers, well, that's a pretty good sum," the Budapest-based lawyer who asked to remain anonymous commented.
Translation: Direkt36
This article is part of a partnership between Telex and Hungarian investigative journalism center Direkt36.