Orbán at CPAC Hungary: Hungary has developed the antidote against the deadly progressive virus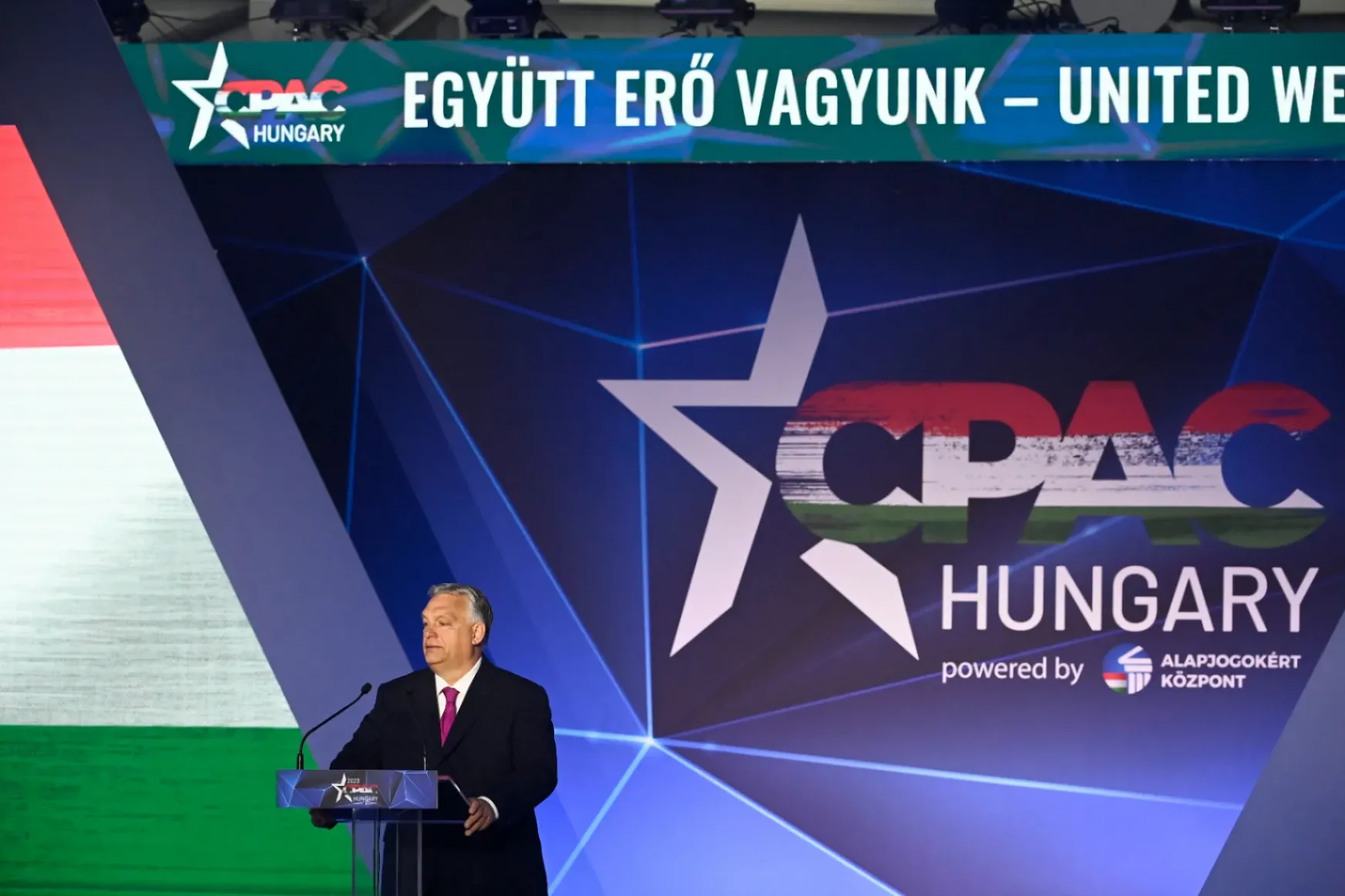 Viktor Orbán giving a speech at CPAC Hungary 2023 – Photo: Szilárd Koszticsák / MTI
The two-day long CPAC Hungary conference began on Thursday morning in Budapest, with a much weaker list of speakers than last year, and without influential American politicians present. This is the second time that the Center for Fundamental Rights which has close ties to the government and which operates from public funds has organized the Hungarian mini-version of the American Republican Party's annual superconference.
The conference's main speaker, just like last year, was Viktor Orbán. The Hungarian Prime Minister greeted the participants by calling them "the defenders of the free world", and said that he hopes that CPAC Budapest will become a traditional event.
"But why is CPAC coming to Hungary?" – Orbán posed the question, adding that in his opinion, Hungary is neither powerful nor fearsome, nor rich. The Prime Minister believes that there is a single reason why the world is interested in Hungary:
"And that is the fact that in a way, Hungary functions as an incubator where the conservative politics of the future is being experimented with. We don't just talk about the conservative political turn and about defeating the liberals, but we have actually done it."
After 2010, we have proven that it is possible to put a country which has been ruined by the liberals' rampage back on its feet with conservative politics. However, no one cared about the Hungarian success story until 2015. "Sometimes I wish for those days when we were not in the limelight" – Orbán said jokingly.
The Prime Minister believes that if George Soros hadn't attacked Hungary, then the country would have never become frontpage news in the western media. Using his NGOs, Soros had unleashed millions of migrants upon Europe, but the Hungarian government managed to stop him.
After this, Orbán spoke about Hungarians not being the kind of people who attack. "We don't want to tell other countries what they should think about gender issues or migration. And this includes the United States." We are just defending ourselves "because the global elite is trying to force its opinion on us". According to Orbán "our struggle for freedom became important for the world because it's become clear that all the free countries of the world are under attack."
And this is not an economical but a biological attack, the Prime Minister said. Orbán believes that we are up against a biological weapon, a virus, which targets the most vulnerable part of the western world, the nation. "This virus devours nations" – he said. He believes that if the nations were to disappear, the West would go under.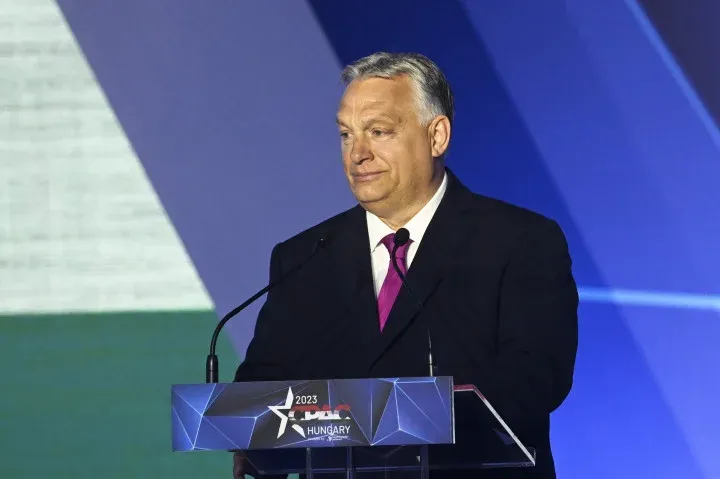 Migration, gender issues and the woke ideology are variants of this progressive virus, according to Orbán. Woke-ism and the gender ideology are exactly like marxism and communism used to be. "They divide the nation into classes while proclaiming that the classes stand above the nation".
Other than woke culture and gender ideology, Orbán also identified progressive foreign policy as a variant of the same "virus", and he criticized exporting democracy, as he believes that it only leaves chaos, turmoil and countries left to their own devices behind. The Prime Minister then asked Donald Trump to return to the White House and to bring peace.
Summarizing his thoughts, the Hungarian Prime Minister said: "This virus then makes living nations into dead communities". But he did have one piece of good news for his audience:
"There's no need to look any further for the antidote of the progressive virus. It is here, in Hungary. Anyone can take it freely. It only needs a bit of localized finetuning, and it doesn't have any side effects either."
"May the fourth be with you!" – Orbán said in closing, referring to today's date.
CPAC's main organizer boasted that Hungarians have taught him how to ban journalists from events
Miklós Szántó, leader of the Center for Fundamental Rights, CPAC's head organizer Matt Schlapp and the Prime Minister of Georgia, Irakli Garibashvili were the ones who gave the opening speeches before Orbán. Szántó started by saying that he is proud to be transphobic and explained that those who want a liberal democracy are in fact marxists and want to see a communist dictatorship introduced in the world.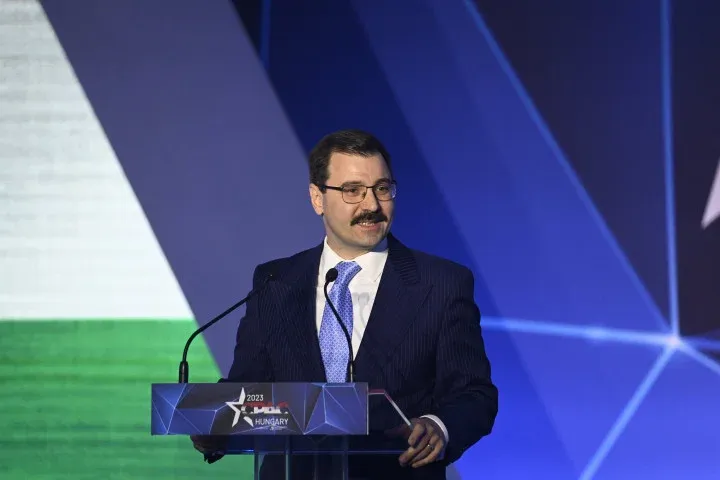 However, he believes that the Hungarian conservatives noticed this before anyone else did, since they know what it's like to live under communist oppression. He also said that the war against wokeism and the progressives is more important than the one currently going on in Ukraine, as we'll still be fighting the former long after peace will have come to Ukraine.
Matt Schlapp, who was recently accused of sexual assault by a former Republican campaign aide thanked Orbán for attending last summer's CPAC conference in Dallas. He jokingly said that although he doubts the Hungarian Prime Minister has such aspirations, if it were up to him, Orbán would for sure be elected as governor of Texas.
Schlapp also boasted that at last year's conference, the Center for Fundamental Rights taught him how to crush press freedom. Journalists have never before been banned from CPAC conferences, but last year, the Hungarian organizers, who have some serious experience in banning journalists from certain events, opened his eyes. Now he sees that if he is worried about certain journalists writing negative articles about the conference, he can simply ban them.
Irakli Garibashvili praised Viktor Orbán in his speech and spoke about the the importance of Christian values and the sanctity of the family unit.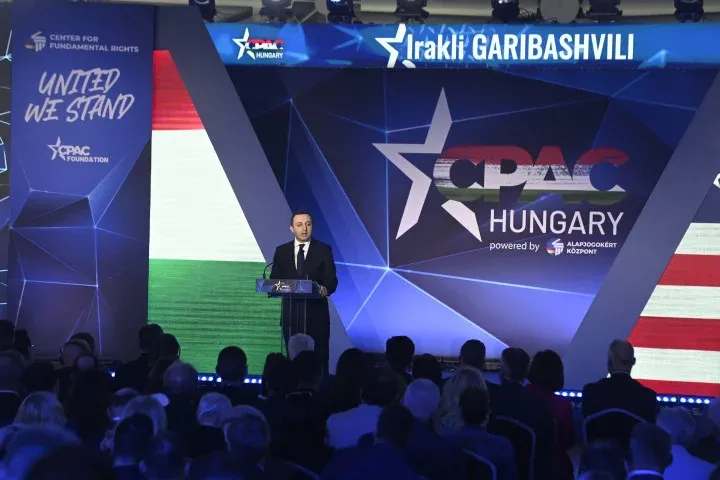 No influential foreign politicians came, but the speakers include an antisemitic MP and a propagator of conspiracy theories
Just like last year, the organizers didn't manage to bring influential American politicians to the event, and the somewhat better-known political actors who did accept the invitation did not come to Budapest in person. Tucker Carlson, whose turbulent departure from Fox News happened just ten days ago, and the founder of the far-right Breitbart, Steve Bannon, who has been sentenced to four months in prison related to the attack on the US Capitol, have both sent short video messages.
It is quite possible that just like they did last year, they will again show a short video message from Donald Trump on Friday morning. For now, the program only mysteriously says: "video message from the United States".
Among the few who were willing to fly from the US to Budapest are the antisemite Orbán-fan congressman Paul Gosar and the well-known conspiracy theorist, Jack Posobiec. Other than them, it will mostly be European far-right politicians ((Herbert Kickl, Jordan Bardella), Orbán's fallen Central-European allies (Andrej Babiš, Janez Janša) and members of the Hungarian government (Judit Varga, János Lázár, Gergely Gulyás) sharing their thoughts about wokeism, Christianity, the importance of family, and the freedom of speech in the next two days.