Hungarian President Novák: We need a peace plan that does not include Russia's victory
March 30. 2023. – 10:59 AM
We need a peace plan that does not include Russia's victory and at the same time sets fair and realistic objectives
– Hvg.hu reports Hungarian President Katalin Novák as saying at a press conference on the first day of her three-day visit to Turkey. She also stated that Russia must withdraw its troops from Ukraine.
Since you're here, we invite you to be a part of shaping Telex English! Take a few minutes to fill out our anonymous survey, and tell us what you think about Telex English and how it could be even better!
According to the Hungarian State News Agency, MTI, which did not include Novák's strong statements about the war, the Hungarian president held talks with her Turkish counterpart in Ankara on the Russian-Ukrainian war, illegal migration, EU and NATO enlargement (the two countries have delayed the ratification of Finland's and Sweden's membership for the longest time). Katalin Novák thanked Recep Tayyip Erdoğan for mediating between the warring parties and said:
"the ultimate goal is peace, which requires a common will, and everything must be done to prevent the escalation of war. Tensions must be cooled, not fuelled, and the warring parties must sit down at a table together, and a peace plan is needed.
Speaking about demographic challenges, Katalin Novák said that preserving traditional family values, which "is the key to our future", was a priority for both countries and invited Erdoğan to join the Family-friendly Presidents' Network. She also invited him to join her in opening the cultural year of Turkey and Hungary on 18 December, which will coincide with the 100th anniversary of the establishment of diplomatic relations between the two countries (and by which time Erdoğan may no longer be president).
Katalin Novák was accompanied on the trip by László Lehel, President and CEO of the Ecumenical Relief Organisation, who handed over a donation of 100 million forints (a bit more than 262 thousand euros) and 100 tons of medicine and medical equipment to assist the victims of the February earthquake in Turkey and Syria.
The joint press conference between the two heads of state was attended by representatives of the Hungarian rescue teams that worked in Turkey (whose work we reported on here) in February, who brought along Hope, the rescue dog who saved the life of a five-year-old boy. Hope first high-fived Novak for a dog-friendly photo op and then extended her paw to the Turkish president as well.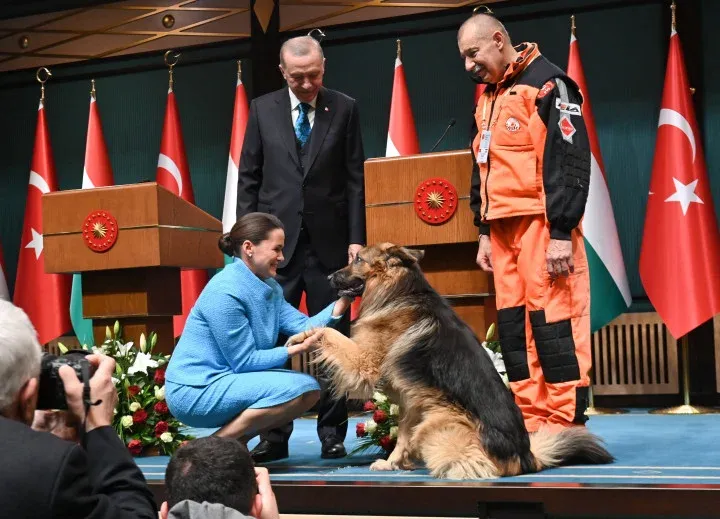 Erdoğan thanked Hungary for its assistance after the disaster that claimed the lives of more than 40,000 people and assured his guest that Turkey and Azerbaijan (a loyal ally of Ankara) were ready to provide all the support they could to Hungary in the area of gas supply. He mentioned the Trans-Anatolian Gas Pipeline (TANAP) as a guarantee of this, which will connect to the South Caucasus Pipeline (SCP) and will transport gas from the Azerbaijani Shah Deniz field to Europe.