The EU-Moscow path could lead through Budapest-Belgrade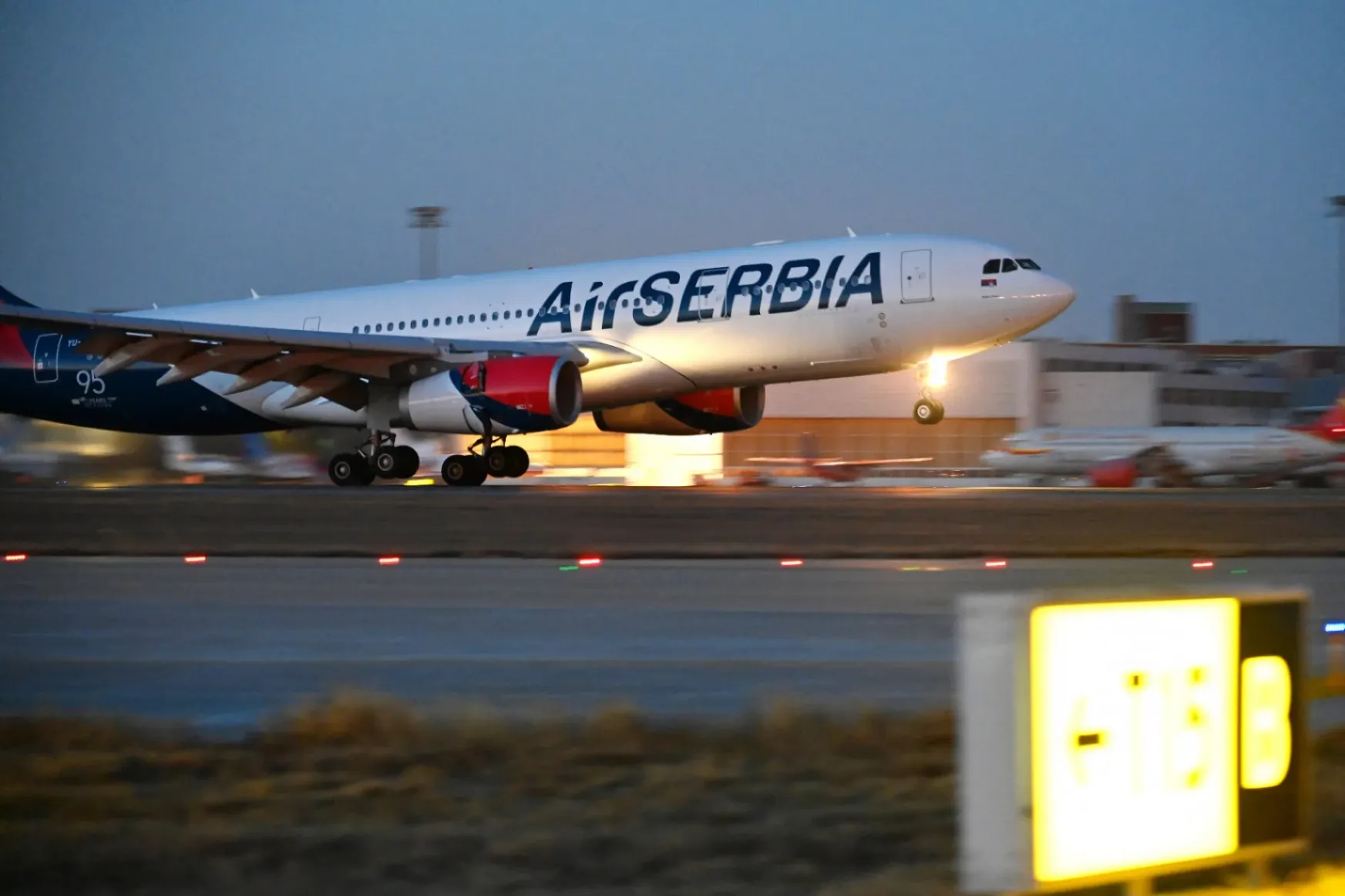 An Air Serbia flight lands in Tianjin, China, in October 2022 – Photo by Li Ran/Xinhua/AFP
Following the closure of air traffic between Western Europe and Russia, some airlines and some cities, notably Belgrade and Istanbul, have profited greatly from the maintenance and densification of flights to and from Russia. Being outside the EU puts Air Serbia in a unique situation. But how does all this connect to Hungary?
Telex recently reported on the possible reasons for Hungarian Prime Minister Viktor Orbán's intense friendship-building efforts with the Bosnian Serbs. The article mentioned that air traffic between Budapest and Belgrade would be reestablished from March 2023. As reported by Airportal,
from 13 March, the Serbian airline Air Serbia is resuming flights between the Serbian and Hungarian capital.
The company is majority-owned by the Serbian state, with the minority owner being Etihad (UAE), and it intends to gradually increase the number of flights between Belgrade and Budapest to 17 per week, according to the announcement. The question that immediately springs to mind is: is there really a demand for this?
The airline's own statement even emphasized that it is not necessarily looking to rely on direct travel, but is hoping to offer Hungarian passengers convenient connections with a transfer in Belgrade to countries in the region, as well as Spain, Italy, Greece, Cyprus and the United States. The communication highlighted New York, Chicago and Tianjin, China, as examples of connecting flights from Belgrade.
The industry, on the other hand, suspects that since Serbia did not impose sanctions against Russia after the invasion of Ukraine in February 2022, and Air Serbia continues to operate regular flights to 4 Russian cities, this is the most likely business target. In other words, Belgrade is a good hub for Russian citizens flying to Europe. This was probably not looked on favorably by many, as Air Serbia has received regular bomb threats on its Russian flights for some time. There have also been instances where aircraft bound for Moscow had to turn back.
Overall, however, Air Serbia is on a winning streak and is now hoping to return to profitability, although this will require some state subsidies, the exact amount of which is unknown.
The role of Belgrade
The Budapest communiqué did not mention Russia, but this was probably due to the above-mentioned conflicts and the resulting sensitivities, as the international air press has already been focusing on how Serbia has appointed itself as the number one Russian-Western transit point (along with Turkey).
The specialist portal EX-JU Aviation has also devoted a lot of attention to the issue, and they devoted an article to specifically discussing how the war in Ukraine has reshaped the air map.
Serbia is not a member of the EU, so it did not follow the imposition of EU sanctions. Russian airspace remains open to Air Serbia. Russian airlines could fly within Serbia, but they cannot actually reach the country because Serbia is surrounded by countries that have all imposed sanctions against Russia. Air Serbia has therefore become the only airline in the European market that can take advantage of the situation.
The management reacted immediately, increasing capacity, launching flights and raising prices.
This is presumably why Air Serbia avoids making any public announcements about its Russian network, whether it has increased the number of flights or added a new destination. They currently have a destination network of four cities in Russia: Moscow, Kazan, Sochi and St. Petersburg.
In any case, Belgrade has now definitely become the most accessible transfer hub for passengers departing from Western Russia. It should be noted only in parentheses that Turkish Airlines, Emirates and Qatar Airways have also gained a share in the market with the departure of Western airlines. Istanbul has thus become a very important hub, with Turkish Airlines flying to 36 different destinations in Russia.
The advantages of Air Serbia
As one of our expert readers pointed out,
"Although Air Serbia is referring to overseas flights and Mediterranean holiday destinations in the official press release, the Russian transit traffic could play an important role in all this".
The easiest air links from Russia to Europe are currently via Belgrade and Istanbul. Hungary itself is a popular destination for Russian tourists and business people, and it is also likely that more Russian passport holders are now choosing Budapest as their point of entry to the EU.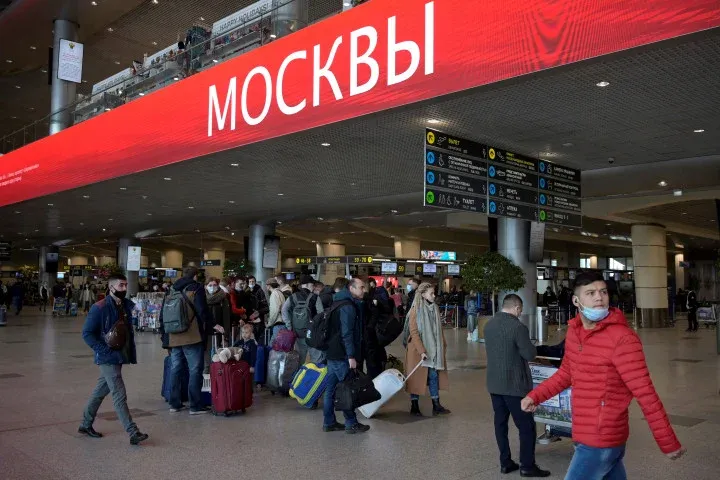 The transfer in Istanbul is less convenient in the current winter timetable (flights from Moscow usually leave at 2.25am, the total journey with transfers takes eight hours and fifteen minutes) and is not cheap, with one way ticket prices around €500-600 for March. For the summer months, tickets start at €1,400 each way – although the high summer prices are now more likely to be explained by Turkish Airlines wanting to protect capacity for a while for other valuable through traffic between Russia and Cyprus or the Turkish Riviera.
By comparison, Air Serbia offers five-and-a-half-hour flights on certain days at €500-600/way, although the schedule is not ideal here either, with flights leaving Moscow at 4.10am.
There have been waves before
Direct Russian destinations from Budapest were already popular before the outbreak of the war. Wizz Air has been steadily increasing its booked capacity, something a low-cost airline will only do if the route performs well financially. The good relationship remained even during Covid, because Hungary allowed entry with the Russian Covid vaccination. If the Russian vaccine had been accepted throughout the EU, it is likely that tourist demand from Russia would have been less concentrated on flights to Budapest and more spread out among other EU cities, but this way, Budapest was able to establish a leading position.
One might of course ask why, if flights between the EU and Russia were suspended in February last year, Air Serbia is only reacting more than a year later by opening flights to Budapest.
We do not have an answer to this, even in light of the fact that optimisation is a relatively long process for traditional network airlines. The relaunch was announced in early December and, as is typical in the industry, there is a lead time of at least 3 months, the time it takes to sell tickets. The same period had elapsed between the announcement and the actual launch of Air Serbia's new Belgrade-Kazan route.
It's likely about transit
Overall, therefore, it is unlikely that there will suddenly be many more people wanting to fly between Belgrade and Kazan, or between Budapest and Belgrade, it is transfers and Russian-EU travel that may have been the reason behind the move.
Although Air Serbia claims that their Budapest flight will make their intercontinental destinations, as well as Spanish, Greek, Italian and Cypriot holiday flights easily accessible from Budapest, the Serbian airline has no competitive advantage in the former, while the market is very saturated in the latter.
Air Serbia's fleet, frequencies, transfer options, total flight time, and layover lengths lag behind the major competitors for the Budapest-North America/Far East markets. These include British Airways' westbound services via London, KLM flights via Amsterdam or Lufthansa connections via Frankfurt/Munich. In the other direction, there are the eastbound services of Emirates, Turkish, Etihad and Qatar Airways via Istanbul, Doha or Dubai.
For summer holiday destinations from Budapest, there are good offers and lower prices, mainly from Ryanair and Wizz Air, and to a lesser extent from charter operators. It is difficult to make a competitive offer to this market with a transfer in Belgrade.