Hungary will not support EU member states taking a joint loan to help Ukraine – Orbán
November 18. 2022. – 12:01 PM
updated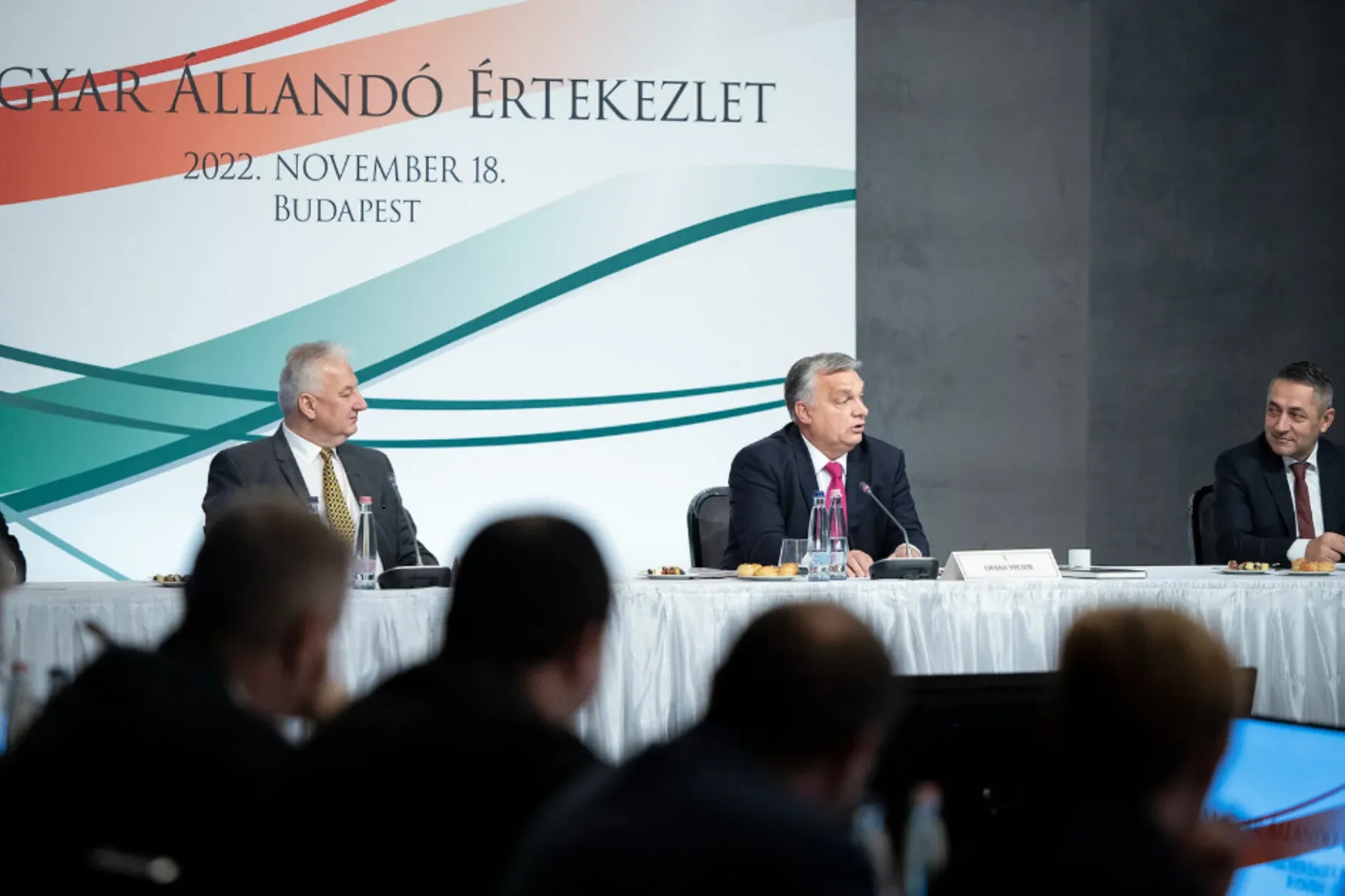 Viktor Orbán giving a speech at the MÁÉRT plenary session in Budapest on 18 November, 2022 – Photo: Zoltán Fischer / PM's Press Office / MTI
Hungary will not accept EU member states taking out a joint loan to help Ukraine, Viktor Orbán said at a meeting of Magyar Állandó Értekezlet (Máért – A consultative organisation of Hungarians living beyond the borders of Hungary and the political actors in Hungary, established in 1999) in Budapest on Friday, according to the Hungarian State News Agency, MTI.
The prime minister suggested that EU member states should look at how much money they want to give to support Ukraine's operations and distribute that among themselves in a "fair and proportionate way". Orbán said that Hungary would provide such an amount to help Ukraine, about 60-70 billion forints a year, from the national budget within the framework of a bilateral agreement between the two countries.
The Prime Minister also said that Hungary condemns Russian aggression and supports the Ukrainian people, but that
"it is not willing to put Ukraine's interests before its own".
The Prime Minister said that although the amount will be missing from the Hungarian budget, the support he mentioned does not fundamentally harm Hungarian national interests.
The European Commission is proposing a monthly financial aid package of 1.5 billion euros to cover Ukraine's financing needs next year, with a legislative initiative expected to be presented later this week.
Earlier, Minister of Foreign Affairs and Trade Péter Szijjártó said: Hungary is ready to continue its financial support to Ukraine on a bilateral basis, but will not agree to another joint EU loan for this purpose. The same was reiterated by Gergely Gulyás at the last government briefing: the government says yes to financial support for Ukraine, but they are against joint EU borrowing.
Orbán's position has already been met with much criticism in recent days and is expected to have serious diplomatic consequences.
"Viktor Orbán has held the EU hostage, essentially demanding billions in exchange for lifting the veto on everything from aid to Ukraine to the global corporate tax deal. In Orbán's opinion the aforementioned billions are EU funds that his country deserves as an EU member. But Brussels is withholding them because it is worried about the erosion of democratic values in Budapest and insists that Hungary make changes first," Politico writes in its analysis.
This is pure political blackmail
- Johannes Hahn, the EU's Budget Commissioner said on Thursday of the Hungarian government's refusal to support a joint EU loan to help Ukraine as blackmail. It was on the same day that it emerged that Czech Speaker Markéta Pekarová Adamová and Czech Senate President Miloš Vystrčil refused to sit at the same table as Hungary's House Speaker László Kövér at the next meeting of V4 presidents which had been scheduled for next Friday.
Previously, German Foreign Minister Annalena Baerbock had criticised Hungary for blocking an 18 billion euro EU financial aid package to Ukraine, saying Budapest should not "play poker" and attempt to put pressure on Brussels this way in the dispute about rule of law.