Head of the Hungarian public broadcaster: we provide credible, balanced and impartial information
November 17. 2022. – 11:01 AM
updated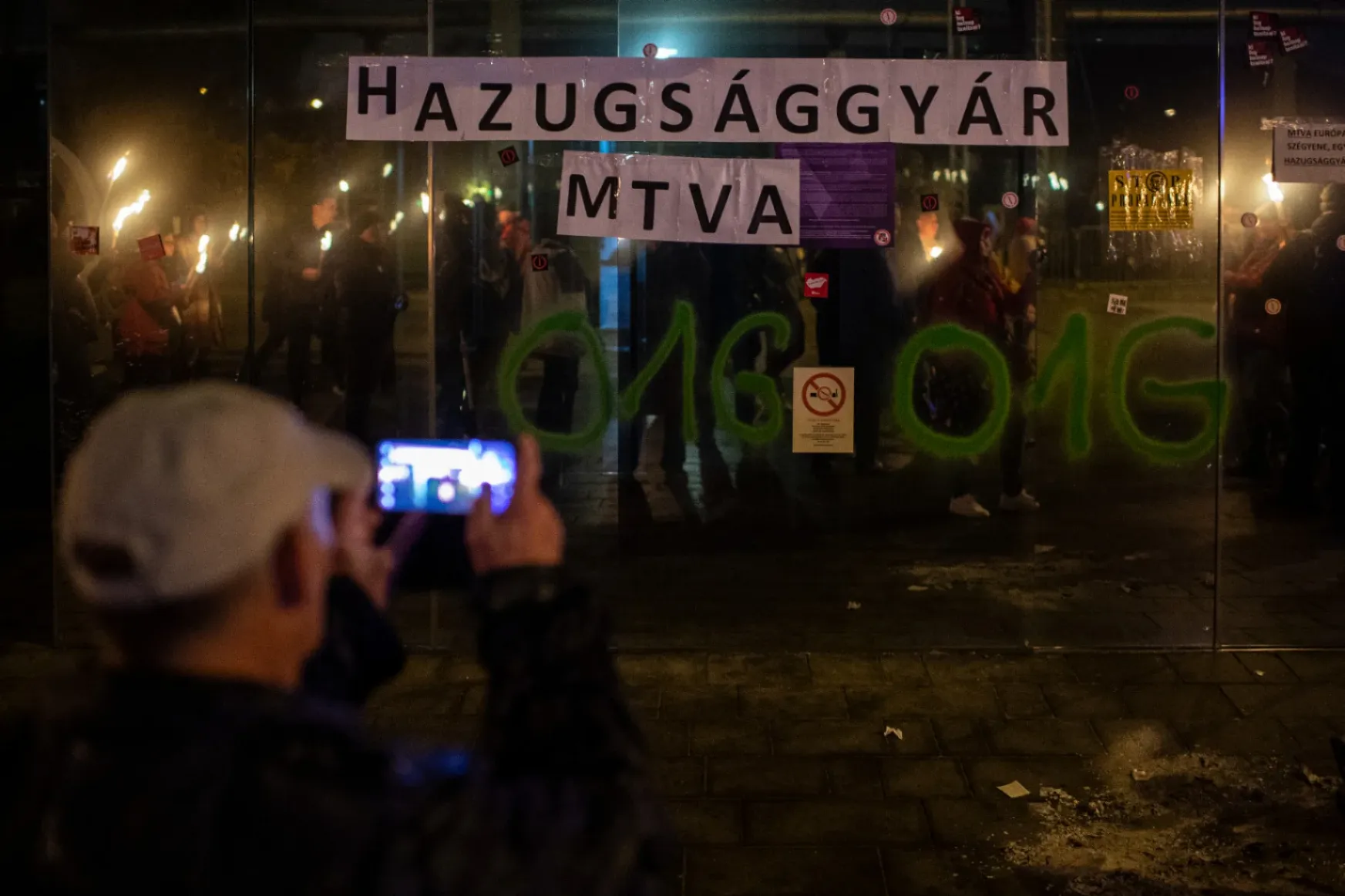 The protest in front of MTVA's building on 4 November – Photo: János Bődey / Telex
Dániel Papp, head of the Hungarian public broadcaster (MTVA) received Teresa Ribeiro, the representative of OSCE (Organisation for Security and Cooperation in Europe) for media freedom and the delegation that accompanied her. According to a statement by MTVA, Papp, who has been legally declared a news forger by Hungary's highest court, met with the OSCE delegation at the institution's headquarters.
The head of the public media provided the guests with information on "the media system governing the operation of MTVA, the relevant public service requirements and the regular cooperation between MTVA and Duna Médiaszolgáltató Nonprofit Zrt.", all of which, according to him
"guarantee the production of reliable and objective programmes".
According to MTVA's press release, at the meeting, Papp "reported on the situation and functioning of the Hungarian public service broadcaster, and pointed out that Hungarian public service broadcasting is in line with international standards, emphasising the guarantees of balance and impartiality as contained in MTVA's Code of Ethics, the Media Act and the Public Service Code".
With regard to balance and impartiality, he probably did not mention the leaked audio recording in which Balázs Bende, former foreign policy editor of the public media, told public media employees during the EP election campaign that the institution does not support the opposition coalition and if anyone did not like that, they were free to leave.
Papp also told the OSCE delegation that since the parliamentary elections on 3 April, they had sent 3976 invitations to parliamentary parties and only 69 of those had been accepted. He presumably failed to add that before the elections, the public broadcaster only allocated five minutes to the opposition party alliance's candidate for prime minister, Péter Márki-Zay, and that no other opposition politician was invited to appear on the programme before 3 April.
At the beginning of November, hundreds of people demonstrated in front of MTVA's headquarters in Budapest against the "factory of lies" at the call of independent MP Ákos Hadházy. This year, MTVA is operating on130 billion forints 318 million euros) next year it will have a budget of 127.5 billion forints (312 million euros).