Several more Hungarian restaurants receive Michelin stars
November 07. 2022. – 09:16 AM
updated
In addition to seven places in the capital, two restaurants in the Hungarian countryside have been awarded the most prestigious gastronomic rating, the Michelin star this year. The first edition of the Michelin Guide for Hungary, which recommends 62 Hungarian restaurants, has also just been published.
Platán Gourmet in Tata and Stand Restaurant in Budapest were both awarded two-stars at last Thursday's award ceremony for Michelin Guide Hungary. Newly Michelin-starred restaurants were announced and, for the first time this year, so-called Green Star ratings were also presented, Dining Guide magazine reports. A total of nine Hungarian restaurants have so far been awarded the prestigious gastronomic classification.
In addition to the two two-star fine dining concept restaurants, Hungary now has newly recognized one-star restaurants and, as an absolute novelty, restaurants that have been awarded a green star and a new Bib Gourmand rating as well.
The anonymous inspectors of the restaurant guide awarded two Michelin stars to Platán Gourmet in Tata (chef István Pesti) and Stand in Budapest (Tamás Széll and Szabina Szulló), as announced at the awards ceremony held in Budapest.
Seven restaurants won a Michelin star: 42 (Ádám Barna) from Esztergom, Babel (Kornél Kaszás), Borkonyha (Ákos Sárközi), Costes (Levente Koppány), Essencia (Tiago Sabarigo), Rumour (Jenő Rácz) and Salt (Szilárd Tóth) from Budapest. The Green Star rating was awarded to Salt in Budapest, Onyx in Budapest, Graefl Major in Kétútköz – Poroszló, and Almalomb Restaurant in Hosszúhetény.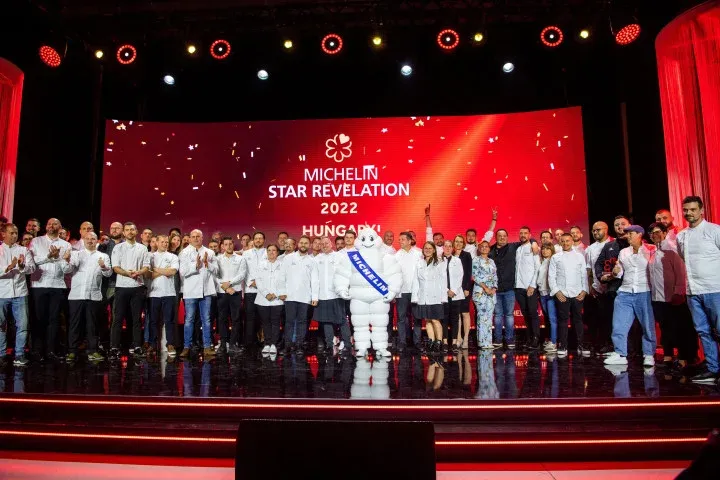 In addition to the establishments with Michelin stars, the following restaurants have received the Bib Gourmand rating: Anyukám mondta – Encs (Szabolcs Dudás, Szilárd Dudás), Kistücsök Restaurant – Balatonszemes (Balázs Csapody), Mór24 – Balatonfüred (Edit Almás, Tamás Albrecht), Bistro Sparhelt – Balatonfüred (Balázs Elek), Macok Bistro – Eger (János Macsinka), Casa Christa – Balatonszőlős (Miklós Forrai).
Michelin Guide has been present in Budapest since 1992, but Michelin inspectors have been monitoring restaurants in all parts of the country for years. The first Michelin Guide publication covering the whole of Hungary was unveiled at the award ceremony, featuring both new culinary and green Michelin-starred restaurants, as well as gems recommended for discovery by gourmets. The first edition of the Michelin's Guide for Hungary recommends 62 restaurants. This spring, the CEO of the Hungarian Tourism Agency spoke in a podcast about his hope for more Michelin stars coming to the country, especially in rural areas, and his determination to promote luxury top-end restaurants.
After the epidemic, subsidies were already being used to help popular restaurants and high-end places that were on a firm footing, 24.hu reported at the time. According to one of our Balaton restaurateur sources, who receives what amount of state support and who has reserves and a secure background is already a big factor when it comes to staying afloat. The billionaire restaurateurs will survive, and so will the small, menu-based places using half-finished products. He said that it is typically the small entrepreneurs who are struggling.