Hungary's biggest opposition party has ignored Telex's questions for months – they now say they will look into it
October 12. 2022. – 01:24 PM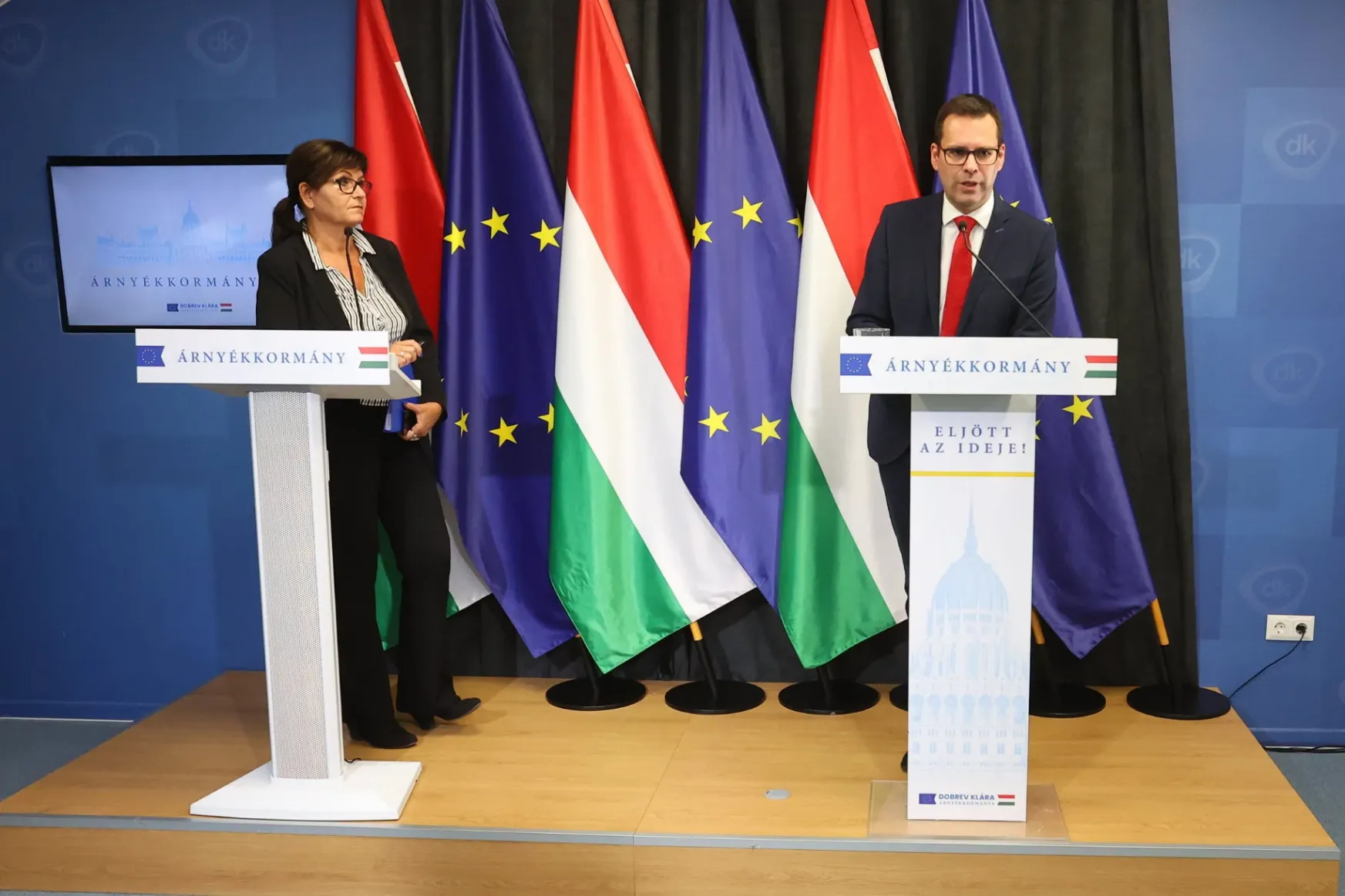 Olga Kálmán and Csaba Molnár at the press conference on 11 October, 2022 – Photo: Anikó Kovács / MTI
At Telex, we believe that it is the duty of elected politicians and government ministers to answer questions from the press. Unfortunately, this hasn't been happening in Hungary for several years now. During the first hundred days of Telex, we sent fifty-two questions or requests to various ministries in the Hungarian government, and only received a total of nine responses. Not much has changed since then.
During the election campaign this spring, we requested an interview with Fidesz-KDNP's candidate for prime minister, Viktor Orbán several times – in vain. Even his campaign events were concealed from the independent press. It's been more than twelve years since the Prime Minister gave an interview to the independent press. Since the election this April, we have regularly continued to request an interview with Orbán – so far, without success.
We apply the same principle to opposition parties and politicians. In the months since the elections, among others, we have interviewed Gergely Karácsony, Péter Jakab, András Fekete-Győr, Péter Ungár, Bence Tordai and János Stummer about the reasons for the opposition's election defeat.
We would also be interested to know more about the ideas of Demokratikus Koalíció (DK), which is Hungary's biggest opposition party. We have requested interviews with two of the party's leading politicians, Klára Dobrev and Ferenc Gyurcsány several times, but have not even received a reply from the party's press office. We were not much more successful when we sent them questions on various current issues in writing. Since the April elections, we have sent more than 20 questions to DK and have received only eight replies.
For Tuesday, DK announced a press conference entitled: Press Briefing of the Shadow Government, where Csaba Molnár, Deputy Chairman of the party, and MP Olga Kálmán reported on the meeting and proposals of the party's shadow government which was formed a few weeks ago.
According to DK, small and medium-sized enterprises should be given a subsidy for overheads, VAT on solar panels should be reduced to zero, teachers should be given an immediate 45% pay raise, teachers who have been fired unlawfully should be reinstated, all disciplinary measures issued by school district authorities should be revoked, and the teachers' right to strike should be restored. For municipalities that request it, DK would return the schools under their supervision, along with the resources for maintaining them. DK will be submitting proposals on all these points to Parliament.
On 16 September 2022, the Democratic Coalition (DK) announced that it would form a shadow government under the leadership of Klára Dobrev to show that there is an alternative to Viktor Orbán and Fidesz. Two days later, Dobrev spoke in detail about their plans, calling their most important task the overthrow of the Orbán government. On 19 September, the names of those in the shadow government was published. The list includes mostly tried and experienced politicians, with DK chairman Ferenc Gyurcsány absent. As the term shadow government is not a public law term, Telex will be using the names of the real, tangible functions.
We asked Csaba Molnár and Olga Kálmán for the reason why Dobrev and Gyurcsány are not willing to give an interview to Telex, and why DK regularly ignores our questions sent in writing.
"We will look into this, we will ask about it"
- Molnár answered, while Olga Kálmán, who was standing near him added that "Klára Dobrev will answer anybody's questions at any time", and said that this happening is just a matter of her schedule and finding a time that works for both parties.
A few weeks ago, when Klára Dobrev and Csaba Molnár announced that DK would be forming a shadow government, they said they intend to show that there is an alternative to the Orbán-cabinet. At this week's press conference, we asked in what way they were an alternative, if – similarly to Fidesz – they mostly ignore our questions and their party's leaders refuse to give an interview.
"There is a very significant difference" – Molnár stated. He said that Viktor Orbán does not give interviews, and questions can only be addressed to him once a year at a press conference. "Klára Dobrev, on the other hand, held two press conferences in the past two weeks, which were open to everyone, and the press could ask her about absolutely anything." According to DK's Deputy Chairman there is a qualitative difference between DK and Fidesz in that anyone can regularly ask DK politicians questions at press conferences.
Molnár: Márki-Zay was the reason for the opposition's two-third loss, it was not the parties' fault
One of the things we wanted to find out in recent weeks was DK's view on what led to the opposition's successive election defeats. Since the beginning of May, thirteen by-elections have been held in Budapest, nine of which were won by Fidesz candidates. We analyzed the reasons for the defeat in an article, and were able to reach someone from every other opposition party in the capital except DK. At this week's press conference, we took the opportunity to learn DK's position on the issue.
According to Csaba Molnár, the principle of being drawn to the winner has prevailed after the parliamentary elections.
After a big election victory, Fidesz can win by-elections for a few months, and this is the case everywhere, he said. In the autumn, however, he has already seen a slight decline. At first, the opposition only improved the victory rate, when, for example, the Momentum candidate won one of two districts in district XI of Budapest. In the second district, the DK candidate won an "incredibly big, almost two-thirds" victory. The DK vice-president trusts that the government's recent mistakes, the austerity measures and the recent scrapping of the utility price caps will bring about a substantial change. In his opinion, this hope is supported by the opposition's victory in the second district.
At the end of September, Ferenc Gyurcsány gave an interview to Partizán and said that DK and Klára Dobrev have nothing to do with the opposition's election loss, and added that it was not DK who was defeated, but Péter Márki-Zay, the prime ministerial candidate. Since we haven't been able to ask Ferenc Gyurcsány about this since then, we turned to Molnár and Kálmán at the press conference. We wanted to know how this statement holds in light of the fact that the voters did not cast their votes for Péter Márki-Zay, but for the joint list. The second place on the joint list was occupied by Klára Dobrev and the eighth place by Ferenc Gyurcsány, but there was a total of 78 DK candidates on the 279-strong list, and DK won the most seats (11) from this list.
Not surprisingly, Molnár agrees with Gyurcsány. "Péter Márki-Zay caused the two-thirds defeat. We are not saying that it was not DK, what we are saying is that it wasn't the opposition parties" – the MEP said.
DK believes that the six parties are not to blame for the opposition's defeat
"We are of the opinion that it was the choice of Péter Márki-Zay for the joint candidate, and his huge mistakes during the campaign which lead to defeat" – DK's Deputy Chairman said. In November, opinion polls showed the opposition party alliance and Fidesz neck to neck, and then every month, every week, the numbers for the opposition kept getting worse, until the final result came in. "Between November and April there was only one change in the structure of the opposition: the person of its leader. (...) Therefore, it is this leader who bears the primary responsibility," Csaba Molnár opined, reiterating his conviction that the parties of the opposition alliance cannot be blamed for the defeat.
"We are convinced that if Péter Márki-Zay had not been the joint prime ministerial candidate, then many, many more individual candidates of DK, Momentum and even the Socialist Party would have won in their districts" – Molnár answered when we repeatedly asked why DK carries no responsibility in the defeat of the six-party opposition alliance.
In his response to our question, Molnár also said that they have not yet decided who they will support in the 2024 municipal elections. The reason for asking this was that Gyurcsány told Partizán that it shouldn't be taken for granted that his party would support Gergely Karácsony's (the capital's incumbent mayor) candidacy for mayor of Budapest. Molnár has now confirmed that DK wouldn't like to hold primaries, and that they would instead prefer to decide about the joint candidates at the negotiation table. The reason for this is that in their opinion, this led to success in several Budapest districts and other municipalities at the 2019 municipal elections. "If we could come to an agreement about running together three years ago, why wouldn't we be able to do it now? I believe we will" – he added.
The translation of this article was made possible by our cooperation with the Heinrich Böll Foundation.