Orbán: This is the beginning of cannibalism in Europe
October 03. 2022. – 03:28 PM
updated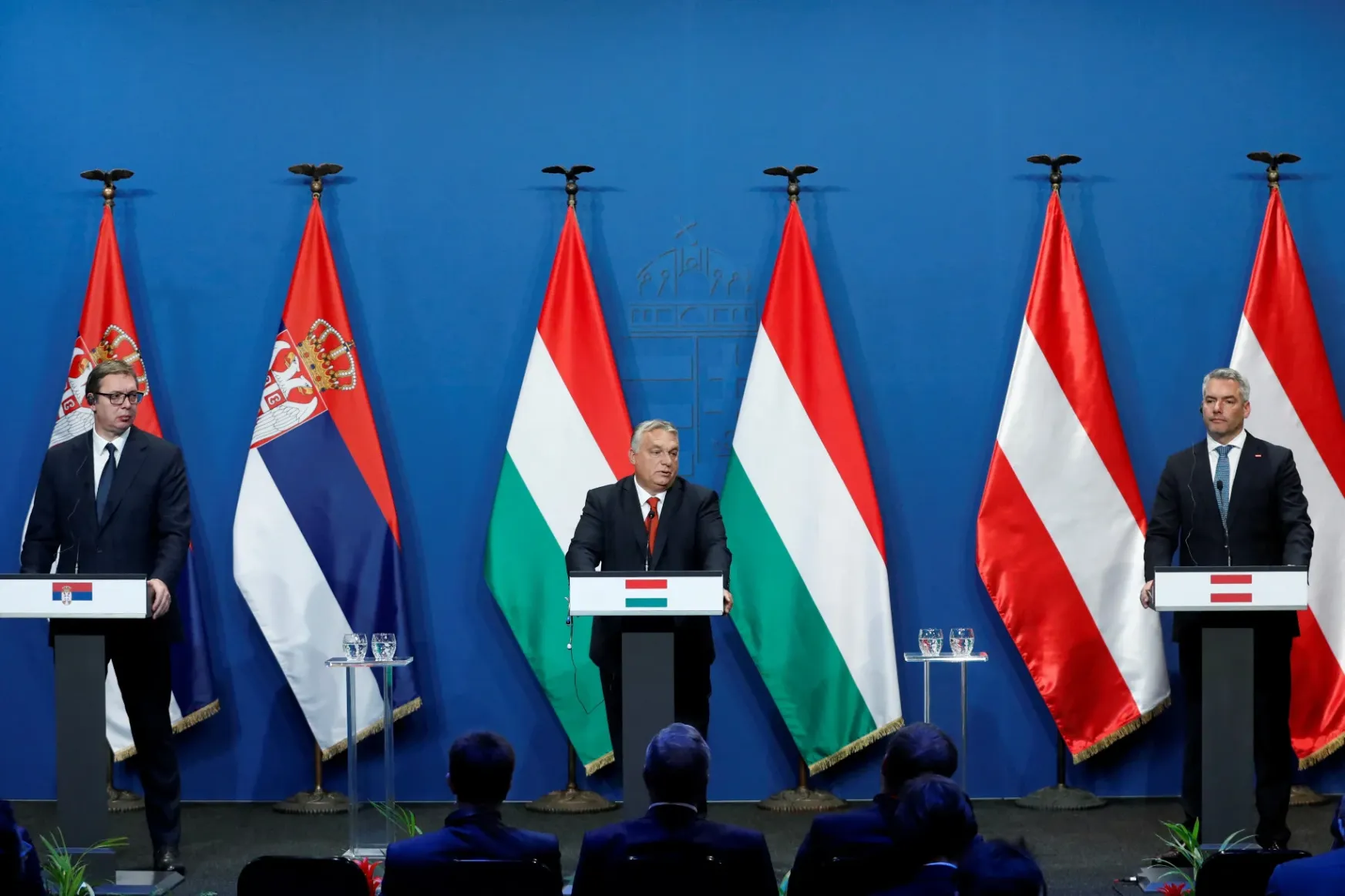 Aleksandar Vučić, Viktor Orbán and Karl Nehammer at their joint press conference in Budapest on 3 October 2022 – Photo: Bernadett Szabó / Reuters
A Hungarian-Austrian-Serbian summit was held in Budapest on Monday. The main topic on the agenda for the three heads of state was the three countries' joint approach against illegal migration – at least according to what Orbán's Press Chief Bertalan Havasi announced last week.
Despite having registered, Telex was not allowed to attend the press conference, along with some other media. They claimed that registration had to be done by 8 a.m. on Monday morning, but the official MTI platform for announcing press events did not have a clause to this effect on Monday, and our editorial team did not receive an invitation.
After the summit, Viktor Orbán held a press conference along with Austrian Chancellor Karl Nehammer and Serbian head of state Aleksandar Vučić.
The Hungarian Prime Minister said that in the future, the three leaders will meet more often because of migration. Orbán said that the fight against migration consumes a lot of energy, manpower and huge sums of money. "The situation is getting more and more difficult, the figures are alarming," he said. The meeting was initiated by Hungary, as according to Orbán, we have the most specific situation as "our southern border is under siege."
Orbán said that Brussels' policy on migration is not unlikely to change. Migration and the activities of human traffickers have reached a new level, "they are now using live weapons against each other and against our border guards." (...) "It is in the interest of all of us to move that line of defence further south," the Hungarian prime minister argued.
Vučić: This will not be an easy winter
Aleksandar Vučić thanked the Hungarian Prime Minister for the invitation, adding that Orbán has the courage to take on the most important regional issues. According to the Serbian President, this winter will not be easy and he fears that the following winter will not be without problems either due to energy disruptions. If there is no gas, it will have to come from someone else. If there are food shortages, we will also have to find a solution together.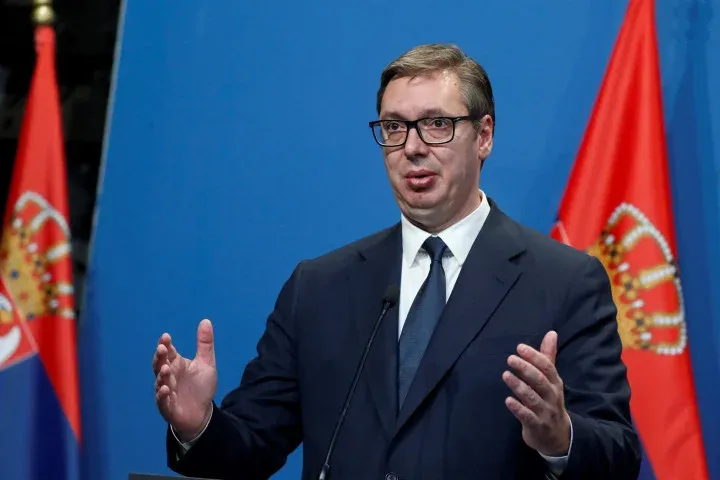 He said that as far as legal migration is concerned, 17,000 Ukrainians and Russians have been granted temporary residence permits in Serbia due to the war in Ukraine.
In the contect of illegal immigration he said that he believes many people in Serbia do not know how difficult it is for border guards to deal with illegal immigrants, but those living on the border know exactly what this means.
Nehammer: Austria has received tens of thousands of people
Nehammer also thanked Orbán for the invitation. According to the Chancellor, the cooperation between the police forces of the three countries is good. Although Austria does not have external borders with the EU, it has already received more than 70,000 migrants from far away places (India, Pakistan, Afghanistan), including many people fleeing the Russian-Ukrainian war.
However, illegal migration must be stopped, which is why cooperation between police forces is important, Nehammer concluded. "We also support Serbia in the fight against irregular migration. In Austria, too, we are noticing an increase in the number of asylum seekers coming to us from Serbia via Hungary" the Austrian Chancellor said.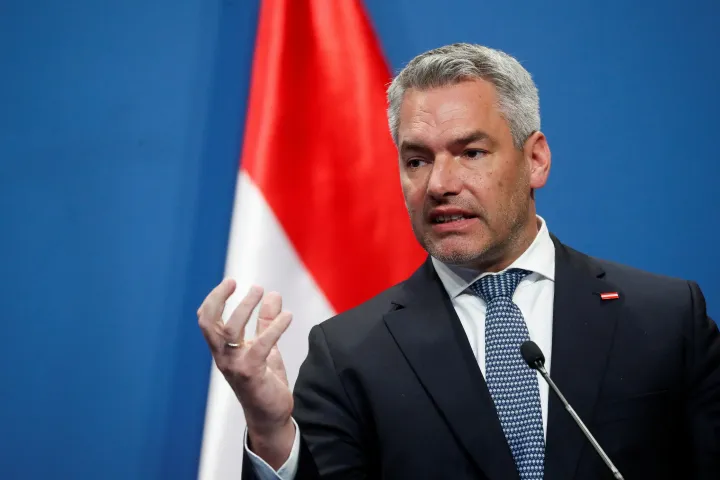 The Western Balkans migration route
The Hungarian public media was given the opportunity to ask questions – their correspondent asked what could be done about the Western Balkans migration route.
Orbán said that three things would be needed: The defence line should be moved further south, at first as far as the Macedonian border.
The second is to return those who came here illegally back to where they came from. The third is to create a hotspot outside our borders" Orbán continued.
It would be good if the EU were to declare that asylum applications can only be submitted in these hotspots outside the EU borders, and that no one can enter the EU until they have done so – the Hungarian Prime Minister said.
Vučić said that it is important to show solidarity with the arriving downtrodden people, but stressed that Serbia doesn't want to be a hotspot, nor does it want to become a migrant camp.
Nehamamer said that all the countries of the Western Balkans are very important partners for Austria. He then spoke about war propaganda.
"I'm a soldier myself, I know what it means to use war propaganda to destroy people" he said. War propaganda creates panic and fear, but "people have to be freed from their fears, because fear is a bad adviser."
We have common interests and we cannot allow people to be frightened by political agitation from outside.
Serbia is Hungary's most important partner
According to Orbán, it is a basic national interest for Hungarians to be on good terms with the Serbs. "Serbia is our most important partner, through whom we can reach the world" (...) "We are striving for the closest possible cooperation with Serbia, and we are grateful to them for the pipeline through which Hungary receives natural gas via Serbia."
Orbán said that as long as we have gas, the Serbs will have it too, adding that construction on the Budapest-Belgrade railway line should be continued, because it is the only way to reach the eastern trade routes, and reaching these routes via Ukraine will become less and less possible because of the war.
The beginning of cannibalism in the EU
In Orbán's opinion, Germany can afford to bail out its own companies to the tune of billions of euros, and rich countries in general can afford to bail out their companies with huge sums, but poorer countries cannot do that.
"This is the beginning of cannibalism in the EU. Brussels must do something about this, because it will break European unity"
- Orbán said.
According to the Hungarian Prime Minister "we have never received any help from Brussels regarding migration." In fact, they want to impose rules on us "which are alien to our way of life". We cannot wait for a solution to come from Brussels, we must act ourselves – he added.
Nehammer said Serbia should not be left alone in the face of "irregular" migration. Protection of external borders, swift procedures, return – these are the three things we agree on regarding migration.
In early September, the Hungarian government extended the mass immigration crisis in Hungary until 7 March of next year. It has been in place since March 2016.
The relationship between Orbán and Vučić has become close in recent years. The Serbian president has become one of the Hungarian prime minister's closest allies and he was one of the first to congratulate Orbán on his re-election. The Hungarian prime minister's first official trip after his re-election in April was to Serbia. A few weeks ago, Vučić awarded him the Order of Merit of the Republic of Serbia for his services to the development of cooperation and relations between the two countries. Prior to that, the Orthodox Patriarch of Serbia called him a "unique statesman" and awarded him the gold medal of the Order of Saint Sava.
In the summer, after his speech on mixed race in Tusványos, Orbán made a visit to Vienna where he was booed and Karl Nehammer said that Hungary was an important partner for Austria but condemned all forms of racism. In response, Orbán said that he sometimes used "ambiguous language".
The translation of this article was made possible by our cooperation with the Heinrich Böll Foundation.