Hungarian PM Orbán awarded highest state honour of Serbia
September 16. 2022. – 12:47 PM
updated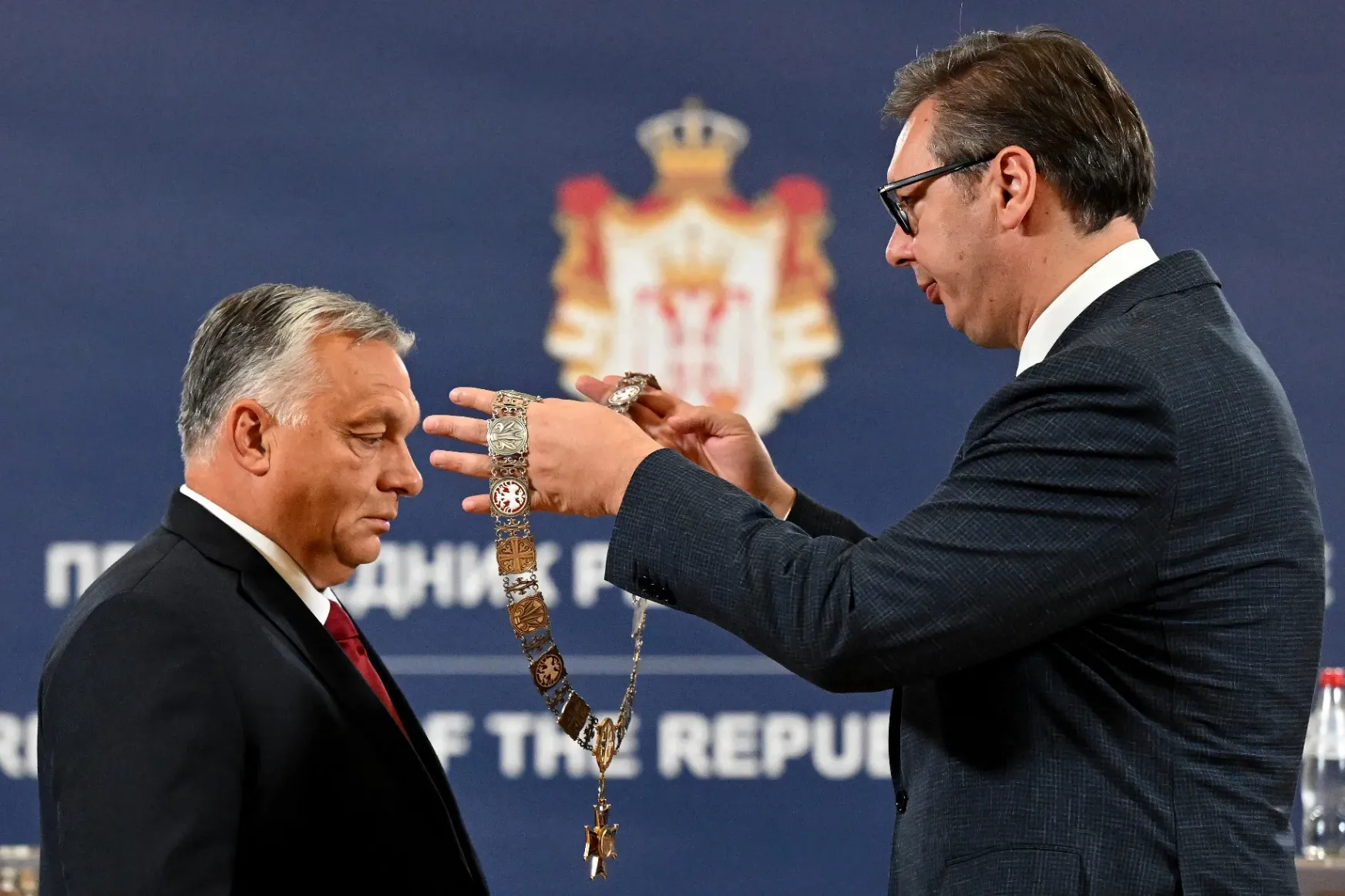 Serbian PM Aleksandar Vucic decorating Viktor Orbán with the the Serbian Order of Merit in Belgrade on 16 September 2022 – Photo: Andrej Isakovic / AFP
On Friday, Viktor Orbán arrived in Belgrade for a one-day visit, where he held talks with Serbian Head of State Aleksandar Vučić and received the Order of Merit of the Republic of Serbia for his contribution towards the development of cooperation and relations between the two countries, the state news agency, MTI reports.
Upon receiving the medal, Orbán said that he considered the award as an encouragement for what he would do for Hungarian-Serbian friendship in the future as well. He said that Hungary and Serbia must be friends because the two countries have a common mission to protect Europe's southern gateway.

At the joint press conference, Mr Orbán also reacted to the report which was adopted by the European Parliament on Thursday, which stated that Hungary is not a full-fledged democracy any more.
"That is a funny thing, but the only reason we are not laughing at this joke is because it's a boring joke. This is the second or third time that such a decision is made in the EP which condemns Hungary. We used to think it had some significance, but now we see it as a joke," he said. He added that the background to all this is that the EP has been taken over by a left-wing majority. Orbán added that Fidesz's former ally, the EPP was also shifting towards the left.
"The document that was adopted yesterday is a pamphlet, a piece of political propaganda."
-Hungary's Prime Minister said.
"In Hungary we have elections, where the government is formed based on the votes cast by the citizens. If the right gains a majority, the left is not happy, so they organise an intifada in the EP.
At this point, this is mostly for their entertainment, because we are not really interested any more" he added.
Orbán also spoke at the press conference about the sanctions against Russia, saying that he would always argue that the European Union should not impose sanctions because "the sanctions that the West has come up with are not in Hungary's interest". In his opinion, the sanctions are plunging the EU into a serious economic crisis and if they were lifted, the situation would improve immediately.
The translation of this article was made possible by our cooperation with the Heinrich Böll Foundation.