Teachers' Union announces upcoming strike, turns to foreign press
September 01. 2022. – 04:00 PM
updated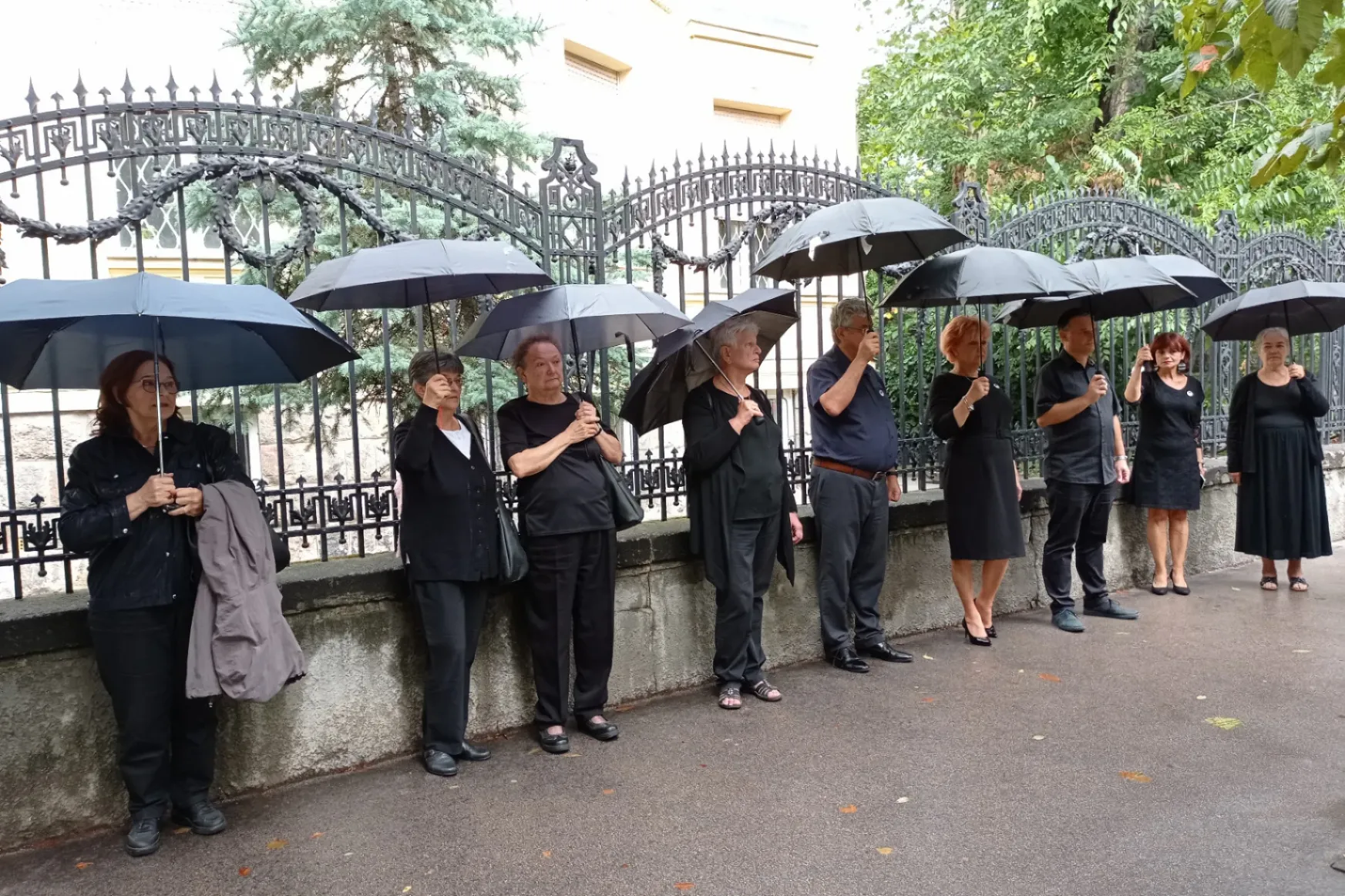 Members of the Teachers' Union held a press conference wearing all black, with black umbrellas in hand – Photo: Nikolett Halász / Telex
Wearing all black, with black umbrellas in the background – this is how the leadership of the Hungarian Teachers' Union (PSZ) held a press conference on the first day of the new school year. They said that wearing black was necessary to signify that as the school year begins, they are in mourning. They read their statement which they intend to send to the international press and global organizations as well. Teachers are still not encouraged to engage in civil disobedience, but a strike is being organized, which will most likely happen around the end of November.
Earlier this year, on January 31st, many Hungarian public schools held a warning strike for just two hours, where educators demanded higher pay and better conditions, as well as a lowering of their workload. At the time, the Teachers' Union stated that if their demands were not met, there would be an all-day strike throughout the country on March 16th.
The government was quick to respond by issuing a decree which stated that due to the pandemic, children must be supervised at all times in the classrooms, at least half of all classes must be held, and for students preparing for their matriculation examination, all lessons in subjects they will be tested in must be held – thus making a strike of virtually no effect, which started a civil disobedience movement.
Today's press conference was organized by PSZ because the problems brought up by teachers earlier in the year have not been addressed nor remedied by the government. Zsuzsa Szabó, president of the union said today that it has come to teachers advising their students not to become teachers. She added that the union will start touring the country to ensure that their message reaches even the smallest villages: "There is no backing down, and we don't have to put up with this kind of treatment." – she said.
They are sending their statement to international institutions
Their statement was read out by Gábor Gosztonyi, Vice-President of PSZ. They stressed that they will be sending their statement to the global press, as well as international institutions like the office of the European Commission and the Education Committee of the European Trade Union Confederation. The statement lists the problems of the Hungarian public education system, of which the most significant are:
teachers' wages are 60 percent of what other university graduates make
the salaries of those who assist them, for example the special education teachers, haven't been raised since 2008
thousands of teachers retire each year, and there aren't enough new teachers
one-fifth of the elementary schools have been forced to employ unqualified staff
Due to all of the above, they are demanding a pay rise, a reduction in their workload and the restoration of their constitutional right to strike.
Meanwhile, they began organizing a strike. Their goal is to organize a country-wide, comprehensive strike like the one in the previous school year. The preparations and negotiations are currently underway, and in Gosztonyi's opinion, a strike is likely around the end of November.
The government's threatening letter was sent to the wrong address
State Secretary for Public Education, Zoltán Maruzsa recently sent a letter to the Teachers' Union, in which he asked the teachers not to support the civil disobedience movement. His reasoning was that if they did so, teachers would set a bad example for the youth, as not abiding by the country's laws is morally worrisome behaviour.
Tamás Totyik, PSZ Vice-President had this to add:
"The government sent that letter to the wrong address, (...) what moral basis do they have for lecturing us?"
In his opinion, the trade unions are not organizing any sort of civil disobedience. If anything, they are encouraging their colleagues to adhere to the country's laws. Before he started his speech, he placed a small, white chair in front of him. He asked all teachers working in public schools to do the same, symbolically requesting that President Katalin Novák sit down with them and finally listen to their complaints.
Meanwhile, a group called Diákok a tanárokért (Students for teachers) is organizing a protest for Friday, 2 September in front of St Stephen's Basilika in Budapest, with 19 thousand people having expressed their interest to attend on the event's social media page.
A similar protest was organized in March, where we spoke with several of the students who came to express their solidarity with their teachers.
The translation of this article was made possible by our cooperation with the Heinrich Böll Foundation.