Hundreds returned to Romania – thousands decided to stay
August 03. 2022. – 04:57 AM
updated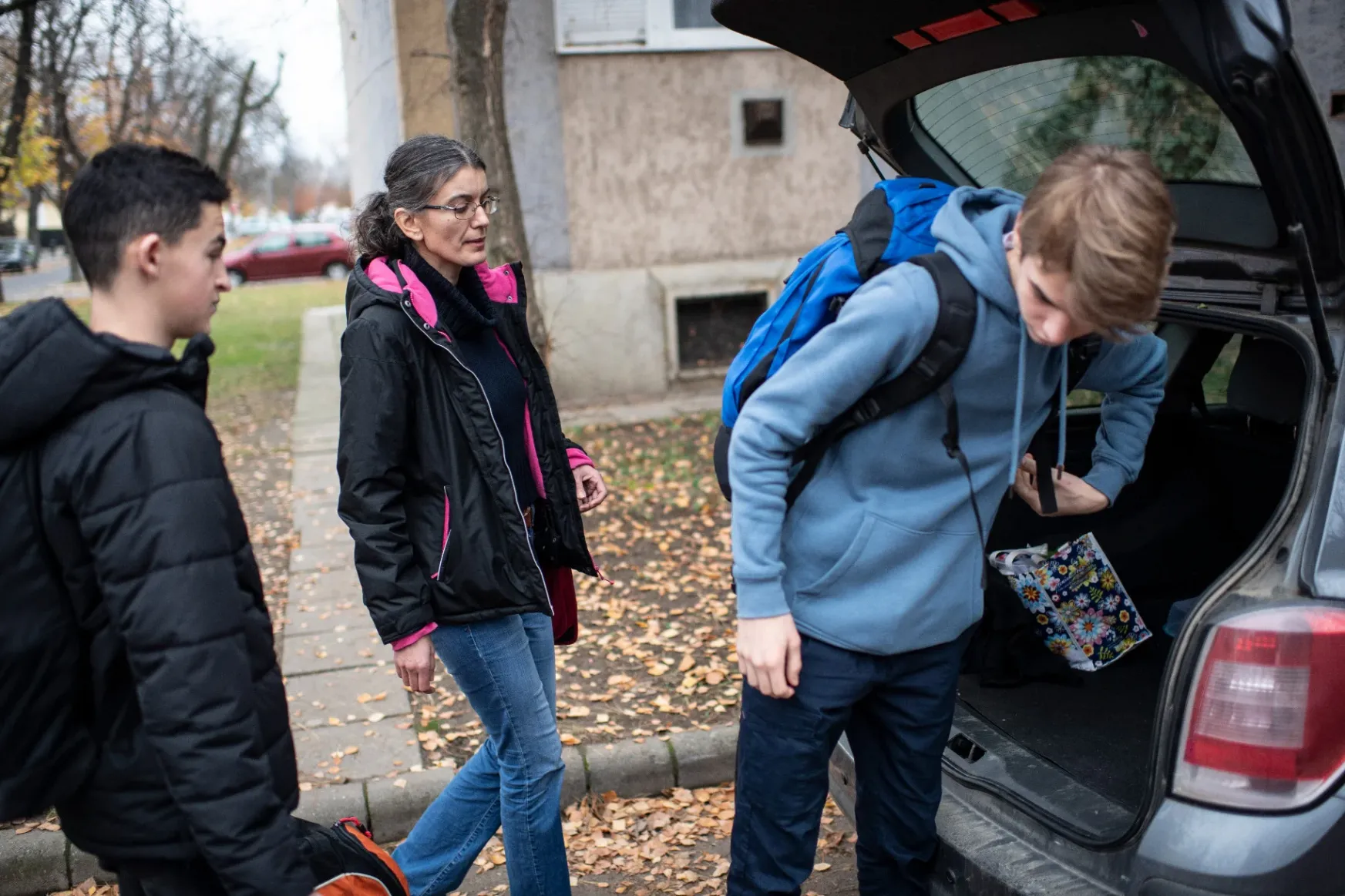 Örs Horváth-Ozsvár heading home to Zerind from Gyula with his classmate and his mother Erzsébet from the parking lot of the Erkel Ferenc High School on Friday afternoon – Photo by János Bődey / Telex
Every year, more and more students are crossing the border into Hungary from Romania's Hungarian-inhabited settlements to continue their secondary education. The Hungarian-language high schools in the once Hungarian region of Partium (present-day Romanian regions of Crişana and Banat) have been hit hard by the brain drain. In the long term, these communities in the Hungarian Diaspora may also face challenges if the educated population of the future decides to permanently settle in the land of their ancestors. A year and a half ago 16-year-old Örs started high school in Gyula, and although he loves his home village of Zerind, which is on the other side of the border, he says he now feels more at home in the Hungarian town than in his Romanian village. With the aid of his example, we present the story of the teens who are making the commute from Romania to Hungary.
It's 2 p.m. on a Friday, and we are waiting for Örs and his classmate with his mother in the parking lot of the Erkel Ferenc High School's residence hall in Gyula [a small Hungarian town on the border with Romania]. Erzsébet Ozsvár was already waiting for us when we pulled up to the parking lot. We had to wait a few more minutes for her son to show up.
16-year-old Örs Horváth-Ozsvár lives in the village of Zerind in Arad County, Romania, which is less than 10 kilometers from the Hungarian border as the crow flies. And yet, because of the border crossing's location, he still has to travel more than 40 kilometers in a semi-circle to get to the village. Although Örs completed the first eight grades of his education in his hometown, the now tenth-grade student started secondary school in Gyula, on the Hungarian side of the border: "I made the decision to continue my education in Hungary relatively late: around the end of eighth grade when we were taking our final exams. It was then that I realized that I was simply terrible at Romanian. I knew that I wanted to go to a Hungarian-language school – that was for sure – but I didn't have any concrete plans."
And Örs is not by himself: year after year, more and more students from the surrounding area are opting for high schools in Hungary instead of Hungarian-language high schools in Romania. For example, before setting off for the Romanian border after having picked up Örs and his classmate, we made a stop at Nicolae Bălcescu High School [also in Gyula], where we picked up two more students from Zerind.
"Multiple students make the trip out there, so we coordinated with one another. Four students can fit in a car, so we made a Facebook Messenger group and arranged who would make the trip out together and who would come back together. For the eight students, we're able to manage with two cars. Some of them go back Sunday evening, and some go back Monday morning,"
– said another parent, Márta Pap, whose daughter, Hanna, also makes the trip from Zerind out to Gyula to attend class at Erkel High School. It was through her that Örs first heard about the school, as she had already been going to Gyula for a year: "We visited the place on one of the open days. We really liked the school and the residence hall. The teachers were pleasant and friendly, and I think that was the moment we made our minds up."
Whoever goes first from a community always has somewhat of a harder time
Erkel High School's principal, Ida Zámori, said that there are now 15 students from across the border who are living in the dormitory: "They all come from nearby towns on the border – most of them from Salonta. All of our students stay here at the accommodations on school days, but they all go home on weekends. Our residence hall is well-equipped, and the students are comfortable here. We've had students here from across the border every year for the past 20 years."
Örs went to Erkel with an old classmate from elementary school, and the two of them once again wound up in the same class: "That made things easier, but I also got some very good roommates at the residence hall – and a good class too."
His mother, Erzsébet, added that it is always a little harder for the first person who goes across the border for high school – but after that, they're regularly asked about the high school by their acquaintances in Zerind.
"Erkel's students also personally share their experiences at the school and the accommodations with those of their peers who are in the midst of picking out a school. Such experiences will probably always serve as a more credible and compelling appeal for potential students than information from any other source," wrote Erkel's principal in response to our inquiry. The principal of the Nicolae Bălcescu High School in Gyula also told us that most people hear about them mostly by word of mouth: "This is how it has developed over decades – our students from across the border have been spreading the good reputation of our school back home. Kids from Romania are eager to apply to us," says Dr. Mária Gurzó Czeglédiné.
According to the head of the Romanian minority institution, more and more students from Romania are coming to their school – not only ethnic Hungarians but also Romanian students – as their school is bilingual: "This phenomenon of kids coming over to study from Romania and the surrounding villages began years ago. However, the accession to the EU and the possibility of getting dual citizenship have given it a further boost. We primarily receive students from mixed families over there, but also mainly from Romanian-speaking families. There are also some students from Salonta, and most of them are bilingual – something which they continue to develop throughout their studies."
According to Czeglédiné, the accession to the EU has rendered the borders "immaterial", thus bolstering the flow across them: "It has been our experience that students have a positive effect on each other, even when it comes to language. The Hungarian children 'from over yonder' tend to develop their Hungarian better with us, while the Romanian children from across the border bring along beautiful Romanian expressions to share with those from Hungary. Friendships and romances have sprung up over the years on both sides, and some of them even resulted in marriages."
But the students won over by the high schools on the Hungarian side of the border (e.g. in Gyula) represent a serious loss for the neighboring Romanian high schools – such as for the Csiky Gergely High School in Arad. It is the only Hungarian-language secondary school in Arad, the county where Örs' village of Zerind is located, And according to the principal, Tünde Spier, the competition for students with high schools in Hungary is mounting.
"Every year late in the fall, we survey the 8th-graders in Hungarian-language schools regarding who will be going onto high school the following year and assess their needs and desires. In the past, we just focused on which course of study they wanted to pursue from those that we could offer, but in recent years we've found ever more frequently that they don't intend on continuing their studies here – in Arad, Timișoara, or Oradea – rather, they plan on going on to high school in Hungary," Spier said. She also believes that this phenomenon has been growing in recent years:
"We're left wondering why they decide to do this – after all, they have to live at residence halls if they go to Hungary, and they can only come home on weekends. Meanwhile, here we also have residence halls that are free with the funding from Hungary. So we're trying to compete with them in this respect as well. And yet they choose to continue their studies there – which is understandable if they choose a course of study that we don't offer, but if we're talking about one that we have as well, you can't help but think that the student is likely planning on continuing to university there. That's when you start to think about the local community – about how it will possibly lose these students when they grow up because few of those who study in Hungary ever come back."
Of course, this also puts Csiky High School in a difficult position, as the financial resources needed to maintain schools in Romania depend on the number of students: "It makes a difference whether a class is run with the maximum number of students – around 26 – or the minimum of around 15-16. Of course, if a class only has 16 students, it is much easier to manage, the grades are better, and we can give more individual attention to the kids. In terms of the overall headcount, on the other hand, it is a disadvantage for any school where the enrollment is not close to the maximum,"
– Spier told us during an interview in Arad last September. We visited several towns, villages and schools along the border for this story in order to assess which regions are most affected and why students are opting to cross the border:
Although the journey from Zerind to Gyula is about 45 minutes by car, the city was still considered close for Örs' family, which was an important factor in choosing the school: "We also talked about Pest, but we thought it was a bit far. So we thought we'd look around. Here in Romania, we knew what the schools had to offer, and what the residence hall options were. And then we crossed into Hungary because we already had a pretty close connection to Gyula. We go there a lot – we go there to play soccer and other sports. It's almost a daily affair."
Erzsébet and Örs visited Erkel High School on one of its open days. "From the very first moment, I was very impressed by their attitude towards the kids, and I would also add that students in Oradea pay about twice as much monthly to stay at the residence hall, i.e. for room and board. Here, the residence hall is free and you just have to pay for the meals," said Erzsébet. A number of our interviewees also brought up the free housing at Hungarian high schools. However, it should be added that not all high school students in Romania have to pay for accommodation: in Arad, for example, accommodation at the residence hall is free thanks to the funding provided by the Hungarian government.
Although it was not a priority for Örs' family from the outset that the boy should go to school in Hungary, there was one decisive factor that, according to Erzsébet, really tipped the scales in favor of the school in Gyula:
"My husband is from Hungary, and he recounted his high school years there, and then I reflected on my time in high school here in Oradea. Even though I speak Romanian quite well now (because I learned it when I had to) I always felt, as perhaps did my classmates at the time, that my energy at this stage of life – when you're becoming acquainted with various things, diving deeper into them, and seeing the world opening up to you – that energy was lost on cramming texts and Romanian biographies for school, which was an extra burden. I have an acquaintance who has since gone on to do a Ph.D. in Munich in math and physics, and he too said that he could see himself during those four active years sitting there and just cramming, cramming, cramming."
When the time came to choose a school, Erzsébet was of the mind that if her son wanted to skip that sort of experience, she would respect and permit it: "I don't think it would provide him with something extra. In fact, perhaps it would mean one less burden for him."
Hanna's mother had a similar experience: "I once had a conversation with a neighbor who graduated from high school in Oradea, started university there, transferred to Timișoara, and finally ended up in Germany, where he did his master's and doctorate. One time when he came home we got to talking and somehow it came up that he wasn't a bad student in school, but Romanian always affected his academic performance. He said that he had devoted a lot of time to Romanian, had studied it a lot, but he still couldn't get good marks. What's more, it took time away from the other subjects that he was taking the entrance exams for."
"That's when I started to reflect on it: why spend your precious time learning Romanian when you aren't really making any progress?"
After that, they found a way for Hanna to continue her studies in Hungary – after all, they'll still find a way to manage later on without the knowledge of Romanian.
Every interviewee pointed out that Romanian is a difficult language for students – this was the most frequently cited reason for the increasing number of kids leaving Romania for Hungary. The cases of Hanna and Örs are prevalent not only in Zerind but throughout the entire Hungarian community in Romania. For decades, it was common practice for Hungarian-speaking students to be taught the official language as if it were their mother tongue – and not a foreign language that they hear for the first time at school.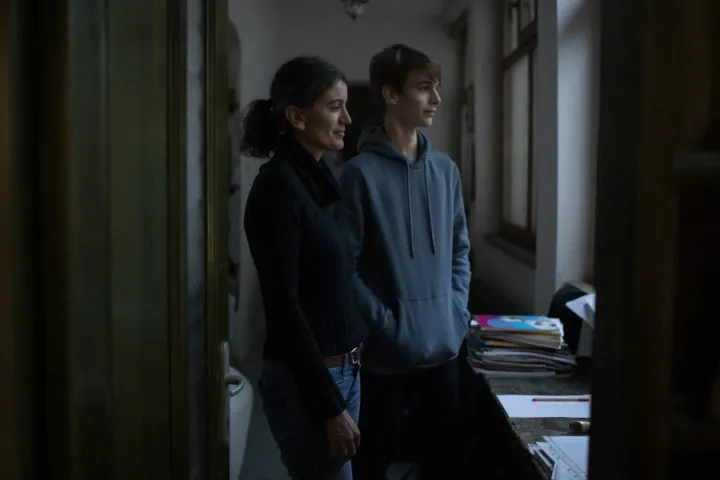 At least, almost exclusively at school: Örs, for example, doesn't have any Romanian friends, so he never had to use Romanian outside the walls of the school – not with his friends, not with his family, not even in the village. Even so, he says he would like to learn the language – as knowing a foreign language is always useful – but it seems that even he is faring better with English.
"It's no coincidence. We hear this a lot: how peculiar it is that they can learn English, but they can't seem to learn Romanian. But beyond pedagogical methods and the perceived or real political intentions, there is also a psychological aspect to this,"
– says Attila Z. Papp, director of the Institute for Minority Studies at the Center for Social Sciences. According to Papp, a serious psychological barrier would also have to be overcome to ensure that Hungarians in Romania do not shy away from the Romanian language. He cited an example from Székely Land [a region in the center of Romania inhabited mainly by Székelys, a subgroup of Hungarians]:
"I was at a school meeting somewhere in Harghita County, and I proposed to the parents to organize an afternoon club where they would listen to popular Romanian music or pop music or watch Romanian films. They found the idea unthinkable in that village, saying 'oh come on!', as if they should listen to Romanian pop music, or 'oh come on!', as if there were any good Romanian movies – but I think there really are."
Although the issue has long been unresolved, there has been a shift: a few years ago, a new competency-based system for teaching the official language to non-native speakers of Romanian was introduced in the lower grades. Hungarian educational administrators in Romania hope that students will also be more willing to take Romanian as a foreign language if language teaching is based on communication rather than on textbook knowledge.
But Papp is more skeptical: "It's a different matter that despite this, young people are still not learning Romanian, not least because competency-based education also demands a new approach from teachers. It is not enough to simply make such a decision about education policy and publish a new textbook or two. It would require a lot of training and external support to help teachers who previously taught in a different way to change their previous practices a little – to make the transition to this new method," says the professor from the University of Miskolc.
Another aspect often brought up by parents and students was the difference between the education systems in the two countries: whereas the focus in Romania is mostly on textbook knowledge, in Hungary the emphasis is more on practical knowledge.
"We have many agreements with schools in Hungary, and through our sister schools, we can also get a glimpse of the teaching and activities going on there. I don't necessarily want to characterize it as a negative or a positive, but while education in Romania still has to focus on the transmission of information, the expectations in Hungary are a bit different. Such is the current state of the final exams that students take before graduation here. Maybe they put more emphasis on competency, which makes the high schools seem a bit more relaxed and easier to students," says Spier.
The principal of the high school in Arad added that during their visits to Hungary, even she and her colleagues can see "just how much you can do in a Hungarian or a math class apart from presenting the required material." But they can't exactly adopt much from the methods used in Hungarian schools because "we have to maintain our standards, and we also want to see good results on the graduation exams." However, Spier says that those who finish secondary school in Romania and go to university in Hungary "have it pretty easy."
"Despite the many criticisms that could be made about the Hungarian education system, I would venture to say that the internal educational developments in particular – especially those that have added nuance to the pedagogical culture in one way or another – are more pronounced in Hungary than, say, at an average Romanian high school where the good ol' lecture style of teaching still dominates in 99% of the cases", says Papp. According to Czeglédiné, principal of Bălcescu High School, the Hungarian education system is more competency-based, whereas the kids arriving from Romania "are always ahead in foreign languages – even English or French – and they're also very well prepared in computer science and mathematics."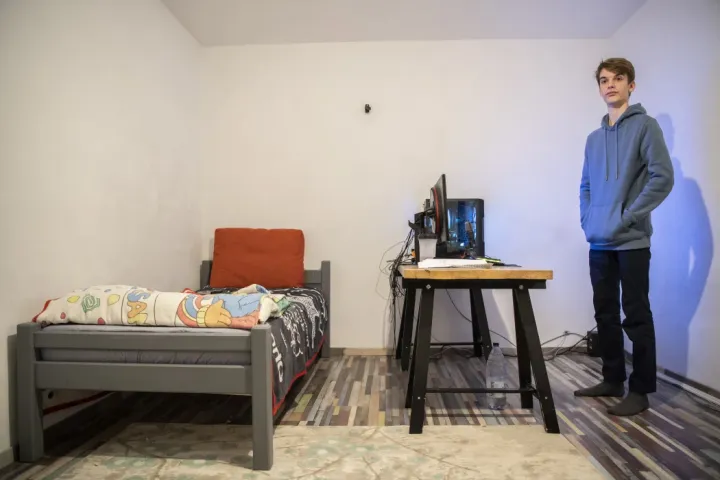 Yet it's not only the teaching methods that are different in Hungary, but also the circumstances. "I have three daughters, and when my eldest started high school, they didn't have all the textbooks: some of them were bought, and some were photocopied," says Hanna Pap's mother, Márta. "And then when Hanna went into grades 5-8, they didn't really have the textbooks that they needed. When my youngest daughter entered the system, I saw that there were no textbooks: either there weren't enough, or they weren't even printed at all." Then Hanna went to Gyula for 9th grade, where "everyone got a book that was brand new, and they didn't even have to return them."
"When our school was operating with the digital format, students from across the border had the same opportunity to attend lessons as their Hungarian peers. For this reason, the border itself did not prove to be a barrier to learning, and this was confirmed by their end-of-year academic results and their graduation examinations. A diploma from our school serves as a good stepping stone to any higher education institution," says Ida Zámori, principal at Erkel.
Of course, the pandemic has also caused some disruptions. Örs said that the wave that arrived in the fall of 2020 hit at a bad time: "We had maybe two and a half months of class in person, and then we went home. I didn't really get to know my classmates. We didn't talk much, so we weren't that social with one another. And then during the online lessons, I didn't really strain myself with studying – and neither did most of the class, I think. But in the end, when we went back, we had five weeks of in-person class, which was really just for us to get to know each other and prepare us to be ready to really hit the books again in September." This past November, he said he hoped there wouldn't be any more school closures because of the outbreak – granted, there had already been disruptions earlier that month.
No, I'm not Romanian
One question that could easily come up is whether there are conflicts between the Romanian and Hungarian students, or rather, between the students from different sides of the border. According to Czeglédiné, this is not at all the case at Bălcescu High School: "A few years ago we had guests from Târgu Mureș who brought up this issue in a theater production, but our students didn't really understand what kind of conflict there could be. It is so natural for them – as Romanian and Hungarian-speaking students – to be mixed together here, that it doesn't even occur to them. It's just like the fact that there are older students and younger ones, graduating students and schoolchildren, and there's a nice, harmonious relationship between the generations. There is a kind of positive aura about our school: a positive spirit or atmosphere, a sense of family."
Hanna and Örs go to the exclusively Hungarian-language Erkel High School, and yet they have not had any major problems with the fact that they're commuting from Romania. Hanna says, however, that the environment in Gyula was very different for her than in Zerind: "It was as if I wasn't even talking to my friends in my native language. Sure we understood each other, but our customs were completely different, and because of the quarantine, it took us a while to get used to each other. But now we've got to the point where we're familiar with each other's ways, and they're always asking us, 'what is this or that like in Romania?' There are times, for example, when they're not familiar with a word I said, and they're bewildered by it. But actually, the environment here was very accepting and only once did I hear, 'Hey you, Romanian girl,' to which I said, 'No, I'm not Romanian.' And after that I never heard it again."
Neither did Örs have any serious problems fitting in:
"We joke about it – even I joke about it – it doesn't bother me at all. I have a classmate from Salonta who is rather bothered by it, but I couldn't care less. I'd rather that we joke about it than for me to take it seriously."
"It's not really worth it, and actually I have a lot of classmates who live in Hungary and have much more in common with Romanians than I do," Örs added, referring to the large Romanian community in Gyula and neighboring Elek.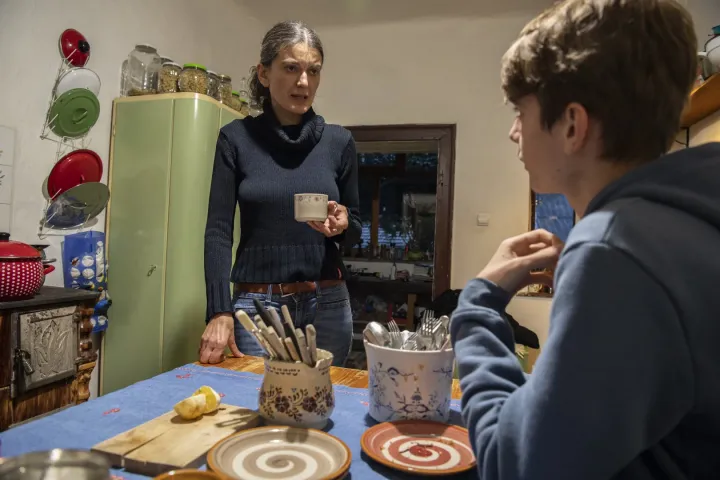 We visited several Romanian towns and cities along the border, and wherever we went, parents and teachers alike told us that there were more and more Hungarian students from Romania who would like to continue or are continuing their secondary education in Hungary. Szabolcs Sütő is a cultural coordinator who usually gives folk dance lessons to elementary school students in Șimian, Bihor county: "When I did a similar survey at a dance group of sixth and seventh graders, and more than half of the children said they would like to continue their studies in Hungary."
"We find that about 15% of our students that finish 8th grade don't end up in the secondary school system the following year. This 15% is missing for a number of reasons: part of them simply don't want to continue their studies – which is especially true for disadvantaged students. Many of them don't have the opportunity to do so. Others take up work in unskilled jobs: based on our data, they account for about 7 of the 15 percentage points. Some continue their studies in Romanian because they can't find their desired degree within our academic network. And there is a proportion who continue on in Hungary," said Hajnal Kéry, deputy superintendent of Bihor County.
This is compounded by the fact that the number of children in general is falling – just as in Hungary, so too in Romania. Ottilia Szejke, deputy superintendent of Satu Mare County, says that more and more schools in Hungary have been advertising themselves in Romania to attract children across the border – yet she would not call this a threat. According to their figures, Hungarian students from this county are more likely to cross the border at the end of secondary school:
"We have secondary schools that parents trust. Probably another obstacle is the need to cross the border. That's why the curriculum is different. (...) I am very happy that this is not a trend in Satu Mare County, and I hope it will not become one. At the opening and closing of the school year, we always make it clear that we need skilled professionals here. We're also trying to encourage college students to come back who completed their studies in Cluj Napoca or at some other university – after all, they're the future, and it is through them that we will see some return on the labor invested in their education. But that's only if they actually come back."
Hajnal Kéry from Bihor County, however, considers the phenomenon not only threatening but also harmful: "I am of the opinion that every single student should be able to find their place in this education system, in their homeland – here, in Bihor County. We should do everything possible to provide them with the opportunities that will keep them here. For one thing, they have the right to study in Hungarian, so this is where we need to create the conditions for every single course, every single opportunity to continue their studies. At the moment there is already university-level education taking place in Hungarian in a number of places in the country. I believe that we need to find a place for our children and students as close as possible to their homeland," says Kéry. Of course, she says, "there will always be those who want something more, or something different from what is available here," but the majority of students crossing the border come from families where one or both of the parents work in Hungary or aren't even living in Romania in the first place.
Arad County's principal, Tünde Spier, also said that about ten percent of the county's Hungarian students go to secondary schools in Hungary, mainly in nearby Gyula. However, no exact figure is known on how many cross the border – and several researchers have pointed out that educational migration is not really traceable due to the existence of dual citizenship.
However, the trends and magnitudes can be inferred, at least according to Tivadar Magyari, who deals with the topic as the vice-president for education of RMDSZ (the Democratic Alliance of Hungarians in Romania), the most stable point of Transylvanian politics: "To put it briefly and simply, the first half of the 1990s may have been the time when this phenomenon was at its peak because, at that time, Hungarian secondary education in Romania, which had previously been slashed, was still recovering. However, back then it was much more difficult to obtain recognition for completing compulsory education abroad and to get diplomas accepted. These obstacles were later alleviated, but by then Hungarian secondary education in Romania had developed, higher education had also been expanded from the late 1990s, and the prevalence of attending university in Hungary had declined. However, at the turn of the millennium, especially after accession to the EU, it bounced back with the possibility of dual citizenship: partly because of the easier administration, but also, I think, partly for reasons of public perception and fashion."
According to Magyari, ten years ago, when individuals from across the border studying in Hungary were still registered as Romanian citizens, the statistics reported nearly one and a half thousand such secondary school students – mostly from families who had moved to the Hungarian side of the border or were temporarily staying there because of the parents' work. Today, Magyari estimates the number of students attending schools in Hungary to be around five hundred, despite the fact that there are Hungarian institutions in Romania.
"This would be equivalent to a Transylvanian Hungarian secondary school, and the bulk of these students are missing from the Hungarian-language schools in Bihor, Satu Mare, Arad and Sălaj counties because of their proximity to the border," said Magyari.
The proportion of Hungarians in the first two counties is significant: in the northernmost Satu Mare County the proportion of Hungarians is over 35%, while in Bihor and Sălaj counties it is over 25%. However, in the southern part of the once Hungarian region of Partium – Arad county – only 9 percent of the population declared themselves Hungarian in the most recent census in 2011.
Magyari's estimates are supported by education statistics in Hungary, according to Papp: they show that the number of Romanian students coming to Hungary increased until 2004, but after accession to the EU, this trend decreased until almost subsiding after 2010. Of course, this is also linked to the introduction of dual citizenship, which meant that a significant number of students from Romania were registered in the system as Hungarian citizens.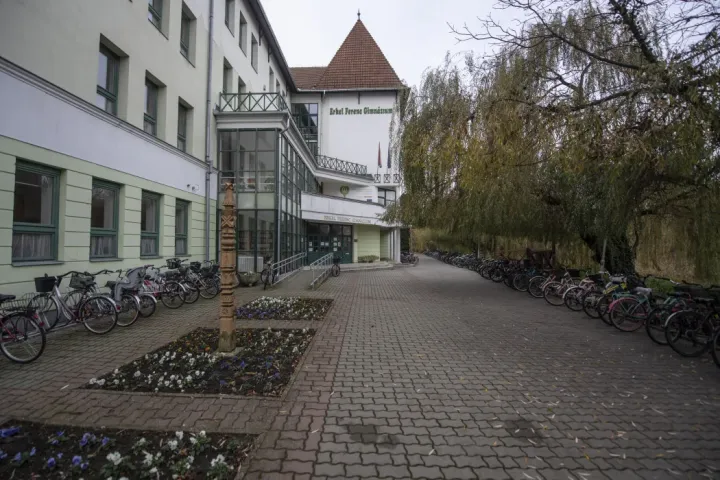 Those who opted to change countries when changing schools often criticize the shortcomings of Hungarian high schools in Romania – a point that Tivadar Magyari would dispute. "Let's be clear: most of these are only perceived shortcomings, as most of our secondary schools in Arad, Bihor and Satu Mare counties are on par with the competition," says Magyari. He also often hears parents say that they fear their children will not get into their desired secondary school, so they would prefer to enroll them in a Hungarian school. "But this is a matter of mentality: for the majority of Hungarian families in Romania who are thinking about the continuation of their adolescent child's education following eighth grade, they often imagine a high school with a theoretical curriculum. (...) However, theoretical courses only make up part of what the secondary schools have to offer," added the politician.
Magyari also points out that educational migration might be the driver of the emigration, as without having passed the graduation examination in Romanian, those who have distanced themselves from the language would not be able to fully integrate into Romania's labor market. Thus, municipalities along the border might be losing students who would have otherwise contributed to the intellectual class of the future, explains Papp:
"If we look at the data on higher education, even here we would observe an exodus towards Hungary. Those who have already completed their higher education there – especially if they had completed their bachelor's degree there and went on to do a master's or even a Ph.D. – are unlikely to return to their home country. In this sense, the phenomenon is definitely a loss of human resources from a minority perspective."
Although parents think that attending secondary school in Hungary does not hinder children from coming back to Romania for their higher education, the general experience is that those who end up on the Hungarian side wind up staying there – and that is the plan for Hanna and Örs as well, at least for the time being.
The principal of Bălcescu also mentioned that although precise figures aren't available, the proportion of their students continuing their studies abroad is much higher than in Romania – and that the "lion's share" of those who studied abroad eventually moved back to Hungary. "Most of them continue their studies in their home universities, but the Romanian state provides scholarships for those who do their higher education abroad – if they wish to do so. That's why our students have been studying abroad for the last 20-25 years. We did the count, and, in total, nearly 100 of our students with Romanian citizenship have completed their studies in Romania. But here we have many hundreds, if not thousands, of students attending a wide variety of colleges and universities, and our most successful students are accepted into trendy programs from Corvinus University onwards," said Czeglédiné.
Better to be a Hungarian here than a Romanian there
Could this emigration turn into a large-scale exodus? According to Papp, no: "I don't know what would have to happen to kick off such a mass migration, but as a phenomenon, I think it will be ever-present with fluctuations of its own." However, the research professor added: "What is a loss for one minority community can easily be a gain for another in terms of employment. And the implicit idea here is that if there is already a high level of emigration, then 'it is not so bad' if it leads to Hungary. Better that they're saved in this manner rather than staying put and possibly assimilating." While no one is openly encouraging emigration, of course, he believes that the institutions of streamlined naturalization and dual citizenship are inherently galvanizing the trend. Emigration is also partly in the labor market interest of the Hungarian state:
"For a long time – perhaps even to this day – Hungarians living outside the borders were seen as a source of demographic replenishment. But this is misleading because there is also a significant decline in the border regions, and if we knowingly add to this, the minority Hungarian community will dwindle even more – exponentially, so to speak," said the researcher –
"Just think about it: if we take Transylvania as an example, the latest census says there are now only 1.2 million Hungarians living there."
"If we include the fact that roughly 10% of these are Roma whose native language is Hungarian, then this figure is even lower for those specifically of Hungarian ethnicity – whereas around the time of the fall of Communism in Hungary, the claim was that there were two million Hungarians living here. Obviously, it was not two million, but still, compared to the 1.6-1.7 million reported at the beginning of the 1990s, this is a rather significant drop in the short span of twenty years."
"Every student who chooses to continue their education abroad is a loss for us, for the community. A community works well when its members are active, when they're here, and when they're involved in all kinds of activities. Of course, if there are fewer of us, the community is weakened a bit," says Spier, who says that this implies that we have to fight the phenomenon – each by their own means, of course:
"If I knew what had to be done as far as politics is concerned, I wouldn't be sitting here doing this. We as a school are trying to do something about this by getting to know the activities and daily life of secondary schools in Hungary. We are in contact with them and even if we can't change much in terms of learning – because we are tied to a specific program, and I can't simply toss out a chapter just because it's difficult – we try to compete with the schools in terms of extracurricular activities to make sure the children enjoy themselves here."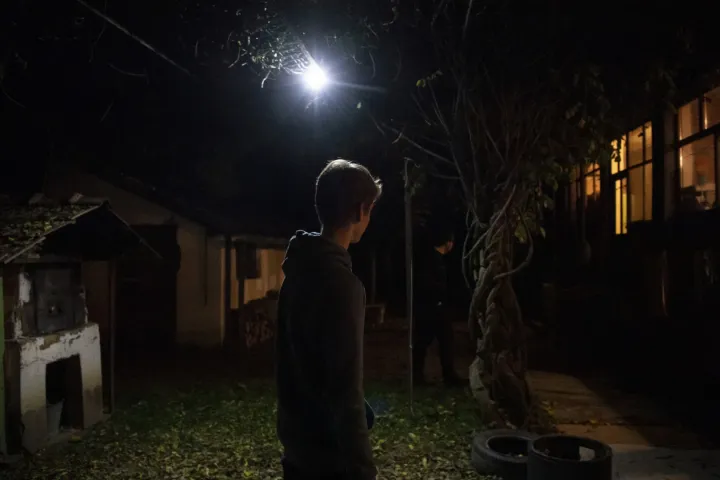 But for those who have already started their studies on the Hungarian side of the border, it can be very difficult to get them to come back. We visited Örs twice: first in early autumn and then at the end of November. Back in September, he said he would be happy to imagine his future in Zerind, as he is fond of the village: "I haven't given much thought to the idea of further education, but I've heard very good things about the universities in Romania, and many people I know have decided to come back here after studying in Hungary. But that's still a question for the future." By November, however, he felt at home in Hungary:
"Well, I'd rather live in Gyula than Zerind now. I really like my old village and the people, but I don't know, I haven't given it much thought. I don't remember what I said in September, but I think I'm feeling less strongly about it."
He only keeps in touch with one friend from Zerind, who is also his classmate at the Gyula high school – "the others who I was good friends with until then, I absolutely don't. I rarely talk to them." Of course, Örs does not rule out the possibility of getting a job in Romania in the end.
Szabolcs Sütő, an adult educator from Valea lui Mihai, Romania, also believes that it is "certainly in the cards" that the kids who are already studying in Hungary in secondary school will continue their lives there: "It could be said that 80% of them don't really come home or even go abroad because financial considerations matter as well. In fact, it's the most important thing for people nowadays: as I like to say, 'Oh soul, my soul, but how do I fill my bowl?'. In short, I think the majority of them stay there and don't come home."
This article, a collaboration between Telex and Transtelex, was made possible thanks to the NewsSpectrum Fellowship Programme supported by the International Press Institute and MIDAS.
The translation of this article was made possible by our cooperation with the Heinrich Böll Foundation.