Portrayal and promotion – Hungary's latest anti-LGBT law, explained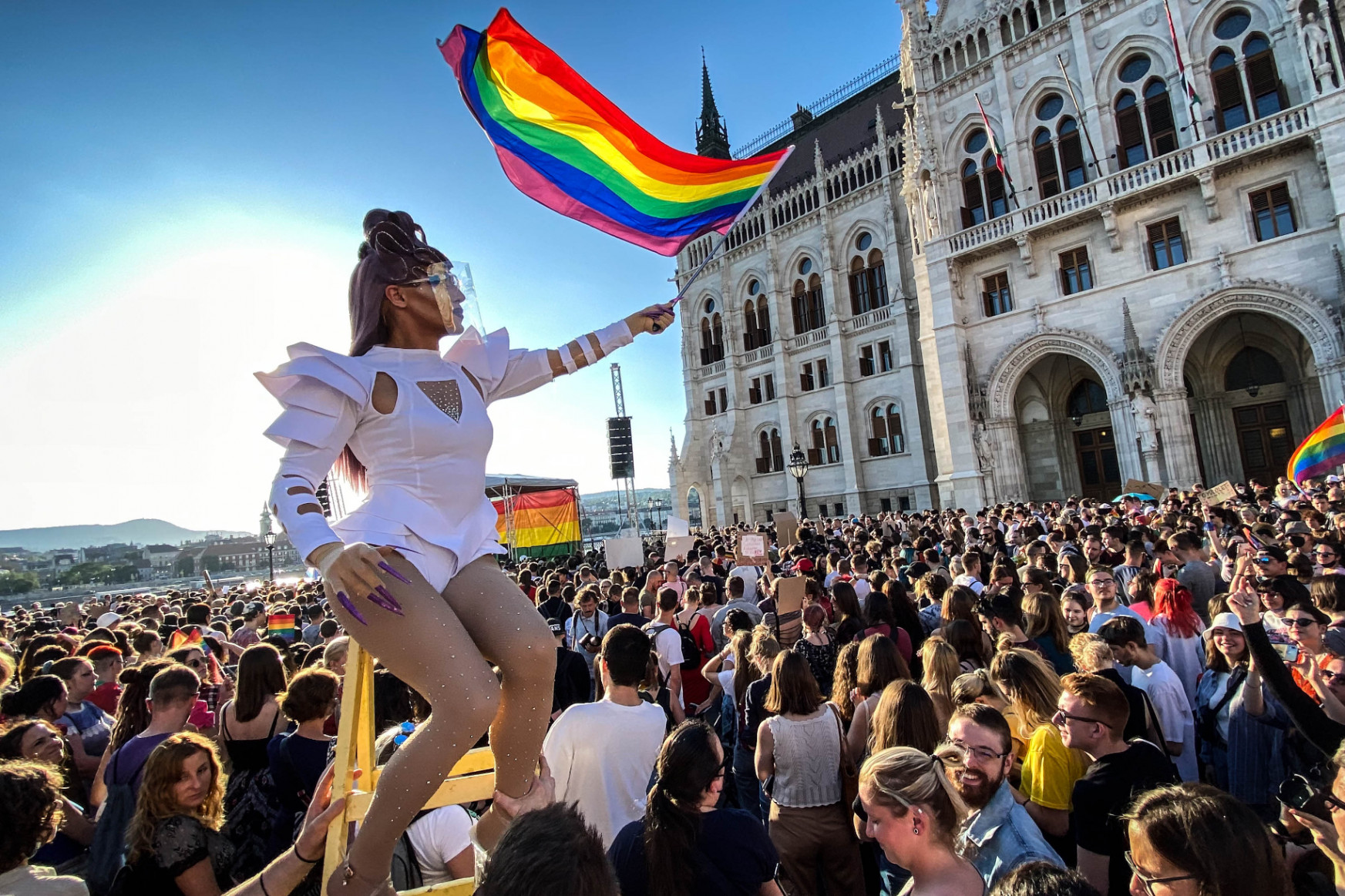 Thousands of people protested the bill conflating sexual minorities with paedophilia last Monday in Budapest at the event dubbed "Tolerance instead of the Propaganda Act" in front of the Hungarian Parliament – Photo: István Huszti / Telex
News about the Hungarian anti-LGBT law quickly made headlines all over Europe, sparking heavy criticism, prompting 17 EU member states to sign a joint statement on Tuesday, calling on the European Commission to act against the discrimination of sexual minorities in Hungary. On Wednesday, the President of the Commission, Ursula von der Leyen, held a press conference where she called the bill a "shame," as it "clearly discriminates against people based on sexual orientation." But what is this law, and how does it fit into the Hungarian government's anti-LGBT agenda?
Last Tuesday, the Hungarian Parliament passed a law introducing heavier sanctions on sexual crimes against minors. However, due to last-minute changes submitted by MPs of governing party Fidesz, the act now outlaws "promoting or portraying" homosexuality or sex reassignment to minors and limits sexual education in schools. The act sparked a major controversy, and on Wednesday, the President of the European Commission also responded:
Calling the new law a shame, Von der Leyen said that the bill goes against all the fundamental values of the European Union, stressing that she believes in "a European Union where you are free to be who you want to be," promising to use all the powers of the Commission to ensure that the rights of EU citizens remain protected, so she instructed the responsible commissioner to write a stern letter to the Hungarian authorities expressing the Commission's legal concerns.
Earlier, several embassies in Hungary spoke out against the law, including those of Germany, the UK, and the USA, the latter quoting President Joe Biden's Pride Month proclamation:
"We see you, we support you, and we are inspired by your courage to accept nothing less than full equality."
In protest of the law, and to spite the notoriously football-loving Hungarian Prime Minister, the city of Munich even tried to get the UEFA to allow lighting up the Allianz Arena in the colours of the rainbow for Wednesday's Germany v Hungary Euro2020 match. However, the football federation rejected the request as it was "a message aiming at a decision taken by the Hungarian national parliament," and as such, too political in nature to be allowed. Nevertheless, even if the stadium won't be, the rest of Munich will be decked out in rainbows for the match, along with several other stadiums in the country, although Viktor Orbán will miss the game. As Politico reported, he chose to dine with Giorgia Meloni, the leader of the self-declared post-fascist Brothers of Italy party in Brussels instead.
It started out innocently enough
Despite the international uproar it eventually caused, the original version of the bill did not target sexual minorities in any way; it was merely intended to increase the criminal repercussions of paedophilia. The criminal reform of sexual crimes against minors became a political hot topic in Hungary in mid-2020, following a scandal involving Hungary's former ambassador to Peru, Gábor Kaleta, who was busted by a US-led international law enforcement team that found nearly 20,000 pornographic pictures of minors on his computer.
Eventually, Kaleta had to pay a negligible, roughly €1500 fine but otherwise walked free with a suspended sentence. In the ensuing scandal, Hungarian governing party Fidesz vowed to reform the criminal code and introduce heavier sanctions for sexual crimes against minors. In late May 2021, Fidesz lawmakers finally submitted the legislation's first draft to the Parliament, which included:
The introduction of a national sex-offender database listing names, city-level addresses, and convictions of culprits of sexual crimes against minors,
Raising penalties for such crimes and introducing new aggravated cases such as sexual crimes against children under 12, committing such crimes while holding public office, etc. with no possibility for suspended sentences,
Banning culprits from practising certain professions,
Extending limitation periods and eliminating them for the most severe cases.
Although there were some disputes about technicalities, such as avoiding teenagers over 18 ending up in the sex offender database for sexting with their barely underage partners, there was a rare consensus in the Hungarian Parliament between the governing party and the opposition.
Bait and switch
However, that all ended on 8 June, when Fidesz's MPs submitted changes to the draft days before the final vote on the Anti-Paedophilia Act was scheduled to take place. Many regarded the new text as an attempt to conflate paedophilia and sexual minorities, as it added the following provisions:
No content featuring portrayals of homosexuality or sex reassignment can be made available to minors – according to the text, "in order to reach the objectives set forth by the present law and to protect the rights of children, it is forbidden to make available for minors content that features any portrayal of sexuality as an end in itself, any deviation from the identity corresponding to one's sex assigned at birth, sex reassignment, or promotion of homosexuality."
School sex educators can no longer "promote" homosexuality or sex reassignment – "When educating students on sexual culture, sex life, sexual preferences, and sexual development, special emphasis shall be placed on following the provisions set forth by Article XVI paragraph (1) of the Fundamental Law. These activities cannot aim to promote deviation from the identity corresponding to one's sex assigned at birth, sex reassignment, or homosexuality." The constitutional provision cited in the text is the one introduced with the controversial ninth amendment which also declared that "the father shall be a man and the mother shall be a woman."
Sexual education classes can only be held by registered organisations, limiting more liberal NGOs – Only organisations registered with a "state agency defined by law" may have (also registered) lectures in schools on sexual education, drug prevention, internet usage, or any other topics relating to mental and physical development. The law is pretty openly intended to exclude certain NGOs from education, the explanatory memorandum is clear: "Organisations of questionable professional credibility, created in many cases to represent certain sexual orientations," are trying to "influence children's sexual development with their so-called sensitivity trainings, causing severe damage to their physical, mental, and moral development."
Restrictions on ads with LGBT content – As the explanatory memorandum states, the law "amends Act XLVIII. of 2008 on Business Advertising in such a way that makes it unlawful to broadcast an advertisement to minors if the advertisement portrays sexuality as an end in itself, or portrays or promotes deviation from the identity corresponding to one's sex at birth, sex reassignment, or homosexuality. The amendment made to the Media Act makes sure that [any such programmes] must be rated Category V (not recommended for minors). Under the proposal, advertisements must also be rated."
Eventually, the proposal passed with 157 votes in favour, with most of the opposition leaving the chamber for the vote. Fidesz also managed to drive a wedge into the so-far historic opposition alliance, as besides their MPs, lawmakers of formerly far-right opposition party Jobbik also supported the bill, unlike the rest of the opposition parties, some of whom harshly criticised Jobbik.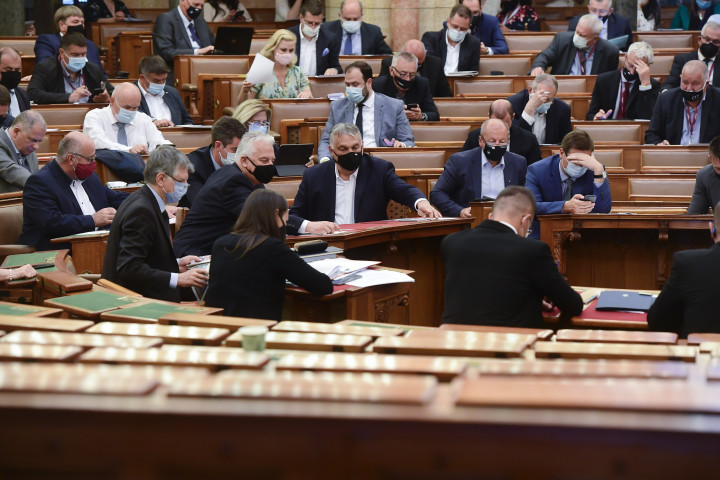 Although Jobbik's President, Péter Jakab, already made it clear in a recent interview with Telex that LGBT rights are not exactly the hill he wants to die on, Jakab explained that he disagrees with parts of the law that limit sexual education, yet he cannot condone the promotion of homosexuality. Jobbik's press office told Telex that if the opposition alliance wins in 2022, they will repeal "the sections that have nothing to do with the topic."
What does this mean in practice?
The meaning of these new regulations is just as difficult to decipher in Hungarian as it is in English, as there is no existing legal definition for "portrayal" or "promotion" in the law or in judicial practice. A statement released by commercial TV network M-RTL noted that the new law places movies and shows such as Billy Eliot, Philadelphia, Modern Family, and some instalments of the Harry Potter franchise into the same category as the goriest horror movies: they might only be broadcast after 11:00 PM, with a red circle indicating they are not suitable for audiences under 18.
The network emphasized that the new regulation severely discriminates against sexual minorities in the media and makes it impossible to fight negative stereotypes.
Other media companies such as A+E Networks UK, AMC, HBO, WarnerMedia, and ViacomCBS have also joined RTL's statement. Several organisations in the music industry also voiced their concerns. Music Hungary Federation said the law is "worrisome and incomprehensible," noting that the new provisions have nothing to do with the proclaimed goal of sanctioning paedophilia, and these restrictions will affect festival and concert line-ups and radio playlists as well.
Last week, undersecretary Balázs Orbán told RTL Klub that the law would be enforced by the "relevant authorities." He hopes that "everyone is prepared, understands the purpose of the act, and will be capable of making administrative decisions in line with the legislators' intent." Media1 attempted to test this by asking the professional opinion of the National Media and Infocommunications Authority (NMHH) on whether or not episodes of the TV series Friends mentioning homosexuality would have to be aired after 11:00 PM. Even though Balázs Orbán said that this specific example wouldn't fall under the scope of the regulation, he did not specify why, and neither did NMHH, writing that they would examine specific cases individually; otherwise, the bureau is not in a position to give legal interpretations. In essence, we will only see how the law gets enforced once an alleged violation gets reported.
"You don't turn gay because you saw gay people on TV"
Human rights advocates warned that the ban on LGBT portrayals in media and schools could harm the mental health of the LGBT youth. Háttér Társaság reminded that their 2017 study found that more than half of LGBT students have felt unsafe at school, and more than two-thirds of them suffered some type of verbal abuse regarding their sexual orientation. The Hungarian Civil Liberties Union urged civil disobedience against sections of the law targeting sexual minorities.
Last Monday, on the evening before the final vote, civic organisations held a demonstration to protest these new sections added to the proposal, attracting thousands of people. As the organisers wrote:
"MPs of the governing party submitted a proposal seeking to erase LGBT people from the public discourse and ban essential school programs that help young people get information and support. (...) They are attempting to conflate culprits of unforgivable crimes against children with members of the LGBT community."
Watch our video about the protest here:
This video has English subtitles. If you cannot see them, turn them on in the video settings.
There was another, smaller demonstration on Wednesday evening in front of President János Áder's residence urging him not to sign the law into effect. Organisers asked participants to bring letters addressed to the President telling their own stories about how their support network of their teachers, friends, relatives helped them during their coming-out and how the new law could harm LGBT youth. Activists delivered a thousand letters to Áder this Tuesday.
In the likely scenario that the President refuses to veto the law, it will enter into force 15 days after publication.
Think of the children!
Despite the international uproar, the Hungarian government insists that the law does not discriminate against anyone, as it does not affect decisions taken by adults in any way; it is all about protecting Hungarian children.
In an essay published on Fidesz's website, Prime Minister Viktor Orbán argued that "new Hungarian law does not conflict with any lofty ideals or European laws." As he writes, the law states that "only parents can decide on the sexual education of their children," school sex-ed shouldn't be at odds with the parents' intentions.
In his weekly radio interview on public media on Friday, he added that "only the gay community sees the law as homophobic."
Responding to international criticism, Minister of Foreign Affairs Péter Szijjártó said that an "enormous misinformation campaign, a global fake news campaign surrounds the law," stressing that the legislation does not discriminate; it is solely meant to protect children.
Minister of Justice Judit Varga, who was questioned about the law in the European Council on Tuesday, posted on Facebook that the anti-paedophilia law is a "good example for the international hate campaign against Hungary" and pleaded for, of all things, tolerance, writing she wants a Europe where "there are no sanction mechanisms and stigmatisation only because the member states have different ideological and cultural views."
Not an isolated case
However, these latest developments hardly surprise anyone who has been following Hungarian politics in recent times. The idea of limiting LGBT portrayals in advertising first popped up in government circles and the pro-government media shortly after Coca-Cola began their "Love is love" campaign in Hungary. Several members of the governing party are known to have spoken out against sexual minorities, most famously László Kövér, the Speaker of the Parliament, who compared same-sex couples' adoption rights to paedophilia, concluding:
"A normal homosexual is aware of the order of things in the world (...) and tries to fit in while not necessarily thinking he is equal."
Viktor Orbán's government had been carefully crafting the narrative against sexual minorities for years, and going beyond identity politicking and inflammatory rhetorics, this resulted in legislation curbing LGBT rights on several occasions, for instance:
The creation of this article was made possible by our cooperation with the Heinrich Böll Foundation.
Kata Janecskó contributed reporting. The video report on the protest was created by Péter Lengyel-Szabó and Dániel Simor.