MEP Tamas Deutsch: Fidesz and Telex are doing the same thing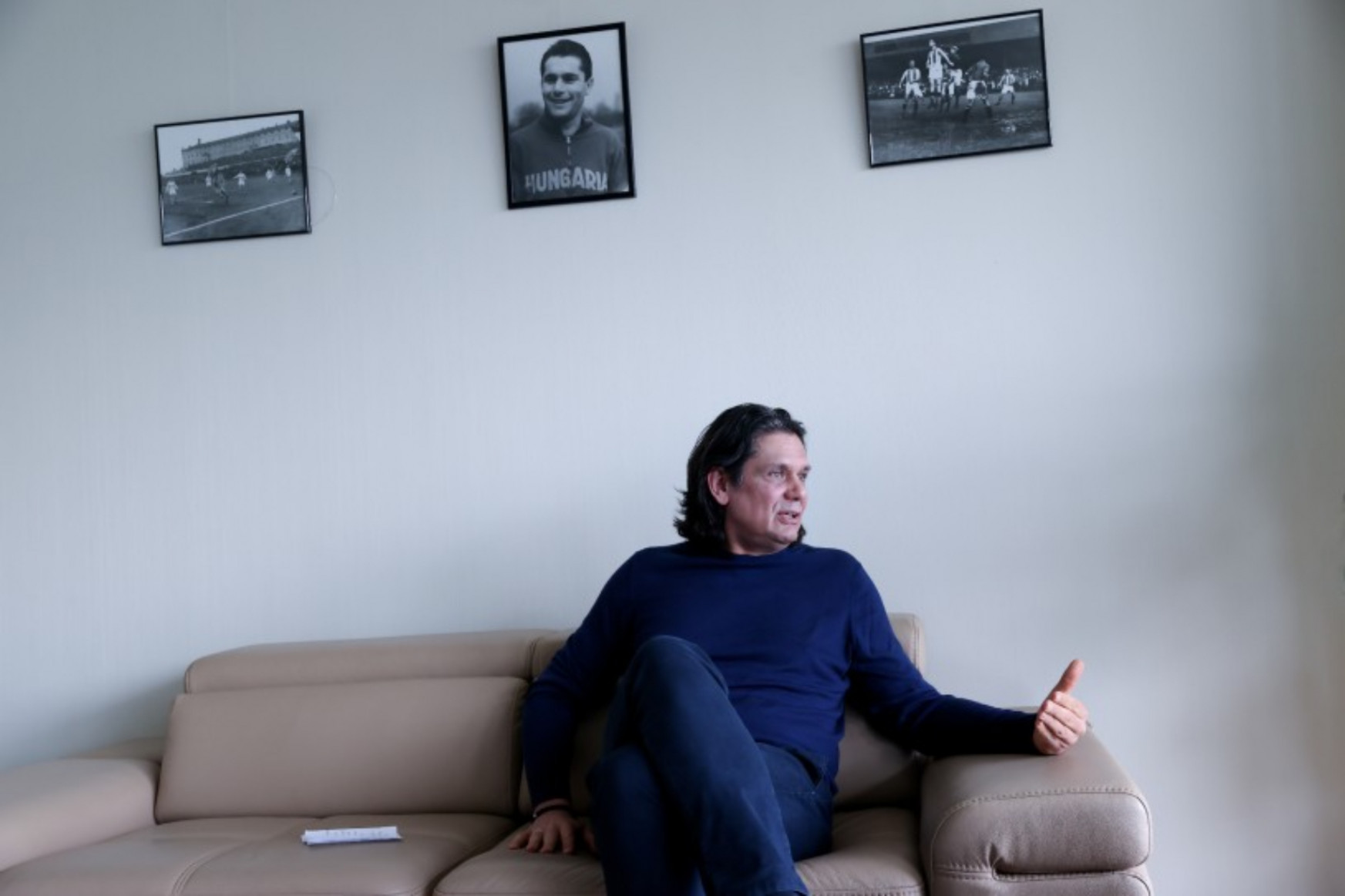 Photo: István Huszti / Telex
The Fidesz party left the European People's Party parliamentary group in March 2020 after Tamás Deutsch was suspended for leading ferocious attacks on EPP leadership in the Hungarian media.
Deutsch was the first politician in the history of the European Parliament (EP) to be suspended from a parliamentary group by his peers in December 2020. Previously a Minister of Youth Affairs and Sports (1999-2002), he was also elected in 2010 as the president of the MTK Budapest Futball Club, where he used to play in the youth team.
The Fidesz politician explains his political Manicheism by arguing that at least half of the media must be under government control and that Viktor Orbán's power of commanding the right-wing businessmen to buy media at his request is the same as the power of independent media financed by readers.
As a political zealot, Tamás Deutsch finds ways to harmonise contradictory statements regarding Hungarian isolationism in the EU and a commitment to remain part of the Union based solely on Viktor Orbán's decision.
Unsurprisingly, he fends off any suspicion of political corruption concerning men like Lőrinc Mészáros, a former mayor of the prime minister's hometown, who became the richest man in the country by loyally serving his political sponsor.
Marianna Biró and Tamás Fábián: What position do you play in the Fidesz team?
Tamás Deutsch: I have always been a striker, on the pitch and in politics. We will see whether I can still score goals or whether I am starting to turn slower or whether I can still get into a scoring position because of a quick forward pass.
Can you still score?
That cannot be forgotten. A good striker, when he does not score, is not said to have stopped scoring, but instead to have scored a goal a long time ago.
What is a goal in politics for you and Fidesz?
In politics, too, there is a decent success to be celebrated and recognised. To win an election is a success, to lose is a failure. Solving a problem, even if there is a debate, is also a success. But I am not saying that we should live our lives exclusively in the logic of success.
But what was your latest goal in politics?
Winning the 2019 European Parliament elections, for example. Getting above 50 per cent, taking 13 of the 21 seats up for grabs, is an achievement rightly envied by many.
What makes this your goal?
For us, both success and failure belong to the whole team. The winning campaign manager was András Gyürk. I do not want to adorn myself with other people's feathers, I have enough of them. I was one of the top players on the list, if you like, I was one of the leading faces in the campaign.
What has been a success in your life since then? Like a strong post or statement that goes around the press and gets quoted by everyone?
If we stick to the football analogy, scoring goals is not the only success on the pitch. You also have to pass, tackle, defend, drive the ball and run a lot. The team that does not win most of the matches will not win the championship.
Uncle Jenő Buzánszky's* everlasting wisdom is that there was a very simple reason for the Golden Team's world-beating success: they got to the ball first. Their opponents had an equal chance to get the ball, but Ferenc Puskás** was more skilful and quicker, so he got there first. Many people say that in politics, every day is a match, and if you win your match every day, you will win at the end of the tournament. And for many years, we have certainly got to the ball first.
*Jenő Buzánszky was a Hungarian football player and coach. During the 1950s he was a member of the legendary Hungarian national team known as the Mighty Magyars.
**Ferenc Puskás was a Hungarian footballer and manager, widely regarded as one of the greatest players of all time.
Big tape, small volume
A month ago you told Telex that it was a complete lie that the government was in any way restricting press freedom. What do you think about pro-government investors silently buying up half the press, including all the county papers, national news portals and commercial TV?
Every press product has an owner, but interestingly it is only in the case of organs labelled as pro-government that it matters who the owner is. I also think the categorisation implicit in the question, your mention of "pro-government investors", is largely untrue, biased and a lie.
We did not invent this categorisation, but Zoltán Kovács, the State Secretary for International Communications, stated in Tusványos in 2019 that the CEMPF's setup (Central European Press and Media Foundation which controls most of the media purchased during Orban's term, the Hungarian acronym is KESMA) had succeeded in "ensuring that almost 50 per cent of the Hungarian press conveyed the government's position". Do you deny that there is a category of pro-FIDES investor?
No. Just sticking with the example, no one was ever declared to be 'closer to the government' than Zoltán Speder (ed. owner of the Index.hu portal) and because of this, we have read in countless reviews the nonsense that Index was also close to the government when it is a well-known fact that it never was. And countless people have been labelled 'close to Fidesz' when if they are close at all, it is not Fidesz.
Do you think CEMPF does not convey the government's messages?
Tell me for once why, in your logic, a press organ that is not radically oppositional or critical of the government is immediately pro-government, or even party media?
Let us go back to the original question: do you not consider it a restriction of press freedom that investors close to Fidesz have bought up half the media and have aligned it with Fidesz's political goals?
Unfortunately, they did not buy up half the press, even though they had a substantial investment. CEMPF is an important player in the Hungarian media world, but if you look at the press products that are relevant in any way to shaping public life, there is a serious left-wing, liberal dominance, and we are still far from any kind of balance. We are moving towards it.
In the case of Hungary, the fact that a pluralistic press has been established and the decades-long hegemony of the left and liberals in the press has been ended is claimed by the left and the media establishment at home and abroad as a violation of press freedom.
And even the prime minister said that the situation in the media is more or less balanced politically and ideologically.
The set of organs that are not prejudiced against those who hold bourgeois, national, Christian democratic political views and which are not viscerally and radically negatively biased, is less influential than the other set. Moreover, the influence of the press does not depend on the number of organs but on their reach and volume.
Today, the volume of the opposition media is also stronger because the opposition has been completely without balls for a decade. Hence, the opposition press has taken over and replaced the opposition's policy-making.
So the fact that Fidesz has bought half the media, but the volume of its publications is lower, means that these investments were not so well thought out?
I think the crux of their whole approach is that, interestingly, there is never any investigation, interest or inquiry into the ownership of what is claimed to be independent or critical of the government, but is in fact the opposition press. The owners of these organs are above suspicion, there is never any political ulterior motive or connections in this world of ownership, these people are almost like Mother Theresa, who burn their money in loss-making activities solely out of an incredible sense of social responsibility, and have never even met opposition party leaders or had any connection with the left in their lives.Fidesz has bought nothing. I will be 55 in the summer and I have only ever been involved in economic life as a consumer. I have never had any business activity, so it would be overconfident on my part to advise on the business activities of even a micro-enterprise running a corner drugstore.
On the other hand, everyone on the other side is pro-government, pro-Fidesz, and the press products they own are at the very least pro-government but tend to be party media. This is another double standard.
He says that these are business decisions and that politics has no say in them. So Ádám Matolcsy, Lőrinc Mészáros, Mária Schmidt, Andy Vajna and many others have all bought media independently of political will, and then given them away for free to the Fidesz media foundation?
These people have their own political opinions, their own sovereign political values, and they say so in public. It is also a fact that in the case of the press, investments have public relevance. But the claim that these people acted on political instructions is childish and untrue.
Orbán publicly asked them to do so in 2015 on Zsolt Bayer's Echo TV programme Mélymagyar. They bought it and then gave it away (to CEMPF).
Yes, Viktor Orbán has indeed spoken about this, quite rightly. He asked for support, and there were two options: either those who can help do so or those who cannot.
Just as we regularly encourage our supporters to support Fides with their donations but this is not a binding power decision for them that they have no way of avoiding. All media investments have been regular, transparent and public, and I think the situation that has arisen is a positive one because it has broken the hegemony of the left and liberal press, which has a positive political effect on us. As regards the assessment of the press in Hungary, I believe that this is a political difference of opinion and not a violation of press freedom.
Meanwhile, the Prime Minister says he is not in business. What is this if not business? We are talking about deals and investments that were made at Viktor Orbán's request.
It is the responsibility and duty of the leader of a powerful political camp to be open about the help he expects to provide the necessary background conditions for successful policymaking. A concrete business case would be for him to sit at his desk and put things together. If Bertalan Tóth (leader of the socialists) were to say tomorrow that he would encourage left-wing businessmen to help the MSZP (Hungarian Socialist Party) with media investments, there would be no problem. We have this in the USA, the Netherlands, France, the UK, there is nothing diabolical about it.
But what about Gergely Karácsony's office (mayor of Budapest), who has helped to set up the Pesti Hírlap newspaper (published by Brit Media Befektetési Kft. and fully owned by Pál Milkovics). That is a truly unacceptable step that infringes upon media freedom.
The prime minister has declared the creation of CEMPF to be of national strategic importance, and the newspapers belonging to it receive the bulk of public advertising, year after year. The government maintains the media, which support Fidesz policies, largely with public funds.
What we are talking about is the declaration of a matter of national economic priority. To come up with this I think is classic bullshit. It is a government option that creates more favourable procedural conditions for the public, municipal or private business projects concerned when dealing with a wide variety of authorities. The Magyar Testgyakorlók Köre (MTK, Budapest Futball Club) investments in facilities included a national priority investment, which helped to meet much shorter deadlines for the various authorities to assess building permits. Nothing more.
To pretend, in the context of declaring a national economic priority, that the state is turning a private economic project into a public development project, and that it is granting the project undue advantages over others, is, how shall I put it, out of touch with reality.
Is it not an unfair advantage that the media supporting Fidesz's policies receive the majority of state advertising?
Let us look at the figures and if it is true – which I do not think it is – that the opposition media receive 15-20 per cent, then that is exactly the same amount more than what Hír TV, Magyar Nemzet (both right-wing media belonging currently to CEMPF) and other opposition media received from state advertising during the left-wing governments of the time. Did you have any problems with this at the time?
When the prime minister encourages businessmen who sympathise with him, who then buy hundreds of millions of dollars worth of Fidesz-supporting press, it only shows Viktor Orbán's strength?
What else!? This is a testament to his strength, but most of all the fact that 2.8 million people vote for the party alliance he leads. Orban is strong, not a little, a lot.
A vote costs nothing. These businessmen, who are otherwise enriched to a large extent by public money, have built up a media portfolio worth billions of forints and then given it away for free.
The pensioner gives five thousand forints to Fidesz, the teacher couple 25 thousand because they trust us and support us. It is not a power constraint, it is not something that can be seen as negative in any sense.
Does Telex have strength because people support its operation? Yes. In this logic, I would say that Fidesz and Telex are doing the same thing, fundraising in the civil world.
As for public enrichment, the fact is that the development resources of the Hungarian state have become significantly larger than before, thanks to the good Lord and the successful economic policies of the Orbán-led governments. And these development funds can only be used to a large extent if private business players are involved in the development process.
The main question is whether the profits generated will stay in Hungary or go abroad. And here I think Professor András Lánczi is right: this is a fundamental question of economic philosophy, politics and worldview, and there are two absolutely different approaches based on the way we think about the present and future of the country and the nation.
One is patriotic economic policy and national commitment, the other is globalist economic policy thinking and self-abandonment. We belong to the school of patriotic economic policy, and we believe that the profits from investments made with Hungarian public money should remain with Hungarian businesses.
The French model is the same. There, one essentially writes oneself out of public life if this approach is not indisputably obvious to one. The rules of the French public procurement system are no different from those of the German or Spanish systems, but unlike those two countries, there has not been a year in the last 40-50 years in France when at least 75 per cent of public contracts have not been won by French companies.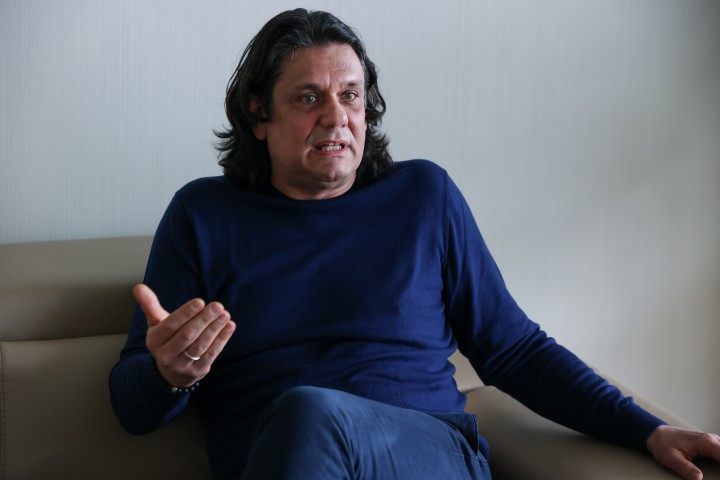 No disadvantage for the Hungarian Christian Democratic People's Party (KDNP) to stay in the EPP
According to Manfred Weber, it was not Fidesz MEPs who decided to leave the EPP, but the decision was made in Budapest, meaning that Orban, who does not sit in the European Parliament, had the final say. What is your opinion on this statement?
I understand that his experience on this issue is frustrating, as all the important issues are decided in Berlin. I think it is only natural that we should consult the party leadership on such a major issue, but the decision was clearly not taken above our heads, and indeed it was initiated by the group.
Who was the first to say we should quit?
For the last year or so I have been of the opinion that we should quit. That was the minority position, the majority thought that we should give it time, that there was a realistic chance of solving the problem. Over the last two years, we have mobilised a lot of energy to continue in the People's Party.
What was the point at which you decided that you should quit?
The election of Donald Tusk as president of the political family and the events that followed. He first tried to influence the wise men, by unsophisticated means, to come up with the common proposal that the European People's Party should exclude the Fidesz. When that failed, he simply forgot about them. If the party's president is so determined to do something, there is no way that it will not happen sooner or later. That is why it became quite clear to me that we had to leave the EPP.
Why was Tusk so dismissive of Fidesz?
Contrary to popular belief, not for personal, emotional reasons. Donald Tusk is not a very good politician but he is a rational politician. He has his logic. In Polish domestic politics, the relationship between PiS (Law and Justice) and PO (Civic Platform) is now like the relationship between Fidesz and Democratic Coalition (DK); anyone could tell us to be a little more understanding with Ferenc Gyurcsány (a former socialist prime minister).
On the one hand, Tusk lets the internal politics of his own country into the EPP too much; Joseph Daul and Wilfred Martens were not like that before. On the other hand, Tusk's logic is flawed. He is basically proceeding from what is now the political credo of a large part of the European People's Party, namely that the majority needed for decisions in European politics can only be achieved by forming a coalition with forces to the left of the EPP. This is also the logic of the German coalition.
It is obviously a debatable position that if you want to realise your ideas, you need partners to do it, so that nice plans do not stay on the desk drawer. The question is: where are the limits to expediency and principle when it comes to building a majority and forging coalitions? According to the Germans, the necessary majority can only be found by looking towards the Greens, the Socialists and the Liberals.
Our vision is quite different, we wanted to take the European People's Party in a different, right-wing direction. This is where the Polish domestic political aspect comes into play: the direction we would have taken the European People's Party would have been unacceptable to Tusk's Polish party, but it would have been good for the EPP.
There is another important question here: that of György Hölvényi – the only remaining EPP member from Hungary in the European Parliament on behalf of the KDNP (ed. a loyal coalition partner of Fidesz). What do you think of him after he has stayed in a party family in which, according to pro-government commentators, "spineless creeps make unprincipled deals"?
The Hungarian Christian Democratic People's Party (KDNP) is one of the founding members of the European People's Party, so they have a very special bond compared to all the other parties that joined later. It is a bit like the natural difference between the position of the 37 Fidesz founders and all the other Fidesz members. We have a different relationship with Fidesz, we may have more patience with it, but that's probably the same for the founders of a company. An important factor in the KDNP's identity is that when it was banned in this country and was active in emigration, it became one of the founders of the People's Party, and then invited the MDF into the party family.
There is a defiant stance in the KDNP. They think no differently about where the People's Party is today and the strategic direction it should take, but in their defiance, as founders, they are still trying to solve the impossible task.
Does it benefit Fidesz in any way that the KDNP remains in the People's Party?
There is no downside.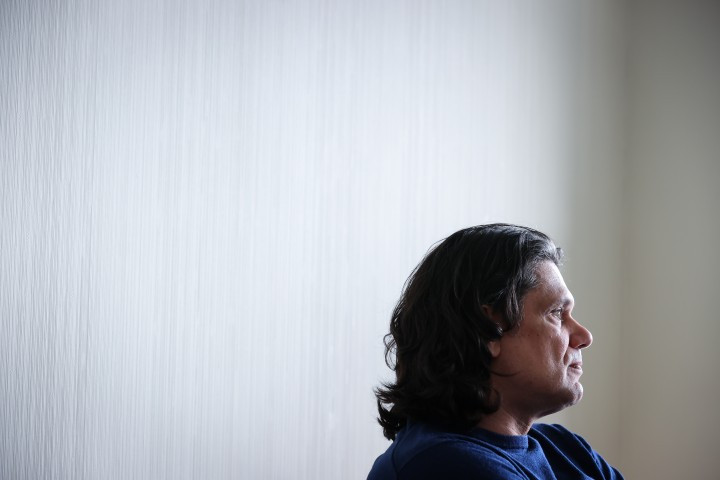 It is in the interest of the Hungarian people to stay in the EU
They left the People's Party, and last year, during the veto debate, there was a growing public outcry in the pro-government world that they should leave the European Union. Have you ever had a conversation with Orban about Hungary's possible future outside the EU?
It is worth reviewing what has happened to the European Union since 2004, the big wave of enlargement. What was then a union of 15 Member States is now a partnership of 27 countries. If we look at how the history of the EU has developed over the last 20 years or so, I see very serious problems.
There's a lot of talk about these problems, but if the Prime Minister stays until 2030 – as he is ambitious – do you think that if the EU still exists at that point, Hungary would be a member of it?
The Hungarian state has existed for 1,021 years, of which 17 were spent in the EU; it has been viable outside the European Union for more than a thousand years. It has also spent most of its almost 70 years of European cooperation outside the EU by necessity. I am not saying that Hungary was the most pleasant part of the world during that period, but it existed. At the same time, today it is in the interest of the Hungarian people, of the Hungarian nation, to be a member of the EU.
So Orbán, who always says he represents the interests of the Hungarian people, will not leave the EU?
Common sense cannot lead to any other conclusion, but hypothetical questions are difficult to answer.
Then I ask you, does Viktor Orbán intend to leave the EU?
Definitely not.
You are very critical of the EU. Are money, business and economic interests the most important thing that binds the government to the EU at the moment?
Viktor Orbán's clear political position is that Hungary is a member of the European Union and will remain a member. No other consideration is on the table.
But the EU has a plenty of problems, and if the public discourse on these problems is the same, if the most serious and unpleasant things are named and shamed as those who want to destroy the EU, are Eurosceptic or certainly want to leave, that is a terrible problem. This makes it impossible to have a meaningful discussion and this attitude was one of the main reasons that led to the British exit.
In recent years, every claim by the mainstream left-wing political elite that something is absolutely impossible to happen, well, it has happened. They have said that there is absolutely no chance of Trump winning, of the British leaving, or of a viable force in Germany to the right of the CSU and CDU at the federal level. There are at least three or four tragic developments in the functioning of the EU itself, and if they are not faced honestly if the Brusselsites' faith in their own infallibility remains, there will be very serious trouble.
Is this because you think the EU's basic rules are not clear?
No, it is because the idea of ever-deepening and deepening political integration in the EU is wrong. The rules are clear but the reinterpretations are contrary to the original content of the treaties. I firmly believe that this political integration process should be stopped immediately and that we should not think about further and further political integration steps for the future, but that the current situation should finally be clarified.
What do you expect the EU's case on the rule of law regulation to end in?
There will be a decision in the Court of Justice of the European Union sometime this year. I think it is a mixed story, but I do not want to make any predictions about the outcome of a court case. From a strictly legal professional point of view, there are very serious and well-founded arguments in both the Polish and the Hungarian actions. In the past decades, the European Court of Justice has handed down a number of decisions that have had a significant impact on the history of the EU. It is precisely the Court's decisions that have drawn attention to certain dangers and negative aspects.
But if the regulation is allowed to remain in force, do you think the rule of law mechanism can be triggered against Hungary?
Although there have been a fair number of bad experiences, the European Commission is still, for the most part, acting in a normative manner. From now on, Katalin Cseh can send in all her Facebook posts from the last two years but they are legally irrelevant. Not to mention the fact that it will be difficult to deal with a situation where they say that something has to be investigated in Hungary but if they look around, they will find that the same situation applies in many other EU countries in that area, and then, of course, they will have to initiate proceedings in other countries too.
Can Fidesz survive its life-long leader?
Is it the party's success or Viktor Orbán's personal success?
I consider this confrontation a pseudo-problem. In modern democracies based on party competition, the role of large-format leaders has become more important in the last 50 years. In the 80s and 90s, the CDU would not have been the same without Helmuth Kohl. His leadership marked an era. Not every party will have its own Kohl or Merkel but without Kohl and Merkel, even a party of the size of the CDU cannot be what it is. Without Kohl and Merkel, they were in opposition for three terms. So not all parties will have Mitterrand, Thatcher, but they can be really great and successful with such leaders, and those periods will become historical eras.
What do you think about what Lánczi said the other day: if Viktor Orbán is not active, Fides might not be called Fidesz?
There were some ambitious parties in Hungary who thought that if they said morning, noon and night that they were the people's party or they would become the people's party. A party is a people's party because it is a big enough party and it represents a broad and diverse range of views, and it is a political home for a wide variety of people. And despite the diversity of views, there are no divisions in the current European People's Party.
Another important feature of the functioning of the EPP is that almost all of these views can be dominant or in the majority in the political community, and individual party members do not have to agree with all of them. This is the exciting thing about the EPP.
I agree with the vast majority of the ideas in or around Fidesz, but there are some that I do not. Professor Lánczi's idea is just that, but he has five others with which I can wholeheartedly identify.
The essence of being a member of a people's party is that you do not necessarily agree with everything and everyone in your political community, but you also agree with everyone on the key issues and by being part of it you can influence common positions, sometimes more, sometimes less.
All other parties in Hungary, apart from us, are not only weaker but also more sectarian political organisations. Give me a wide range of opinions on the MSZP or DK these days!
Or look at LMP (Politics Can Be Different, the green fraction). Their first big debate turned into a bread-breaking spectacle. But I am not shedding any crocodile tears, Honvéd also had the advantage until the three defenders system could not be used by others.
The hypothesis of a Fidesz without Orbán is precisely that there are many different interest groups in Fidesz, but only he has the charisma to hold them together.
It is indeed hypothetical, and I can tell you one thing: it will happen one way or another. There may be a good number of people who are hoping that Viktor Orbán will live forever, but I do not think that even he will succeed. At some point, this situation will arise, and a Fidesz without Orbán will certainly not be the same, just as the CDU was far from the same after Kohl.
Orbán clings to power?
No. A politician does not cling to power but does the work he wants to do effectively and successfully. In politics, one kind of success is winning elections, and for that you get power. If a politician says that he hates power, he is either an anarchist, or he is like a striker who says that he does not like scoring goals and avoids them if possible. Orbán is success-oriented, and I really like success-oriented people from all walks of life.
What if one of the MTK players were to publicly stand up for the rainbow families?
I respect everyone's opinion. Everyone can think whatever they want about family, God, politics, even football. Everyone, inside and outside MTK, is free to express their opinions, except for extremism that violates the dignity or freedom of others, but that was not the point of the question.
MTK is not a political community, it is a sports family: here, even people with the most diverse political views can live together in sporting friendship.
A Hungarian version of this article is available at Telex and has been abbreviated in the English translation.
This article is the result of a V4 newspaper collaboration organised by Visegrad Insight and the Res Publica Foundation and included the Czech Denik.cz, the Slovak DennikN.sk, the Polish Res Publica Nowa, Onet.pl and the Hungarian Telex.hu.