'One week, she is still cooking for you, the next, you are picking her belongings up at the hospital'
January 15. 2021. – 08:06 PM
It is hard to remember how many times and how many ways I tried to get my parents to change their lifestyle even just a tiny bit and be a little more careful since the pandemic started. But when someone dies from complications of COVID-19 in one's immediate surroundings, that makes anyone realise this is not a game anymore. The second wave of COVID-19 has affected more people more deeply than the first one did during the spring, and the unclear data, the unanswered questions, and a healthcare system manually controlled from the top only leave us guessing about the incredible efforts frontline workers make every day. However, there is still no guaranteed survival once someone is admitted to a hospital, and there is only one thing that we know for sure about COVID-19: It affects everyone differently.
Days of uncertainty, spectacular work by doctors, miraculous recoveries, a fear of death, an instinct to live, and tragedies that are nearly impossible to stomach: these are the things we were told about by people whose lives were severely affected by the second wave of the coronavirus in Hungary.
My mother spent so much time in the hospital that nothing really surprised her anymore, but this time, she was scared
"It is pretty difficult to cope with things ending like this when you really thought that you did all you could," says Petra Tóth, whose mother died from complications of the coronavirus in little under a week. The 67-year-old woman is one of the many pandemic victims whom the government's task force often referred to as an "elderly, chronically ill patient." Petra's mother had a kidney disease, but everybody always said she was "the Terminator," as she held the Miskolc record: She had been undergoing dialysis every two days for the last 28 years. She went to the hospital every Monday, Wednesday, and Friday, and during the second wave, she went by the hospital's transfer bus. Petra adds:
"And that was it. She did not go anywhere apart from her treatments. She took extreme care of herself, firstly because of her kidney disease, secondly because my sister and I have just been through a live donor kidney transplant."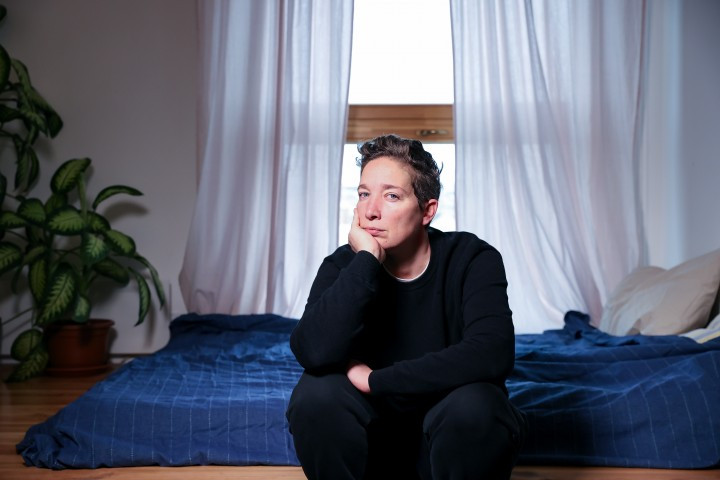 Petra's mother started feeling worse on 21 October, and the same day they discovered she had pneumonia, so she was tested, and for that reason, she had to skip her dialysis. By Friday morning, she received her positive test result, and was hospitalised, but by that time, her condition was also made worse by the omitted treatment on Wednesday. "When they told us she had pneumonia, I already suspected that someone who has been on dialysis for 30 years might not get out of this too well." But Petra's mom was not shocked by the positive result, "she even joked that after all she's been through, 'this crap shouldn't be the thing that kills me.'
My mother spent so much time in the hospital that nothing could really surprise her anymore, but here, I felt that she got scared, not necessarily of the virus, but the hopelessness. She was scared because even if she really wanted to fight, it wasn't sure that she could, because the circumstances only allowed so much,"
-Petra says.
On the morning of 25 October, they spoke over the phone, but the daughter already sensed that something was wrong. "She told me that she was feeling bad the entire Saturday, even though in the evening she texted me that she was getting better." Petra and her sister tried to get in touch with the hospital through several methods but to no avail. On Sunday, after trying all their options, they managed to somehow acquire a phone number that someone answered. "That's when I learned that my mom was being resuscitated. They succeeded, but they told us not to expect much. An hour later, they called my sister and told her that my mom's circulation collapsed and she died." Petra opines that if they did not have acquaintances, they couldn't have reached anyone at the hospital and the only information they would have received would have been news of their mother's death. "That is the drama in this thing, that one day, she is cooking pea soup for us, a week later I'm collecting her stuff at the hospital."
After the long weekend of the 23 October national holiday, just like many others, Petra was waiting outside the Borsod-Abaúj-Zemplén County Hospital to pick up her late mother's personal belongings.
"They bring them out in in a nylon bag, and you have to look through it right there on the street, while these things may be contaminated. Nobody tells you to bring gloves, nobody tells you to bring clothes to the morgue because the body must be dressed, so you must go back there the following day."
Eventually, a doctor came out in front of the hospital to speak to the relatives and answer their questions. Still, several people just jumped at the doctor's throat right away for getting no information about their dying relatives. Chief Medical Officer Cecília Müller only instructed hospitals to allow dying patients visitors much later, on 10 November. "Initially, I had many questions, but by that time, my anger had faded. On top of that, I saw everybody having a go at her, and I felt like I did not have to go along with them," Petra explains.
She is trying to calm herself that it was her mom's long-time goal to make sure that her sister has a kidney transplant so that she wouldn't have to go through all that she herself had. "After a year of waiting, the kidney transplant did finally go through, and two or three weeks after our surgery, our mother contracted the virus. I felt that she was already relaxed somehow, saying "alright, at this point, come what may," as she didn't have to protect us so much anymore, since the surgery was already behind us."
I received a new shot at life, and I will use it
Tamás Busák was the 17th COVID-19 patient in Hungary. We know that so precisely because back at the start of the first wave, when he was infected, the National Healthcare Centre could still keep an accurate tally of the cases. The 41-year-old mechanical engineer from Nyíregyháza contracted the disease in March, but his recovery is still ongoing.
The story of Tamás began with a large event he attended when he was yet to produce any symptoms. The following day, however, he started feeling unusually tired: "When I sat down, and I practically fell over. I was laughing at myself for being so hungover even though I haven't even been drinking that much." He soon started displaying the usual symptoms of the coronavirus one after the other; Diarrhea, fever, heavy breathing, headaches, depression, and a lack of appetite. On Monday, 9 March, his general practitioner put him on sick leave, but he decided to go back to the doctor on Wednesday because "there was trouble." The GP immediately sent him to the hospital.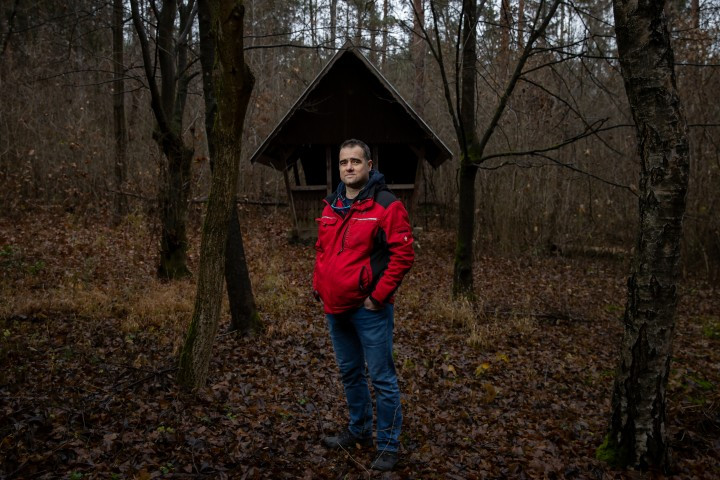 He spent two days in the Nyíregyháza hospital where he was diagnosed with COVID-19, and an ambulance soon transferred him to Budapest. He was admitted to the Szent László Hospital, the country's central coronavirus ward at the time, where they placed him in a room with three beds "where all three of us were wearing oxygen masks. I could hardly exist without it," he says. But he deteriorated swiftly: "I started to panic, so a friend of mine asked his doctor colleagues to take a look at me. Even the ICU staff had seen that my saturation was way too low, but they couldn't admit me to intensive care at the Szent László." Afterwards, he was taken to the Korányi Hospital. Tamás remembers that the paramedic tried to keep his spirits up by conversing about pálinka, a strong Hungarian fruit spirit, and its distillation process.
"You have the fear of death because you can hardly breathe, you constantly feel like you are about to suffocate, you are dizzy, and the image is going dark. I was really scared then, but I thought I'd go with the flow, as I could not do anything anymore."
He was instantly put under anaesthesia as he arrived at Korányi. He was on a ventilator for nearly 17 days, and doctors even had to perform a tracheotomy to maintain his respiration. Tamás says that for around four days, his survival was not at all sure. His doctors were trying to calm his relatives by saying things like "His condition is critical, we don't know what will happen, we hope that with him being 41, he would get through this." Tamás was lucky; On his right lung, an area the size of a larger coin remained intact, and that small patch managed to supply his body with enough oxygen for him to pull through. That patch saved his life, medical staff told Tamás.
After being taken off the ventilator, he needed around two weeks until he was fully aware of where he was and what had happened. The medication he received during anaesthesia induced brutal and vivid nightmares. He lost 30 kgs, suffered a deep vein thrombosis in his right leg, so he now has to wear compression stockings, and the disease also gave him cardiomegaly.
After 44 days and three negative tests, he was finally discharged from the hospital on 24 April. He said that "living through this had been really difficult, but the recovery process is even more so," stressing that what is being communicated to the people about the virus is critical. "The other detonation cord is poverty," he adds, referring to rumours about "undereducated people taking painkillers and fever medication so that nobody would find out at the factory that they are ill. While they are aware that they are putting others at risk of infection, these people cannot afford to let go of 40% of their salaries, they are willing to put their lives on the line."
Tamás himself takes the rehabilitation very seriously, of which "physiotherapy is just as important an element as the medications," as he says. He is trying to spend as much time in nature as he can, hiking in the open air, but he had to be at the rehabilitation facilities in Nyíregyháza and Farkasgyepű for weeks. Experts have put together a so-called "vein exercise" specifically for him to restore circulation in his leg, but a special respiratory device also aids him – it obstructs his breathing to train the muscles and capacity of the lungs. Tamás says he is one of the lucky ones. He had the opportunity to go through rehabilitation, noting that the severe and near-severe cases of the second wave hardly receive any aftercare. "But it is a great feeling of success when you can finally take a shower by yourself, you see that you're recovering, and that is what drives you, that is what nurtures you." He still goes to regular controls, which is how doctors found the fibroses, patches of dead tissue, in his lung. Still, he remains optimistic; He says he got a new chance in life, one that he wants to take advantage of.
"I want to get healthy!"
The rapid test was negative, but that only gave him a false sense of security
"As soon as he was admitted to the hospital, he posted on social media that the virus is not a hoax, urging people to take care. You need to know that during the second wave, we did not believe in all of this so much anymore," the former wife of the 28-year-old Roma folk musician, human rights activist, and member of the VIII. district council, István Lajos Balogh "Paci" tells us. By this point, Fruzsina Balogh and Paci no longer lived under the same roof, but the man called his former wife on 20 October from the hospital to "get tested immediately," as they had met two weeks before.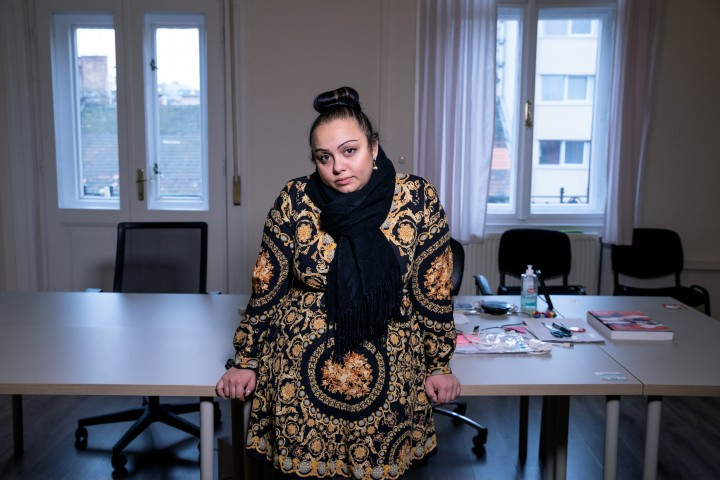 The council member still attended the council meeting on 14 October, but he was feeling unwell by the afternoon so he decided to go home. "He had symptoms similar to the flu, and since his immune system had always been weak, he was always sickly, so he thought he just caught something as usual, so he tried tending to himself at home. Paci also had a rapid test done, which came back negative, which only lulled him into a feeling of false security. That is why he was so sure that this wasn't the coronavirus, just the flu," Fruzsina says. But Paci started feeling so bad he ended up calling the paramedics himself, who took him to the hospital. Initially, doctors only gave him an oxygen mask, but as his condition took a turn for the worse in the following days, he was put on a ventilator, only to be taken off a couple of days afterwards as he seemed to be getting better. As long as he could, he kept in touch with Fruzsina over the phone.
"Those times, he told me that he really caught this one and he couldn't take it anymore. He feared death and he tried to prepare me for the worst. He thought he would never get out of the hospital, and told me to take care of myself, and that he loves me. He promised that we would fix everything if he did eventually get out afterall."
At the dawn of 30 October, doctors put the diabetic man on a ventilator once again; they said that 75% of his lung was no longer functional. He couldn't breathe, and oxygen levels in his blood have dropped drastically. Still, two days later, the family received hopeful news: Paci was improving. But on 2 November, the hospital informed the man's father that the disease had spread to his son's heart and he died that afternoon.
After Paci's death, "the Roma people started to be really afraid," as Fruzsina says. "As much as it pains me to say this, his death saved lives. What happened to him also motivated Mayor András Pikó to take his symptoms seriously and go to the hospital." Many people sent her messages saying that from that point forward, they would take the precautions seriously. Fruzsina thinks that if people weren't constantly told that the virus only endangers the elderly, Paci might not have taken his symptoms so lightly. Fruzsina works at the NGO Rendszerszint, and together with other organisations such as Civil Tanács Egyesület, Civil Kollégium Alapítvány and aHang, they are running a campaign among those living under the poverty line to raise awareness of the virus, the precautionary measures, and the mitigation of the pandemic's consequences, "because these people know terribly little about the coronavirus and how they can protect themselves from it."
Previously, District VIII. has never had a Roma council member, so speaking to Mayor András Pikó, they agreed that the municipality must realise Paci's plans. "He authored a Roma concept for the district and fought for it. For instance, an essential aspect of Roma culture is the wake for the deceased. However, Roma people in the district typically live in tiny apartments where people cannot gather. Paci's plan was to find a place in the district where people can have these wakes. And these spaces could also be used for other purposes, such as educating children. Roma children learn nothing about their own culture in schools, and non-Roma kids never get a perspective on it either, he wanted to break these walls down," she explains.
I often ponder how lucky I was, and how depended on being a mayor
On 27 October, András Pikó's coronavirus test returned positive. His condition deteriorated very quickly after that, the mayor of Budapest's District VIII. had spent 17 days at the Szent László hospital, but doctors think his full recovery may still take several months. Pikó says that many people, including strangers, have contacted him to learn about how the disease went down and what they should be doing. He says that answering these questions shouldn't be his job.
"What I see everywhere is that the system itself provides no guarantees that it would heal you, and everyone is aware of that, so just like in old times, people are using their connections."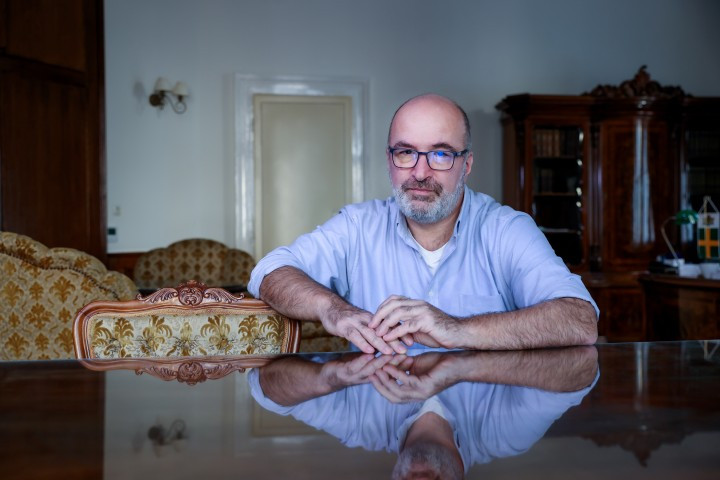 That, by the way, also goes for Pikó. He says that "as much as I wanted to avoid being admitted to the hospital thanks to my connections," a particular chain reaction had undoubtedly been set off. After he was diagnosed with the virus, several doctors he knew called him, asking how he is. He spoke with his GP, asking him to send him to the hospital, and the doctor did so. He also contacted the head of the local healthcare centre, and that is how he got in touch with a doctor of the Szent László Hospital. "I told her what state I was in, and she said there was no time to waste. Then there was sort of a silent coalition forming around me that pushed my wife that I must go to the hospital, there was no choice." After it turned out that there was a place for him at Szent László, he was admitted to the COVID-19 ward on 30 October. Doctors took blood samples from him and took CT scans of his lungs. For the latter, he had to wait for nearly six hours. "I went down to have the CT at around 4 or 5 in the afternoon, but by that point, I could hardly walk or breathe," he says. After that, they kept him at the hospital, where they put him on oxygen, blood thinners, and a 10-day steroid therapy, they even administered him remdevisir.
"I told the doctors that I am diabetic and these steroids would thrash my blood sugar. They said that yes, they would, but something's gotta give. The steroids did thrash my blood sugar, I am now on insulin, which is the only way I can keep it at a normal level, and my body has an incredibly tough time with that."
He says that in the hospital, he spent a lot of time contemplating how little we know. "Besides the lack of proper testing and contact tracing, we should have switched to remote schooling way sooner during the second wave, and the government's coronavirus task force or someone whose duty it would be to inform is keeping Hungary in ignorance. People know exactly well what the symptoms of the flu are. But they only know one thing about the coronavirus for sure: that it is different for everyone. Some never even notice they had it, others die." He stresses it would be crucial to talk about how a severe or nearly severe case plays out, saying that 'it's different for everybody' is not enough. "For me, the takeaway from what happened to Paci and to me was that if you get to the hospital on time, you have a better chance of getting out of it alive. I thought a lot about this in there. If we know what the symptoms are that require immediate hospitalisation, we would have sent Paci in right away, I would have ordered him to go. But we didn't know. His example showed me that this is not a game, and I have told several of my friends to go to the hospital since then."
The treatment started taking effect on the mayor rather quickly, and after ten days, doctors already saw no chance for a relapse, however, they warned him that his recovery would take long. When he was admitted, first he was in a room with three other patients, but they moved him to a single-bed room so he could continue working. "That was my only privilege, but this way I didn't bother people in neighbouring beds, I could work, get things done. I received the same amount of care and attention as others while I was in there." Still in their care, he decided to donate to the ward's foundation.
"I was incredibly grateful, but I didn't want to give a gratuity envelope to the doctors, as that would have been against my principles. But I saw the incredible work they were doing and that there were days when three or even four nurses fell out, they changed shifts in the middle of the day. I asked what happened, and they told me there is trouble, this or that became infected.
He met doctors who were deployed from Szolnok and Veszprém. Their conversations always ended up being about whether they will stay in the country after the new employment conditions come into effect. "The doctors were honest to me and said they would prefer to go, but, of course, they spoke to me as they do to any big-headed politician. Many specialist nurses remarked that Vienna is close by, and it was shocking when one of them broke down in tears, saying she doesn't know what would happen to all the people if she was gone." If someone brought up the government's pandemic response, everybody was "disciplined and avoided politics" according to Pikó. Opinions only started flowing once the mayor had to make the call on obligatory facemasks, "they told me not to back down, masks must be mandatory everywhere. That was when their dissatisfaction started showing, obviously, being healthcare workers, they were well aware of how this process goes, they wanted way more stringent measures much earlier."
Pikó was released from the hospital after two and a half weeks and two negative tests, but he returned to work only gradually. He said that the disease induced a number of bodily and mental changes. "My relationship with my diabetes changed, and I often think about how lucky I was, and also about how much depended on the fact that I was a mayor.
Of course, personally, I am happy that I was in the right place at the right time, but at the same time, I'm concerned about what would happen to others."
This virus takes everybody down
"When this whole thing exploded in March, I naively thought that one would eventually get it, but I am a young person with a strong body, I have had the flu before, I would get over it." But then COVID-19 proved itself to be something entirely different. "It doesn't matter if you're young or old, if you exercise regularly or not at all, if you smoke or not, this virus will simply take you down," pastry chef Ádám Pataki says. Even if the nurse taking care of him in the Korányi hospital, where Ádám spent ten days, told him that there are few cases as straight-cut as his.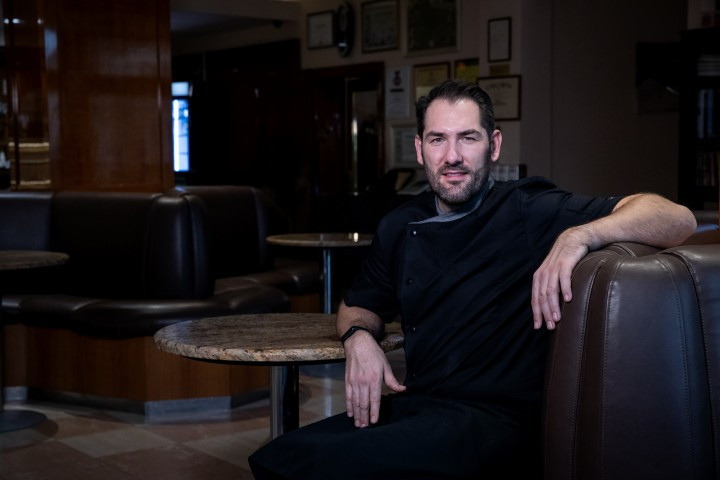 He is pretty much certain that he caught the virus back in mid-September from his wife, actress Claudia Liptai, but while she only developed light symptoms such as headaches, fatigue, and loss of smell and taste, the disease hit Ádám much harder, just as his 10-day quarantine expired. "On the eleventh day, I went to get tested, and the rapid test came back positive. I had a burning sensation on my face and head; I spoke to several doctors who told me not to screw around, head to the hospital. One doctor sent an ambulance for me, another managed to secure me a place at the Korányi Hospital."
As this all happened at the beginning of the second wave, the 40-year-old man was alone in the isolation ward. "They took my blood, they performed an X-ray, and informed me that I have a pretty massive pneumonia." They've put him on oxygen and gave him antibiotics, but on the second day, he was admitted to the ICU as they wanted to get him started on blood plasma therapy. In the end, that did not happen, as he reacted well to the medications. During the ten days, he did regular breathing exercises with a physiotherapist. "In the last couple of days, I could hold the air down way longer, and even I felt the improvement. We likely caught the pneumonia in its early stages, because I haven't developed heavy breathing, and I had no pain in my lungs. The lowest my saturation ever got was 92." But the illness took an emotional toll on Ádám, especially because he couldn't see his children in person at all.
As per the protocol, Ádám was also discharged from the hospital after two negative tests. His values have improved by the control examination a week later. Still, doctors banned him from sports for the following six weeks, but he is even more careful than that: Ádám says that he will only return to regular exercise this year, following a cardiological checkup.
Unable to smell or taste anything, she gave vinegar to her 10-month-old daughter
Orsolya Bakó-Ribényi and her family of five lived in Páty at her parents' house while their house was being built in nearby Szomor. In October, the virus went through practically the entire family. The woman spent three weeks in hospital, her husband just one. Her sister had no symptoms, but she and her mother had lost their sense of smell, which still hasn't entirely returned even when we conducted our interview with her months later. She couldn't smell anything back in early November either, which was when she gave her 10-month-old daughter 20% vinegar instead of water, which ended up damaging two-thirds of the baby's oesophagus. Orsolya's father had used the highly acidic vinegar to remove limescale from their electric kettle. The woman agreed to the interview so she could warn other parents about what happened.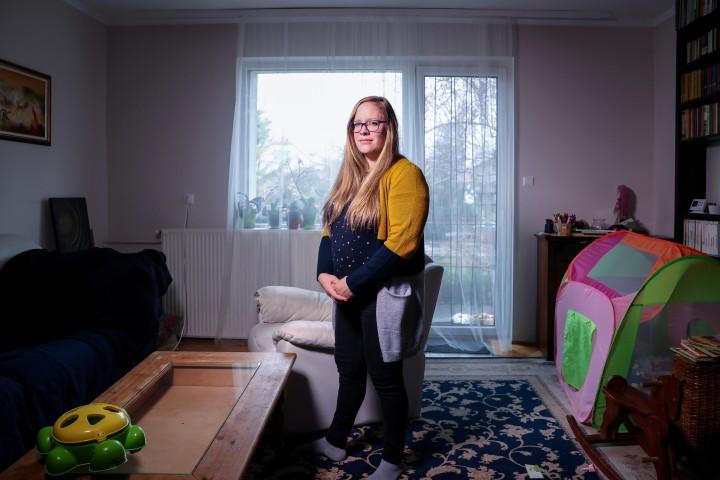 "We just got back from grocery shopping, and Villő was really hungry, so I was in a haste, then she turned out to be thirsty as well. I always fill her cup from the kettle, which was not even in its regular place, but at the time, that did not ring any alarm bells. I smelled the liquid in it, poured it into the cup, but I never noticed that it was vinegar. I didn't feel the pungent smell, so I gave it to the baby, who started crying terribly. I had no idea what the issue was, only when other family members entered the room did they ask me if I gave her a drink from the kettle, because that contained vinegar."
The ten-month-old little girl only had a single sip of the vinegar, but it corroded her pharynx and two-thirds of her oesophagus. Heeding their GP's advice, they didn't wait for paramedics but took the child for a gastroscopy to the Heim Pál Children's' Hospital themselves. "They found that the vinegar never entered her stomach, but it did go down to her pharynx and oesophagus. The medical staff told us that this was worse than drinking bleach or disinfectant," Orsolya remembers.
They were in hospital for twelve days, for ten of which Villő had to be fed through a tube in her nose, so her oesophagus could develop scar tissue without closing up. "The doctors said that a child drinking vinegar is not unique in itself, but they have never heard anything like this before.
They were really nice to us, but they told us they have to inform the child protection services. They visited us, we talked through what happened, and since both our GP and our health visitor confirmed that we are not endangering our children, the case was closed."
-the mother says.
Doctors also checked Villő's antibody level, which clearly showed that the ten-month-old baby has also went through COVID-19. Since October, Orsolya's entire family recovered, but for her father, that took a longer time. The coronavirus had amplified his pre-existing condition, resulting in complications that forced him to take steroids even beyond the end of November, and he could not return to work until January.
I sprayed horse vermicide into my mouth for five days
Bence Bánhidi, a pivot of the Szeged handball team, is 25 years old, 207 cms tall, and weighs 130 kgs. He is a professional sportsman who has at least one match and eight training sessions in a week. Mid-September, he was swept off his feet by the coronavirus in a single day, he had a fever for a week, and had subsequently lost his sense of taste and smell. "I had shivers, I was cold but sweaty at the same time. I had no strength to get out of bed, my lungs hurt because of all the coughing and often I had a pulse of 170 after climbing the stairs. We are talking about 12 steps here," he says.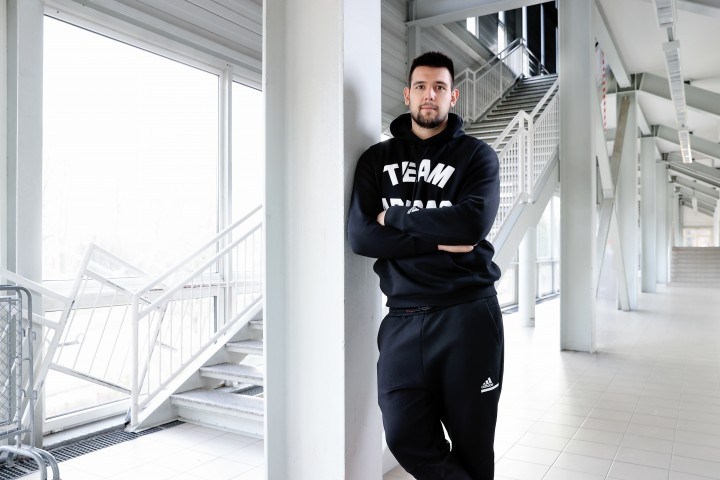 Even though the Hungarian Food Safety Bureau issued a warning about the dangers of taking the horse vermicide ivermectin against COVID-19, the Hungarian national team's handballer swears it helped him. "I took fever medication, but to no avail, my temperature didn't drop, I used the nose spray, but that didn't do anything for me either. When I felt really awful, I sprayed this horse vermicide into my mouth for five days on my doctor's advice.
My mother warned me not to take it, but I thought I could hardly get any worse, so I would give it a shot, and then I did indeed get better."
Being a sportsman, he took special care of himself, measuring his oxygen saturation regularly and keeping a check on his blood pressure. He was banned from any physical activities for four weeks following his recovery, removing him from sports for a total of seven weeks. He was only allowed to return to training at the beginning of November step-by-step, but he says starting over was hellishly difficult. "I've never ever felt fatigue like this before. I was unable to run the thirty minutes at my first training; I collapsed after only eighteen. It was like I had completely given up handball and was just beginning to play again. Seven or eight minutes in my first game, I didn't even know if I was a boy or a girl." He first started feeling like himself again at a game at the end of November, but he says he must be patient and admit the fact that his stamina will not return at a snap of the finger.
I could not stop worrying about my baby
We know of only three severe COVID-19 cases in Hungary involving pregnant women. One of them is Barbara Balás, a 30-year-old woman from Kecskemét who was saved by her doctors' spectacular efforts to treat her. She was 35 weeks into her pregnancy when she started displaying the usual symptoms of the coronavirus; fever, extreme fatigue, and depression. She expected to give birth to her third child on 13 December, but the doctors decided to perform a C-section on 11 November because of her infection. The mother's pneumonia was putting two lives at risk.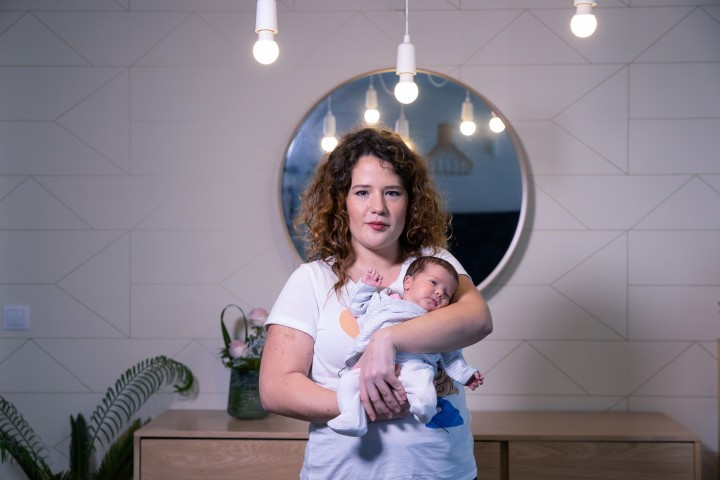 Barbara's condition started improving after her C-section, however, "by the following morning, her saturation dropped significantly, so nurses from the COVID-19 ICU arrived to treat her," the woman's husband tells us. It was a success, but one of the anesthesiologists insisted that Barbara should be admitted to the ICU for constant observation. "This doctor said that a young mother's saturation shouldn't be 80 under any circumstances, for any duration at all, so they would have me under observation for a couple of hours before transferring me to another ward," she says.
While the prematurely born daughter of the married couple was given respiratory support at the children's COVID-19 ward, her mother's condition deteriorated quickly, so she was put on a ventilator on 14 November. Eight rough days "of terrible uncertainty" followed suit. As the husband, Dávid Balás says:
"When something like this happens, your whole world turns upside down. There were some sentences dropped here and there that made you sense that whatever is happening cannot be good."
Barbara remembers that while she was under, images of a strange hospital movie filled her head, far removed from reality. "What kept rattling around in my mind was what happened to my baby. Was she alright? Was she alive? Where is Dávid? When is he coming? When can I go home? I felt like I was fine, that I wasn't ill, yet they were keeping me there tied down just because there was something they didn't like and I'm not getting any information," she recalls.
Eventually, her body reacted well to the treatment and she was woken up from anaesthesia on the night of 21 November, but her mind remained foggy for a long time. "She had a hard time coming around, she was lethargic," so the doctors made an important and somewhat risky decision. For a short time, they brought the Barbara's newborn child over to the ICU to her. By that point, the baby's PCR tests returned negative several times, which is why the mother says "it must have been a tough call to make, as the doctors knew the risks involved, but for me, it meant the whole world."
"I still wasn't completely clear at that time, this conspiracy theory about being there against my will was still working within me. I was looking at the little one, as she slept motionless, and I was thinking that they are trying to fraud me and she is not even real. I even bothered her a little bit to see her move, and when she did move and made sounds, something broke through."
Her condition improved quickly after that, and even though she was given lactation suppressors, and despite the anaesthesia and the artificial respiration, her body started to produce breastmilk anyway. Thanks to the work of specialist doctors, she can now feed her daughter breastmilk exclusively."
Barbara and her child were eventually allowed to go home on 30 November, but the couple says that this month stayed with them for a long time. "Not even problems are problems after this," Barbara says. "That image of the family we dreamed of, the three kids and everything we ever wanted, it all dangled by a thread," her husband adds. According to Dávid, they have even been exceedingly careful before, never went into crowds, paid particular attention to wearing their masks, and they constantly disinfected, but still, "this is Russian Roulette."
If you wish to support free press in Hungary, please consider donating to Telex here >>>